Popular
Sep. 15, 2017 01:54PM EST
via Instagram
Have you ever desperately wanted to do your competition solo to that music? You know, the song that gives you goosebumps in the best way possible, sends your dancer's heart soaring—and for those same reasons is pretty much guaranteed to be used by a million other comp kids? 3-time US national champion figure skater Ashley Wagner knows that feel—and she's choosing to perform to music from "La La Land"—the danciest movie musical in a long time—anyway.
Keep reading...
Show less
This won't come as a surprise to dancers: New data from ESPN Sports Science shows that the stamina required to get through one performance of The Lion King on Broadway is equal to that of other professional athletes playing sports.
We love seeing athletes get goofy with their more graceful counterparts but we have to admit, we're surprised that people still don't realize how difficult it is to dance professionally. Even with dance front and center in pop culture, there are still people out there who want to diminish its athleticism.
ESPN's angle is more amazed than shady, and we're happy to see the numbers back up what every dancer knows to be true. For example, ensemble member India Bolds travels farther during a show than NBA MVP and Golden State Warriors point guard Stepen Curry does during a game. She also has an aerobic capacity similar to elite soccer players! That's right, #weslay.
Check out the video for more amazing facts:
We don't generally think of ballet directors as "fun." But Peter Boal, artistic director of Seattle's Pacific Northwest Ballet, has broken the mold. In fact, a recent YouTube video proves that he is possibly the most fun, most good-spirited, most trash-talkiest AD out there. But I'm getting ahead of myself.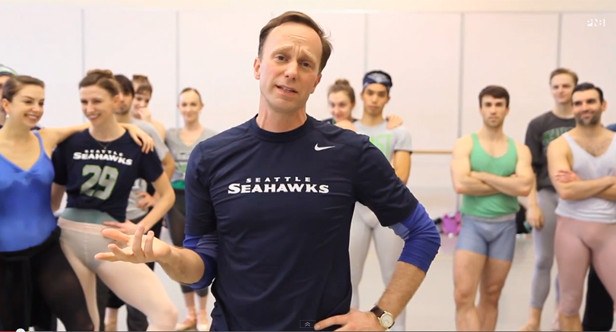 And the award for Best Stank Face goes to...
Before this year's Super Bowl (no, this is not another Left Shark love letter) between the New England Patriots and the Seattle Seahawks, the dancers of PNB and Boston Ballet made a little wager: The ballet company of the losing team's city would have to film a manège, set to a song of the other company's choosing. Long story short, the Pats won, and totally unsurprisingly, the dancers of Boston selected the most Bostonian anthem out there: The Dropkick Murphys' "I'm Shipping Up to Boston."
What came next is the Best. Thing. Ever. Instead of filming a sad, woe-is-me manège, the dancers of PNB turned up (and out) hard. At the helm of it all? QB AD Boal, who not only zinged Bostonians several times in just over a minute, but also proved why his company reigns supreme—even if his sports team doesn't.
Check it out!
We've talked and talked and talked about sports guys getting their dance on. But what about the dancers who stand out in the world of sports? Last year we told you about Michael Morris Jr., who earned a $2,500 college scholarship after killing it in a football toss competition. And this weekend, "So You Think You Can Dance" champion Ricky Ubeda proved that he's not only America's Favorite Dancer, but also America's National Pastime's Favorite Amateur Pitcher.
For those of us plié-inclined humans not super-familiar with the intricacies of baseball, games often start with a ceremonial first pitch. In our language: Right before showtime (the first inning), teams invite a local celebrity to lob a ball from center stage (the pitcher's mound) roughly 60 feet downstage (at home plate). It's not an easy feat. Yet look at the panache Ubeda brought to the task during Sunday's Miami Marlins game:
(Vine from Bethany @RickyUbedafann)
Don't you just love him? Plus, the Marlins won that day. Clearly his signature tilt-a-pitch inspired the rest of the team.
It's been a big year for sports and dance.
There was the Miami City Ballet/Miami Heat photo campaign...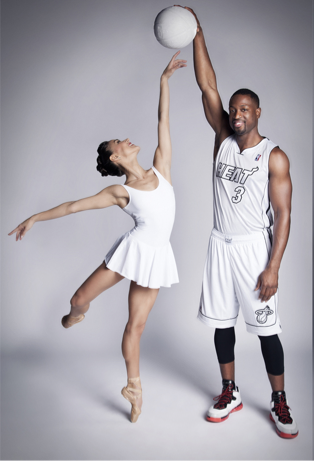 Patricia Delgado and Dwyane Wade (courtesy MCB)
...the Jimmy Fallon and Justin Timberlake "Evolution of End Zone Dancing" video...
...that time former baseball star Mike Piazza performed with Miami City Ballet...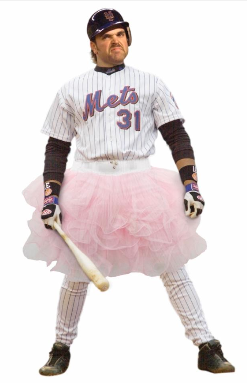 (courtesy New York Daily News)
...that time Pittsburgh Steeler Steve McLendon told ESPN about his weekly ballet classes...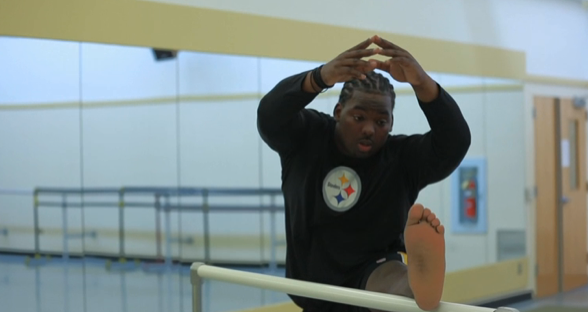 So intense.
...and then there was the dance battle between an usher and a fan at a Detroit Pistons game.
And this epic year in dance/sports goes out with a bang.
At a recent Bobcats basketball game, the announcer invited fans to dance for the Sprite Spark Fan Cam. The speakers blasted Michael Jackson's "Don't Stop 'Til You Get Enough," and the fans did not disappoint.
But one kid took it to the next level, taking the song quite literally by refusing to stop. He continued even after the announcer declared him the winner. But no one was sad about it because THIS GUY IS REALLY GOOD. No seriously, you have to watch.
The real gold starts at around 1.37:
I'm sad to admit it, but I never learned how to ski.  I guess I just spent too much time in ballet class. So now I find myself all grown up and without this skill that everyone else seems to have. This weekend, despite intense fears of uncontrollably hurdling down an icy mountain, I headed up to Vermont to try my hand at the sport.
My ski instructor started the day by asking my 5-person beginner class about our athletic backgrounds. Finding out that I was a former dancer made him very happy. "Your balance must be excellent!" he said. This raised my confidence a little. Then, he taught us how to "pizza." I'm sure that's not the official term, but it's basically turning in to make your skis the shape of a pizza slice. To someone who's spent her whole life being told to turn out, this felt very unnatural. Confidence back to zero.
Once we actually got on the mountain, I discovered that a good sense of balance, strong calves and an ability to follow directions—all things I got from dance class—really helped. And, though my ballet teachers would cringe at the thought, turning in began to feel more and more natural. I finished the day feeling pretty great about my ski abilities. I never even fell!
Then I discovered this…
I think I need a couple more lessons before I attempt a skiing ballet, but at least I know there's an awesome sport out there for dancers/skiers. And, however impossible it may seem, it's always good to have something to strive for.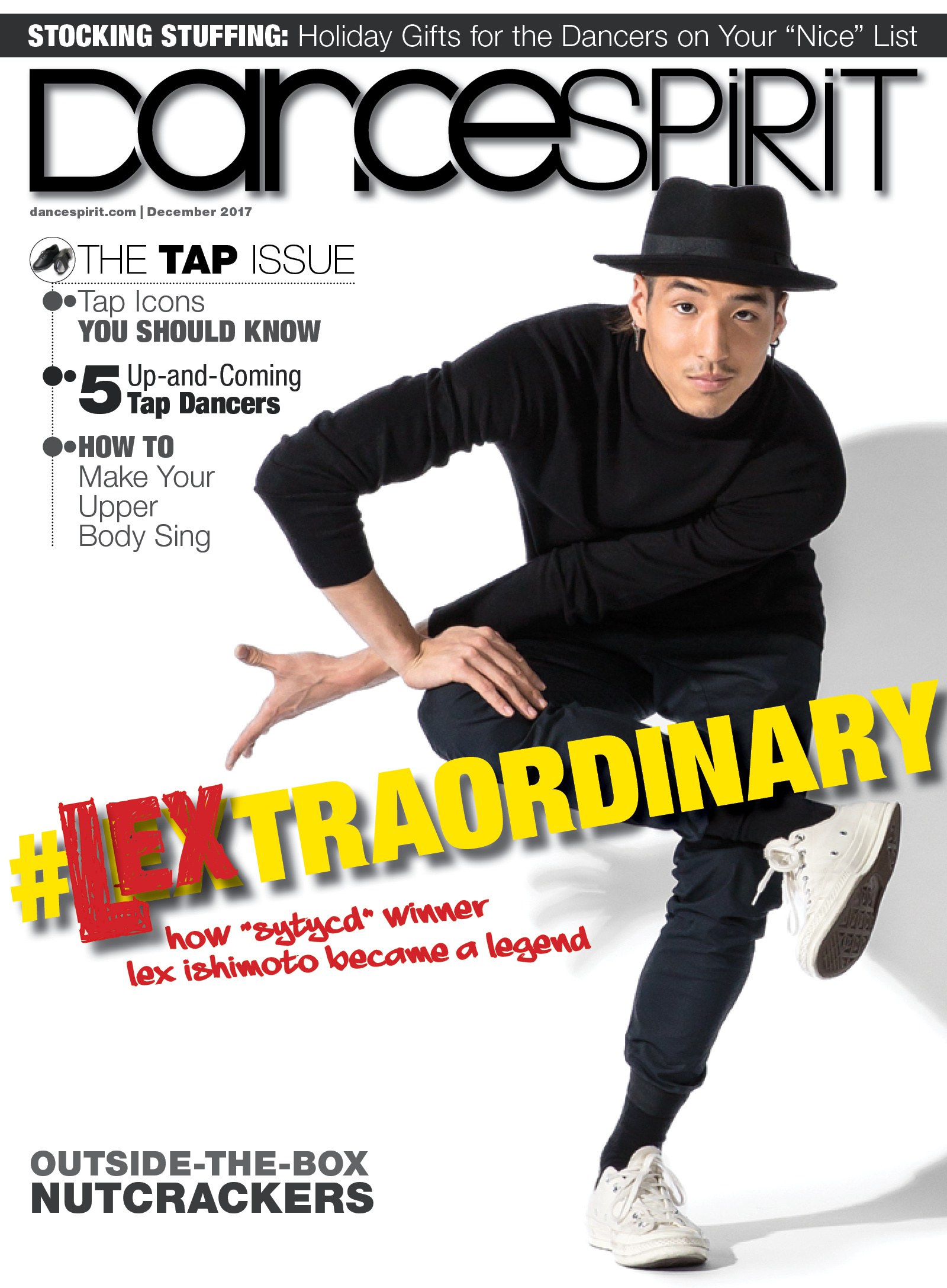 Get Dance Spirit in your inbox