Mar. 23, 2017 07:11PM EST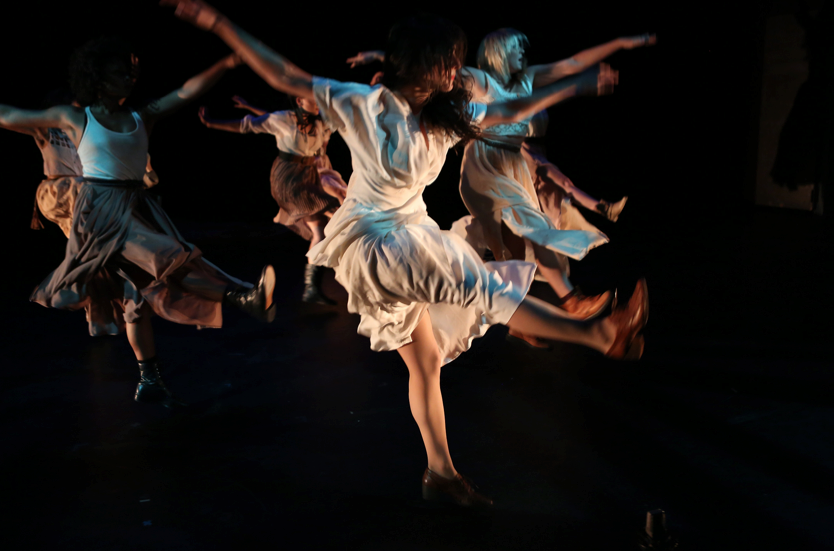 Melinda Sullivan's Gone (photo by Steve Gunther Photography, courtesy Sullivan)
Five women in leather-soled boots sweep their feet across a sand-covered stage, accenting the music in maraca-like rhythms. With its chugs, brushes, heel drops and slides, their movement looks a lot like tap dancing, but the sound is different—scratchier and rougher. This is sand dance. The scene described is from tap dancer/choreographer Melinda Sullivan's 2012 video entry to the Capezio A.C.E. Awards, Gone. (She went on to win first place at the competition.) "Experimenting with sand dancing really changed the way I tap," Sullivan says. "It's like playing a whole new instrument." Interested in giving sand dance a try? Before turning your dance studio into a private beach, read on for the need-to-know on this sub-style.
What is it?
"Sand dancing is tapping on sand, but your approach to the floor is completely different," Sullivan says. Whereas much of tap choreography emphasizes distinct, crisp hits, sand dancing is more about sweeping, rubbing motions; the feet tend to spend more time on the floor. "Shuffles, flaps, slides, chugs and pull-backs work really well with sand," adds L.A. tapper Kenji Igus, who was featured in Cari Ann Shim Sham*'s 2011 documentary SAND.
Traditionally, sand dance is a soft-shoe style, which means it's performed without tap shoes. "The term 'soft-shoe' can be somewhat misleading," Sullivan says. "We're actually dancing in hard-soled leather boots." Even though it isn't necessarily traditional, Igus will sometimes use his tap shoes on sand. "In a noisy theater, taps can amplify the sounds and keep them from getting lost or muffled," he says.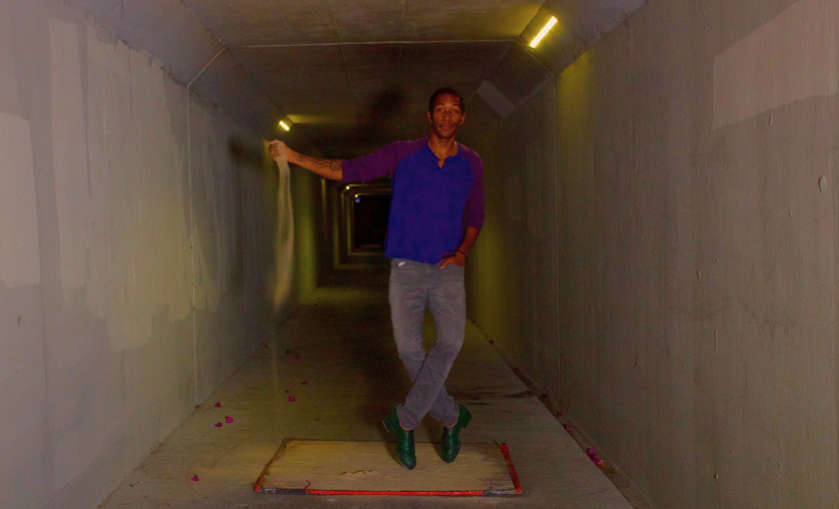 Tapper Kenji Igus dancing on sand (photo by Visionarrie Photography, courtesy Igus)
Where did it come from?
If you've never heard of sand dancing before, you're not alone. "I like to think of it as the forgotten sibling of tap," Igus says. Like tap, sand dancing is a distinctly American style, tracing its roots back to African slave communication. But sand dancing was never really codified, and its lineage is much more difficult to trace. "Most people associate sand dancing with Howard 'Sandman' Sims, from the '50s and '60s," Igus says. "He wasn't the first sand dancer, but his regular performances at the Apollo Theater in Harlem really helped popularize the style."
Who's doing it today?
Sand dance has remained primarily a street style. Igus learned it from his father, Darrow Igus, who learned it from a New Jersey projects street performer named "T" back in the '60s. "Melinda Sullivan is the only choreographer I've seen use sand onstage," he says. "But I've seen it on the streets of New Orleans." Sullivan was first exposed to the style in a class setting, with master sand dancer Guillem Alonso, of Barcelona, Spain. "I was hooked," she says. "I started looking up YouTube videos of Guillem, and experimenting with the form." She notes that other prominent tap choreographers are also using sand. "Michelle Dorrance has done some really cool stuff with it, and the Syncopated Ladies' 2014 video to Katy Perry's 'Roar' was all about sand dancing with a modern edge," Sullivan says.
How do I get started?
It's tough to find a class that specializes in sand dancing, for obvious reasons. "In the ideal world, I'd dump sand all over the studio," Sullivan says. "But that isn't exactly practical."
But you can still try it on your own. Both Igus and Sullivan stress that the best way to learn is to experiment with your own body, using the tap vocabulary you already know. Sullivan likes to layer in elements from other techniques, like jazz, contemporary or hip hop. "The first step is just to take your toe and rub it in the sand," Igus says. "Then start feeling it out and let your mind run wild."
Music tips
Because the sounds of sand dancing are much quieter than taps, picking the right music can be tough. But dancing a cappella is always an option. "Sand dancing is a sound that most audiences haven't heard before," says L.A. tapper Kenji Igus. "So hearing it on its own can be really captivating for them." Tapper and choreographer Melinda Sullivan agrees: "A cappella sand dance can be complete magic," she says. —MM
Mar. 23, 2017 06:45PM EST
Here at DS, we're big believers in our Sunday #MomentofZen. It's important to take a day to recharge and prep for the week ahead, especially when it comes to setting goals. Which is why we thought it was the perfect time to introduce our Sunday Spotlight Roundup. Maybe you've been wanting to master a new leap in jazz class, or prep your pointe shoes differently—no matter the goal, we've got you covered with these in-depth, how-to articles, covering everything from convention tips to Balanchine technique.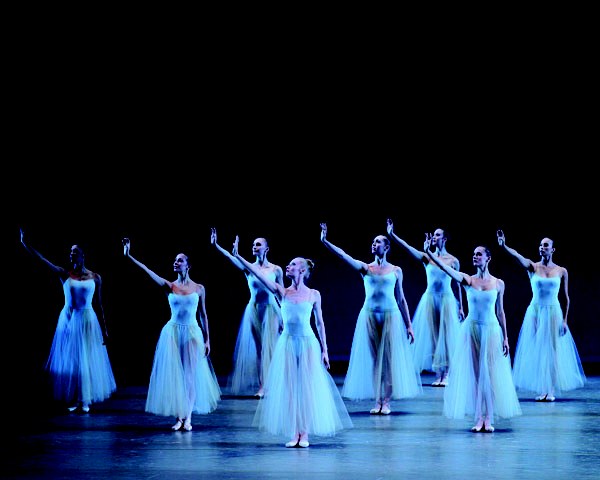 New York City Ballet in George Balanchine's Serenade (by Paul Kolnik)
For the bunheads:
Did you start at a new studio that teaches Balanchine technique? Our "Dancing Balanchine" spotlight focuses on all the beautiful intricacies of his style and choreography.
Have your pointe shoes been dying faster than usual? "Shank Strategies" offers tons of super helpful advice on how to customize your shoes.
Are you constantly wondering when you'll be getting that first pair of pointe shoes? "Am I Ready for Pointe?" helps you determine if your strength and technique are solid enough.
For the competition and convention regulars:
Not feeling too hot about your competition routine? We broke down all the problems you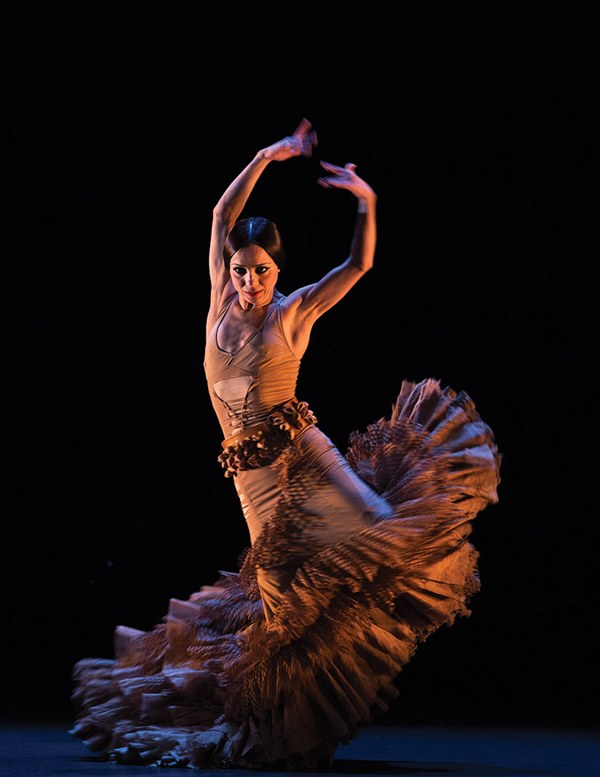 Olga Pericet in Pisadas (photo by Javier Fergo, courtesy Jerez Festival)
might have with your new piece  (and the solutions).
Only dance on marley at home? Sometimes the floors at conventions can prove to be the biggest challenge. We rounded up the best tips on how to deal.
For dancers wanting to try a new style: 
We explain how to execute a perfect Switch Firebird jazz leap.
Curious about finger-tutting in the hip hop scene? We asked the pros to walk us through a sequence.
Looking to spice up your dancing? Learn all about the passionate, musical world of Flamenco.
Mar. 23, 2017 05:30PM EST
Choreographer Matthew Neenan, who danced in Pennsylvania Ballet's corps, was eager to include plenty of dancers in his first work for the company back in 1998. "As a corps member, I'd always been around large groups, and it excited me to get everyone in there!" says Neenan, who ended up using 20 dancers in his ballet. But with a large cast come a lot of complications—complications that can sometimes overshadow the fun of having all those dancers to play with. What are the keys to clutter-free, universally flattering large-group choreo? Here are a few creative and practical ways to devise choreography that will help you highlight your cast's strengths.
Define Your Concept
Joanne Chapman, director of Joanne Chapman School of Dance in Brampton, ON, mounts production numbers every year for 55 to 115 dancers aged 5 to 18. Her cardinal rule is to find a clear theme—and stick with it. "From the beginning, you have to have a well-defined concept," she says. "Make a decision about what you're going to say, and stay true to that. If you're trying to tell a story, you have to be very explicit—otherwise, it can end up looking like a highway at rush hour." Her piece Drove All Night, for example, had a 35-
member cast, for which she constructed pure-jazz choreography, avoiding aerials and acrobatics because they would have confused the overall look. "With a large group, you can't afford to get sidetracked," she says.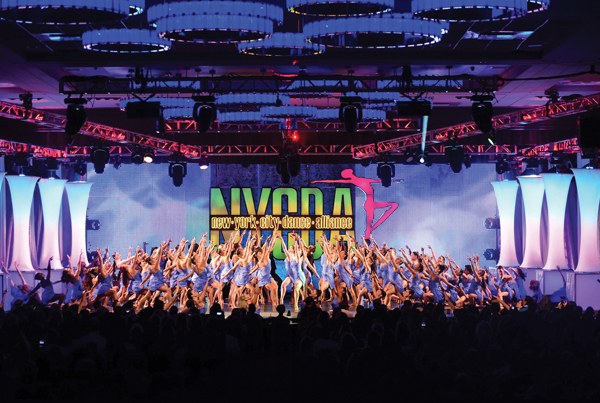 One of Suzi Taylor's numbers for this year's New York City Dance Alliance Nationals featured a cast of 145 (!) (Photo by Eduardo Patino, courtesy New York City Dance Alliance)
Emphasize Cleanliness
Even with a clearly defined concept, it's easy for choreography to get muddy with a lot of dancers onstage. When teaching the steps, it's important to be very specific about body alignment, arms, focus and direction changes. Chapman holds pre-planning sessions with her assistants to make sure everyone's on the same page about the details. Then she rehearses her dancers in small groups, looking for inconsistencies and tightening up unison work.
Even if that kind of intense organization isn't your style, it's still smart to go into the studio with a battle plan. Though Neenan likes "to allow for some messes to happen, some bump-ins and such," he still brainstorms big ideas and traffic patterns before beginning rehearsals. Mistakes, he says, are part of the journey. Just make sure that you take an active role in correcting and reshaping them.
Be Sensitive to Technical Levels
Inevitably, the range of abilities within a big cast will vary. Subdividing the piece into sections based on technical level can help you show each group's strengths. But when the whole ensemble comes together, it can be helpful to keep the level of difficulty relatively low.
That doesn't mean choreography for the whole group can't be interesting. Chapman makes even simple phrases exciting by inserting featured moments for her strongest dancers. "One dancer doing turns or acrobatic tricks while everyone else is on the floor, for example, can really spice things up," she says. "We also do a lot of canons, with each line starting the same phrase on a different count. That creates a very cool wave effect."
Anticipate Logistical Hurdles
Getting groups of dancers on and off the stage is one of the toughest challenges of large pieces. Chapman makes transitions between sections seamless by using a consistent movement (like a jazz walk) for all entrances and exits, and slightly overlaps their timing to ensure a smooth flow. Neenan sometimes likes to have dancers in his larger pieces exit with structured improv, so they still hold visual interest even while others are entering—a pleasingly layered effect.
The most glaring logistical issue when working with a large cast is how to fit everyone onstage. Standard tricks like staggered lines are useful, but sometimes you'll need to think more creatively. For this year's New York City Dance Alliance Nationals Senior Outstanding Dancer number, Suzi Taylor literally couldn't get all 145 of her dancers to move onstage at once without colliding—but she ended up turning that to her advantage. "I used the space on the floor in front of the stage, working level changes with unison and creating ripples of movement," she says. "It turned out to be pretty stunning!"
Sometimes asymmetry can be the most arresting way to arrange a large group of dancers. Neenan encourages thinking about the possibilities beyond traditional lines. "I like to put dancers in 'communities', sharing the stage in more of a normal, 'street' fashion, rather than symmetrical patterns," he says. Those kinds of groupings have the extra benefit of allowing more dancers to share a small space. "And using space creatively can be part of how you develop your original voice as a choreographer," he says. "There's only so much vocabulary—this is another way put your stamp on something."
Sep. 15, 2016 11:21PM EST
From Chicago to Kinky Boots, heels are a necessity for musical theater dancers. But lots of factors go into choosing the right character shoes, especially when it comes to heel height. Ultimately, it's all about figuring out how to feel confident, so you can rock every step—from high kicks to leaps.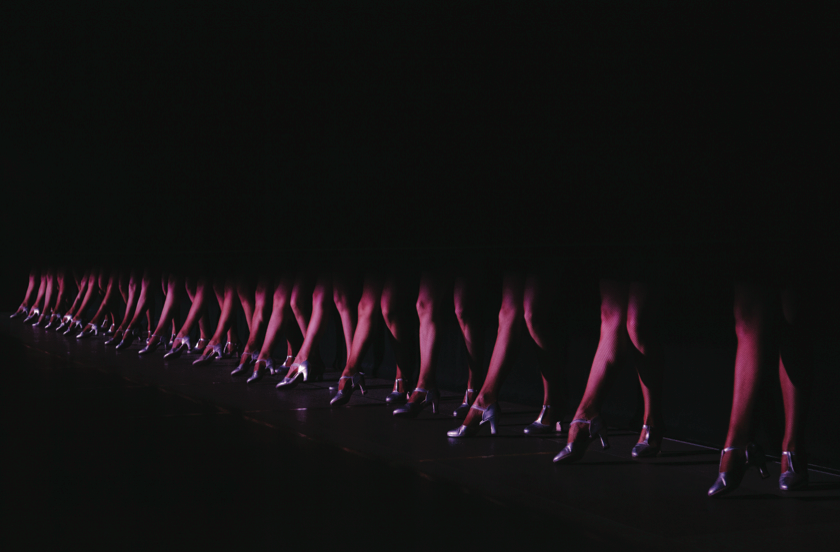 Higher heels can be ideal for elongating your line and showing off your legs. (courtesy Shai Yammanee)
Know Your Show
The most common character shoe heel height is 2 1/2 inches, according to Kenya Gibson, a sales representative at Capezio in NYC. It's an ideal height for many dancers because it strikes a balance between elongating your line and still allowing you to relevé. When wearing a 3-inch heel, your foot is already in a high relevé position, and unless you're a strong dancer, it can be hard to relevé further.
But you should also consider the show's choreography. "If I'm doing leaps and turns I'm going to be wearing 2 1/2-inch heels, but if the choreography is just walking and a kick line, I'll wear 3 inches," says Meredith Therrien, a dancer who's worked on Oceania Cruises. Think about time period, too. "The women in Fiddler on the Roof don't need to be in 3-inch LaDucas—it wouldn't make sense for the period," says Jessi Selig, a dresser for the show on Broadway. If you're auditioning for a similar show, choose boots that have a shorter, wider heel, which is a more authentic costuming choice.
Technique Is Key
If you're working on a show where a more standard character shoe is appropriate, you may feel like going for that high 3-inch heel—the extra height can help your legs look miles long. But another half-inch isn't always a good thing. "The trend now is for higher and higher heels, but the higher the heel, the higher the chance of rolling an ankle," says Broadway veteran Michelle Bruckner. If you're going to wear those 3-inch heels, make sure you have the technique and strength necessary to stay safe.
Bruckner also tells young dancers to make sure they have several years of good ballet and jazz training before they try sky-high heels. As for getting more comfortable, Therrien has simple advice: "Keep wearing them." To break in new character shoes, she tries them out in basic dance classes and rehearses blocking in them before busting out the triple turns.
Factor In Your Height
If you're a tall dancer, you may think you need to wear shorter heels to fit into the chorus, and if you're short you may think you need a height boost from your heels. But that's not necessarily the case. Sonya Higgins, a former showgirl in Jubilee! in Las Vegas, NV, is already tall at 5' 8", but she wears 3-inch heels anyway. "It's more about line," she says. "As a tall dancer, the kinds of shows I'm going out for are things like The Producers, or Spamalot, where it's all about the legs," making higher heels a better bet. And, if you're shorter, don't feel like you have to dance in the tallest shoe possible; go with the shoe that lets you showcase your strengths. Shorter dancers tend to be powerful turners or jumpers, and lower heels will allow you to show off those skills.
Find Your Style
Most dancers choose character heels with flexible arches. Therrien loves that soft-soled character shoes allow her to point her feet easily and land jumps properly. One reason to stick with hard-soled shoes? "Support," Higgins says—which you'll definitely need if you're dancing with a heavy costume. "If you're wearing a 20-pound headpiece, you want as much support as possible from your shoes."
The Bottom Line
One word: comfort. In the end, "you want a shoe that you're not going to have to think about while dancing," Selig says. "You want to be able to focus on the choreography." Comfort fosters confidence, and that's especially important during auditions. Properly fitted, comfortable shoes will get you further than an extra half-inch ever will.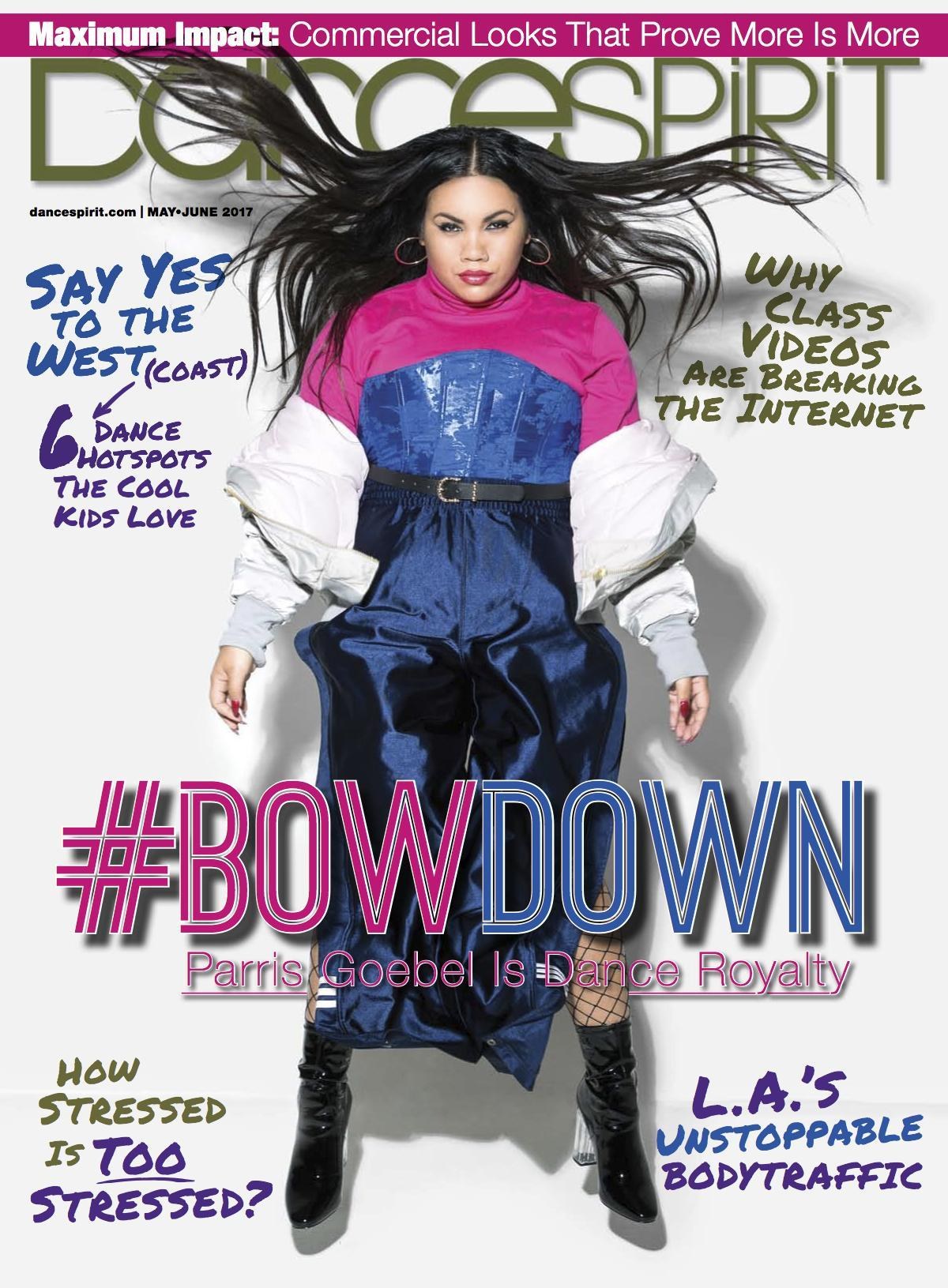 Get Dance Spirit in your inbox