Mar. 23, 2017 10:29AM EST
In my imaginary second life, I am best friends with Kathryn McCormick and Chantel Aguirre, and we are all members of Stacey Tookey's newly-formed company, Still Motion.
In actual life, Kathryn and Chantel (and a host of other former Dance Spirit cover stars, including Melanie Moore) really are members of Tookey's company.
Sure, I'm jealous. But I'm sure a spot will open up in the company—and the friendships—for me soon enough.
In the meantime, I am so into this just-released video from Tookey showcasing a bit of the incredibly talented dancers from Still Motion in Moments Defined.
Aug. 11, 2015 11:00AM EST
Hey, "SYTYCD" fans: Want to win a trip to see the finale episode LIVE in L.A.? Of course you do! Click here to enter our "SYT" finale sweepstakes.
And then there were 10. We said goodbye to four of the loveliest ladies on last night's "So You Think You Can Dance"—Team Stage's Kate and Alexia, and Team Street's Yorelis and Ariana. And while it's always bittersweet to see these incredibly talented dancers go, at least Derek (Team Stage) and Neptune (Team Street) were spared. The (unintentional) theme of this week's episode became clear about 30 minutes in—fake it till you make it. There was a lot of very smart criticism offered to the dancers last night, mostly having to do with appearing confident even if they were completely out of their comfort zone. All in all, there was some good and some bad, but mostly a lot of meh, especially after last week's awesomeness.
Here are the top 5 highlights from the episode:
1) Jim's triumphant return from injury. Okay well it wasn't really a return, seeing as he was only prevented from participating in the group dance. BUT being teased like that (Cat Deely: "Jim was injured this week." Me and all of America: Stopped breathing. Cat: "JK just for the group dance! Here he is for his duet!") was enough to make me truly appreciate his dancing. Nigel is right—he is an extraordinary technician, and WHEN (not if) his artistry gets to the same level, he'll be unstoppable.
2) The honesty bombs dropped during Alexia and Ariana's critique. One of our favorite things about "SYTYCD"? When the judges really use it as a platform to help the dancers. They're performing for more people than they could've ever imagined, with super high stakes, but sometimes it seems like the audience prevents the judges from saying what the dancers really need to hear. This wasn't the case tonight—Nigel, Paula and Jason agreed that Tracy Phillips and Dominic Carbone had great intentions with their piece (fish-themed, jazzy and a very different vocabulary than what either dancer was used to). Unfortunately, though, Nigel literally said that Ariana's presence was like "a dead fish on a slab" (omg). Luckily, Paula (and the rest of the world) realized that was a bit harsh and counter-productive. She saved the day with her constructive words, offering another solid piece of wisdom for all dancers: "I can tell you're scared to attack it. So, imagine how it would feel if you actually could attack it. If you think you can, then you act as you would if it were true." Fake it till you MAKE IT, PEOPLE. #PaulaKnows.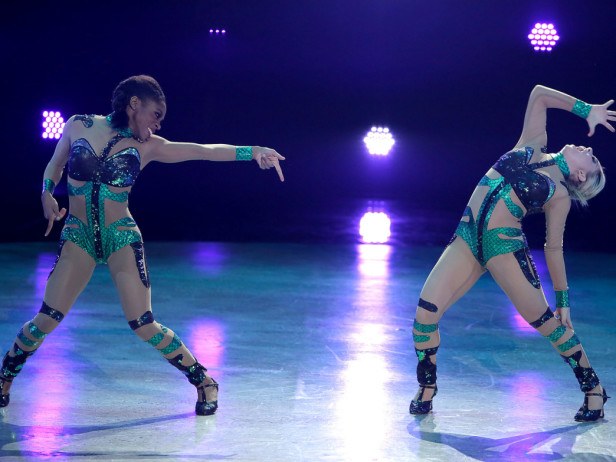 Alexia and Ariana trying to stay afloat in their routine (Photo Adam Rose/FOX)
3) Megz just bein' Megz. LOL at Megz's secret trumpet skills. Even though this Dave Scott number was not that remarkable, it was important because it showcased the best traits of Megz—her absolute devotion to this competition and growth as a dancer. She knew her facials were a little out of control and forced. She was the first to admit this was not her forte, and the first to take any and all advice to make her dancing better. Nigel recognized this as he sung her praises even though the routine wasn't one of his faves.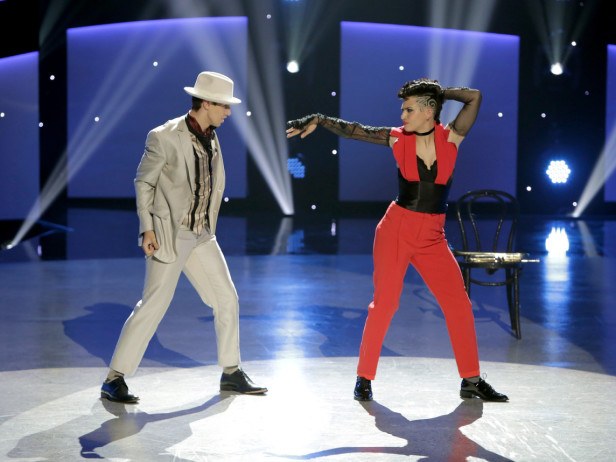 Megz doesn't let fear of an unknown dance genre phase her (Photo Adam Rose/FOX)
4) Stacey Tookey's mesmerizing number for Neptune and Gaby. Time and again, Gaby outdoes herself. Her feet are stunning, she's got insane diversity to her dancing and she is one of the most sincere dancers to grace the SYTYCD stage. This was honestly a goosebump-inducing routine, and it's safe to say everyone in the audience agreed. Neptune gave an admirable performance, and the most beautiful part was how he just trusted Stacey and Gaby to help him through the piece. They both danced with a sense of abandon, and it was inspirational to watch. The judges rewarded them with a well-deserved standing ovation and nothing but praise. They were blown away by the performance aspect and that nothing was forced. That definitely spoke to something that's been missing this season—rawness, realness and the ability to lose yourself in the choreography.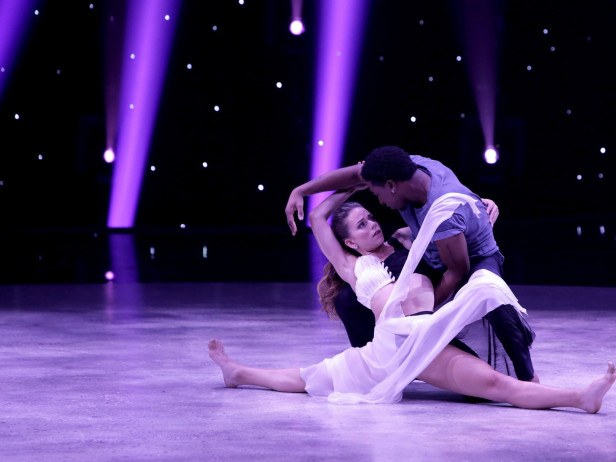 They are LIVING IT (Photo Adam Rose/FOX)
5) The lovely Team Stage group routine choreographed by Sonya Tayeh. After last week's amazing Travis Wall group number, Tayeh created another win for Team Stage. There was a lot of disappointment in the air during this episode, but it was refreshing to see these gifted artists put everything behind them and feed off each other's energy—something that was necessary to get through this tense and heavy routine. The premise was the sensation of agony you experience moments after hearing tragic news, and it seemed almost everyone from Team Stage had a life event to pull from. This upped the realness factor by 1000%, and the results were breathtaking (as were the costumes!).
With four gone and 10 remaining, it's almost impossible to predict what the future holds for these dancers. What did you think of last night's episode, and whose time has come to go home? Tell us in the comments below! And be sure to check back next Tuesday morning for our next recap!
Sep. 01, 2014 04:30PM EST
Since leaving her hometown of Edmonton, Alberta, at 19, Stacey Tookey has become one of the commercial world's biggest-name choreographers. Her work on "So You Think You Can Dance" has earned three Emmy nominations for outstanding choreography, and her company, Still Motion, presented her full-length work, Moments Defined, in NYC and L.A. this summer.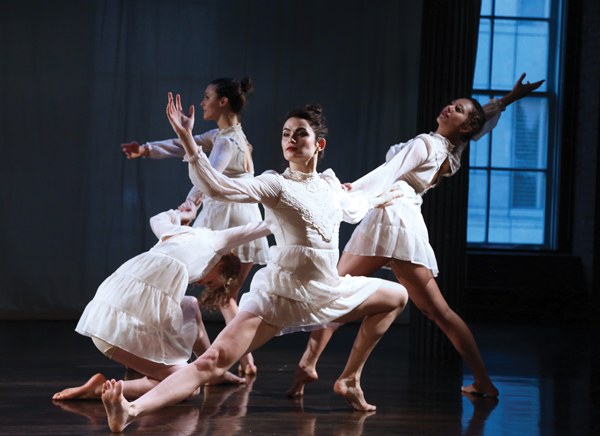 Members of Still Motion in Tookey's Moments Defined (photo by Bill Herbert, courtesy Stacey Tookey)
"In Moments Defined, there's a New York street scene that's up-tempo—a really happy, feel-good part of the work. It was inspired by the first time I arrived in NYC. The city was a place where, all of a sudden, I just felt alive. It was a feeling of true happiness and true belonging."
"I often use apps like SoundCloud to find new music. But I also love getting recommendations. For example, a friend first told me about Christina Perri, who, at the time, was still a waitress. I heard her song 'Jar of Hearts' and immediately fell in love with it. I took it to the 'SYTYCD' people, and they said they needed a produced copy. I went back to Christina, who then asked her manager to produce it. Finally, we got to use it on the show, and the song was a hit. A couple of days later, she was flown to NYC and basically had her choice of record labels!"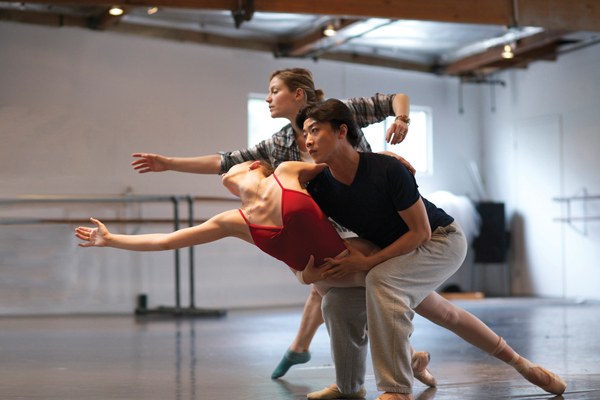 Rehearsing Be Still with Los Angeles Ballet's Allyssa Bross and Zheng Hua Li (photo by Erich Koyama, courtesy L.A. Ballet)
"I love collaborating with composers. I've worked with Matthew Banks many times—for Moments Defined and my pieces for Los Angeles Ballet and Cincinnati Ballet. I love being able to speak to him about exactly what I want or to ask if he can go in another direction. He also comes in to watch the rehearsal process and creates from there."
"I was walking down a street in NYC, and I started to think about the stories behind everyone I passed—a businessman, girls out shopping, a homeless man—and the diversity of our culture. That's how Mad World was born. I thought, 'What if there were a twist? What if two people knew one another growing up, but their lives took completely different journeys, and then they had an accidental meeting?' I wanted to bring up that shocking, twisted, sad thing about reality."
"Pina Bausch is a true visionary. Her work inspires me, and she embodies everything I want to become as a choreographer. Crystal Pite is also just mind-blowing. She was in Ballet BC when I joined the company as an apprentice, and since then, I've looked up to her as a mentor. I always say, You aren't the person you are without the people you look up to."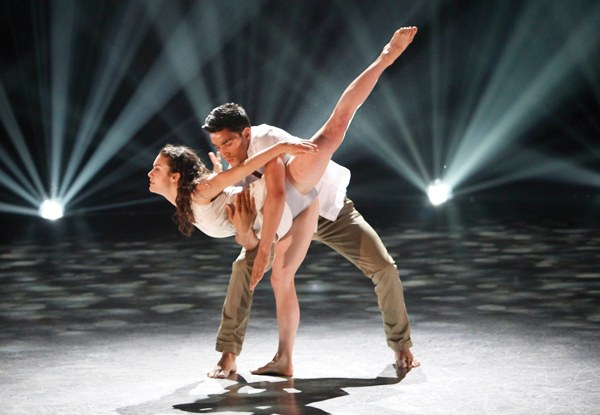 Kathryn McCormick and Robert Roldan in Heaven is a Place on Earth (photo by Mathieu Young, courtesy FOX)
"The inspiration for my piece Heaven is a Place on Earth came from seeing families making huge sacrifices for the military. The dance centered on a woman leaving for war. At the time, so many people were dealing with those sacrifices, and their stories really affected me. On the show, Kathryn McCormick and Robert Roldan were able to take the piece to such a real place emotionally."
"Kathryn McCormick is my muse. I fell in love working with her on 'So You Think' and she's the one dancer I always go to for any project. She invests her whole soul in everything she takes on."
"When I look at myself as a teacher or a choreographer, I see that it all comes from my mother. She's one of the most hard-working, passionate people I've ever met. She's had her studio, Shelley's Dance Company, for more than 45 years and has created so many amazing dancers. Still, she goes in every day and puts her heart and soul into her work. I'm not sure if I have the strength to do what she has done. I'm the person I am today because of her."
Aug. 06, 2014 11:45AM EST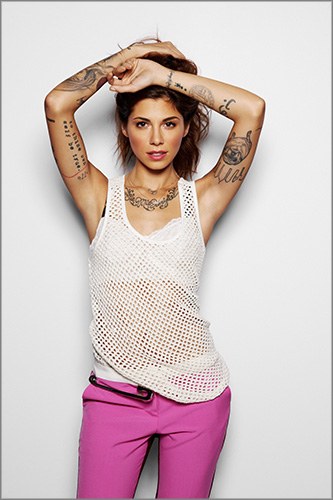 Christina Perri
(photo by Yu Tsai)
You probably remember Stacey Tookey's contemporary piece "Jar of Hearts" on "So You Think You Can Dance" Season 7—partly because of the ultra-gorgeous choreography, and partly because the song's been in your head ever since. (Click here in case you need a refresher.)
At the time, Christina Perri's song "Jar of Hearts"—and Perri herself—were virtually unknown. Cue the best Cinderella story ever: After it played on the show, "Jar of Hearts" was downloaded so much that it made iTunes' Top 20 song chart—that night. Two weeks later, "SYTYCD" invited Perri to play "Jar of Hearts" live (accompanied by Allison Holker and Neil Haskell), and the song took off—hitting number 25 on the Billboard Hot 100 chart and number 1 on Amazon's digital singles list.
Fast-forward four years, and Perri's career has been on a roll. Her newest album, Head or Heart, is available now; she's currently touring with One Republic; and this fall, she'll hit the road with Demi Lovato. Tonight, Perri will perform her latest single "Burning Gold" on "SYTYCD," and Tookey has choreographed a special performance for their four-year reunion.
Dance Spirit spoke with Perri about her second big night on "SYTYCD."
How did Stacey Tookey first find your work?
Keltie Colleen is the fairy godmother in this story. She and I have been friends for a long time—she dated my brother, and when they broke up, we kept hanging out. Up until "SYTYCD," she was one of very few people who had heard my music. She was always supportive and encouraging, and she was actually the one who helped me get a manager by posting a video of us on YouTube back in 2010. Three months after that, I emailed Keltie a song called "Jar of Hearts." I'd just recorded it, I and wanted to show her what I was working on. I asked her to keep it between us, but she immediately emailed Stacey Tookey—they grew up together and were friends—and suggested it for the show. Stacey replied, "How about this week?" I had five days to do a photo shoot and put the song on the internet. It was crazy. The night it debuted on the show, Keltie and I were in the audience. I quit my job as a waitress the next day, flew to NYC and my adventure began!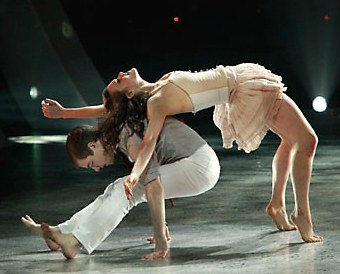 Billy Bell and Kathryn McCormick in "Jar of Hearts" on "SYTYCD"
(photo Kelsey McNeal/FOX)
What's your relationship with Stacey like?
She realized how much of an impact her work and the show had on my life. When I needed a choreographer for the "Jar of Hearts" video, I asked Stacey to work on it with Keltie and the cast of "SYTYCD" dancers. Since then, Stacey has used more of my songs on the show and we stay pretty close. I always send her champagne and flowers on June 30 (the date I was on the show). I can't wait to come back and perform "Burning Gold" with her choreographing.
What's the best part about choreographers using your music?
It's a magical combination. Dance elevates the emotional level of the song. It makes it into something brand new. I'll hear a song over and over, but when I see someone dance to it, it comes to life. I'm honored when someone dances to my music.
Do you have any advice for DS readers?
Say "yes" to the things that scare you. I was shy and lacked confidence, and there were always so many reasons to say "no"—excuses. But the moment I started saying "yes"—for instance, letting Keltie post that video online, or agreeing to play on TV—all of my dreams started to come true. "Yes" can change your life.
Be sure to watch Christina Perri tonight on "So You Think You Can Dance," and come back tomorrow to read our recap of the Top 10 episode!


Get Dance Spirit in your inbox