Mar. 23, 2017 01:31PM EST
Earlier this year, Ashley Green and Michael Hall—senior dancers at Columbia City Jazz in Lexington, SC—were performing their duet, Redemption, at a 24 Seven Regionals competition. It'd already been a long day, and they were tired. Near the end of their performance, disaster struck: Michael's leg gave out during a lift and both dancers ended up on the ground. But in the blink of an eye, Ashley made their fall look intentional. "She got up, looked at him as if he'd wronged her, and exited without him," recalls CCJ artistic director Dale Lam. "Her recovery worked so well that they changed the routine, took it to Nationals that way and won!"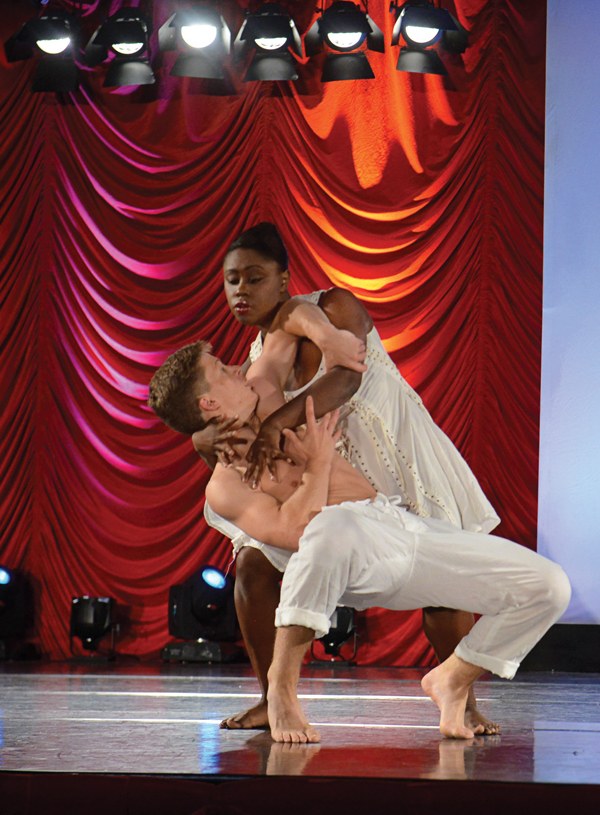 In their duet, Redemption, Ashley Green and Michael Hall used an onstage flub to their advantage. (Photo courtesy Dale Lam)
For 17-year-old Ashley, stopping the piece to deal with the fall wasn't an option. "When things go wrong, I just keep moving and try not to show it on my face," she says. "No matter what, you have to make it work."
Having that never-quit mentality can pay off, but the mantra of "The show must go on," especially in the face of onstage calamity, is easier said than done. Whether it's a glitch in the music, a costume that comes undone or a partner who drops the ball (or drops you!), here's how to handle the most unfortunate of performance circumstances.
Musical Mishaps
Music malfunctions are all too common, especially for competition dancers who are often playing their songs on new devices at each event. When you're onstage by yourself, turning to your improv skills when the music skips or stops may be enough to save you. But staying in sync in a group number is tricky when you don't have the music on your side. Lam has her dancers practice combinations without music, so they learn to keep time by breathing together. "You can stay on the rhythm by noticing the beat of feet on the floor and listening to each other's breath," she says. Lam has also seen dancers in musical theater numbers save the show by singing their music during a technical glitch. "They were so connected to the song, and the audience loved it," Lam says. "When things go wrong, you can get upset or you can do something totally unexpected. And in the latter case, the audience will be forgiving."
So will the judges. Professional tapper Melinda Sullivan says that, when judging competitions, she'll never take off points for a mishap that's outside of a dancer's control—as long as it's handled well. "At New York City Dance Alliance this year, I remember thinking one group number was great, but then there was an announcement that the number was running again because they'd performed the whole piece to the wrong music," Sullivan says. "Since they stayed committed, I had no idea!"
Costume Catastrophes
When costumes rip or come untied, dancers have a choice to make: Should they fix it onstage, make a quick exit or let it be? Choreographer Stacey Tookey remembers the first time she had to make this tough call as a teenager, when a halter top came untied completely. "I unfortunately opted to continue dancing while holding my top up for the whole routine," Tookey says. "But now I know that if you're really exposed, it's OK to leave the stage." This is especially true for a group routine: Ducking into the wings to fix a costume calamity might pull less focus than trying to retie a top mid-routine. If you can, exit and reenter during formation changes, when the audience is less likely to notice. Keep a sewing kit handy backstage in case you need to make last-minute repairs or adjustments.
Prop Problems
While props can add an extra spark to a number, they're an inevitable performance hazard—you know someone is bound to drop something. But what happens if you're the culprit? Lam says retrieving your fallen prop is usually the smartest option, especially if there's a risk of someone tripping on the item or having to dance around it. "Everyone in the audience will be distracted by the prop on the ground for the rest of the piece, so stay in character and pick it up," she says.
Tookey agrees: "Odds are you'll need to use the prop later, so try to fix the situation and get back on track as fast as possible," she says. "But if the prop goes flying and rolls into a back corner, don't run across the stage." If your prop is truly out of reach, carrying on empty-handed is a wiser choice. And if you see someone else's abandoned prop on the ground, it might be worth taking a second to kick it offstage to prevent a face-plant.
Fellow-Dancer Disasters
You may remember 2 Steps Away, one of Tookey's duets for Kathryn McCormick and Jonathan "Legacy" Perez on "So You Think You Can Dance" Season 6. But did you know it included an onstage mishap? "Legacy was supposed to give Kathryn's leg a slight pull in arabesque, but he pulled so hard she landed on her butt," Tookey says. "Kathryn got up and kept going so seamlessly that even I didn't notice the mistake!" (No one else noticed, either—the routine earned Tookey her first Emmy nomination.)
Being able to carry on when a fellow dancer messes up—or messes you up—is a skill that really comes down to mind-set. "A mistake can be distracting and throw you off," Sullivan says. "But I love the statement 'strong and wrong.' If you make a bold choice and keep it moving, the audience won't know the difference." Confidence, Sullivan notes, is key when you're improvising to cover someone else's error—or your own.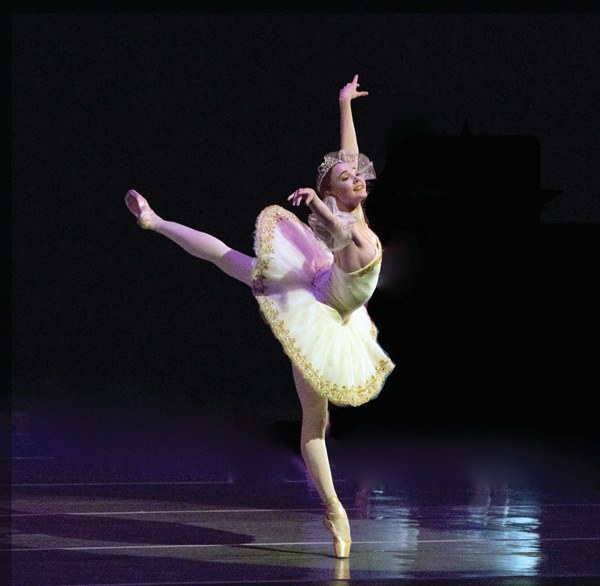 Rio Anderson doesn't let herself dwell on mid-performance mistakes (photo by Sandy Lee, courtesy Rio Anderson)
Most importantly, don't let a mishap psych you out. Rio Anderson, 17, from San Francisco, CA, remembers having to recover from a fall at the Youth America Grand Prix Gala in Indianapolis. "The hardest part was that I spent the rest of the piece worrying that I messed up," says Rio, who currently trains at The Royal Ballet School in London. "Now I try not to get caught up thinking that every performance has to be perfect. As a dancer, you have to assume that things will go wrong, but you'll be able to deal with them as they come."
Beauty
Mar. 23, 2017 11:40AM EST
Nov. 11, 2015 03:08PM EST
Stage presence is the secret sauce you bring to your dancing: It makes every moment more delicious. But it's not easy to nail down the recipe. "In auditions, I'm scanning a whole room full of dancers performing the exact same steps, and the ones who stand out have a special quality," says Warren Carlyle, the Tony Award–winning Broadway choreographer and "So You Think You Can Dance" veteran. "There's a luminescence to them. But it's hard to say what it is definitively."
Some lucky performers are just born with presence. "It can be a gift, like being a natural storyteller," says tap virtuoso Anthony Morigerato. But while he believes stage presence is difficult to teach, he does think it can be discovered. "You can definitely improve by getting feedback in rehearsal and evaluating past performances," he says. Here's your guide to going beyond the steps and really moving audiences.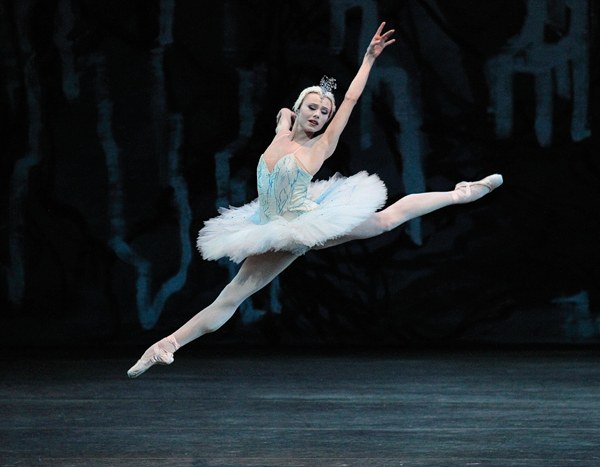 Sara Mearns as Odette in Peter Martins' Swan Lake (photo by Paul Kolnik, courtesy NYCB)
Perform with Your Whole Self
Stage presence is so hard to define because it's a complex combination of many things: expression, emotion, a dialogue between you and the audience. An all-purpose smile tacked on as an afterthought is never going to cut it. "Stage presence isn't just on your face," says Sara Mearns, a principal dancer with New York City Ballet, who's often praised for her passionate interpretations of iconic roles. "It's your whole energy, from the very first step you take onstage." To project that energy outward, she says, "you have to genuinely feel emotions, not just plaster them on. And you have to be comfortable with yourself to pull that off."
Get Your Story Straight
If you're having trouble connecting with the audience, start by analyzing the story or intention of the piece you're performing. Well before you walk onstage, you'll need to understand what the choreographer wants to say and how you can carry that message through the movement. "In rehearsals for the Broadway show After Midnight, I made the performers verbalize the story the choreography was telling," Carlyle says. "In many cases, that made it much clearer in performance." When Morigerato is judging at NUVO Dance Convention, he sees a lot of dancers who need to clarify this intent with their instructors. "If the performers don't understand what the choreography is about, that negatively impacts their ability to capture my attention," he says.
If you're dancing a classic work, Mearns suggests researching its history, which might help you connect with the movement. "Recently, I was rehearsing George Balanchine's Élégie," she says. "To prepare, I read about how he created it for ballerina Suzanne Farrell, and how she performed the piece when he was dying"—a powerful backstory to draw from.
Not performing in a story ballet or a musical? You can always make up your own character arc. Kaelynn "KK" Harris, a member of the 8 Flavahz Crew, thinks about taking on a persona in every performance, "whether it's sexy, hard, hip or girly," she says. And she works on that character from the very first rehearsal. "In the studio, dance full-out, the same way you would perform, including facial expressions," she says. "You want it built into your muscle memory."
Follow the Music's Lead
Another great way to bring more vitality to your performance is through the music. "Frequently, my interpretation of choreo-graphy is based on the meaning of the song it's set to," Harris says. If that song has a music video, she'll mine it for information about tone and mood. "The goal is to make the vocal artist's message come to life in the movement," she says.
Try mapping out the music's high and low points and echoing their energy in your dancing. "I think the best thing you can do is put on your headphones and listen," Morigerato says. "Find the dynamic contrasts and try to match them. If you hear joy, put that in your expression. When the music goes full-throttle, amp up your energy."
At competition, Morigerato adds, some dancers perform everything at full volume, regardless of the feel of the music, because they want to impress the judges. Remember that moments of quiet intensity can be just as captivating. "Performing is like telling a crazy story at lunch with your friends," Morigerato says. "You emphasize some parts and deemphasize others, using the tone of your voice to make the story better. The dynamics of your dance need to change like that, too. Over-the-top energy the whole time is like yelling in someone's face. If you include moments of subtlety when the music is hushed, the audience will lean in—and then, when the music intensifies, you can hit the floor, like, bang! That brings the dance to life."
Find Your Inspiration
Morigerato urges dancers to watch a different dance video every day for inspiration. "Find clips of masters like Fred Astaire, Mikhail Baryshnikov and Gregory Hines," he says. "If you're a tapper, don't just watch tap. Watch ballet or musical theater, and find something that speaks to you in each style." The more dancers you watch or study, the more you'll have to inspire you onstage.
Don't be afraid to draw from your own life, too—it's one of the best ways to tap into authentic emotion. If you're dancing a mournful solo, think about moments when you've felt sad and alone. If you're performing a joyful piece, channel the glow of your happiest memories. As you develop your craft, you'll find that your personal experiences will shape your performances more and more. "I'm doing some of the same repertory now that I did when I was 19, but I definitely don't perform it the same way 10 years later," Mearns says. "Just living helps strengthen your presence onstage, and your emotional connections to movement. The experiences I've had in the last decade have changed everything about the way I dance, and I wouldn't trade that for anything."
Sep. 01, 2013 06:47PM EST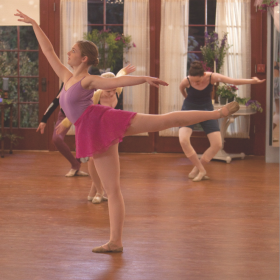 Writing down her corrections in a journal helped Kaitlyn Jenkins (here on "Bunheads") fix her arabesque for good. (ABC Family/Randy Holmes)
There are two words no dance hopeful wants to hear: "rookie mistake." Even if you have fierce fouettés and super-pointy feet, there are still some universal no-no's to avoid if you want to hear "yes" from a choreographer—and the list probably includes things you don't even realize you're doing.
In Class
1. Not arriving early. You may think arriving at 3 on the dot for a 3 pm class is totally fine, but it's really not. "It's frustrating and rude when people miss the first bit of warm-up and still want to take class," says "So You Think You Can Dance" and Broadway alum Neil Haskell, who guest teaches for The BEAT Dance Tour. You should be in the studio (or waiting outside of it) at least 15 minutes before the scheduled class time. Not only will that give you time to warm up, but it will also broadcast to the teacher that his or her class matters to you.
2. Not retaining corrections. For the longest time, "Bunheads" star Kaitlyn Jenkins kept getting the same correction from her ballet instructor. "My arabesque was completely out of line," she remembers. "It didn't look beautiful—just distorted." Teachers hate giving the same correction over and over again. It either shows the dancer lacks respect for the teacher, or that the dancer has trouble processing and retaining information. If you do have a hard time keeping track of your corrections, try writing them down in a journal. That's what Jenkins did—and doing so helped her fix her arabesque for good. "When you write things down, it keeps the information fresh in your mind and ingrains it in your brain," she says.
3. Not saying "thank you"—and meaning it. It's pretty much a given that you should thank a teacher or choreographer after class, but being genuine matters, too. "You were the person yawning in back who didn't take a single correction, but you still give me a big 'thank you' hug? I remember that," says choreographer Mandy Moore. "I always find it interesting who is authentic with their 'thank you' and who's not. I lock that into my brain, and I'm like, 'I don't want to work with that person.' "
At Auditions
4. Not going the extra mile with your homework. Before any audition, get the full 411. You may think you know what a good Chorus Line audition outfit looks like—but what if your director is doing a crazy, futuristic take on the show? "Research the piece you're going in for, the style of dance it uses and the specific look the choreographer wants," advises Jamie Harris, director of Clear Talent Group's NYC office. "What you wear for Susan Stroman will be different than what you wear for Andy Blankenbuehler."
5. Not being observant. The dancer who gets the job is the one who masters the choreography's tiniest nuances. Jenkins advises paying as close attention to head placement and port de bras as you do to fancy footwork. She remembers a day on the "Bunheads" set when they had to reshoot a scene several times because two dancers couldn't get the arms right on a particular combo. "Always look at the full picture," Jenkins says. "In ballet, that can determine whether you get into the summer program or the company."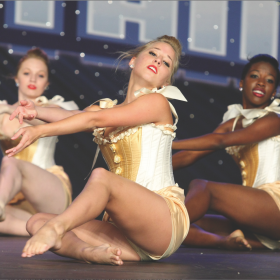 Don't fake your performance face! Expression and emotion are just as important as technique onstage. (Universal Event Photography)
Onstage
6. Not giving good face. Expression and emotion count just as much as flawless technique, and faking won't cut it, says Haskell. "Whether you're watching a competition, recital or Broadway show, you never want to see pasted-on or forced smiles," Haskell says. "It's important to give an honest performance."
7. Not being aware of your spacing. Dancing your biggest onstage seems like an obvious "do," right? Wrong. For the sake of the dancers around you, don't be a flailer. "Whether you're working with two or 100 other dancers, know the space you're in and figure out how big you can be," Haskell says.
Moore agrees, recalling a recent instance on the set of Nickelodeon's "The Fresh Beat Band" in which a dancer bumped into one of the principal performers. "I was horrified," Moore says. "You never want to be the dancer who messes up a take—time is money on set. Spatial awareness is incredibly important."
On the Job
8. Not tweeting with tact. It may be tempting to vent online about a terrible day at work, but those 140 characters could come back to bite you. "Don't tweet about bad days and don't bash anyone," cautions Haskell. "Your name is attached to your social media accounts, and if a director looks you up, he might change his perception of you."
9. Not keeping it professional. Remember that you're representing your choreographer or company at all times, even when you're getting fitted, grabbing a snack or waiting backstage. "I've been on sets where dancers I hired were rude to costume people or craft services, and it gets back to the producers—which makes me look bad," Moore says. "Being kind and easy to deal with will get you so much further." Harris agrees: "You don't want to lose a job because you act like a diva—you want to get one because you dance like a diva."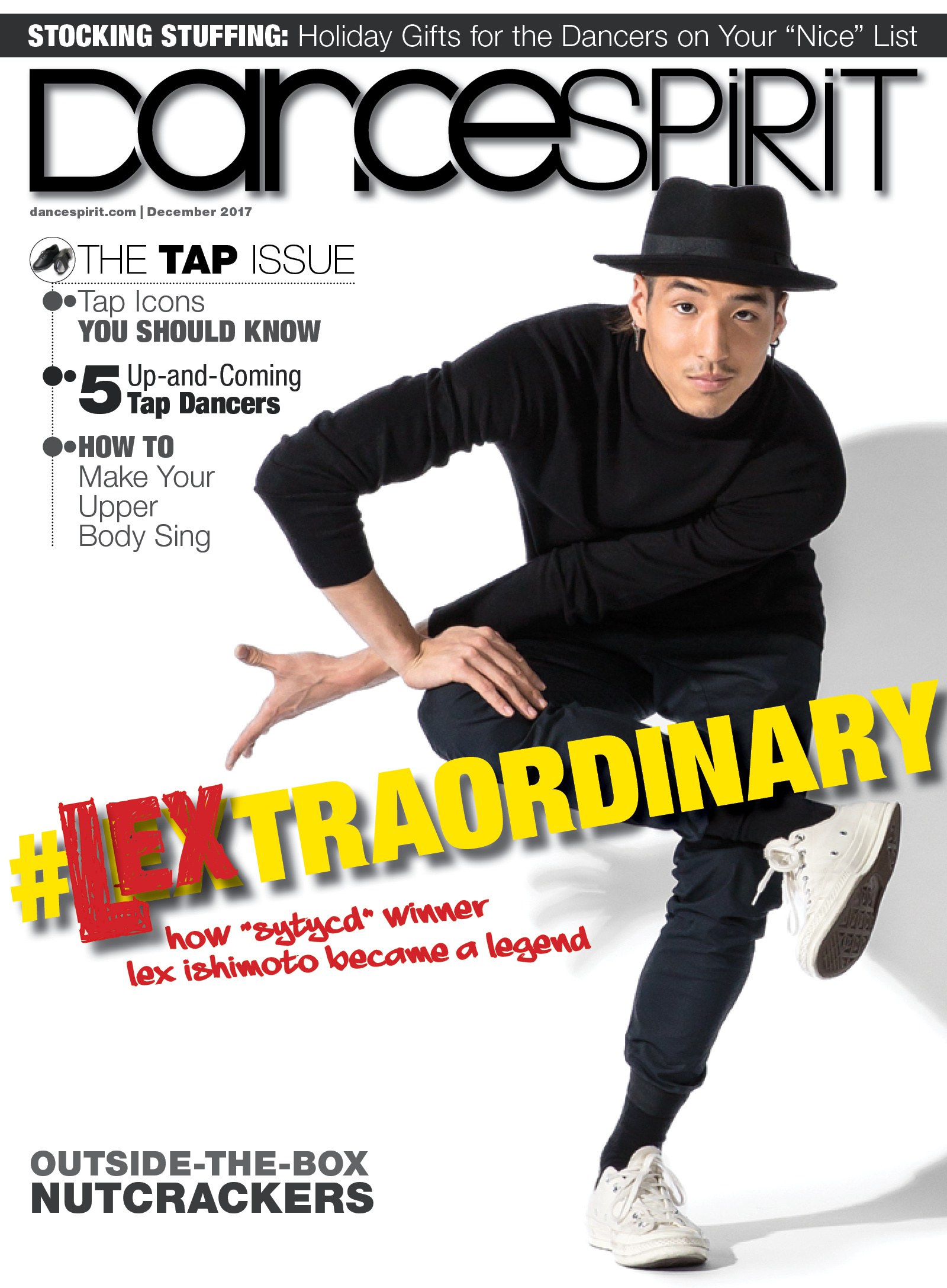 Get Dance Spirit in your inbox