Keep reading...
Show less
Everyone knows it's not only the steps or technique that make a ballerina memorable. It's the emotion—and the ability to tell a story—that truly captivates an audience. And American Ballet Theatre's latest video is here to help. It takes us inside this season's production of The Sleeping Beauty, complete with luscious footage of the ballet itself and a few wise words on really getting inside Aurora's head, straight from some of ballet's leading ladies.
Because let's face it, getting into character is easier said than done. I mean, it's a little tricky to relate to a princess who sleeps for 100 years when you can't even squeeze in a power nap. And who has time for a prince when you've got rehearsals? It takes a lot of focus and imagination to play a convincing character, especially in a fairy tale story like The Sleeping Beauty.
In the video, principal Gillian Murphy talks about all the famous Auroras she looks up to and says: "Be inspired by that huge history of iconic Auroras and ballerinas, but also you have to make it your own." Cassandra Trenary, a soloist, credits Artist in Residence Alexei Ratmansky with helping the dancers dive deep into their roles. "He (Ratmansky) is able to give you a story behind every single movement. Whether it's a variation or a pas de deux, you're not just taking your partner's hand. It's like, that's the love of your life! Just keep that in the back of your mind."
Note taken. So long story short, don't be afraid to ask your teacher or director for guidance if you're struggling, take inspiration from others who have played the role and always trust your gut to make your portrayal authentically you.
As for the production itself, this Sleeping Beauty is absolutely dreamy (pun intended)—principal Stella Abrera (also featured in the video) says it's "kind of like watching a very old painting from the Louvre slowly come to life." This "new meets old" ABT Ratmansky version of SB premiered last season, but if you missed it check out the video for an exclusive behind-the-scenes look. Or, see it live when it runs at the Met June 27-July 2!

Abrera in The Leaves Are Fading (Rosalie O'Connor, courtesy American Ballet Theatre)
American Ballet Theatre principal Stella Abrera isn't just a breathtaking ballerina who rises to any occasion. The Filipino-American is also the founder of Steps Forward for the Philippines, a charitable partnership with Operation USA that raises funds for those who were affected by 2013's Typhoon Haiyan. Raised in California, Abrera studied dance at the Pasadena Dance Theatre, Le Studio and the West Coast Ballet Theatre. She became a member of the ABT corps de ballet in 1996, was appointed soloist in 2001 and made principal in 2015. Look for her later this month when ABT performs The Sleeping Beauty at The John F. Kennedy Center for the Performing Arts in Washington, D.C. —Mallory Szczepanski
Keep reading...
Show less
Unless you've been living in some strange internet-less hole, you probably already know that yesterday was a HUGE day for the ballet world. American Ballet Theatre announced seven (count 'em!) promotions—and one of them was the extraordinary Misty Copeland, who's now the company's first African-American female principal.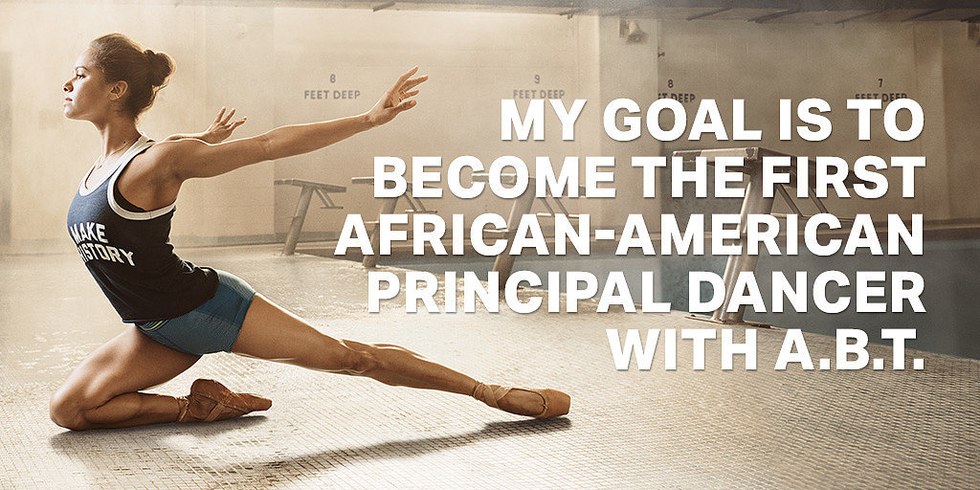 From Copeland's epic Under Armour campaign—she willed what she wanted.
The crowd—and by crowd I mean mainstream press, as well as dance fans everywhere—went WILD.
Copeland got social media shoutouts from (almost literally) everyone, including Hillary Clinton, Oprah Winfrey, Taye Diggs and Laverne Cox.
Just pinned to our "Women Who Inspire" board: the newest principal ballerina at @ABTBallet. Congrats, @mistyonpointe! pic.twitter.com/7CHabDGyvk

— Hillary Clinton (@HillaryClinton) June 30, 2015
Brava! Yay! And Hallelujah to you @mistyonpointe . Beaming with pride at your magnificent achievement as Principal Dancer ABT?????? — Oprah Winfrey (@Oprah) July 1, 2015
All hail the Queen. My "sister" Misty Copeland was just promoted to Principal dancer with ABT!! An amazing day for dancers and chocolates...

— Taye Diggs (@TayeDiggs) June 30, 2015
Tears of joy. Congrats @mistyonpointe on your promotion to principal dancer at #ABT #inspiration #historymakers http://t.co/L1QM7l2QvT — Laverne Cox (@Lavernecox) June 30, 2015
She was a trending topic on Twitter and a front-page story in the New York Times.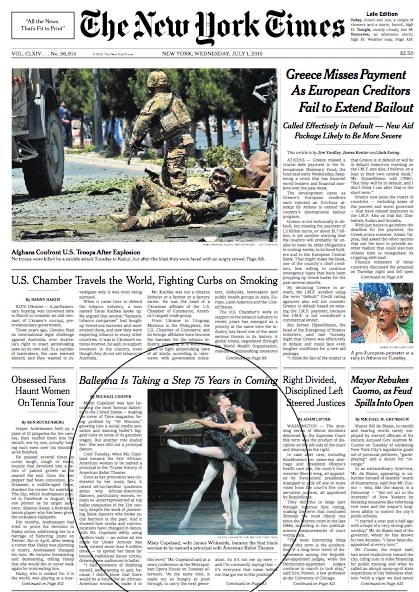 Get it.
All of this is so, so well-deserved. Copeland has been an incredible force both onstage and offstage during her decade and a half with ABT. She is a genuine celebrity, yes, but also a true and wonderful artist. She's worked unbelievably hard—and now she's made history.
But let's not forget about the other dancers currently celebrating over at ABT—especially the gorgeous and long-overlooked Stella Abrera, who was also made a principal yesterday after spending 14 years as a soloist.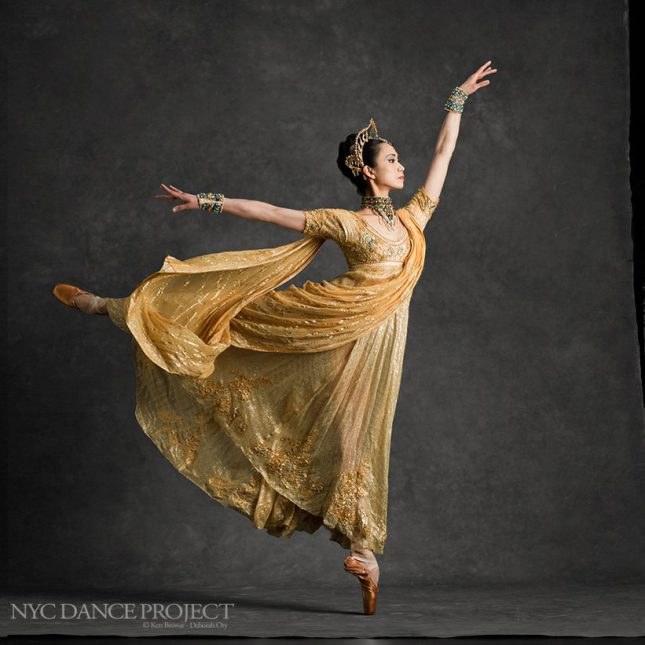 Abrera as Gamzatti in La Bayadère (© NYC Dance Project)
Not only audience members but also company dancers have been hoping for this promotion for ages. Because the members of ABT love, love, love Stella. Just look at this video Abrera's good friend Julie Kent captured of the ABT dancers reacting to Abrera's promotion:
There are a lot of newly christened soloists, too: Skylar Brandt, Thomas Forster, Luciana Paris, Arron Scott and Cassandra Trenary all earned the title yesterday. We're especially excited about Brandt and Trenary, rising stars we've been following since they joined the company in 2011. (And how cute is this: Brandt and Scott are dating. A bf–gf promotion! D'awww.)
And as if that weren't enough, ABT also announced that the fantastic Maria Kochetkova of San Francisco Ballet and the dashing Alban Lendorf of the Royal Danish Ballet will join as principal dancers, while Boston Ballet firebrand Jeffrey Cirio will come onboard as a soloist. These are all artists we can't get enough of—we're really looking forward to seeing more of them at ABT. (SFB and RDB fans, fear not: Kochetkova and Lendorf will continue to dance with their respective home companies.)
Congrats all around! What a wonderful week it's been.
Mar. 29, 2013 10:44AM EST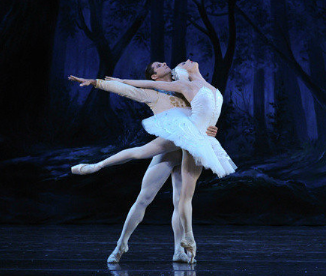 ABT's Veronika Part and Marcelo Gomes in "Swan Lake," part of the gala program. (photo Siggul/Visual Arts Masters)
Nobody puts on a ballet gala quite like Youth America Grand Prix. Their must-see performances routinely feature bold-faced names from all over the world. Watching all those ballet superstars sharing a single stage is one of those experiences that'll give you goosebumps.
Well, here's your chance to see one of the competition's most impressive galas for the price of a movie ticket. Emerging Cinemas—which has been broadcasting some seriously impressive shows recently—will beam YAGP's "Ballet's Greatest Hits," performed earlier this year in Tampa, FL, to movie theaters nationwide this Sunday, with an encore showing on Tuesday.
You don't want to miss this, guys. The lineup includes New York City Ballet's Ashley Bouder and Daniel Ulbricht, Alvin Ailey American Dance Theater's Alicia Graf Mack and Antonio Douthit, San Francisco Ballet's Maria Kochetkova and Taras Domitrio, American Ballet Theatre's Veronika Part, Marcelo Gomes, Hee Seo and Stella Abrera, National Ballet of Canada's Greta Hodgkinson, Dutch National Ballet's Matthew Golding and Boston Ballet's Alejandro Virelles. Phew!
Not enough starpower there to tempt you? a) You be crazy, and b) wait! There's more: The broadcast will also be hosted by "So You Think You Can Dance" producer Nigel Lythgoe and feature interviews with soon-to-be Paris Opéra Ballet director Benjamin Millepied and the ever-awesome ABT soloist Misty Copeland.
Visit the Emerging Cinemas website to find a participating theater near you!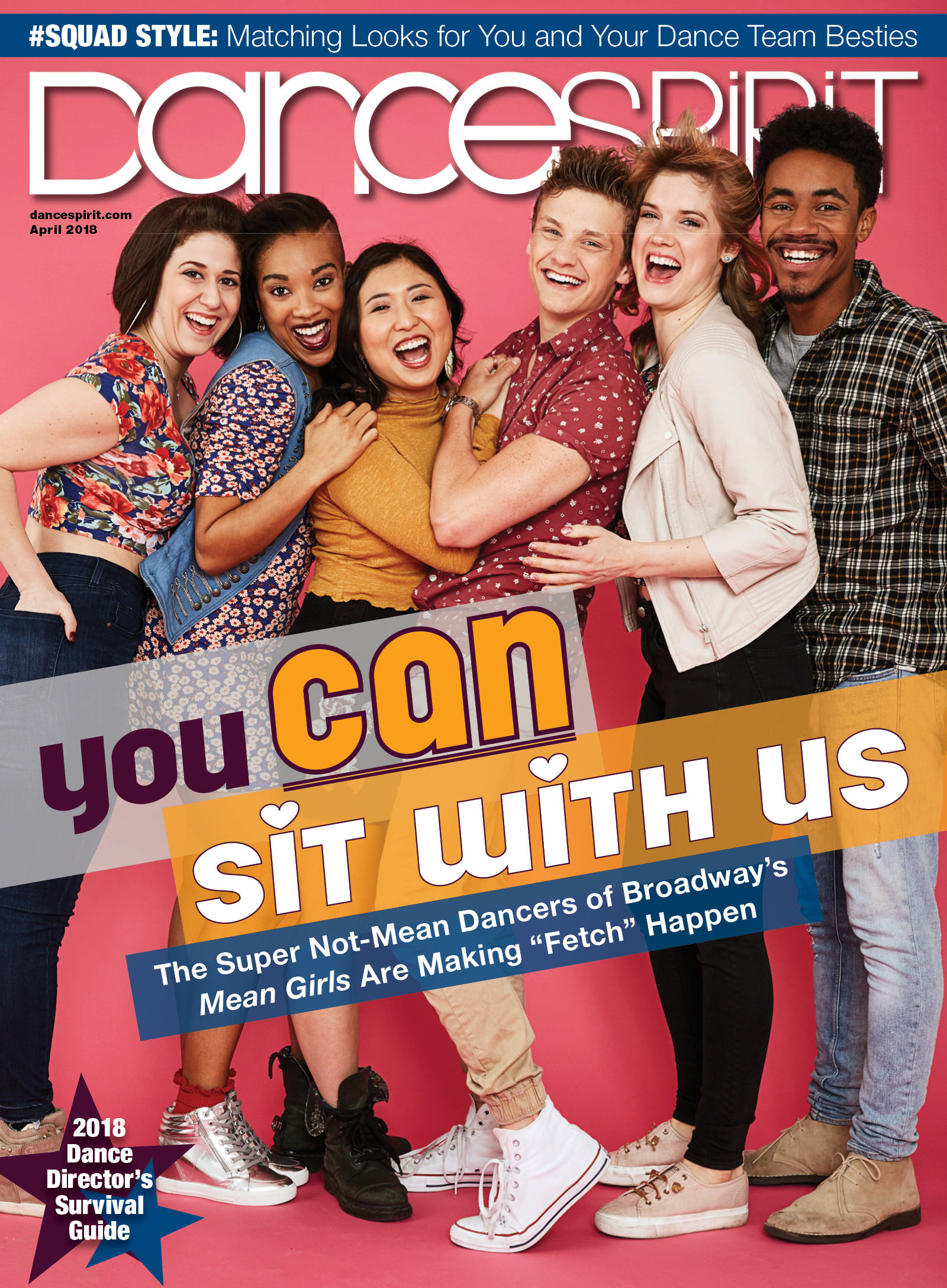 Get Dance Spirit in your inbox