Mar. 23, 2017 07:11PM EST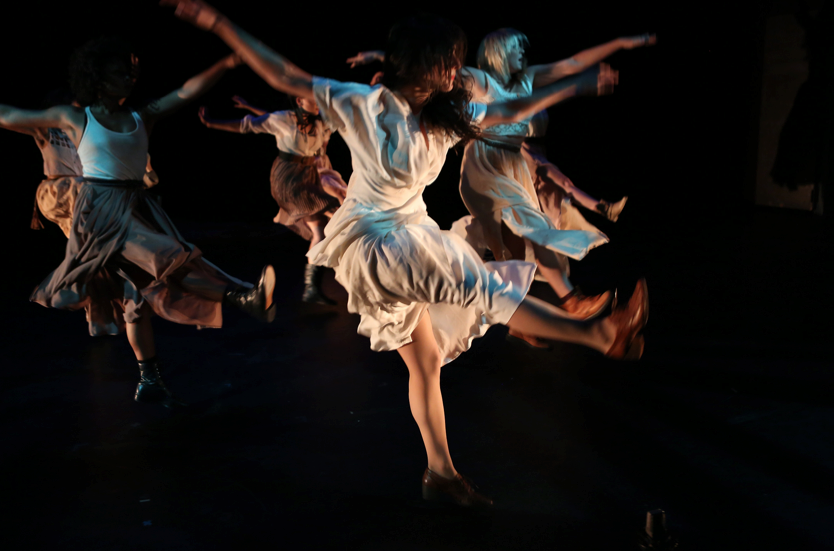 Melinda Sullivan's Gone (photo by Steve Gunther Photography, courtesy Sullivan)
Five women in leather-soled boots sweep their feet across a sand-covered stage, accenting the music in maraca-like rhythms. With its chugs, brushes, heel drops and slides, their movement looks a lot like tap dancing, but the sound is different—scratchier and rougher. This is sand dance. The scene described is from tap dancer/choreographer Melinda Sullivan's 2012 video entry to the Capezio A.C.E. Awards, Gone. (She went on to win first place at the competition.) "Experimenting with sand dancing really changed the way I tap," Sullivan says. "It's like playing a whole new instrument." Interested in giving sand dance a try? Before turning your dance studio into a private beach, read on for the need-to-know on this sub-style.
What is it?
"Sand dancing is tapping on sand, but your approach to the floor is completely different," Sullivan says. Whereas much of tap choreography emphasizes distinct, crisp hits, sand dancing is more about sweeping, rubbing motions; the feet tend to spend more time on the floor. "Shuffles, flaps, slides, chugs and pull-backs work really well with sand," adds L.A. tapper Kenji Igus, who was featured in Cari Ann Shim Sham*'s 2011 documentary SAND.
Traditionally, sand dance is a soft-shoe style, which means it's performed without tap shoes. "The term 'soft-shoe' can be somewhat misleading," Sullivan says. "We're actually dancing in hard-soled leather boots." Even though it isn't necessarily traditional, Igus will sometimes use his tap shoes on sand. "In a noisy theater, taps can amplify the sounds and keep them from getting lost or muffled," he says.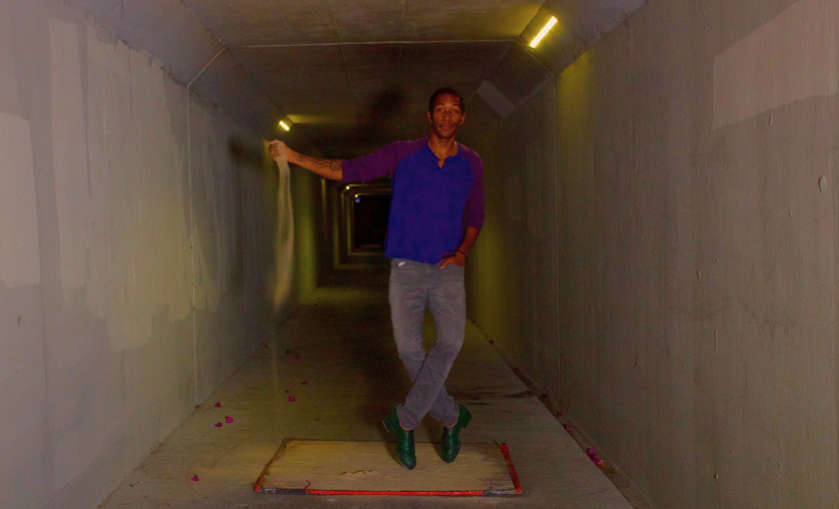 Tapper Kenji Igus dancing on sand (photo by Visionarrie Photography, courtesy Igus)
Where did it come from?
If you've never heard of sand dancing before, you're not alone. "I like to think of it as the forgotten sibling of tap," Igus says. Like tap, sand dancing is a distinctly American style, tracing its roots back to African slave communication. But sand dancing was never really codified, and its lineage is much more difficult to trace. "Most people associate sand dancing with Howard 'Sandman' Sims, from the '50s and '60s," Igus says. "He wasn't the first sand dancer, but his regular performances at the Apollo Theater in Harlem really helped popularize the style."
Who's doing it today?
Sand dance has remained primarily a street style. Igus learned it from his father, Darrow Igus, who learned it from a New Jersey projects street performer named "T" back in the '60s. "Melinda Sullivan is the only choreographer I've seen use sand onstage," he says. "But I've seen it on the streets of New Orleans." Sullivan was first exposed to the style in a class setting, with master sand dancer Guillem Alonso, of Barcelona, Spain. "I was hooked," she says. "I started looking up YouTube videos of Guillem, and experimenting with the form." She notes that other prominent tap choreographers are also using sand. "Michelle Dorrance has done some really cool stuff with it, and the Syncopated Ladies' 2014 video to Katy Perry's 'Roar' was all about sand dancing with a modern edge," Sullivan says.
How do I get started?
It's tough to find a class that specializes in sand dancing, for obvious reasons. "In the ideal world, I'd dump sand all over the studio," Sullivan says. "But that isn't exactly practical."
But you can still try it on your own. Both Igus and Sullivan stress that the best way to learn is to experiment with your own body, using the tap vocabulary you already know. Sullivan likes to layer in elements from other techniques, like jazz, contemporary or hip hop. "The first step is just to take your toe and rub it in the sand," Igus says. "Then start feeling it out and let your mind run wild."
Music tips
Because the sounds of sand dancing are much quieter than taps, picking the right music can be tough. But dancing a cappella is always an option. "Sand dancing is a sound that most audiences haven't heard before," says L.A. tapper Kenji Igus. "So hearing it on its own can be really captivating for them." Tapper and choreographer Melinda Sullivan agrees: "A cappella sand dance can be complete magic," she says. —MM
Mar. 06, 2017 03:14PM EST
Sep. 16, 2016 12:10AM EST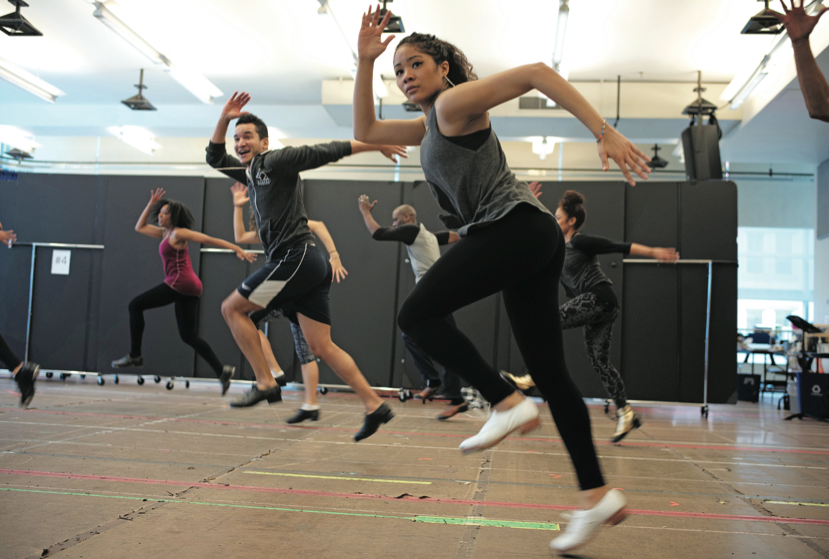 Royster in rehearsal for Shuffle Along (photo by Devin Alberda, courtesy DKC/O&M)
Talented tapper Karissa Royster made her Broadway debut this past spring in Shuffle Along, shining in Savion Glover's stylized, 1920s-inspired choreography. Royster trained at Dance Plus in San Antonio, TX, studying ballet, jazz, modern and rhythm tap, before joining RPM Youth Tap Ensemble under the direction of Barbara Phillips. Since then, she's performed at dance festivals around the world and has won awards, including the Buster Cooper Tap Scholarship. She's no slouch on the academic front, either: A Jackie Robinson Foundation Scholar, Royster just graduated from New York University with a degree in political science. Catch her in Shuffle Along's run at the Music Box Theatre, and read on for The Dirt! —Courtney Bowers
What's the most-played song on your playlist?
"Be Mine," by Alabama Shakes
What's your most-watched TV show?
Probably "Breaking Bad"!
Do you have any secret talents?
I played the flute for seven years.
What's your favorite food?
Tacos. It's the Texas in me.
Do you have any nicknames?
Rissy, Rissa
What's your biggest piece of advice for other young performers?
Take artistic risks and explore outside your comfort zone.
What achievement are you most proud of?
Getting my bachelor's degree from NYU
What did you want to be when you were a kid?
I wanted to be a neurosurgeon for a long time. Both of my parents work in the medical field. I look up to them a lot, so being a doctor seemed fitting.
If you could work with any performer, who would it be?
Either Jimmy Slyde or Gregory Hines
What's your biggest guilty pleasure?
I really love watching cooking shows even though I hardly cook.
Do you have any pre-performance habits or superstitions?
I try to make sure I have at least 20 to 30 minutes alone to center myself and have some peace.
What's one thing you can't live without?
Coffee
If you weren't a dancer, what would you be?
I might be a teacher—either an early childhood educator or a college professor.
If you could go anywhere in the world, where would you go?
Bali, Indonesia, or Santorini, Greece
Do you have any favorite quotes or mantras?
"Live your truth."
Go-to stress reliever?
I like to go for walks, either in Manhattan or through Astoria Park in Queens.
May. 25, 2016 08:20PM EST
Tappers! It's #NationalTapDanceDay, and today the dance world salutes you, your magical musicality, your impressive respect for the history of your art and your infectious love of movement. Huzzah!
We have a ton of tap stories in our archives (find them all here!) and we love to put beautiful tappers on our cover (Hi Michelle! Hi Gaby!). Since we have so many stories, we thought we'd highlight a few of the best, for tap experts, novices and fans alike. Check it out!
For Non-Tappers: We can't all be Anthony Morigerato, tap dancing version of The Flash. So here's an in-depth story for those of you stepping into your first pair of percussive shoes. The takeaway? In an audition setting, fake it until you make it, then turn around and get to class.
For Beginners: Ready to master the time step? It's likely to show up at any Broadway audition that calls for tapping, so make sure you can execute it confidently.
For Experienced Dancers: Is it time to take your improvisation to the next level? Try your hand (or feet, rather) at a cutting contest, a tap battle where participants are required to stay with a set beat and make up their moves on the spot.
For Experts: Sometimes dancers get so caught up with amazing feats of technicality that they forget about emotional expressiveness. The same is true for the amazing feets* (sorry) of tap dancers. We investigated ways to use tap dance to tell a story.
For Everyone: Curious about the term "hoofer"? It has an important place in tap history, and isn't to be used lightly—just like you wouldn't call every ballet dancer a ballerina.
To close out our tap love-fest, who better than some of the art form's leading women? The Syncopated Ladies are doing great things for tap, for female dancers and choreographers, and for each other. And, this tribute performance to Prince is everything:
*Yes, I know that "feets" is not a word. But c'mon, it's such a good pun!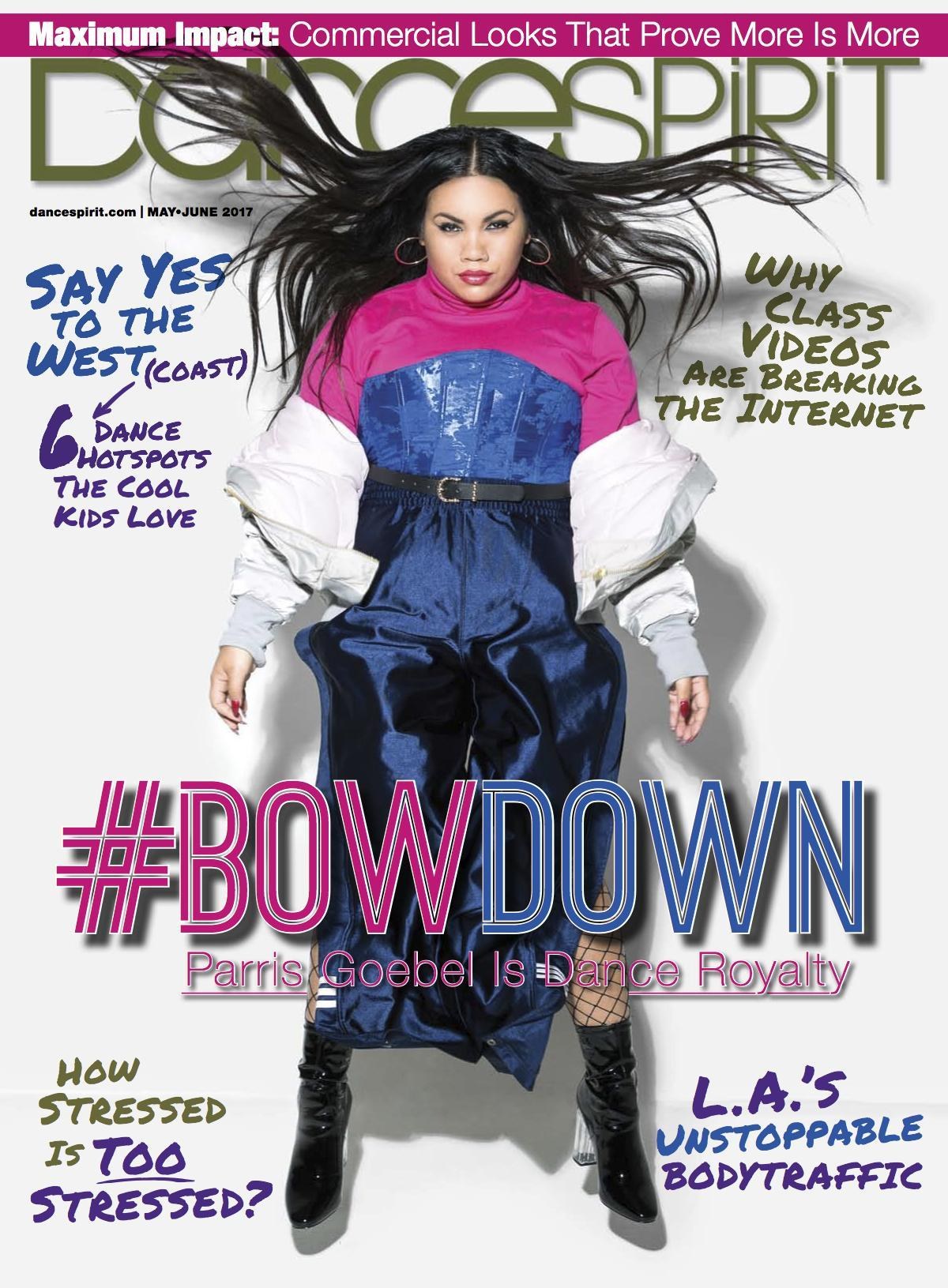 Get Dance Spirit in your inbox