Mar. 23, 2017 05:15PM EST
Tape can be your friend when it comes to pain management—from chronic injuries, like plantar fasciitis and Achilles tendonitis, to acute injuries, like ankle sprains. "When applied correctly, tape can help a dancer support and protect an overworked muscle, tendon or ligament by limiting its movement," says Alison Deleget, a certified athletic trainer at the Harkness Center for Dance Injuries at NYU Langone Medical Center. Taping can also assist in the healing process by providing compression and reducing stress on the injured body part.
Of course, tape isn't a magic fix. It shouldn't be used as a long-term treatment, nor should you depend on it as an everyday coping mechanism. "It's just one tool in your recovery toolbox—in addition to rest, ice and physical therapy," Deleget says. We asked her to share some dancer-friendly taping methods to get you back on your feet.
You'll need: Elastikon
Three Taping Methods to try
•Deleget recommends wearing Elastikon only when you're dancing. The adhesive can irritate your skin, so it's not something you'll want to wear all the time.

(Photos by Lucas Chilczuk)
Method 1: Arch Support
Good for: plantar fasciitis
Measure and cut a piece of tape to fit around the arch of your foot. The red line along the center of the tape should line up with the navicular bone on the inside of your foot, which you can find by sliding your fingers down and in front of your anklebone.
Stick the center of the tape to the bottom of your arch, then lay the outside flap of tape along the top of your foot.
Pull the inside flap of tape upward to give your arch a lift, then lay it down over the top of your foot.
Repeat with another strip of tape toward the front of your foot, overlapping the two pieces by half.

(Photos by Lucas Chilczuk)
Method 2: Ankle Support
Good for: coming back from an ankle sprain or coping with Achilles tendonitis
Start the tape at the top of your arch, with the tail of the tape going around the outside of your foot. Wrap the tape underneath your arch, pulling it at about 50 percent of its elasticity.
When you reach the inside of your foot, pull the tape upward to its full elasticity to give your arch an extra lift.
Follow the tape around your ankle so it forms a figure 8, again pulling it at 50 percent of its elasticity.
Continue the figure 8 until you reach the top of your foot again. Cut the tape and secure the end.

(Photos by Lucas Chilczuk)
Method 3: Bunion Correction
Good for: holding your big toe in neutral alignment (especially in pointe shoes) or reducing big-toe pain on relevé
Measure and cut a piece of tape to fit the circumference of your flexed foot—from the tip of your big toe, around your heel, to the midpoint on the outside of your foot.
On the big-toe end of the tape, cut a "Y" shape the length of your big toe. Wrap the two ends of the "Y" around your big toe, being careful not to pull them too tight.
Using the big toe as an anchor, pull the tape toward your heel, using about 50 percent of the tape's elasticity. Once your toe reaches neutral alignment, attach the tape along the inside of your foot, around your heel and up to the midpoint on the outside of your foot.
To secure the taping, wrap an additional piece of tape around your arch.
Kinesiology Taping
Kinesio tape is designed to lift the surface of your skin to reduce swelling and inflammation and promote blood flow.
It's thinner and more flexible than Elastikon, allowing full range of motion, and it can stay on for three to five days.
Kinesiology taping can help soften and release muscle fascia—such as the iliotibial band (IT band), hamstrings or calves, which tend to be tight in dancers. Here, Deleget explains a basic method for taping the IT band.
•Stand with your target leg crossed behind you, so your IT band is stretched. Measure and cut a piece of kinesio tape that runs from just below your knee to your hip. Round both edges of the tape with scissors so the tape doesn't curl.
•Peel a few inches of the backing paper from one end of the tape and lay the tape gently at the base of the outside of your knee.
•Run the rest of the tape upward along your IT band as you peel the paper away.
•Before you secure the final few inches of tape, remove the remainder of the paper. Then gently lay the last few inches at your hip.
•Rub your fingers up and down along the tape to generate heat, which activates the adhesive.
The kinesio tape is pre-stretched, so don't give it any extra pull as you apply it. It's best to apply it 20–30 minutes before you dance.
Pas de Deux-licious
Want to make your healthy snacks even healthier? Turns out, eating certain foods together can significantly boost their nutritional value. Next time you feel your stomach
grumbling, reach for one of these power-couple food pairings.
Tomatoes + Avocados
Guac fans, rejoice! Avocados' healthy fats help you absorb tomatoes' lycopene—an antioxidant that may help prevent cancer.
Tuna + Kale
For strong bones, your body needs vitamin D and calcium. Back up the calcium in dark, leafy greens like kale with vitamin-D-rich tuna fish.
Lean Beef + Broccoli
Feeling fatigued? You may be iron deficient. The vitamin C in broccoli will help your body absorb the iron in lean beef.
Did You Know?
Taking ibuprofen right after you dance can delay muscle recovery. Inflammation is a necessary stage of muscle repair, regeneration and growth. As an anti-inflammatory drug, Ibuprofen interferes with this process—so only take it if you're extremely sore.
Nov. 14, 2012 03:00PM EST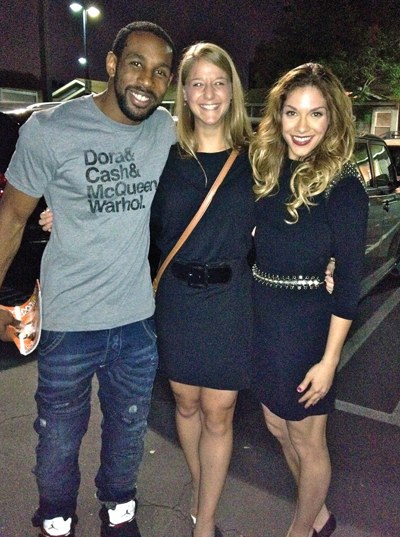 tWitch, Alison and Allison Holker
When DS editor in chief Alison Feller and I traveled to L.A. for the "So You Think You Can Dance" Season 9 finale in September, we were beyond excited. Amazing dancing, the return of some of our favorite routines and the crowning of America's Favorite Dancers? Best day ever! But the show we saw was slightly different from the one viewers watched at home. Here are 10 of the best-kept "SYTYCD" secrets.
1. No cell phones allowed!
Planning to tweet a pic of Cat Deeley's latest sparkly outfit? Think again. The "SYTYCD" set makes airport security look like a breeze: Audience members' phones are confiscated on the way in.
2. The "SYTYCD" stage has awesome neighbors.
CBS Television City also houses "The Price Is Right" and "Dancing with the Stars." Cat's dressing room is right across from "DWTS" host Tom Bergeron's!
3. "SYTYCD" tapings are crawling with celebs.
Anyone who's anyone in the dance world is there. Is that Stacey Tookey rocking that little black dress? Allison Holker and tWitch taking a romantic pre-show walk? Will Wingfield and new parents Tabitha and Napoleon D'umo? Even dance fan Minnie Driver snagged a front-row seat.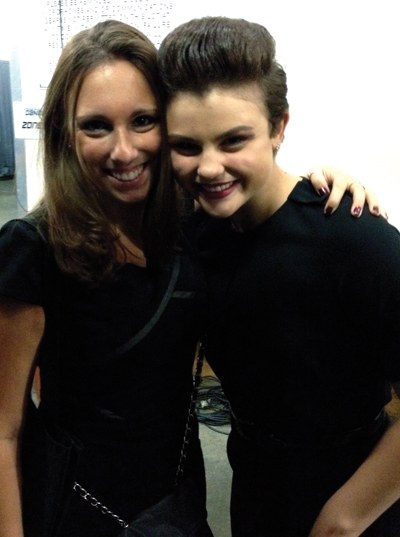 Me and Melanie Moore
4. During commercial breaks, there are no commercials.
The judges schmooze with audience members while an emcee entertains the crowd, mostly by asking them to cheer for the fabulous dancers.
5. Some of the best choreography is done by the cameramen.
Every so often, a man dressed in black toting a huge camera hops on stage with the dancers, weaving in and out of the choreography. The most impressive camera moment of the finale was during Tiffany Maher and Brandon Bryant's disco. The cameraman twirled around the dancers so quickly it made me dizzy. On TV, it looked like the stage itself was spinning.
6. Cat thinks she can dance—and she totally can!
She may have stayed poised and proper during her monologues, but we spotted America's Favorite TV Host getting down on the sidelines during Witney Carson and tWitch's Luther Brown hip-hop routine. Cat, will we see you auditioning for Season 10?
7. The dancers hold their routines' opening poses for a loooong time.
While the intro tape of rehearsals is playing, they're holding that pose, and while the judges are joking with Cat, the dancers are still holding that pose.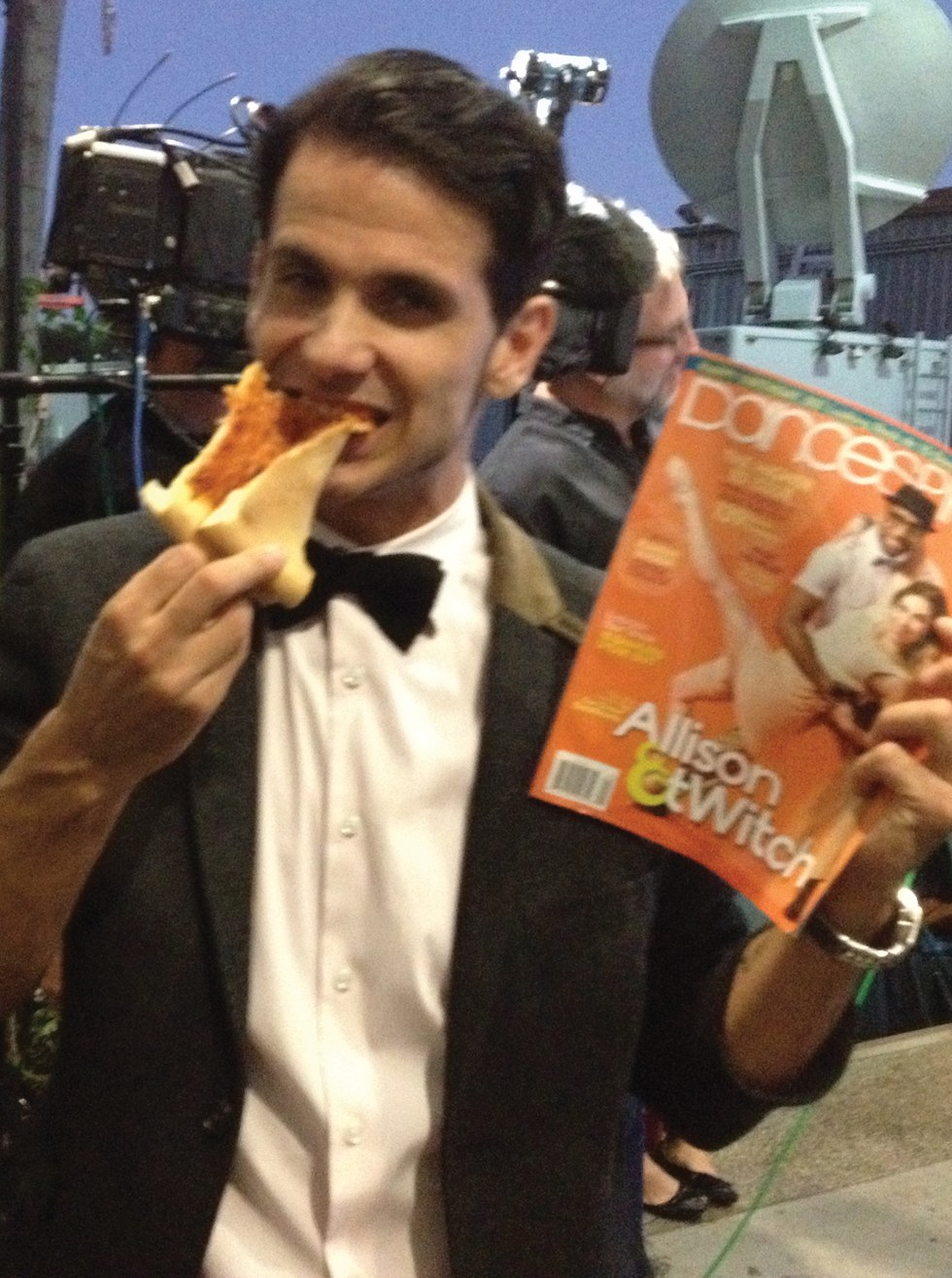 8. The dancers aren't the only ones who get a workout—the audience does, too. 
The front section of the audience stands for the whole show (comfy shoes are a must!), and even those with seats stand up for every routine. Then, when huge set pieces come through—like rocks for the final Lion King-style number—the audience shuffles to make room. It makes the fans feel like part of the action.
9. After the show, there's a pizza party!
The "SYTYCD" cast and crew went straight from the stage to a table loaded with steaming boxes of pizza. We even spotted Tyce Diorio chowing down (while reading Dance Spirit, of course).
10. The contestants and All-Stars are actually friends.
Backstage after the show, we chatted with the All-Stars, who were eager to share how excited they were for the winners. "Working with Chehon made me fall in love with him as a dancer and a person," Kathryn McCormick (DS's November cover girl) told us. "And I'm so proud of Eliana." For All-Star and Season 8 winner Melanie Moore, the finale brought back memories: "I was sobbing when I hugged Chehon after the show. It was like feeling last year's emotions all over again."


Get Dance Spirit in your inbox