Swift in her latest "Making of a Song" episode (via Youtube)
Taylor Swift is #blessed in many ways: She's got a great voice, insane song writing skills, and, to quote her new hit single, she's "Gorgeous." She is not, however, blessed in the dance department. But that doesn't stop her from busting out the occasional dance move. In fact, Swift likes to playfully show off her less-than-stellar dancing, be it in her music videos (hello, "Shake It Off") or at music award shows. So we weren't surprised when during the latest episode of her "Making of a Song" series for AT&T, she unveiled a new endearingly awkward maneuver, which she's dubbed the "dolphin body roll"—and it practically had friend and producer Jack Antonoff rolling on the floor!🤣
Keep reading...
Show less
Popular
Sep. 01, 2017 10:36AM EST
via YouTube
I have to be honest for a second here: despite having been a diehard Swiftie ever since "Teardrops on My Guitar," I was a little on the fence about Taylor Swift's new single "Look What You Made Me Do." Even her official music video—usually the brilliant, essential factor that gets me full-on obsessed with a new T-Swizzle song—didn't exactly win me over.
Keep reading...
Show less
The Brit Awards in the United Kingdom are the equivalent of the Grammy Awards here in the U.S. This year, everyone's best friend Taylor Swift took home the Brit Award for International Female Solo Artist—beating out two of our other favorite ladies, Sia and Beyoncé.
TSwift isn't the danciest pop artist out there—as evidenced by "Shake It Off"—but her performance of "Blank Space" at the Brit Awards featured a crew of awesome break-dancing dudes. (It also involved a lot of glitter, but that's neither here nor there.)
What do you think? Is "Blank Space" better as a stripped down song-and-dance number, or as a theatrical music video with a bit of a narrative? Either way, we love Swift's catwalk moment, as she busts through the b-boys trying to get in her way. #GirlPower.
We talk a lot about power couples here at DS.  It seems like all corners of the dance world have their respective royal couples: Hip hop's got dynamic duos like the Madrids and NappyTabs; ballet's got Tyler and Robbie; and Mark and Jeremy rep the commercial world.
But what about the competitive world of jumbotron dancers? What fearless dance couple will lead the way for performers hoping to show off their best running men, sprinklers, Roger Rabbits and schmoney dances?
Why, Taylor Swift and Jimmy Fallon, of course.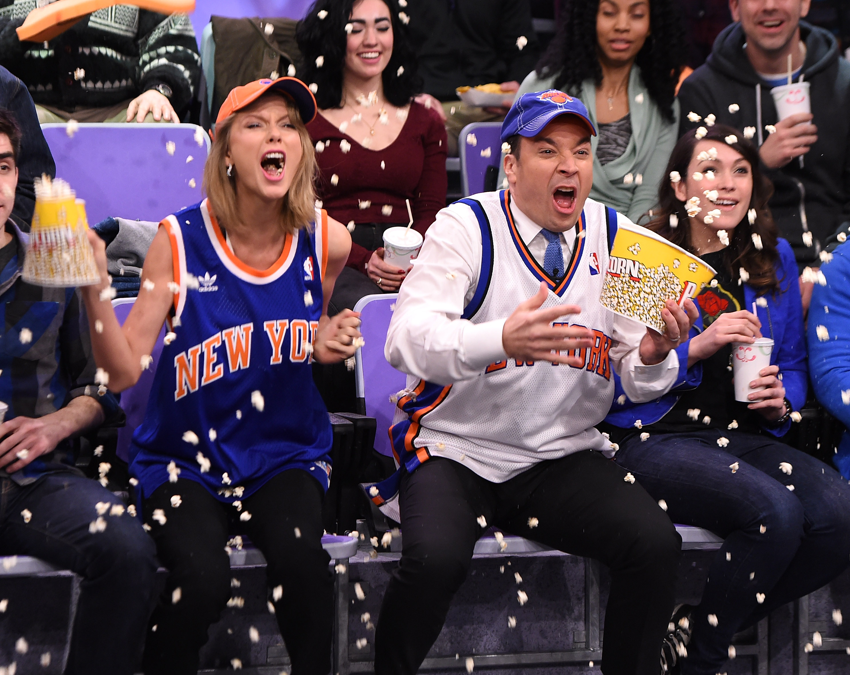 (via "The Tonight Show Starring Jimmy Fallon")
Last week on "The Tonight Show Starring Jimmy Fallon," Fallon and T. Swift "reminisced" about the days when they used to rule the jumbotron with their epic dance moves. As if we needed another reason to be obsessed with these two celebrity dance lovers...
Mmk, guys. I expect to see you two strutting your stuff at the next NYC sporting event I attend. Pics (/videos) or it didn't happen!


Get Dance Spirit in your inbox