Erin Baiano
If you've ever dreamed of joining an NBA dance team, this is YOUR MOMENT. Next Saturday, June 10, the Brooklyn Nets' (totally fierce) Brooklynettes dance team is holding an open call audition at Long Island University's Brooklyn campus. Think you have what it takes?
Keep reading...
Show less
Mar. 23, 2017 10:07AM EST
It's easy to think of professional dancers as perfect beings who've been perfect since day one. But what if we could turn back the clock to when they first discovered dance? We asked some of our favorite dancers to share their earliest dance memories. What they had to say is sure to leave you in awwww.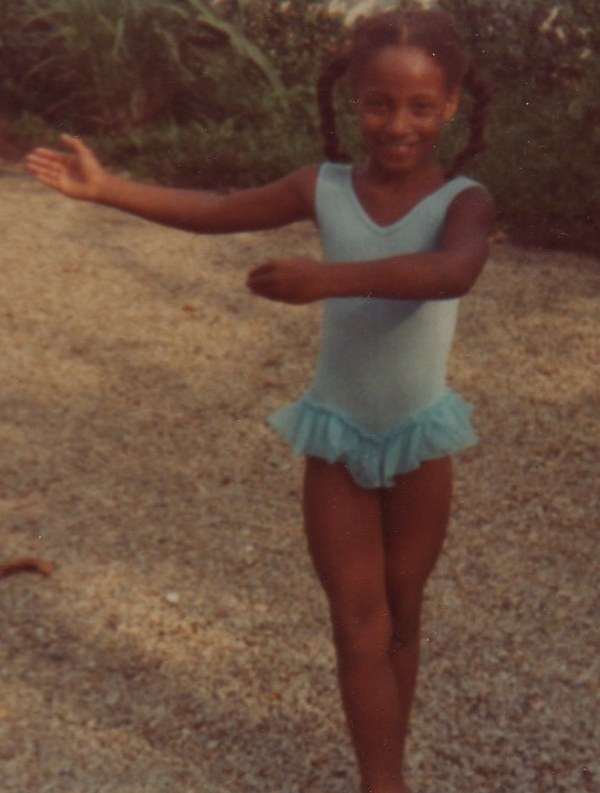 (Photo courtesy Karine Plantadit)
Karine Plantadit, Broadway dancer
"One of my favorite dance memories was when, at 14, I traveled from my home in Douala, Cameroon, to audition for the Rosella Hightower school in Cannes, France. During the 15-day training program before the audition, I skipped every ballet class to go to the beach. When it was finally time for the audition, I was shocked to find that it was ballet. I asked, 'Where's the jazz audition?' But there was no jazz audition. My ballet training was horrible, but I had to try. I borrowed everything for my outfit—pink tights, a leotard, bobby pins—and my friends helped me put my hair up in a huge bun. I gave it everything I had: pure passion, pure love and very little skill. Then it was time to call the names of accepted students. I remember the teacher saying in front of everyone, 'She'll be in the school even though she doesn't have the skill. We'll train her to get the skill.' My life changed that day."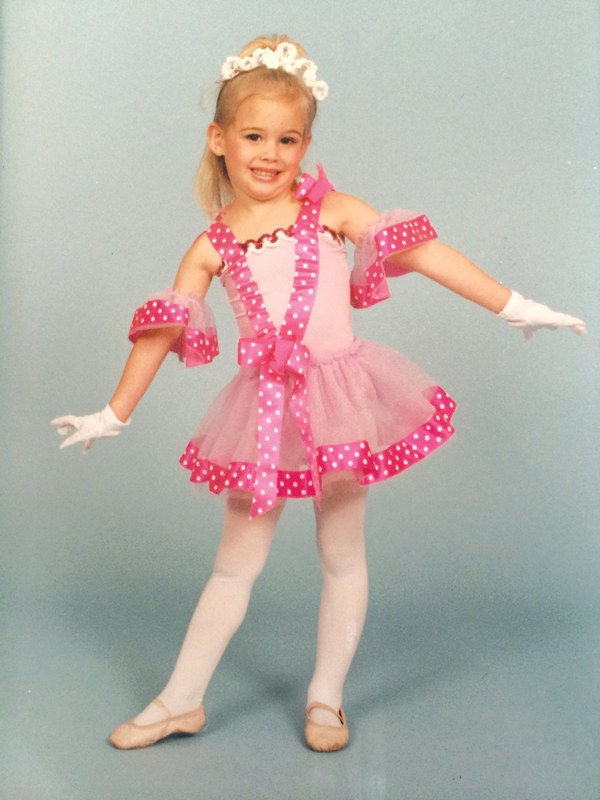 (Photo courtesy Tyne Stecklein)
Tyne Stecklein, Commercial dancer
"I started ballet classes at age 3 at Miller's Dance Studio in Aurora, CO, where my mom Andra Stecklein was (and still is) a dance teacher. Around age 5, I became really serious about each exercise at the barre. I wasn't chatty and playful in class like the other kids—I was so focused on doing everything perfectly."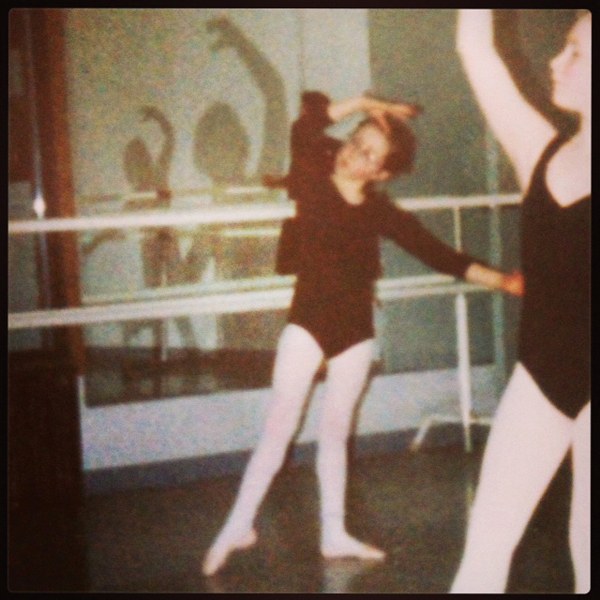 (Photo courtesy Evelyn Kocak)
Evelyn Kocak, Soloist, Pennsylvania Ballet
"My first dance class was a creative movement class at a senior citizen center. I was 3, so I don't really remember it, but I have an early video from a parent observation day. I wore my idea of a ballet costume: purple tights, a pink ruffle top, a large purple bow and pink polka-dotted canvas shoes. We did a few ballet exercises, and then we ran around with scarves pretending to be animals. I liked pretending to be a butterfly or a pony."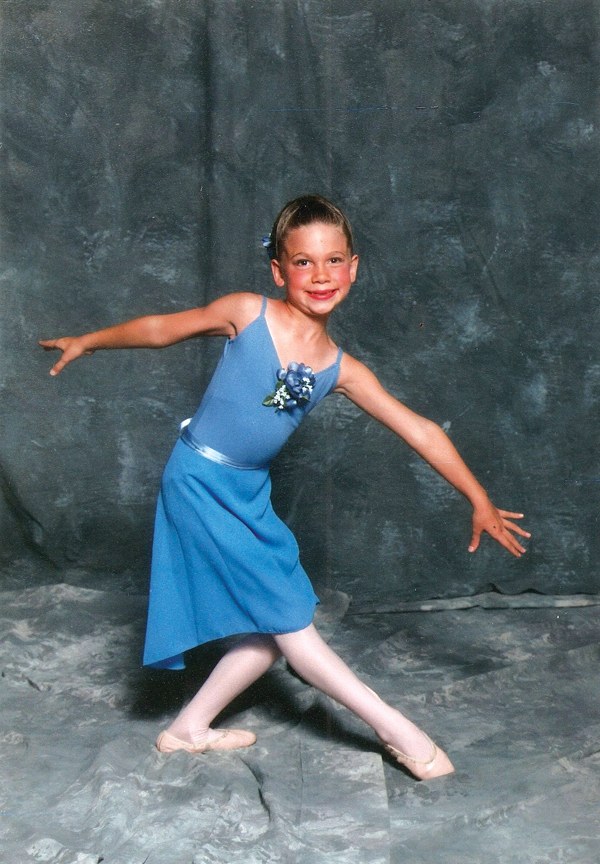 (Photo courtesy Jacqueline Burnett)
Jacqueline Burnett, Hubbard Street Dance Chicago
"When I was 5, I took my first ballet class at Studio 1 in Pocatello, ID. My teacher was a very intimidating 70-year-old Romanian man. When I got to class, I was overwhelmed by his huge presence. He was very strict, and he smelled like cigarettes. Between barre and center, I remember going to the parent viewing area and crying to my mom. The teacher saw me and said, 'Oh, no! Why is she crying?' I was so embarrassed, but I drank some of my mom's cranberry juice and went back to class."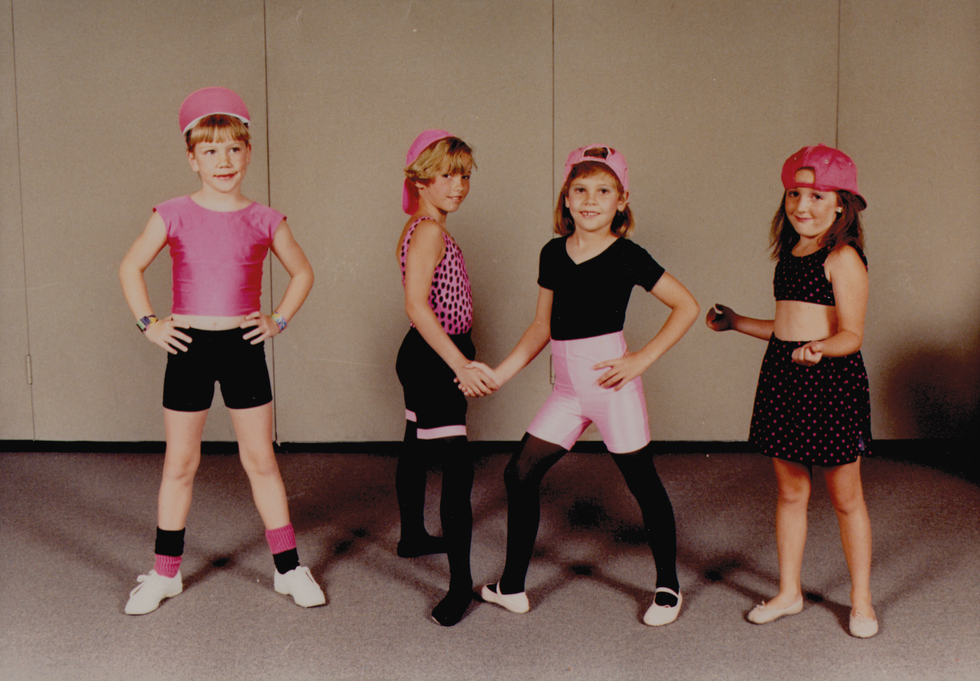 Jordan Kriston (second from the left) with her classmates in Phoenix, AZ (photo courtesy Jordan Kriston)
Jordan Kriston, Pilobolus
"My community in Phoenix, AZ, offered free kids' dance classes at the mall, and that's where I began at age 5. I distinctly remember grasping the concept of putting my ballet or jazz shoes on the correct feet. I was barefoot a lot in Phoenix because it was so hot, so this was a relatively new idea for me. I remember noticing how funny the other little dancers looked when they had their shoes on the wrong feet."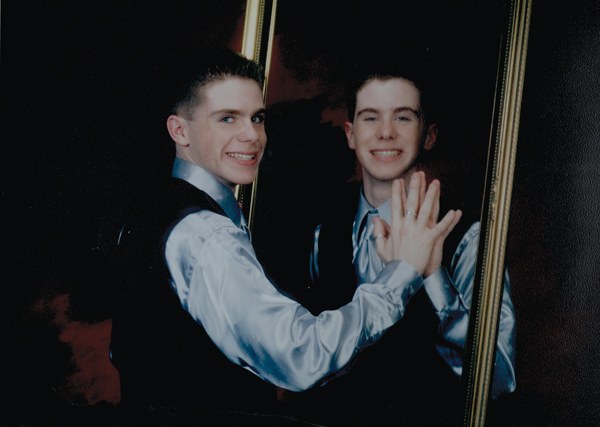 Brian (left) and Scott Nicholson in show choir (photo courtesy Brian Nicholson)
Brian & Scott Nicholson (twins!), Ariana Grande dancers
"Sophomore year of high school, Scott and I both auditioned for the Mustang Express Show Choir—yes, like on 'Glee'—and made it! After just a few weeks of dancing, we became dance captains. There were a lot of show choir moves, like jazz squares, step-touch-clapping, and cheesy performance faces." —Brian
"Well, if we want to get technical about it, we didn't take our first dance class until we were 20. We took jazz for gym credit at The University of Akron. Imagine this: two semi–awkward-looking twins with bowl cuts, jabbering to each other while they tried to figure out the choreography. We'd just get so excited!" —Scott
"We may disagree on when our actual first class was, but we both feel like we found ourselves when we started dancing. Our dad, who passed away when we were 11, used to whisper to us, 'You're gonna be song and dance men.' " —Brian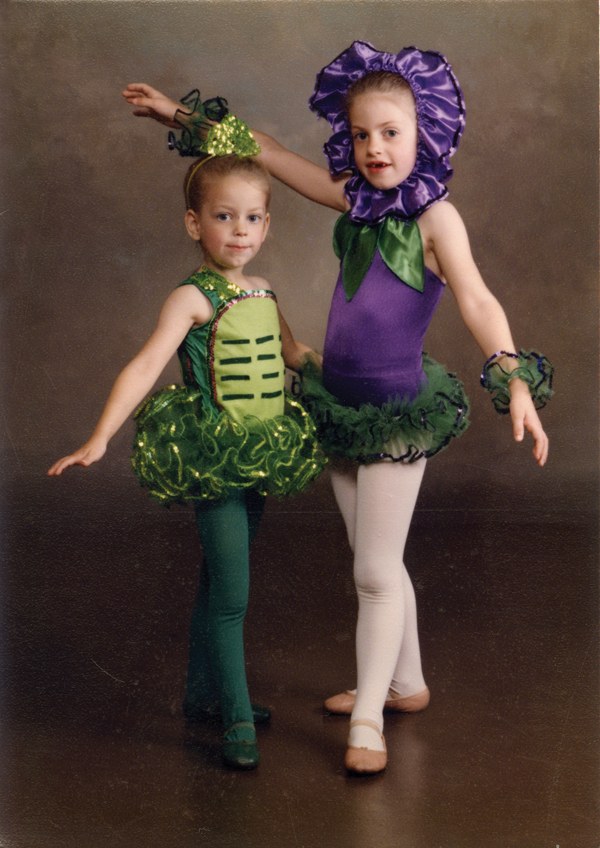 Jennifer Lauren (left) and her sister (photo by American Shutterbug Inc., courtesy Jennifer Lauren)
Jennifer Lauren, Soloist, Miami City Ballet
"When I was 3 years old, my mom took me with her to enroll my older sister in ballet class at Martha Jamison School of Ballet in Tuscaloosa, AL. I started crying because I wanted to take ballet class, too. My mom asked the teacher if I was too young to register. The teacher asked, 'Is she potty trained?' Because I was, I was able to enroll. "We have a video of my first recital on tape. I was dressed as a sea turtle. When the girl next to me started messing up, I went over to her and put her arm in fifth position, where it was supposed to be. The whole audience was cracking up!"
Jessica Lee Keller with her first ballet teacher (photo courtesy Jessica Lee Keller)
Jessica Lee Keller, Commercial dancer
"I fell in love with dance from my very first ballet class. I was 6, and it was at a studio in Marquette, MI. I remember my family came to watch me in an open class, and my teacher asked me to show my parents how I could stand right up on my tiny little toes like Kate Winslet in Titanic! I was excited to explore what my body could do. Ever since I first chasséd across that floor, holding hands with another little dancer, smiles on our faces, I knew dance was going to be a part of me forever."
This #TBT, we're feeling the tap vibes—specifically, the old-school, golden-age-of-Hollywood tap vibes. Because while you're probably familiar with, say, Gene Kelly's (literally) splashy "Singin' in the Rain" number, the glorious internet has (to continue the water metaphor) a much, much deeper pool of jaw-dropping movie routines from the 30s, 40s and 50s. And you need to dive into it. NOW.
We suggest starting with three of our all-time favorites:
3) Ann Miller in "Too Darn Hot" from Kiss Me Kate (1953). Miller would've turned 93 two days ago, and there's no better way to celebrate than with this impossibly sexy, impossibly intricate party of a number:
2) Fred Astaire and Ginger Rogers in "I Won't Dance," from Roberta (1935). This clip shows off not just Astaire's fantastically finessed tapping (serious dancing starts around 3:12), but also his singing and piano-playing skills. (Rogers fans: She doesn't get to move a whole lot in this routine, so if you're looking for a Ginger fix, click here, here and here.)
1) The Nicholas Brothers in "Jumpin' Jive" from Stormy Weather (1943). Astaire called this "the greatest dance number ever filmed," and he wasn't exaggerating. It gives us Fayard and Harold Nicholas—who, fun fact, later taught Michael and Janet Jackson—at their masterful, exuberant best, and includes the showstopping jump-splits that were one of their signatures.
Happy #TBT, tappers! And if you're in the mood for even more amazing dance movie moments, head this way.
It's hard to define star quality. You just know it when you see it. And our March cover girl, Gisele Bethea—now an apprentice with American Ballet Theatre—has had it from the very first time we laid eyes on her. Even as a teeny-tiny bunhead, she just glowed onstage. (Which you noticed as soon as you stopped gawking at those INCREDIBLE FEET.)
But you don't have to take our word for it. Thanks to the internet—specifically, the impressively comprehensive YouTube channel of Gisele's longtime mentor, Slawomir Wozniak—we have a digital record of the budding ballerina's progress. And while you can definitely see her technical polish improve with each year, it's evident even in the earliest clips that she's got something very, very special.
Let's start with this video of Gisele at 12—12!!—in the fiendishly difficult wedding variation from The Sleeping Beauty. She's all sweetness and elegance:
I especially love this clip from the 2013 Youth America Grand Prix, in which she gives us triumphant fire and flash in a variation from Esmeralda:
Here she is channeling the ballet heroine she was named for at the 2014 International Ballet Competition in Moscow. Gisele was the competition's youngest-ever entrant, but her beautiful, musically sensitive performances earned her the silver medal:
And because we just can't get over how gorgeous her cover shoot images are—here's grown-up Gisele in all her glory!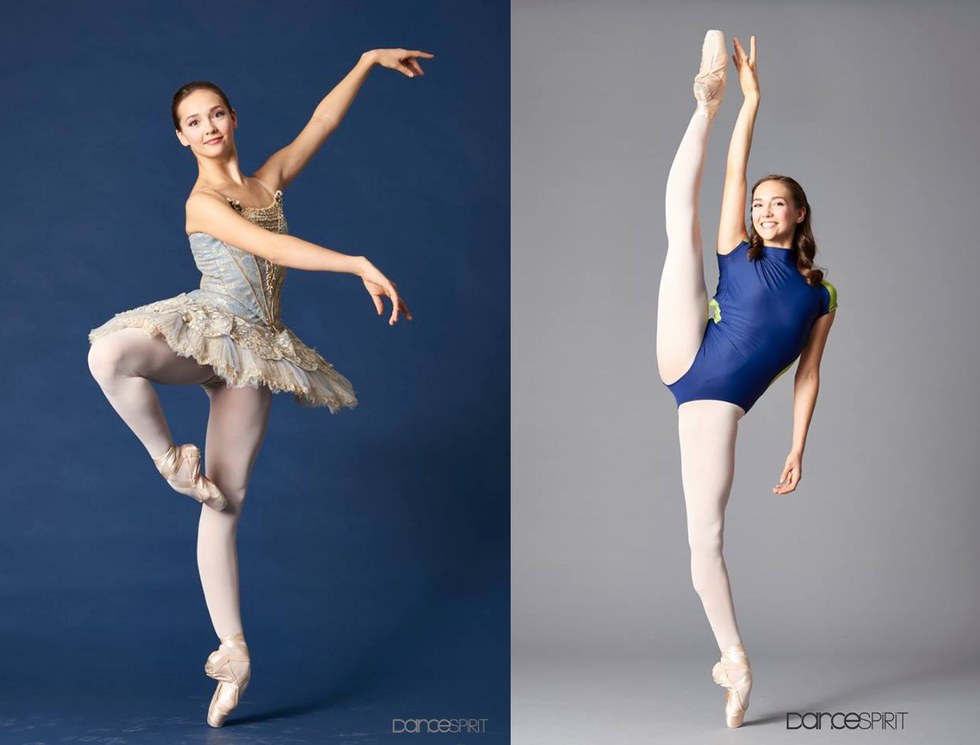 Photos by Nathan Sayers
These days, it seems like there's a Major Misty Copeland Moment every minute. But yesterday was huge even by Misty standards: The gorgeous American Ballet Theatre soloist made her New York debut as Odette/Odile in Swan Lake.
Unsurprisingly, it was EPIC.
It wasn't Copeland's first time in the role—she performed it with ABT on tour in Australia a few months back, and recently danced it in a special guest appearance with The Washington Ballet. But yesterday's show marked a milestone both for Copeland and for the ballet world as a whole: a key performance of an iconic role by a dancer many hope will soon become ABT's first black principal. And Copeland's fans came out in droves to cheer her on.
Instagram and Twitter are crawling with photos and video from the show—behind-the-scenes shots, curtain call footage, images of Copeland receiving flowers from her extraordinary mentor Raven Wilkinson. Please spend your whole day getting lost in that #mistycopeland action. But because it's Thursday, I thought we'd pay tribute to Misty's milestone in a slightly different way: with a #TBT timeline showing just how far she's come.
Here's a 15-year-old Copeland in Kitri's variation, already showing off so much personality and style:
Here she is three years later, dancing the Queen of the Dryads variation at ABT's summer program in 2000, and boasting even stronger technique:
Here's Copeland auditioning for ABT, looking rock-solid: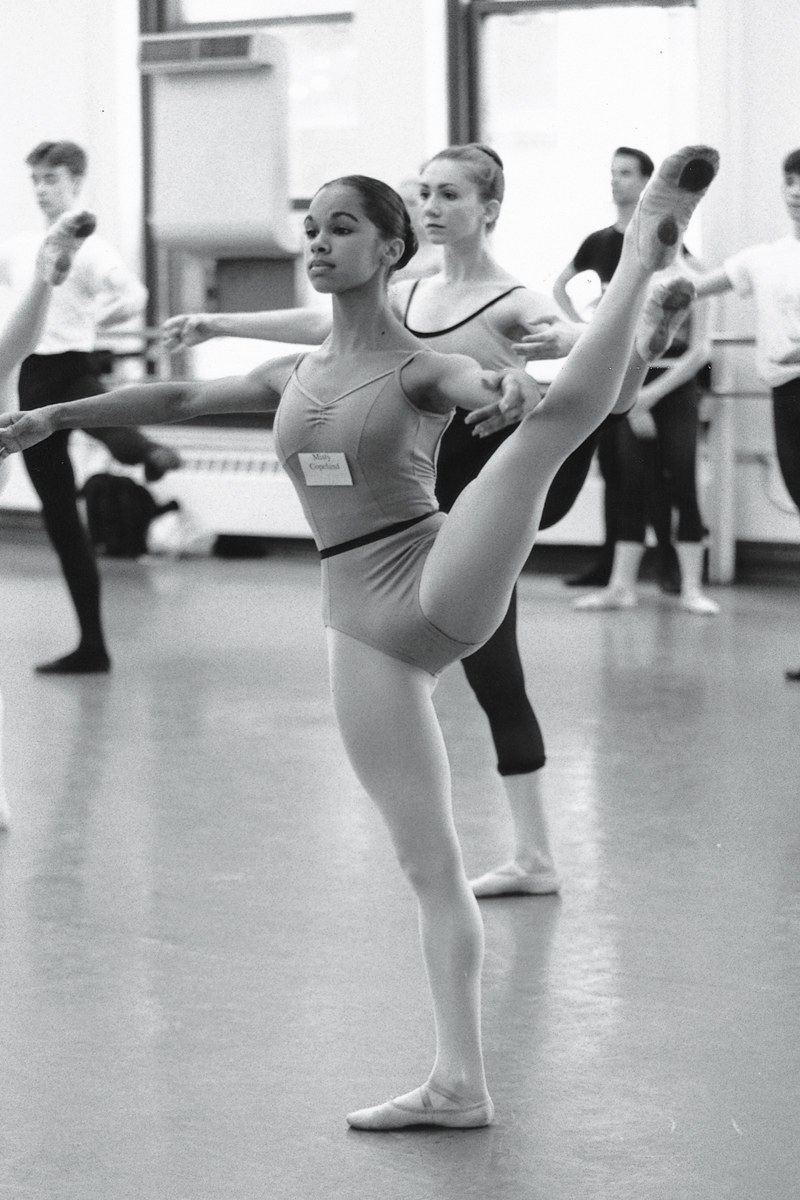 From the collection of Misty Copeland
Here she is on a 2012 ABT poster as the title role in The Firebird—one of her first big breaks: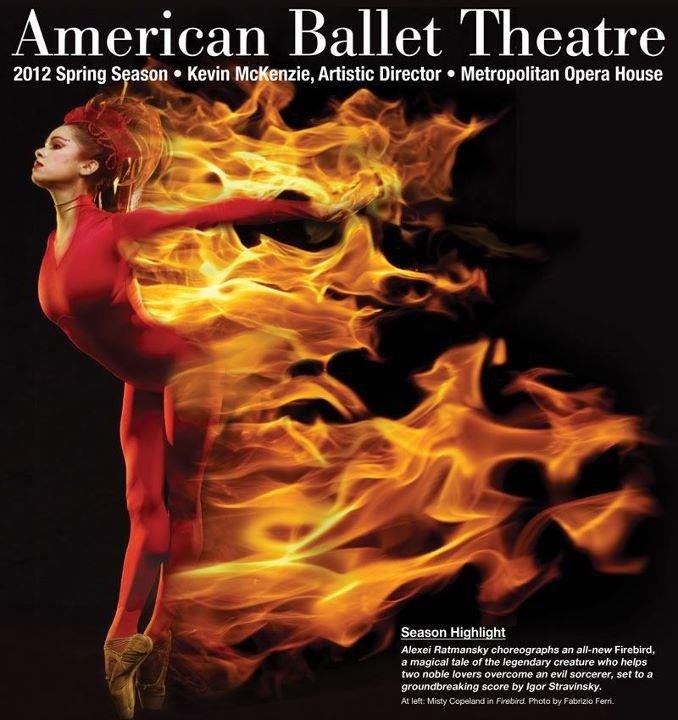 And here's Copeland (with ABT principal James Whiteside) bowing for an adoring crowd after her Swan Lake performance yesterday: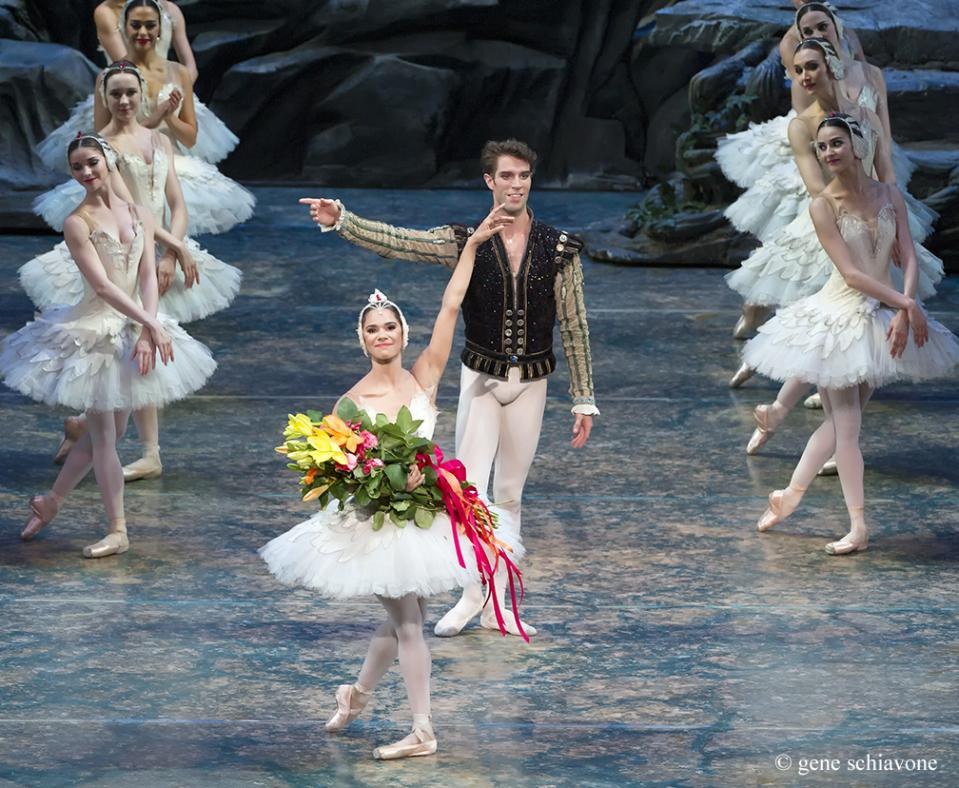 Gene Schiavone
Huge congratulations, Misty! We can't wait to see the heights you'll climb to next.
Oct. 10, 2013 10:51AM EST
Did you love Alison's #FlashbackFriday post last week? Yeah, me too. And her video of little 10-year-old Simrin Player—before she became our cover star (at the ripe old age of 15)—reminded me of another mini-Simi video.
Three years ago, Simi was a featured dancer in Justin Bieber's "Somebody to Love" video. While she didn't get a whole lot of screen time in the finished product, based on this behind-the-scenes footage, it sure looks like she and Justin had fun messing around on set:
How cute is that? Happy #ThrowbackThursday! And here's the official video (which also features our friends the Beat Freaks). Look for Simi at 2:42, 3:05 and 3:27:
Lately, I've been feeling a little nostalgic for the London Olympics. The dog days of summer just aren't much fun without headline-making athletic feats to look forward to at the end of the day.
If you were also a fan of the "Fab Five" gymnastics wonder girls, you're about to be just as giddy I was to discover this breathtaking video. There's not much information about who the dancer-gymnasts are (other than the fact that they're from China), but that almost doesn't matter. After all, isn't dance—or, um, dance/gymnastics—a universal language?
You definitely don't need a translator to see how strong, precise and crazy-talented these performers are. Prepare to be majorly inspired: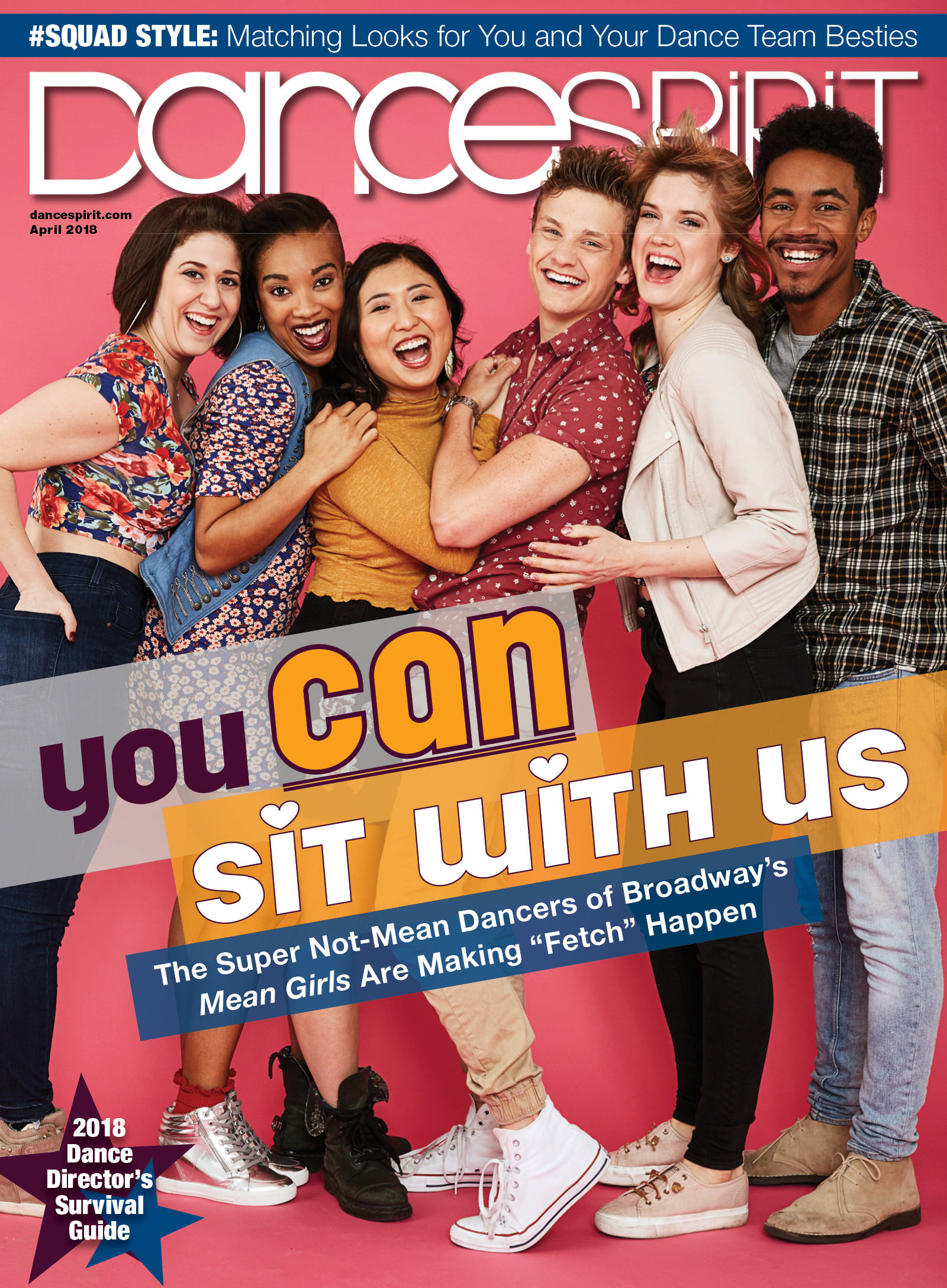 Get Dance Spirit in your inbox