Thanksgiving leftovers are easily the best part about the holiday. But digesting rich foods can sap your energy. We spoke with Emily Cook Harrison, a registered dietitian at the Centre for Dance Nutrition in Atlanta, for the scoop on the best Turkey Day leftover recipes for performance power. She suggested a number of delicious combinations, all of which are easy to prepare and transport.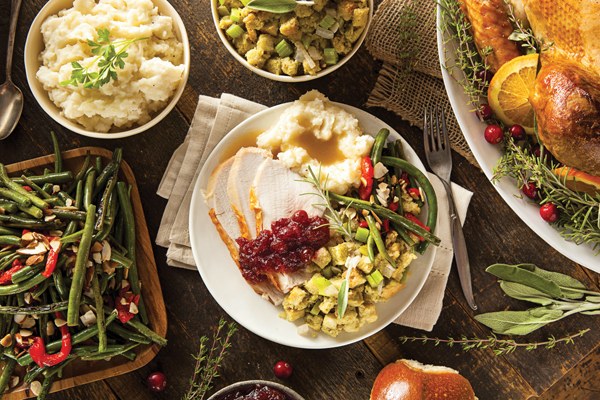 (Photo via Thinkstock)
1. Cranberry-apple relish on multigrain toast
The giant bowl of cranberry sauce sitting in the fridge keeps for up to a week and can be transformed into an energy-rich breakfast treat. Harrison suggests chopping some tangy Granny Smith apples and mixing them in with the sauce. For an extra kick, shave a bit of ginger and sprinkle it in. Cranberries outrank almost every fruit when it comes to antioxidants, and with the toast's carbohydrates, you're sure to feel energized.
2. Wild rice and turkey salad
It's a given that there's always too much turkey at Thanksgiving—this dish is a great way to use up what's left. Simmer 1 cup of wild rice in about 2 cups of water for 35–40 minutes (if you have some vegetable stock, use it instead of water for added flavor). Chop up any leftover vegetables (celery, spinach and kale work especially well) and sauté them with olive oil. Shred or slice some lean, white turkey meat and add it in. Once the rice has cooked, mix all the ingredients together. The vegetables paired with the turkey offer both antioxidants and protein, and the rice's high magnesium content promotes sharper memory.
3. Day-after dip
Sweet potatoes are one of the most delicious Thanksgiving foods—and they're also one of the best carbohydrates for you. Heat up any leftover potatoes, and chop up a mix of almonds, pecans and pumpkin seeds. Once the potatoes are warm and easily mashable, put all the ingredients into a food processor and blend for a delectable dip. Serve it with everything from crackers to fruit.
Bye-Bye Bad Habits
Everyone has bad dance habits, and getting rid of them can feel next to impossible. According to Art Markman, a psychologist at the University of Texas at Austin, trying to break your bad habits isn't enough—you have to replace them with better ones, instead.
Why? For starters, if you know you've got a habit to break, like constantly looking in the mirror during class, it only seems natural to say, "I need to stop doing that." The problem with this is that it's a negative goal—something you inherently don't want to do. And since it's a habit, it's nearly impossible to unlearn, because your body and mind are so used to it.
Markman says it's much easier to learn something new than unlearn something old, so try developing a better habit to replace the bad one. If you catch yourself looking in the mirror too frequently, practice using your head to complete your épaulement—and make sure to follow the line with your eyes. A little modification can go a long way.
Did You Know?
Reaching for your laptop or scrolling through an endless feed of Instagram pics is tempting, especially during a holiday break, when you have more downtime than usual. But it's important to limit your screen time. A number of studies have shown that our short-term memory has limited storage, and according to Erik Fransén of KTH Royal Institute of Technology in Sweden, even a single session on the internet can affect our ability to retain information. That means if you OD on @real_world_ballerina's Instagram feed, the choreo that was fresh in your mind before break may be harder to remember once you're back in class. Browse wisely!
This Thanksgiving, two celebrity families served up a LOT more than turkey and mashed potatoes. Former "Dancing with the Stars" partners Derek Hough and Maria Menounos ("Extra") battled it out over Instagram in a Thanksgiving dance war. And in the spirit of the holiday, their families got involved too.
It was a bold move for the Menounos family to challenge the Houghs to a dance-off, considering they've got two not-so-secret weapons: Derek and Julianne. But they brought their A-game with some Flo Rida, T-pain and shades:
In a surprise comeback, the Houghs relied on their family charm, rather than a flashy display of their professional skills:
Who do you think won the #Thanksgivingdancewars?
Thinkstock
Thanksgiving dinner is one of those moments where it's more than okay to help yourself to everything. And you shouldn't feel guilty, either—your dinner plate is packed with nutritional goodness that'll keep your body in tip-top dancing shape. Dance Spirit spoke with Peggy Swistak, MS, RDN, CD, of Pacific Northwest Ballet, about the bountiful benefits of the most popular turkey-day dishes.
Keep reading...
Show less
Happy Thanksgiving, dance friends! Are you about to be stuffing yourself with turkey, or in the process of stuffing yourself with turkey, or already stuffed with turkey? We hope so. Because that's what Thanksgiving is all about. (Also, Pilgrims.)
But seriously: The world needs a little cheering up right now, and that's why we're glad to have this minute to think about all that dancers have to be thankful for this year. Because there's a LOT. Let's not forget that 2016 gave us the #MannequinChallenge, and Laurie Hernandez's floor routine, and the NYC Dance Project book, and the #PantsuitPower flashmob, and Jenna Dewan Tatum for Danskin, and the Cats revival, and Ashley Bouder's "fouetté-ing while pregnant" videos, and Center Stage: On Pointe, and SO MUCH MISTY COPELAND.
Feeling better already? Me too.
Let's keep the happy feels going: Here at Dance Spirit, we have a Turkey Day tradition in which I force the other editors to tell me what dance-y things they're thankful for. And because they are the best, their responses make me all 😊😊😊. Without further ado:
Courtney Bowers, managing editor: "I'm thankful that I got to watch all those littles kill it all season on 'SYTYCD.' And for the heartwarming feels the relationships they had with their All-Star mentors gave me. And for the awesome pieces that I'll continue to obsess about through next year."
Nicole Loeffler-Gladstone, assistant editor: "I'm grateful for all the choreography that goes unseen and unrecorded, but exists nonetheless; for ReQuest Crew in the 'Sorry' music video, which makes me feel giddy with excitement every time I watch it; for Beyoncé's dancers, who should be worshiped like demi-goddesses; for Crystal Pite's The Statement, which is literally breathtaking; and for the dancers who, in a sometimes scary world, keep showing up and trying to make a difference."
Olivia Manno, assistant editor: "Last year, I was thankful for James Whiteside's calves, and that still stands. In fact, I think I'm more thankful for them this year. But I'm also thankful for Crystal Pite for being a boss-lady and making some incredible work, like The Statement and  The Season's Canon; for all the sequined dresses on 'DWTS'; and for Amar Ramasar (no reason—just for existing)."
Helen Rolfe, fashion editor: "This year, I'm dancing with gratitude because: there's so much amazing dance on Broadway right now (oh hey, On Your Feet! and Cats); Cloud & Victory's HILARIOUS Instagram gives me life; and—last but definitely not least—I get to play with the prettiest dancewear and costumes all day. In other words, I'm super grateful to be DS's new fashion editor!"
Enjoy your Thanksgiving feasts! And also this gif, which I am thankful for every minute of every T-day every year: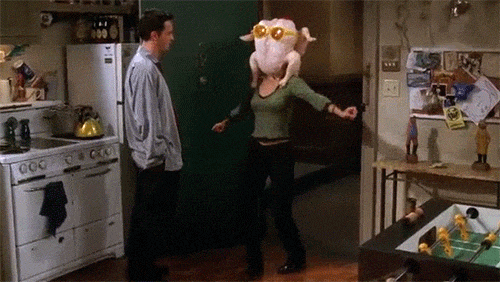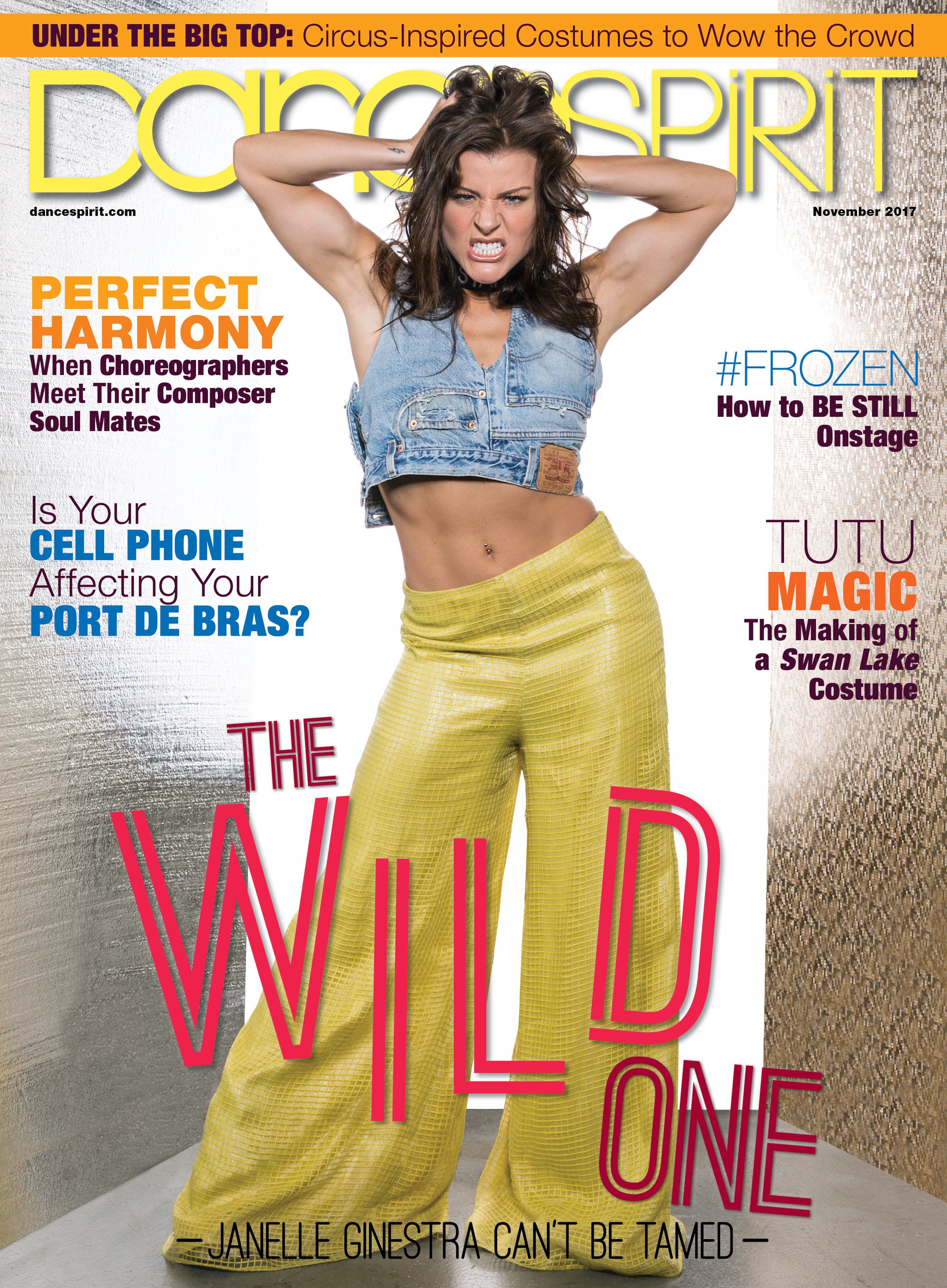 Get Dance Spirit in your inbox