Mar. 30, 2012 04:29PM EST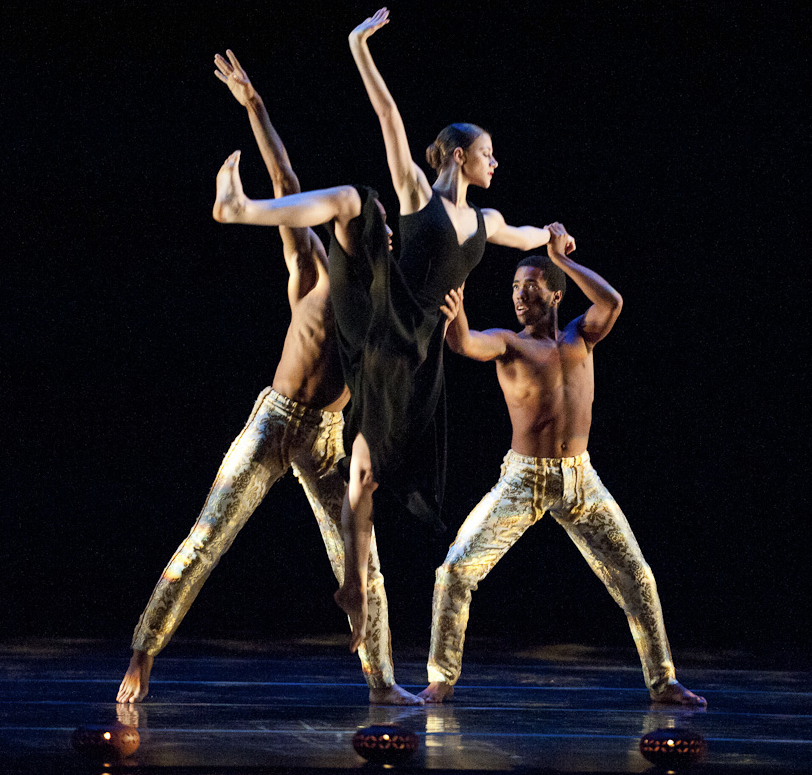 Remember that feeling you used to get on Christmas morning, as you ran downstairs to see what presents were waiting for you under the tree? That's how I felt walking into the Juilliard Dances Repertory concert last night. The annual showcase gives Juilliard's stable of dancers a chance to tackle well-known contemporary works. And every year, new faces have big breakout moments. Hence the Christmas-tree feeling: What phenomenal young dancers will surprise us this time around?
This year's lineup includes works by Jose Limón (The Waldstein Sonata), Nacho Duato (Gnawa) and Ohad Naharin (Secus). Three very big names—and three very different styles. It was wonderful to see Maddie Swenson, one of last year's Cover Model Search finalists, come into her own in Gnawa, and to discover the delightfully odd Kyle Scheurich (who reminds me of recent Juilliard alum Billy Barry—right down to his topknot) in Secus. But I left thinking less about individual dancers and more about the remarkable range all these young artists have. To be able to transform themselves into celestial innocents in the Limón, sensual mystics in the Duato and alien flashers (!) in the Naharin—how extraordinary is that?
Jan. 17, 2012 03:46PM EST
Last night, DS assistant/fashion editor Michael Anne Bailey and I got all decked out —I wore jeans, actually, but she was decked out and looked super cute — to attend the New York City Dance Alliance Foundation's Destiny Rising show at The Joyce Theater in NYC.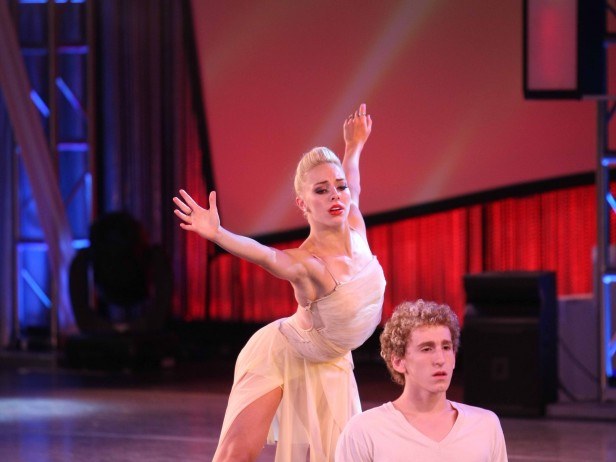 In honor of NYCDAF's first anniversary, last night's show boasted a star-studded roundup of choreographers and performers, many of whom are New York City Dance Alliance faculty and alumni (including New York City Ballet principals Tiler Peck and Robert Fairchild and Houston Ballet's Melissa Hough and Garrett Smith).
The people watching in the audience was, as with any NYCDA event, spectacular. But the real action happened onstage, and Michael and I are here to recap all the fun for you...
Alison: ‪OK, so last night we went to the New York City Dance Alliance Foundation's Destiny Rising show at The Joyce. How would you describe the night in one word?
Michael: ‪Progress. The foundation is really taking groundbreaking steps that will help young dancers get the training and education they need to be successful — not just in their 20s, but for the rest of their lives.‬
Alison: Totally. One of my favorite parts of the night was actually the video they played recapping some of the amazing scholarship opportunities NYCDAF has presented to dancers since its inception.‬
Michael: ‪I loved that, too! I actually got emotional watching it — I know the scholarships will change lives. We talk about the importance of formal education in DS all the time, but to hear Susan Jaffe speak‬ about how a lack of education initially held her back after an extremely successful dance career, really brought the issue home.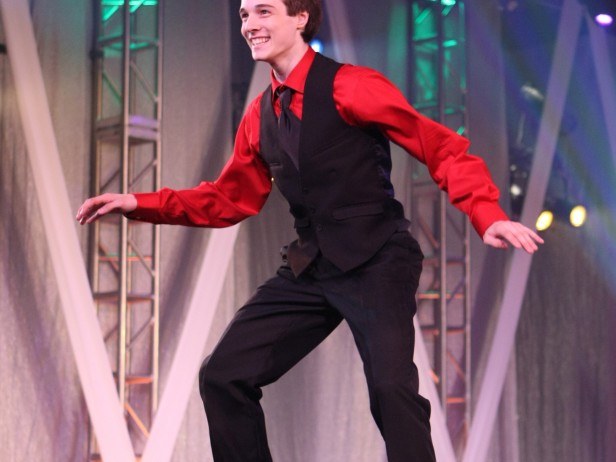 Alison: Yes! I love that she admitted that. And we got to hear from Corey Snide, who was the first-ever Astaire Award scholarship recipient. He's a freshman at The Juilliard School now, and he's flourishing there, thanks to NYCDAF.
Michael: ‪Let's talk about the dancing. Did you have a favorite number?
Alison: Catherine Hurlin!‬ I have always loved watching Catherine, and last night she performed a variation from Flames of Paris. She was just so sweet and easy to watch. That girl is a star, and I'm so glad she's getting awesome training at the Jacqueline Kennedy Onassis School at American Ballet Theatre.
Michael: ‪She was my husband's favorite! He kept talking about her performance all the way home
Alison: Here's the thing:‬ There were a ton of contemporary numbers last night. Lots of instrumental music. When Catherine came out in her bright-white tutu and flashed that giant smile of hers, it was just fun. It was a nice change of pace.
Michael: ‪I couldn't agree more. I was blown away by Melissa Hough and Garrett Smith from Houston Ballet. And when I realized that Garrett had choreographed the piece, I couldn't believe it! Her technique, passion, and dedication to the piece were unmatched.
Alison: I absolutely agree. Melissa Hough is another one of my favorites — all of my favorite dancers right now are ballet dancers who grew up on the comp scene. Go figure.‬
Michael: And it's so fun to see a ballerina in bare feet every once in awhile. Melissa Hough is so versatile, which I definitely think comes from growing up on the comp scene.‬
Alison: Camille A. Brown's piece was fantastic, too. She's hilarious, and even my boyfriend got into her solo.
Michael: I loved loved loved Camille A. Brown's piece. I had never seen her perform and was absolutely wowed. She draws you in like a true entertainer.
Alison: ‪What was particularly amazing about her performance was that we couldn't see her face the entire time, but she was still so expressive. Her hat was down over her eyes, but she didn't need to connect with the audience visually. Her movement spoke volumes. She's a really unique performer.
Michael: ‪I've never seen anything like it. And I would die to see it again!‬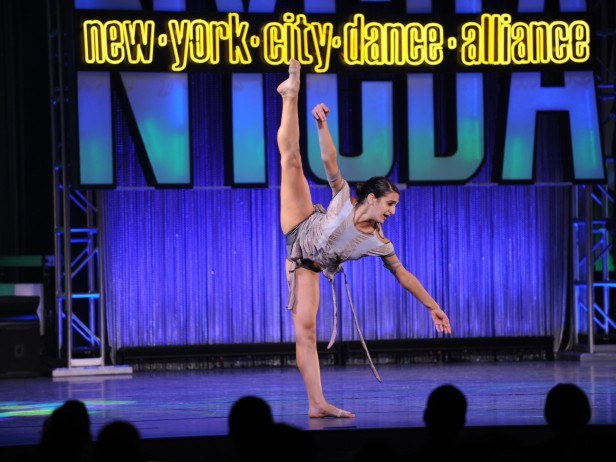 Alison: ‪So can we talk about how incredible our former Cover Model Search finalists were last night? Two of my favorite performers of the night: Ida Saki and Zoey Anderson. Those girls are insane.
Michael: ‪YES!!! It's so fun to see how much they've grown since attending Tisch (Ida) and Marymount Manhattan (Zoey). Zoey danced in a number with probably 30 other girls and I only watched her. Zoey has always been an outstanding performer, but now her movement quality and technique are becoming more and more flawless.
Alison: ‪Zoey is gorgeous. Absolutely stunning. And Marymount is working for her. She's grown a ton since we saw her for the CMS. I didn't love the number Ida was in, sadly — it just wasn't my style, and I wanted the show to kick off with something a little more upbeat — but the choreography really played to Ida's strengths.‬
Michael: ‪I agree. I'm a bit bored with most of the contemporary pieces I'm seeing lately. Everything is starting to look the same: the music, the choreography, the performance quality.‬
Alison: ‪Absolutely. Dear choreographers: We get it. We see what you're doing. We're ready for large group jazz numbers now! Love, DS‬
Michael: ‪Ha ha, just something new and innovative, please! I'm ready to be wowed again, and I know these choreographers are talented enough to do it! That said, I left last night with an even greater respect for the NYCDAF, Joe Lanteri and the dance community in general — young dancers are in good hands!‬
Alison: ‪Yes, at each event Joe's passion for the arts truly comes through. He knows each NYCDA kid by name, and that blows my mind. He knows which studio they're from, what the name of their solo is and where they're thinking about going to college. He's so invested in their futures, and as an audience member, it's a total pleasure to witness.
Michael: ‪I couldn't agree more. What a wonderful night it was.‬
Alison: ‪Have I mentioned I have a huge dance crush on Joe Lanteri? No? It's clear though, right?‬
Michael: ‪Ha ha, yes, Alison, we know. But I'm pretty sure it's a general Dance Spirit crush.
Alison: ‪On that note, thank you, Joe, for a wonderful night, and thank you Michael for being a great show-seeing partner.‬
Oct. 01, 2009 09:00PM EST
Spreading the Love
This past summer, The Juilliard School provided summer grants to its students and alumni to travel to Arusha, Tanzania; San Francisco; Manila City, Philippines; and São Paulo, Brazil; to work with underprivileged children who are unable to afford schooling or intensive lessons in the arts. The volunteers visited homeless shelters and youth centers, where they offered children tutorials in contemporary dance, music, vocation, improvisation and storytelling.
"SYTYCD"'s Nigel Visits NYC Students
On a rare break from his busy schedule as Executive Producer of "So You Think You Can Dance," Nigel Lythgoe recently popped into NYC to meet with students from two of the city's top dance schools. He was in town promoting his new Dizzy Feet Foundation, an organization geared toward providing training scholarships to promising young dancers, which he recently co-founded with "Dancing With The Stars" judge Carrie Ann Inaba and actress Katie Holmes.
At the Jacqueline Kennedy Onassis School at American Ballet Theatre, Lythgoe was treated with a demonstration by Tony Award-winner David Alvarez Billy Elliot and some of his classmates. He also observed ABT's ongoing Teacher Training Intensive and sat down with [ital: DS] editor in chief Kate Lydon for a Q&A session about the Dizzy Feet Foundation. (For more on the Dizzy Feet Foundation, be sure to check out the November issue of DS!)
Lythgoe also visited The Ailey School for a presentation by seven dancers from Ailey II, the school's second company. The students performed selections choreographed by Ailey II Associate Artistic Director Troy Powell and were later introduced to Lythgoe.
[Visit dancemedia.com to view video from Nigel's visit to ABT & The Ailey School!]—Colleen Bohen
Don't Stop Believin'
This year at the 30th Annual Leggz Ltd. Dance Show, 17-year-old Danny Quadrino was awarded the Danny Ruvolo Memorial Dance Scholarship Award. Quadrino says this victory was sweet, yet unexpected.
So how did Quadrino prepare himself for this moment? He credits his success to his first jazz class at the age of 7, which eventually lead him to take an array of styles, like theater jazz and hip hop. "Dancing at Disney, the Orange Bowl and in Nutcracker, as well as at other charitable events, helped me not only establish myself as a dancer, but also as a better performer," Quadrino says.
The road to your dreams may be a difficult one, but Quadrino says that if you believe in yourself, you'll make it. " If you love it, then keep dancing and never let anyone or anything get in your way," he says. "If you find that someone is trying to bring you down, don't get defeated; use that person as a way to work harder and prove them wrong. Never, ever give up."
Catch the high school senior in Broadway's revival of Bye Bye Birdie, which opens this month.
A Whole New World
Congratulations to Lonnie Weeks, who received the silver medal in the Junior Division at the Helsinki International Ballet Competition in Helsinki, Finland, this past summer.
Weeks competed against dancers from 24 other countries. "Going to Finland was such an eye opener," he says. "I got a feel for other countries' styles, and it helped me figure out my talent level compared to theirs."
Though Lonnie is only 18 years old, his career has already taken off. Before joining his current company, Texas Ballet Theater, he was awarded a full scholarship to the Faubourg School of Ballet and the Ruth Page Center for the Arts in Chicago. In 2005, he was given another full ride to attend the Texas Ballet School's Fort Worth Academy. Just a year later, he became the youngest male to advance to full company member! "At TBT, I'm able to really showcase my artistry and I love that," Weeks says. "I think a lot of companies these days are too focused on technique. Dance comes straight from the heart, and you need to use that in every performance." Weeks feels at home at TBT, which is why he plans on sticking around for a while. "I still have a lot to learn, and TBT is the best place to do it," he says. "You never want to think you're the best—you always want to keep improving."
Meaghan Hinkis of ABT II, 18, won a bronze in the girl's Junior Division at the Helsinki International Ballet Competition this year. You may recognize her because she appeared in [ital: DS]' March 2008 issue as one of our "10 Up & Coming Talents To Watch." Guess we aren't the [ital: only] ones with our eyes on this young superstar!
Give a Little, Get a Little
When you donate your time by volunteering at your dance studio or after-school dance classes for youth, it can definitely pay off. If your volunteer efforts have been continuously recognized by your studio directors or teachers, mention The Prudential Spirit of Community Awards to them. The competition is a great way for middle and high school students to benefit from their extra effort and impact.
The first round narrows the competition down to 102 State Honorees, two students from each state. Those chosen receive $1,000 and a trip to Washington, DC! From that group, 10 are chosen to be National Honorees and win an additional $5,000 and grants for a nonprofit organization of their choice. Apply by October 31 at prudential.com/spirit.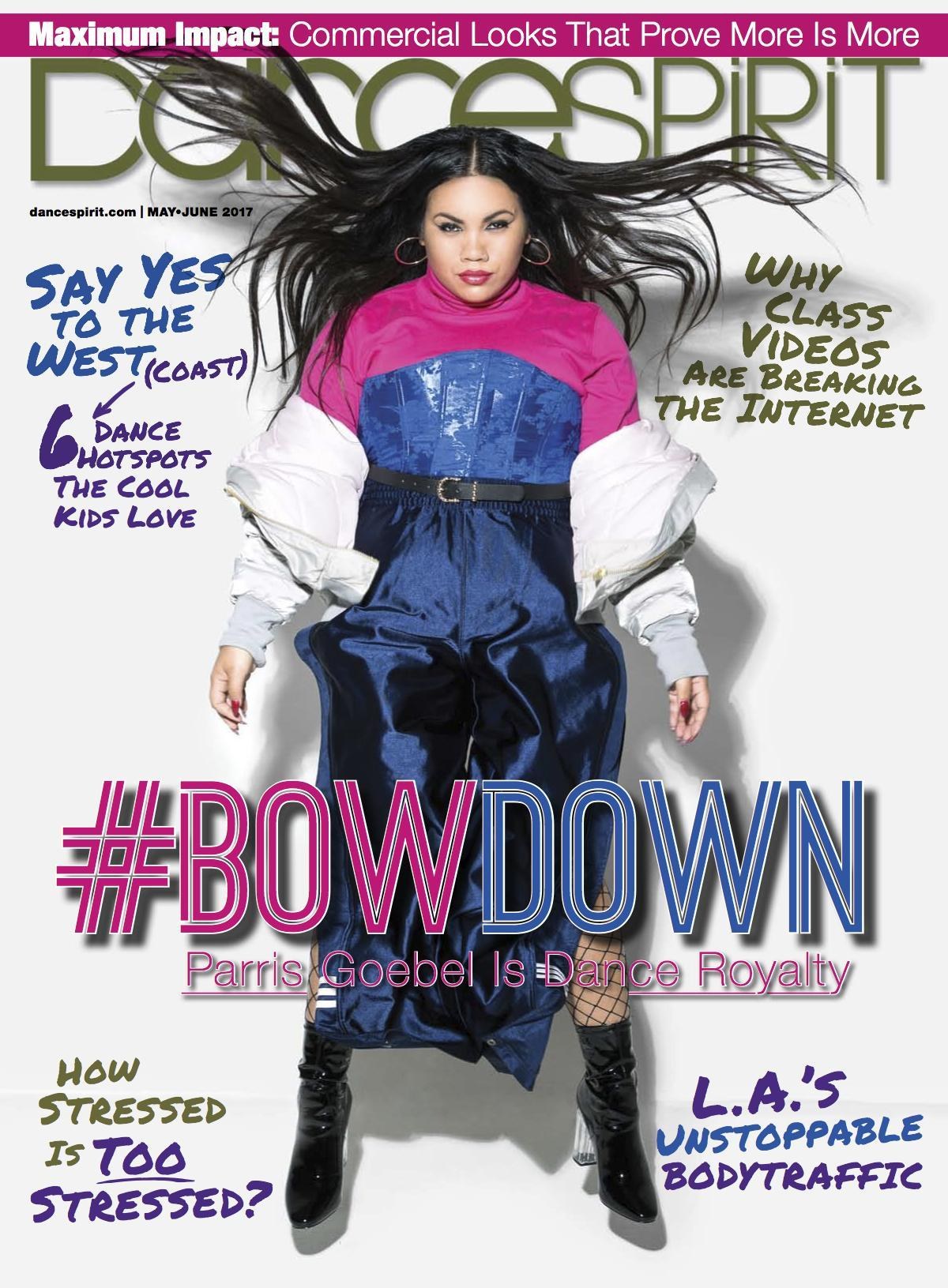 Get
Dance Spirit
in your inbox
Featured College Dance Program