A merry, happy, holly-jolly Christmas to everyone celebrating!
This is one of those days when—as we sit in a pile of wrapping paper debris, snuggly in our snowflake onesies, eating delicious cookies and celebrating the end (or near-end) of an insane Nutcracker season—we can't help but be intensely grateful for all the good things in our lives. It's a day for feeling feelings.
And here's a dance story that—partly because it involves people who aren't able to enjoy the comforts of home on Christmas—might make you shed a holiday tear or two.
Today, Lincoln Center is hosting a broadcast of New York City Ballet's production of George Balanchine's The Nutcracker. It's not the first time this has happened; the Nut performance has already aired twice in U.S. theaters over the past few weeks as part of the Lincoln Center at the Movies series.
But today's broadcast is different. It's being beamed to about 400,000 members of the U.S. Armed Forces and their families, who are serving abroad in 175 countries and U.S. territories.
So, nearly half a million service men and women—people spending Christmas in Afghanistan and Iraq and even on naval ships in the middle of the ocean—will have their holidays brightened by one of the world's greatest ballets, danced by some of the world's greatest artists.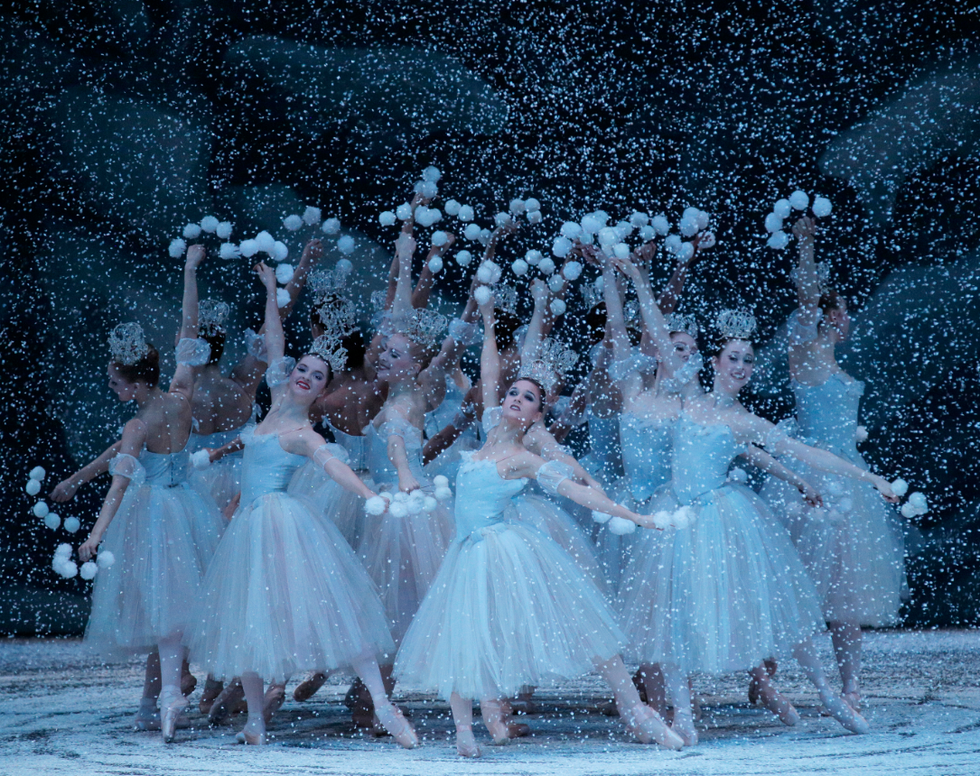 Snow has never made us feel so warm inside. (NYCB in Nutcracker; photo by Paul Kolnik)
Goodness, I must have a Christmas cookie crumb stuck in my eye. You too? So weird.
Happy holidays, everyone.
Looking for some dance inspiration? Alvin Ailey American Dance Theater is beaming no fewer than FOUR works, including the beloved classic Revelations, to a movie theater near you this Thursday, October 22!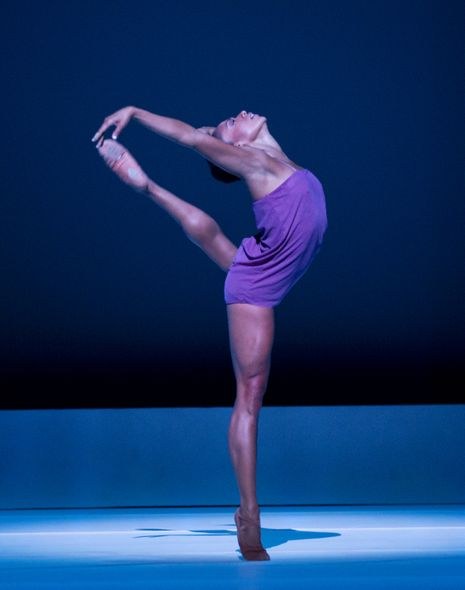 Alvin Ailey American Dance Theater's Linda Celeste Sims in Wayne McGregor's Chroma. Photo by Paul Kolnik
In addition to Revelations, theatergoers and dance lovers alike will also get the chance to view Chroma by Wayne McGregor, Grace by Ronald K. Brown and Takeademe by Robert Battle, AAADT's artistic director.
This screening is part of the Lincoln Center for the Performing Arts' exciting new cinema series, Lincoln Center at the Movies: Great American Dance, which also includes performances from San Francisco Ballet, Ballet Hispanico and New York City Ballet. Check out the news section of our November issue for more info.
To purchase tickets, visit fathomevents.com or participating theater box offices.
Mar. 23, 2017 06:07AM EST
Big ballet news today! American Ballet Theatre just announced a transatlantic "dancer exchange."
OK, yes, when I first heard that, I started hyperventilating a little. Were any of my darling ABT people going to be, uh, "traded" to some European team?
But fear not: This exchange is for a few guest performances only, giving audiences on both sides of the Atlantic a taste of world-class dancers they may have never seen before.
Here's how it's going to go down:
This June, Royal Ballet principal dancer Steven McRae will perform as Lankendem in ABT's Le Corsaire, and this July, Royal Danish Ballet principal Alban Lendorf (he's AMAZING, guys) will dance Prince Désiré in ABT's Sleeping Beauty. That's round one.
Then for round two, in December, ABT will send principal Cory Stearns to the Royal Ballet and soloist Isabella Boylston (one of our favorites!) to the Royal Danish Ballet, to dance in their respective Nutcrackers.
Whew.
Anyway, sounds pretty nifty, right? And if you're not familiar with any of these great dancers, check out our slideshow below!
[portfolio_slideshow nowrap=0 thumbs=true timeout=4000 showtitles=true showcaps=true showdesc=true]
Mar. 23, 2017 05:01AM EST
I feel like we lost a part of our collective childhood yesterday when Maurice Sendak passed away. Who didn't grow up loving his slightly twisted, often hilarious, and always beautiful books?
While he was best known for Where the Wild Things Are and his other illustrated stories, Sendak contributed to the dance world, too. Today the L.A. Times remembers his set designs, which include the fantastical sets he made for Pacific Northwest Ballet's The Nutcracker in 1983. Apparently Sendak was initially hesitant about taking on the project—"Who in the world needed another Nutcracker?" he asked—but eventually he fell in love with the ballet. And thank goodness, because his designs are (predictably) wonderful. From the bold, graphic tree to the creature-like Nutcracker, they're just so Sendak. (When he saw them, New York City Ballet co-founder Lincoln Kirstein wrote to PNB: "I have seen the designs for your Nutcracker by Maurice Sendak. I thought they were absolutely magnificent and I was filled with a violent greed and envy.")
This video gives a sense of what the Nutcracker sets, which PNB still uses, look like in action. RIP, Mr. Sendak; thank you for sharing your world of wild things and wonder with us.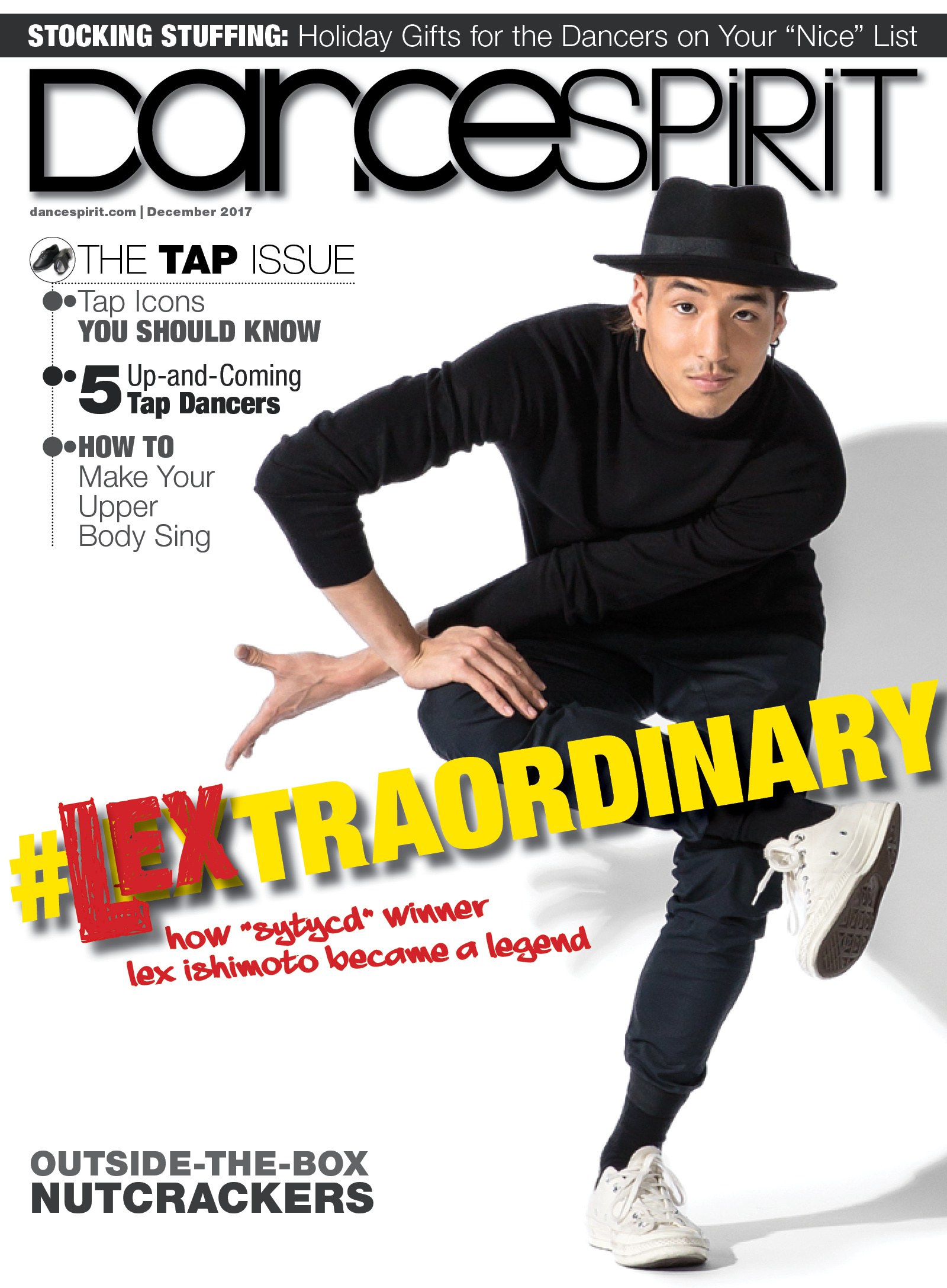 Get Dance Spirit in your inbox