Dec. 30, 2016 12:00PM EST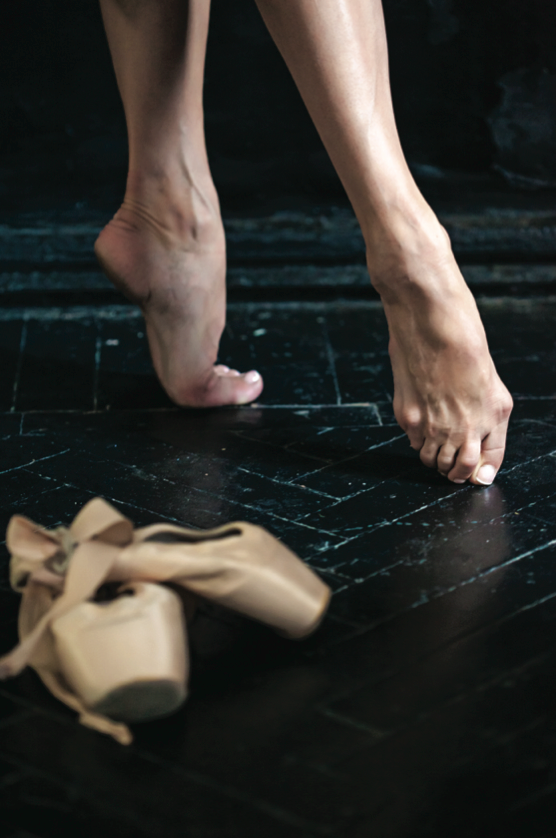 (Thinkstock)
Dancers are famous (notorious?) for pushing themselves to the limit. We're always trying for more, so it can be difficult to figure out just when, where and—honestly—why we should take time to care for our bodies. The truth is, dancers can put off necessary care if they're afraid it might mean taking a break. So here are seven New Year's health and wellness mantras for a strong, centered 2017 (and 12 more ideas for a year full of breakthroughs).
I will: Cross-train, cross-train, cross-train.
We've said it once, we'll say it again: Cross-training is essential to the longevity of your dance career. But where to begin? First, think about what you actually like to do outside of the studio. Cross-training doesn't have to mean mindless miles on the treadmill and it will be a lot easier to stick with if you enjoy it. Check out these three pros, who found unique methods to spice up their routines.
I will: Listen to pain.
Sprains, strains and fractures are your body's way of forcing you to rest. Never push through the sudden onset of pain, something that feels sharp or cracking, or pain that persists for more than a few days. Resolve to tell your teacher or coach when something hurts, instead of shrugging it off. That kind of communication doesn't mean you're whiny or weak. You're taking responsibility for your own career and training.
I will: Actually go to the doctor.
Trust us, we know how difficult it can be to squeeze in a doctor's appointment when you're already over-scheduled. But your pediatrician can take an objective view of your overall health, noting things that might seem normal for a dancer, but unusual for a pre-teen (tendonitis flare-ups, anyone?). That said, your doc might be totally mystified when it comes to dance. Here are our best tips for speaking "dance" with your MD.
I will: Face my perfectionist tendencies.
Lots of dancers are "type A." We're organized, driven and goal-oriented. Learn to recognize the difference between healthy self-criticism (which helps you grow) and unhealthy perfectionism (which beats you down).
I will: Conquer stage fright.
Say it loud, say it proud: "This year I will not be paralyzed by stage fright!" And you can do it, by identifying what level of fright you have, and then taking concrete steps to address it. A few butterflies in your stomach before you perform are totally normal. Even pros still get nervous! But if your stage fright is interfering with your love of dance, it's time to tackle it head-on.
I will: Find the food that best fuels my body.
Hungry, cranky dancers can't focus, are more prone to injury and can't recover properly. Don't be that dancer. Instead, experiment with your meals to find foods that satisfy you emotionally (chocolate), nutritionally (broccoli) or both (mmm...STRAWBERRIES!). Take a peek at these four pros, who've found the right combinations to power through busy rehearsal and performance schedules.
I will: Give myself the R&R I deserve.
Face it. You may feel like Wonder Woman onstage, but you have to rest like any other mere mortal. That's why it's essential to schedule in some down time. Take a bubble bath, try these relaxing yoga poses, read a new book, catch up with a friend...there are a million ways to thank your body for helping you chase your dance dreams!
Here's to a fabulous 2017!
May. 16, 2014 03:45PM EST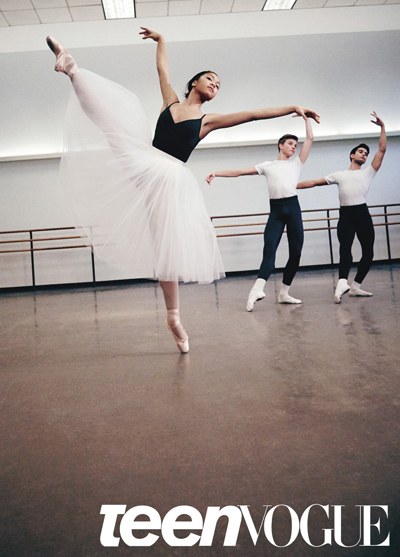 Jasmine Perry with Alec and Victor of "Strictly Ballet"
Photo Will Davidson/Teen Vogue
You already know just how much we love it when the fashion world enters ours (excluding the recent Free People, um, snafu). So it's no surprise that we're ecstatic about Teen Vogue's newest venture: a web series (premiering today!) following six students at the School of American Ballet. Also awesome? The show lets us catch up with Jasmine Perry, who, since making her debut on "Dance212," has shed her braces and continued to develop into an utterly gorgeous dancer.
"Strictly Ballet" is an online companion to Teen Vogue's print feature, "Rhythm Nation," which highlights some of the freshest faces in dance today (including Lil Buck)—all of them dressed to the nines, naturally. Hopefully this dance-in-the-mainstream streak continues. And it just might: Turns out dancers have an unexpected advocate in Teen Vogue editor in chief Amy Astley, who's responsible for the magazine's latest foray into the world of intense ballet training. As a teen, she was a bunhead herself, studying at the Joffrey Ballet in NYC and at Central Pennsylvania Youth Ballet's summer program. Dance Spirit caught up with Astley to get the inside scoop on "Strictly Ballet." (You can watch the extended trailer and first episode below!)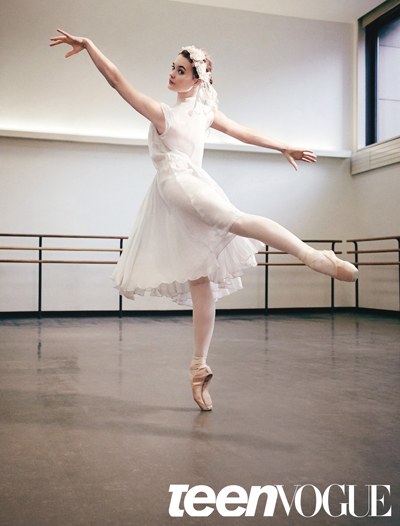 SAB student Emily wears a Rebecca Taylor dress.
Photo Will Davidson/Teen Vogue
Dance Spirit: Why did you want to make "Strictly Ballet"?
Amy Astley: I've been asking myself what I can give back to ballet, since I got so much from it. And I thought that the best thing I can do is promote it.
Ballet dancers should get a lot more attention in pop culture than they get. They're so beautiful! And I find dancers to be insanely grateful. Their humility is refreshing.
DS: What did your ballet training teach you that you still use today?
AA: In ballet, you can never say "I can't." You have to work through everything, so you learn how to do your best even when you're extremely challenged. I say this to my kids and to the people I work with. The moment I find myself thinking I can't, I'm like, "Wait a second. You can! What's wrong, what's the problem, and how can I work through it?"
DS: What's your goal for the series?
AA: I really hope that people—who aren't necessarily all bunheads—will get engaged with this series. I've definitely spent enough time in my life watching movies about baseball, and I don't know much about that sport. I think ballet should be the same way: It should be fascinating on its own, even to people who don't know a lot about it.
(Watch the extended trailer for "Strictly Ballet" above.)
DS: How will "Strictly Ballet" be different from AOL's "city.ballet." or The CW's "Breaking Pointe"?
AA: I didn't want a reality show that dug into the super-personal aspects of the dancers' lives. It's just meant to celebrate the kids as aspiring artists, and highlight their extreme dedication and talent. It's amazing to be interviewing kids who are 14 and 17 who know exactly what they want to do.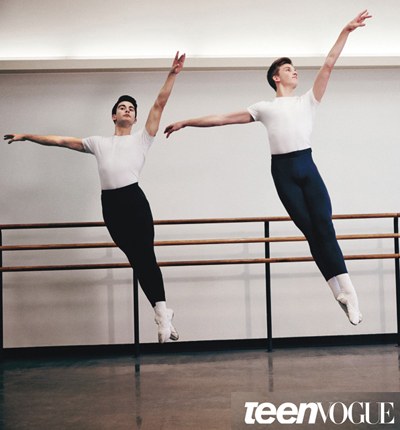 (L to R) Victor and Alec of "Strictly Ballet"
Photo Will Davidson/Teen Vogue
DS: As a ballet fan, what has been your favorite part about this process?
AA: I got to meet Peter Martins, which was such a great thrill since I grew up watching him dance with Suzanne Farrell. Peter Martins was one of my all-time favorite dancers, along with Suzanne, Natalia Makarova, and Baryshnikov, of course.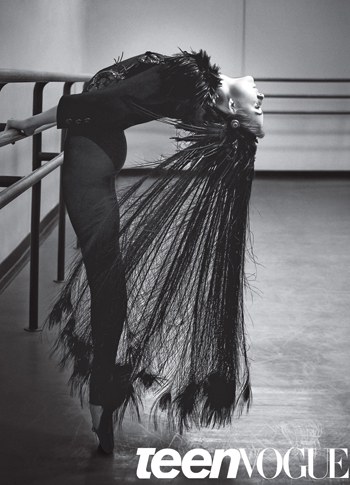 SAB's Mimi wears a Louis Vuitton jacket and headdress in Teen Vogue.
Photo Will Davidson/Teen Vogue
DS: In your editor's note this month, you write that you quit ballet at 18. How did you make that decision?
AA: During my summers at CPYB, I saw what the talent was like out there since I was dancing with girls from NYC and SAB. I was in their level, but I was never really as good—I was sort of at the bottom of the top. I didn't have what it took to be in the companies I wanted to join, and the regional ballet scene wasn't as strong then as it is now. It was an extremely hard time for me. I had barely even applied to colleges. I did end up going to school back in Michigan, but I can relate to students who aren't sure if they're ready for professional life, as well as to those who aren't sure if they even want it.
DS: Knowing what you know now, what would you tell those dancers?
AA: Whatever you decide, remember that studying your art has been time well spent. You get so much from those years. And keep dancing if you love it. Whether you're studying modern, tap, jazz or ballet, the training is great for your brain and your body. You'll probably grow up to be one of the people supporting the arts and keeping ballet companies alive—I go to the ballet very regularly, to see both NYCB and American Ballet Theatre. I just love it. I never got ballet out of my system.
Watch the first episode here:
Apr. 01, 2014 04:00PM EST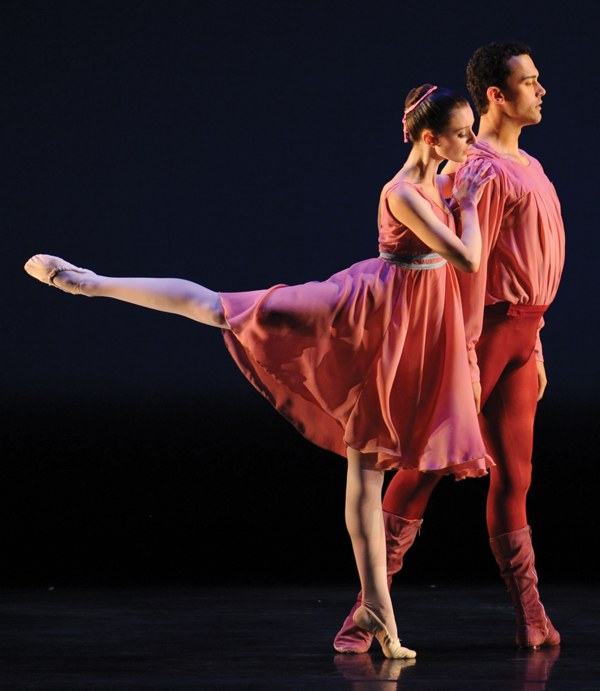 Metropolitan Ballet Academy & Company's Sara Vander Voort and Jonathan Tavares in Kanji Segawa's Viva (photo by Eduardo Patino)
You get all the lead roles and your teachers always ask you to demonstrate. You've taken top titles at competitions and have been singled out by star choreographers at conventions. It's been said that you're the best dancer at your studio or in your company. So now what?
Dancers strive for perfection—what we do can always be better. But sometimes it's hard to know how to push yourself when you've been put on a pedestal. Plus, how do you really know where you fall on the massive dance spectrum? You may be the best at your hometown studio, but where are you relative to the rest of the dance world? If you've found yourself in this situation, read on to see how to get the most comfortable and keep growing as a dancer.
Be Proactive
Talk to your coach, teacher or director about your goals. Nichole Savage of Savage Dance Company in Sykesville, MD, sits down with each of her dancers and comes up with individualized dance plans. "We talk about what classes they should be taking, what conventions they can go to and things that are going to help them succeed," she says. "There's always a way to stay enriched."
To push her best students, Savage might use them as demonstrators or send them into another class to assist. She also encourages these dancers to work outside their comfort zones. "If they're best at contemporary, I have them jump into a hip-hop or tap class," she says. Trying different genres and teachers will enhance your training by exposing you to new ways of working.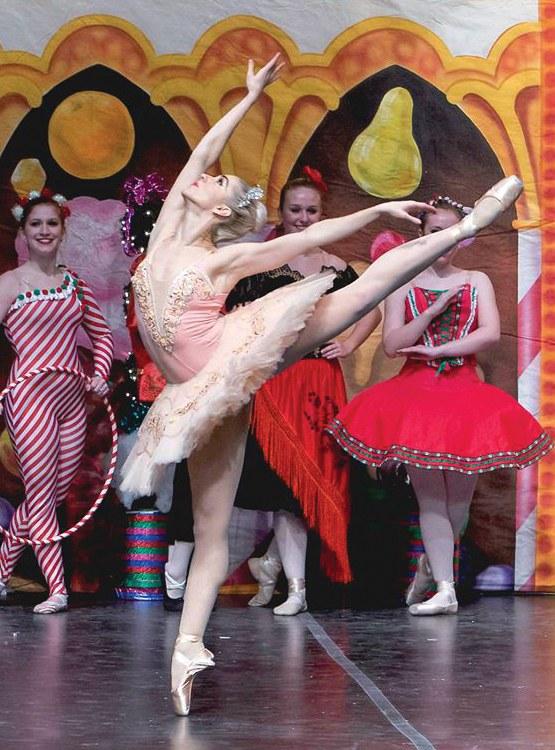 Adrienne Canterna in a performance of The Nutcracker (photo by XMB Photography)
Know When to Stay and When to Go
Whether or not you should move on to another studio or company is a big decision. If you're thriving with your current teacher or coach, there's no need to look elsewhere. "Students have to have confidence in their teacher to feel like they're in the right place," says Lisa Collins Vidnovic, director of Metropolitan Ballet Academy in Jenkintown, PA. Being the best dancer, wherever you are, isn't a sure sign that you should relocate. How you feel should be the determining factor. Are you challenged? Happy? Frustrated? Bored? "If you don't think you're getting what you need," Vidnovic says, "listen to your gut and try to find it someplace else."
For some people, switching schools can mean a step up in training. Katelyn Prominski, lead ballerina with the touring production of Flashdance The Musical, made the move after she graduated from high school. "I was at the top of my class and I wanted to have more of a challenge," she says. She left her local studio and went to San Francisco Ballet School, where she was introduced to more styles—and more competition. "I'd look at other dancers and appreciate their strengths. It gave me room to grow," she says.
Some dancers thrive at small local schools or with the benefit of extra private lessons. Adrienne Canterna, dancer with and choreographer and co-artistic director of the Bad Boys of Dance, got her early training at a small school in Maryland and supplemented it with private lessons. At 15, she won gold at the International Ballet Competition in Jackson, MS. "It just shows that you can win without going to a professional ballet school," she says.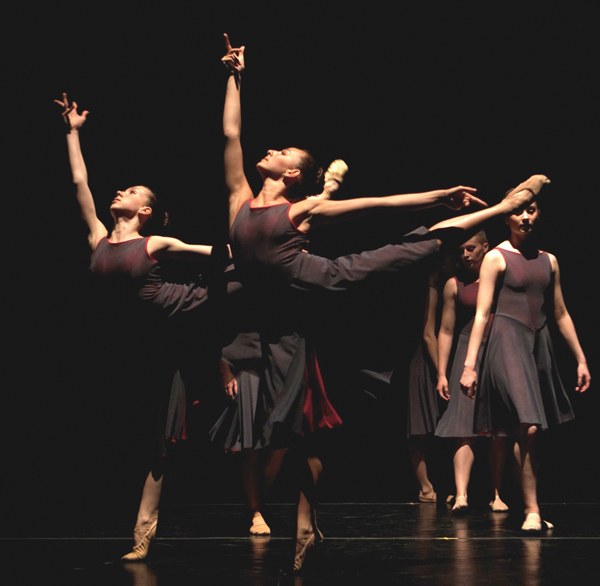 Metropolitan Ballet Academy & Company in Sarah Mettin's Fieldwork (photo by E.A. Kennedy III)
Stay Grounded
The dance world is full of amazing artists, and it's easy to lose sight of the big picture. "People run into problems because they get to be the best at their studio, and then they get to the real world and realize they're not the best anymore," says Canterna, who went on to train at the Kirov Academy of Ballet in Washington, D.C., after her win at Jackson. "It's tough." Keep a healthy perspective by watching as much dance as possible and going to master classes, workshops and conventions.
Savage warns her winning competitive dancers not to get full of themselves. "No matter how good you think you are, there's always someone better right around the corner," she says. Look at a dancer like Canterna: Even though she has a killer resumé, she doesn't let the success go to her head. She credits "good old-fashioned ballet class" for keeping her grounded. "I don't care if it's a simple class or a difficult one, you can never do it perfectly," she says. "Realizing how much you have to work on is really humbling—you see that there's still a place to go."
It's important to have confidence, but also to stay gracious. "Show up, work hard and be nice," advises Vidnovic. Along with talent and success comes the responsibility to set a good example. And remember that the dance world is small. You don't want to burn any bridges.
Mar. 02, 2014 03:46AM EST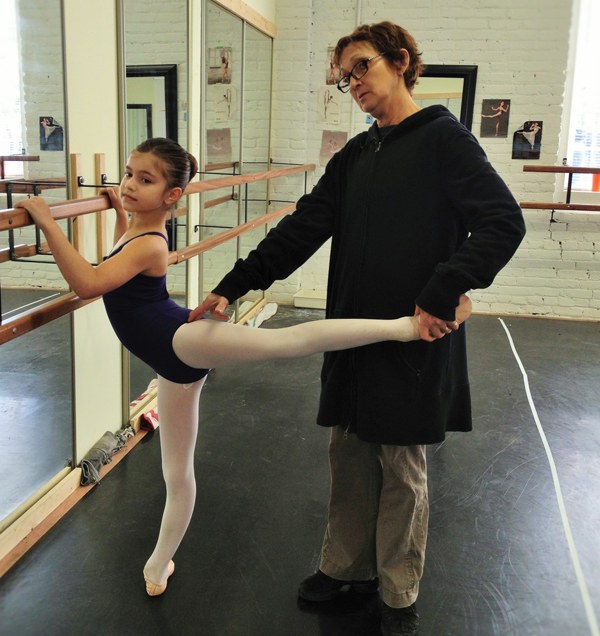 (Photo by Jennifer Verrecchia)
When Pennsylvania Ballet corps member Elizabeth Wallace was in seventh grade, she decided to enroll in private lessons with her teachers at Lexington Ballet in Kentucky. "What I needed help with was different from the other girls," she says. One year later, Wallace placed in the Top 12 at Youth America Grand Prix in South Carolina, and at the finals in NYC earned scholarships to five different schools.
These days, competition dancers and principal ballerinas alike are taking private lessons to supplement their regular training, and for good reason. Whether you want to develop your artistry or fine-tune your technique, working one-on-one with a teacher can help take your dancing to the next level. But what's the deal with private lessons? We asked teachers and students to open up and give advice about "privates."
What are the benefits of private lessons?
When it's just you and a teacher in the studio, you get all the attention. "The teacher can hone in on your weaknesses and design the whole lesson just for you," says Jennifer Miller, who teaches private lessons in Milwaukee, WI. If you're having a problem with turns or you want to gain more flexibility, the teacher can tailor exercises to help strengthen those weaknesses. You don't have to have a specific problem or focus to take private lessons, but it helps to talk to your teacher about your goals and keep an open line of communication.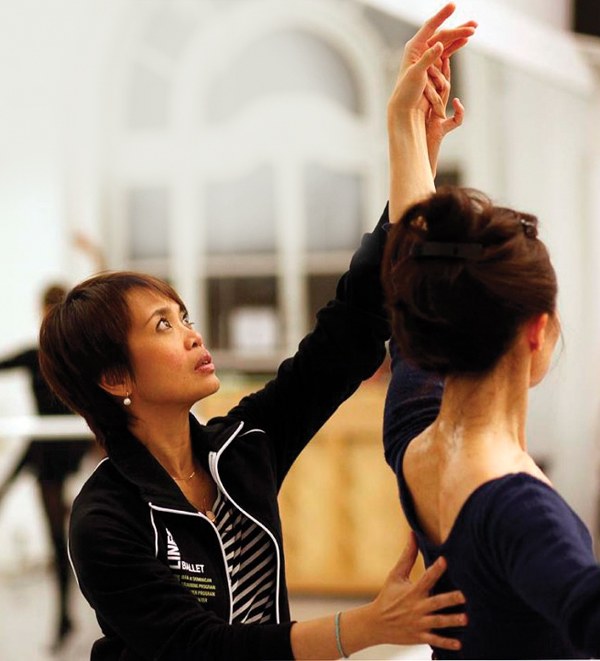 Liezl Austria, who teaches at Alonzo King LINES Dance and ODC Dance Commons in San Francisco works with a student. (Photo by Ed Azuar)
The teacher also gets to know you as a person and can help you develop emotionally as a dancer. "It's like there's a wall between the students and teacher in a typical class setting," says Miller, "but you can't help but start to build a relationship during private lessons."
If you're at the top of your class, a one-on-one session can challenge you. If you're slightly behind, the time can be spent going over basics. Maya Kreitman, 13, takes private lessons in addition to her regular classes at Ballet Chicago. She's been studying ballet for less than a year and needs extra help to catch up. "I like privates because I can slow down and figure out what I'm doing wrong," she says. "It's easier to go at my own pace."
What are the drawbacks?
The biggest downside to private lessons is cost. Most teachers charge anywhere from $40 to $150 per hour, and you might have to pay a $15 to $25 studio rental fee on top of that. Finding space might be hard, and teachers' schedules are often full during after-school hours. If you're not home-schooled or can't get out of school early, you might have to stay at the studio late or do private lessons on the weekend.
Which teacher should you choose?
"Think about how a particular teacher makes you feel," suggests Miller. "You need one who makes you comfortable but will still push you." Consider the teachers you already know—and who already know you. They'll have a good sense of your learning style and what you need.
If you're not sure, ask to sit and watch the teacher give someone else a private lesson (and make sure it's OK with that student, too). "I'm very hands-on," says Leslie Hench of Ribbon Mill Ballet in Carlisle, PA. "I like to sit on the floor and move the dancer's legs and feet for her. Some people might not like that." Observing a lesson will give you the opportunity to see the teacher's style and decide if it's right for you.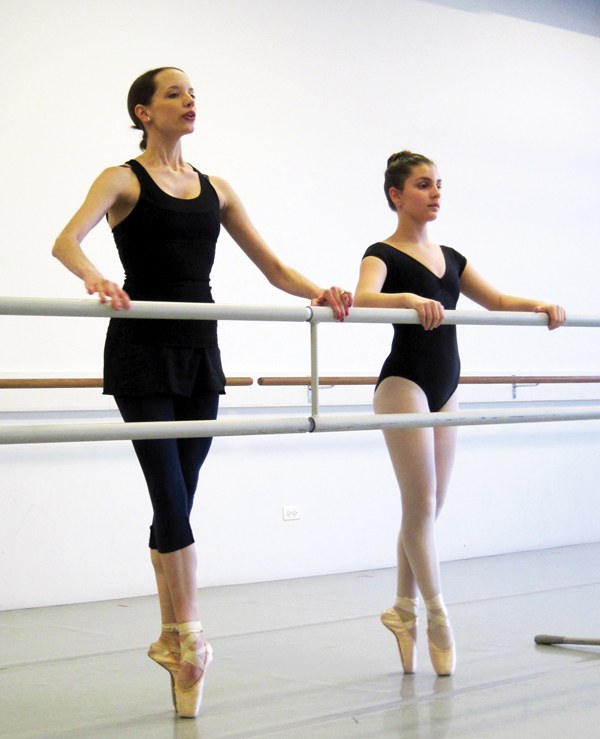 Maya Kreitman takes a private lesson with Megan Wright-Otto. (Photo by Margo Ruter)
Is it OK to take a private with someone who doesn't teach at your home studio?
As long as your studio knows what you're doing and you're not breaking any rules (some schools don't allow students to take classes anywhere else), it's fine to take lessons from a different teacher. "If someone good is available, take advantage," says Hench. Just remember: Opting to train with someone other than the teachers at your school may cause conflict and hurt feelings, so be sensitive about your decision to seek additional training elsewhere.
How often should you work one-on-one for maximum benefit?
"Go as much as possible," says Hench. "Having privates every day is beneficial, but it's expensive." If you can't go every day, try to schedule private lessons at least once a week. Write down your corrections and apply them during your regular classes. You'll improve even faster.
And don't necessarily opt for tons of private lessons over your group classes. If you're only taking privates, you miss the opportunity to watch other dancers in class. "We learn well in a group," says Liezl Austria, teacher at Alonzo King LINES Dance Center and ODC Dance Commons in San Francisco. "When it's just you in class, you're in a tunnel with no other dancers to inspire you."
Feb. 15, 2012 02:52PM EST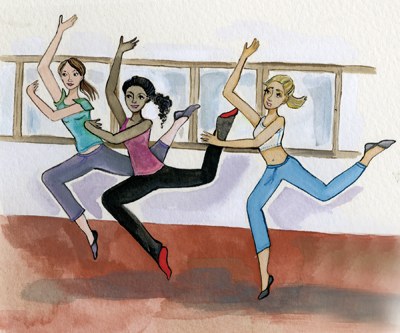 Illustrations by Lealand Eve
Deirdre Lewis loved studying ballet and jazz as a young teen, but unlike many of her peers at Dance Workshop of Hanover in Massachusetts, "dance was not my life," she says. "I was a cheerleader, and was also very involved in school." As her non-dance activities took up more and more of her time, she started falling behind in dance. "Girls in my class were asked to join the studio's preprofessional company, and I wasn't. Plus, as the other girls got more involved with dance, they started to form stronger bonds with each other, which made me feel more left out."
Dierdre struggled with these feelings for several years, and even considered quitting dance entirely. However, her dance teachers encouraged her to stay involved and keep her passion alive. Then at 16, she finally realized it wasn't talent that was holding her back—it was her commitment. "Although cheerleading was fun and something I was naturally good at, I really wanted to be an amazing dancer," she says. So, she quit cheerleading and enrolled in more dance classes. "I was very focused and eventually caught up to the level of the other dancers in class," she says. "That gave me the confidence to pursue dance in college." Now, Deirdre's a senior at Keene State College in New Hampshire, focusing on modern dance.
Many dancers struggle when they're progressing at a different rate than their peers. It can be tough to see your friends improving when you feel like you've hit a plateau. And it can be just as hard when you're the one pulling ahead—you might have to deal with jealousy, or feel guilty for getting parts your friends want. Stop constantly comparing yourself to your peers by realizing that everyone develops at a different pace. "To one degree or another, you're always better than somebody and worse than somebody else," says Dr. Kate Hays, a Toronto-based psychologist who specializes in sport and performance psychology. But that's just the first piece of the puzzle. Here, DS offers advice on handling your dance class growing pains.
Be an Individual
If you're falling behind, Hays recommends focusing on yourself rather than on your peers' performances. "You can't control how somebody else is doing," she says, "but you can control how you practice, what you practice and what your goals are."
If you're feeling discouraged, Linda Hamilton, a clinical psychologist who specializes in the performing arts, recommends taking a step back to examine your situation. Are you going through a growth spurt? Were you just promoted into a more advanced class? Or, like Deirdre, have you taken on too many extracurricular activities? Any of these scenarios can affect your dance performance as compared to your classmates.
Set training and technique goals that focus on your own development—not on your place in the class or company. For instance, if you're experiencing a growth spurt that has thrown off your balance, try cross-training to develop your core strength. If everyone in your class can do triple pirouettes but you're still struggling with doubles, keep working on those doubles until you master them. Ask your teacher to help you set goals that are specific to your needs. Hays suggests keeping a journal detailing your goals and the steps you're taking toward them to feel more in control of your progress.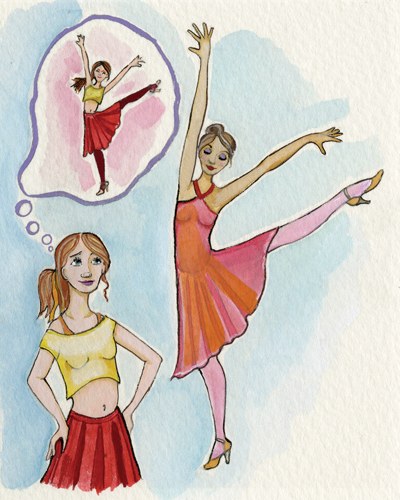 Compare With Purpose
Sometimes it helps to compare yourself to your classmates—that is, if you use these comparisons for motivation. It all depends on how you think about yourself in relation to your peers. For instance, Hays points out that thinking, "What is it that she's doing so well, and what can I learn from it?" is much healthier than, "She can do that, and I can't."
"If other dancers are advancing more quickly than you, consider it a gift to be able to watch and learn from them," says Deirdre, who felt pushed to work harder when she was in class with more advanced peers. "Each dancer in the room brings something different. You can pick out one thing you really enjoy from each classmate and put it in your pocket to make your own."
Own Your Talent
Even dancers who are more advanced can feel insecure about their place in class. "Girls sometimes feel guilty about being better, like they shouldn't be different or stand out," Hays says. This feeling of guilt can be compounded in the dance world, where you're competing for attention and roles: A friend's disappointment or jealousy can dampen your enthusiasm at succeeding. But being sensitive to your peers' emotions doesn't mean being ashamed of your developing talent. As you comfort—or confront—frustrated friends, remind yourself that you've also worked hard to get where you are.
Interestingly, Hays' and Hamilton's biggest piece of advice for dancers who are pulling ahead of their peers is the same thing they tell dancers who are falling behind: Focus on yourself and on what you can control. Make personal goals and note when you achieve them. Beyond that, look for common ground with your friends—it doesn't have to be dance-related—to ease the tension you feel in dance class.
Whether you're having a rough dance period or it's smooth sailing, you'll benefit from pursuing interests and friendships outside the studio. Then, when the going gets tough, "pay attention to some of the other qualities you like about yourself and about your friends," Hays says. "Even if dance is a tremendously important part of who you are, it's not all that you are."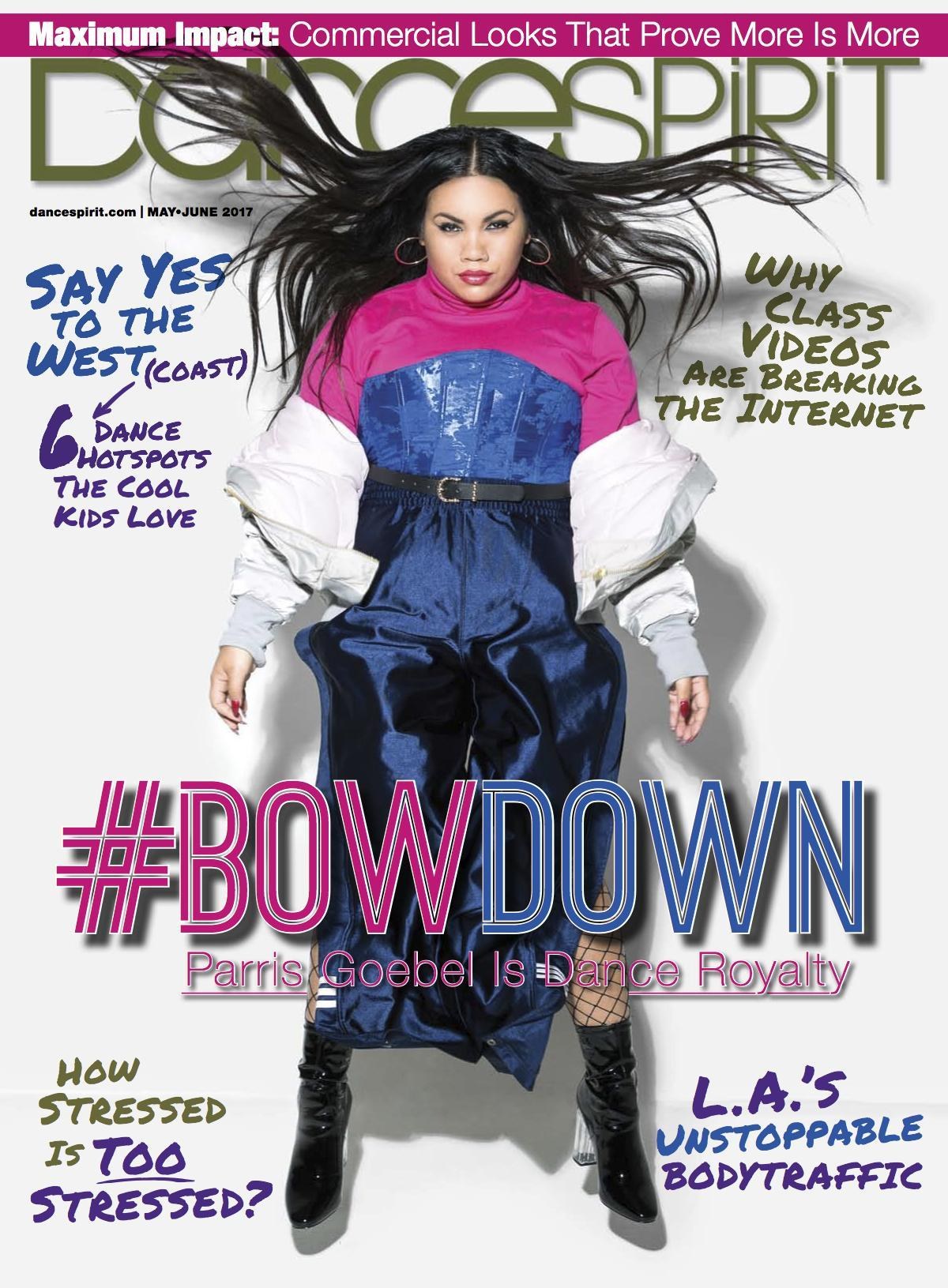 Get Dance Spirit in your inbox