Photos by Erin Baiano
Thanks to everyone who 🌀🌀🌀-ed like crazy for our #TurnWithDanceSpirit contest! We were SUPER impressed with your submissions—you guys do not mess around when you're turning 'round. (And you really, really like to pirouette to Taylor Swift, which made us extra happy.)
So, who gave us serious #turnspiration?
Keep reading...
Show less
Popular
Sep. 05, 2017 12:10PM EST
Photos by Erin Baiano
This contest has ended.
It's time to get your pirouette on! From September 5th to September 30th, we're hosting a contest to find out who's the best turner of them all.

Put together your most impressive turning combo. Post a video online. Share your turns with us and thousands of other dancers around the world. And if our editors think you're the top turner, you'll win a fabulous prize.
Keep reading...
Show less
Mar. 23, 2017 01:14PM EST
Consistent turns are a must for aspiring professional dancers, but pretty much everyone struggles with pirouettes at some point. Luckily, since we're all beholden to the same rules of physics, there are concrete steps every dancer can take to reach his or her top turning potential. "Three is the new two when it comes to pirouettes, but the secret to turning is technique, not magic," says Bojan Spassoff, president and director of The Rock School for Dance Education in Philadelphia.
Falling out of your doubles? Aspiring to go revolution for revolution with your class's star turner? No matter where you lie on the turning spectrum, our 360-degree guide to pirouettes will help you improve.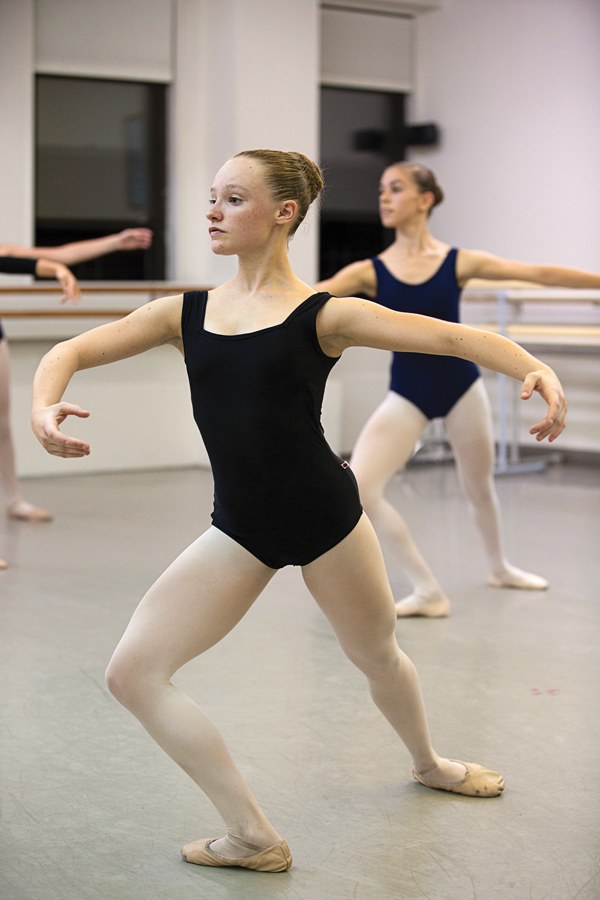 Ballet Academy East student Lucy Pink in preparation for an en dedans pirouette (photo by Rosalie O'Connor, courtesy Ballet Academy East)
Do Yourself a Solid
The stability of the passé position is the heart of every good pirouette. "I wasn't always great at turning," says 12-year-old Sophia Lucia, who holds the Guinness World Record for the most consecutive pirouettes (55). She's learned to go down the RAFT checklist—rectangle, arch, focus, tightness—before each turn. Her shoulders and hips should be level, so the outline of her torso forms a rectangle. Her arch should push over the second toe of her supporting foot. She should focus her eyes on a specific spot. "And there shouldn't be one loose muscle in my body," Sophia says. "I'm not tense, just compact, which holds the whole position together as I turn."
Assess your own passé position in a simple balance. Are you using your highest possible relevé? "You should feel a stretch through the top of your foot, like someone is lifting under your heel," says Stephanie Wolf Spassoff, co-director of The Rock School. The front of the hips should be flat and level; your core muscles should support your passé; and your back and shoulder muscles should support your arms. Be sure to draw your passé up to its fullest height. "In a good position, you'll feel taller than you've ever felt before," says Darla Hoover, artistic director of the Ballet Academy East Pre-Professional Division in NYC. Once everything's properly placed, you should be able to balance easily.
Whip It Good
Your preparation is what sets that perfect passé in motion—and the key is a deep plié that gives you the force you need to get on top of your leg, according to Denise Wall, artistic director of Denise Wall's Dance Energy in Virginia Beach, VA. "Especially in fast-paced pieces, I see dancers bending their knees in plié without really connecting to the floor," she says. Feel your weight in the plié and push off the floor equally with both feet as you go into your turn. "Then find the quickest, most direct way to get from preparation to passé, and don't let the position lose integrity," Wolf Spassoff says. "There's a tendency for dancers to use a lot of force and go for as many turns as possible, but they literally throw themselves off balance. You have to be controlled and coordinated as you squeeze up to that position."
A strong spot will also help whip you around—but don't let your head go wild. "Your head is the heaviest part of your body, and it should drive down into the supporting leg," Wall says. Otherwise, the weight of your head will pull you off balance, causing you to fall out of the turn. "Your eyes should truly see something right from the moment of takeoff," Hoover adds. "If you have trouble spotting, practice by doing chaîné turns, which are simpler and naturally rhythmic, and put up actual targets to spot."
And don't forget about your arms. "You wouldn't want to be on a plane with a flapping wing," Hoover says. Engage your latissimus dorsi (lats), the large muscles that run down the back. If you're having trouble finding that feeling, start by pirouetting with your hands on your hips, keeping your elbows from moving. But don't let your upper body get stiff. "The arms don't have to be static," Wolf Spassoff says. "They should feel supported and buoyant—almost as if they're floating on water."
Troubleshoot (a Video)
The foundations of a good pirouette may be the same for all, but because everyone's body is different, corrections for one dancer don't necessarily apply to the rest of the class. "I'd love to be able to say, 'Go take your pirouette vitamin,' like the answer is the same for everyone," Spassoff says. "But your body is unique, and you need to find out how to use it most efficiently for your turns." Ask a friend to record a video of you doing a series of preparations and turns on both sides, and analyze what you see. Falling sideways? You might be hiking up your working hip as you draw your foot up to passé. Falling backwards? You might be raising your shoulders or throwing your arms behind you. Rewind, rewind and rewind again, looking for the keys that will unlock your perfect pirouette.
When in doubt, check in with that passé position, and don't get discouraged. "A turn is a living thing you're molding," Wolf Spassoff says. Everyone has moments of frustration. "The day before a performance, I ran my solo 10 times and wasn't getting my turns," Sophia remembers. "I had a meltdown. But my mom helped me be confident by reminding me how hard I'd trained." On days when your pirouettes aren't working, remember that you've already got the tools you need to fix them in your turning toolbox: science, strength and awareness.
Is There Such a Thing As a "Natural" Turner?
Basically, yes. "Natural turners do exist," says Darla Hoover, artistic director of the Ballet Academy East Pre-Professional Division. "Some people have better equilibrium. I've found that many of my students who are natural turners also walked at an early age." Bojan Spassoff, president and director of The Rock School for Dance Education, agrees. "More compact bodies have a lower center of gravity, which is better for balance, and it may be more difficult for dancers with longer bodies to turn," he says. But that's not a reason to give up. "The keys to good turning can be taught to anyone," Hoover says.
Turning vs. Spinning
Everyone wants to bang out as many pirouettes as possible, but don't fall into the spinning trap. "Spinning is just rotating on the foot," says Denise Wall, artistic director of Denise Wall's Dance Energy. It's the ice skater's approach rather than the dancer's. "I see kids do 10 pirouettes on a one-inch relevé, and that doesn't count as turning," Wall says. "To turn, you must be on top of the leg, on your highest relevé, spotting, and in control."
Ballet
Apr. 01, 2014 11:00AM EST
Watching Misa Kuranaga, a principal dancer at Boston Ballet, whip through a diagonal of chaîné turns with unbelievable speed is exhilarating. But while Kuranaga makes chaînés look easy, even she feels like she hasn't conquered them yet. "I have to watch myself on video to see if they're getting better or not," she says.
Chaîné turns are often one of the first across-the-floor steps ballet dancers learn, but they're seriously difficult to master. Whether you're a seasoned pro or just figuring out the basics, you'll want to hear what the experts have to say about chaînés. Their advice could help your turns go from fine to fantastic.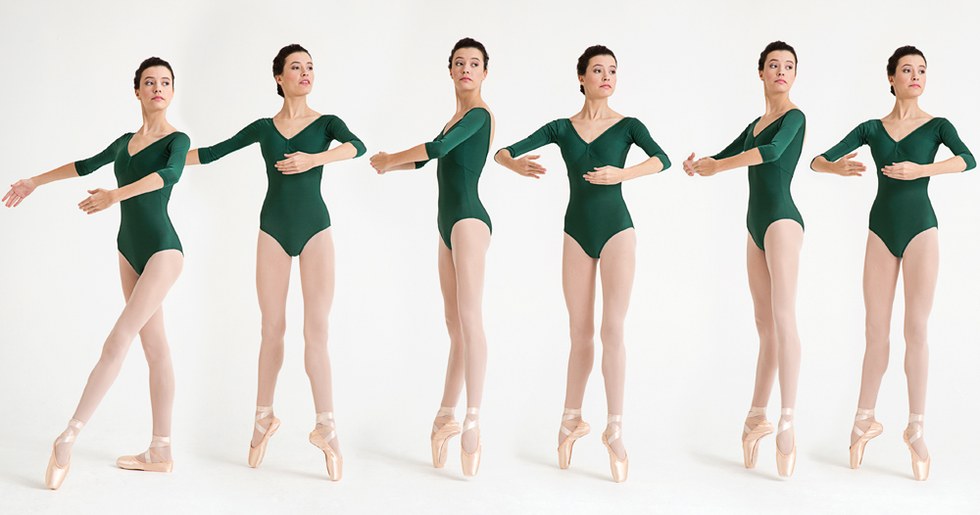 Ballet Academy East's Lauren Wolfram demonstrates clean chaînés—picture-perfect at every turn. (Photo by Erin Baiano)
The Basics
Chaînés (short for "tours chaînés déboulés") are quick traveling turns. Most dancers do chaînés with their feet in first position. Some schools teach chaînés in fifth position, with the hips facing the direction you're traveling and the front foot stepping out to effacé each time. According to Graca Sales, a ballet master and principal coach at Joffrey Ballet, hyperextended dancers who have trouble fully straightening their legs in fifth position might have an easier time with chaînés in first position.
Many dancers begin by doing chaînés with their hands on their hips or their fingertips on their shoulders. "Going slow at the beginning  gives you more control over your position," Sales says. Removing your arms from the equation also lets you focus on spotting—and a strong spot will help you turn quickly and musically later on.
Common Problems
If your chaînés are slow, you might not be bringing the second side of your back around fast enough. Joanna Berman, teacher at Marin Dance Theatre in San Rafael, CA, and other schools in the Bay Area, suggests stepping with your second foot on the first count of the phrase. "Pull around so you're already facing the back corner by that point," she says. "It gets the body spiraling quickly, and makes the sequence feel like a series of turns rather than a series of steps."
Some dancers let their feet separate too much as their chaînés progress and end up losing control. Focus on maintaining tension between your inner thighs. "The two legs should feel like they're connected as much as possible," says Berman. You also want tension in your torso, which will pull you up and keep you from traveling too far with each step. "You should feel like energy is coming out the top of your head," Berman says. Imagine your body making a spiral shape, moving upward as well as outward.
Make Them Dynamic
The way you hold your arms can affect the feel of your chaînés. Kuranaga sometimes closes her arms in slowly as she progresses, like a figure skater, to gradually increase her speed. "If I do a true first position, I feel like the big circle is throwing me off," she says.
If the choreography permits, you can choose between doing a tombé, chassé or piqué into a series of chaînés. A tombé or chassé will help you gain speed right away, while a piqué "makes a cleaner start," Sales says. But it's the way you finish the turns that leaves the biggest impression on the audience. Sales suggests taking a deep plié after your final chaîné to help put on the brakes. "It's that contact with the floor that orients you again," she says. "Then you're ready for whatever's next, be it a pirouette or a balance in arabesque."
Ballet
Oct. 01, 2013 03:30PM EST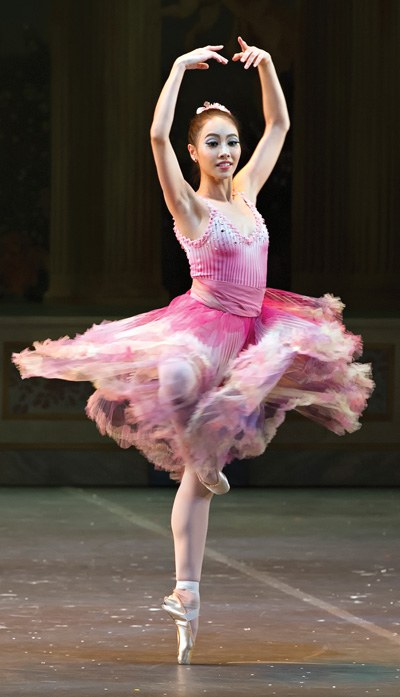 Seo Hye Han in Boston Ballet's The Nutcracker (by Gene Schiavone)
It's the end of class, and you're whipping through a diagonal of piqué turns. You spin across the floor as fast as your body can move, propelled by the thrilling coda music. Everything feels great—until you finish, and your teacher gives you a long list of corrections. Apparently, your piqués didn't look as good as they felt.
Piqué turns can be one of the most fun steps in classical ballet. But because the mechanics of the turn are simple compared to other types of pirouettes, it can be tempting to go for quantity (speed and multiples) instead of quality. Take the time to polish the smaller details of the turn. Soon you'll be flying across the floor and looking clean and precise.
The Nuts and Bolts
Whether you're new to ballet or you've been studying for years, it never hurts to break piqué turns down into their basic components. Doing so will make you conscious of maintaining correct technique and placement every step of the way.
Larissa Ponomarenko, ballet master at Boston Ballet, suggests starting in a good plié with your body weight over the supporting leg, so the push onto demi-pointe or pointe is well controlled. "Your hips should travel from the supporting leg over to the working leg in one smooth movement," she says. "And the piqué should happen on a straight leg. If you're going to the right, the right heel and the top of the right leg lead the turn." The left arm, left shoulder, left side of your rib cage and left hip should stay in line with each other, helping to bring your body around.
As you reach the halfway point of the turn, keep your shoulders down and neck relaxed as you spot your head. At this point your arms should arrive in a neat first position. Your left foot should stay attached to the right supporting leg just above the back of the knee. During the last quarter of the turn, the left foot should remain attached to the leg for as long as possible as it slides down toward the floor.
Piqué Troubleshooting
The most common problems with piqué turns are easily fixed—with some extra attention. If you tend to piqué onto a bent knee, or let it relax during the transition between turns, try thinking of having a "peg leg"—one that never bends, and a foot that never stops pointing when you're on pointe. "If you're hyper-extended, it's a bit more difficult to get over your leg when it's truly straight," says Frances Chung, principal at San Francisco Ballet. "You have to really step out and use your back foot to plié and push as far as possible."
Do you lift your hip as you bring your foot into retiré? Make sure your knee doesn't rise higher than the crease of your hip. "You want a high retiré without compromising your hip placement and throwing off your balance," says Chung. "I try to relax my hip as much as possible and draw just my toe up."
If you have trouble spotting and tend to get dizzy, make sure you have a clear object to focus on each time you bring your head around, and think about fully relaxing your neck. "Imagine you're disconnecting your head from your body," says Callie Manning, principal soloist at Miami City Ballet. "Think of your head as one thing and your body as something else, instead of them all going together to the same place."
Taking It to the Next Level
Once you've mastered basic piqué turns, you can add a greater degree of difficulty by throwing in some doubles and varying your direction or speed. "When I do a double, I bring my foot to retiré as soon as possible to make sure I can fit both turns in time with the music, and I spot twice in a clear rhythm," says Chung. Manning thinks of not stepping too far out when she does a double piqué turn. "You have to almost stop your forward momentum or else you'll start falling out of the second turn," she says. To piqué very fast, Manning lowers her leg into a coupé position, rather than retiré, and keeps her arms out to the side—both of which save time in a quick string of turns. She also thinks of darting rapidly onto pointe.
You can change up your port de bras, too. When Chung does a string of piqué turns, she'll keep her arms in demi-seconde for the singles and then snap them into first position for the doubles to add a little visual interest. You can also try turning with your hands on your hips—which might remind you to keep your hips down, too—or your arms in fourth position. Usually dancers lift the right arm (if they're turning to the right) because it helps pull up the supporting side.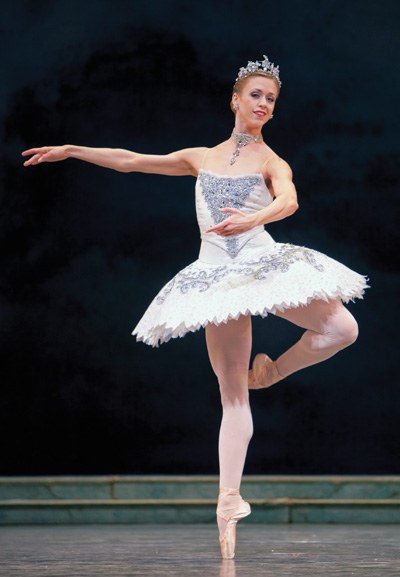 Pacific Northwest Ballet's Lesley Rausch in The Sleeping Beauty (by Angela Sterling)
Different Piqués for Each Ballet
How you approach piqué turns should vary from one ballet to the next. They can be used to help develop a character, or danced as a pure reflection of the music. Here are a few well-known piqué passages and advice on how you can make them speak.
In the Act I solo from Giselle, Giselle's circle of piqué turns reflects her joyous nature and love for Albrecht. "She is on the cloud of love, on a cushion of air!" says Boston Ballet ballet master Larissa Ponomarenko. "Those piqué turns have to travel a lot to reflect that, with a bit of a spring onto the working leg."
In Gamzatti's wedding solo from La Bayadère, the double piqué turns should be grand and wide, with a voluptuous quality. "They describe her sensual beauty, as well as the wit and confidence of her high-class upbringing," says Ponomarenko.
In George Balanchine's Serenade, the corps of women piqué in unison in a circle, showing the pulse of the music. "You have to spot the person in front of you and maintain distance, or else there's a huge traffic jam," says Miami City Ballet's Callie Manning. "It's not about you, but about the whole stage looking the same."
How To
Jun. 15, 2012 09:20AM EST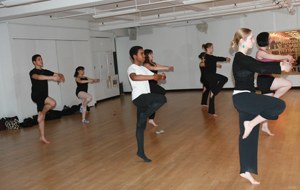 A teen jazz class at Broadway Dance Center in NYC practices balancing.
Nothing makes an audience go wild like a fierce pirouette sequence, and great jazz performers can make countless turns look effortless. But turning isn't easy. Chances are you're always working on improving your pirouettes—nailing that extra rotation or mastering a new tricky turn. Here, DS gives you the inside scoop on four types of pirouettes you're likely to see in jazz class.
Basic Jazz Pirouette (Parallel Retiré)
For a jazz dancer, this turn is probably the first to come to mind when hearing the word "pirouette." "The obvious difference between a jazz turn and a ballet pirouette is that in jazz we're working in a parallel position," says Ray Leeper, choreographer and executive director of NUVO dance convention. Another key difference is the preparation: While ballerinas prep for pirouettes in a turned-out fourth- or fifth-position plié, jazz technique usually calls for a preparation in fourth-position parallel. "But the execution once you start to turn is almost exactly the same," Leeper says.
To master the foundations of a basic pirouette, Kent Boyd, commercial dancer and "So You Think You Can Dance" Season 7 finalist, recommends working on going from a preparation position to a retiré balance in relevé. "Try to hold the relevé position for a whole eight-count," he says. Nan Giordano, artistic director of Giordano Jazz Dance Chicago, includes a similar exercise in most of her beginning jazz classes, progressing from quarter to half to full pirouettes. "Once you master the mechanics of turning, it's just a matter of how many rotations you can complete while maintaining that passé position," she says. But don't get so focused on getting in an extra spin or two that you forget about technique. It's always better to pull off a clean double pirouette than a sloppy triple or quadruple.
Turn with an Extended Leg 
Pirouettes in arabesque, attitude or à la seconde are especially popular in lyrical and contemporary jazz styles and showcase a dancer's extensions. Turns with an extended leg are tricky, since part of your weight is farther away from your center, making it more difficult to stay on balance. Just like a pirouette in retiré, you should practice balancing in the position of your turn before adding rotations. "Really pull up out of your standing leg," Boyd says. That engaged and lifted feeling will help keep you from teetering toward the extended leg. "No matter where the working leg is—in passé or extended—the engagement should be the same," says Leeper. "Keep the weight of the shoulders in front of the hips, lift up in the waist and keep the tailbone long."
Struggling with that double attitude or arabesque turn? Try speeding up your spot. Whipping your head around quickly makes multiple rotations possible by counteracting the effect of an extended leg slowing down your turn.
Pencil Turn
Seen in high-energy jazz and Broadway routines, pencil turns (also called compass turns) are executed with the non-standing leg pointed down toward the floor, with the foot hovering off the ground as you turn. To make this pirouette look polished and precise, pay attention to the step's name—both legs should be straight as a pencil and (unless the choreographer instructs otherwise) your non-standing foot should be completely pointed. Unlike an extended-leg turn, a pencil turn is conducive to fast, multiple turns because your weight is concentrated over the center of your body. To avoid spinning too quickly and falling off balance, Giordano advises focusing on your arms. "Everyone forgets the arms when they concentrate on spinning quickly," she says. "Feel your arms connected to your back right away." When the upper and lower body work together, pencil turns look impressive and feel like a breeze.
Inside Turn
In a ballet class, turns in the direction of the supporting side are called pirouettes en dedans, but in jazz they're known simply as inside turns. Both retiré pirouettes and extension turns are frequently done to the inside. Pay close attention to your preparation when working on these turns. "Watch what your upper body is doing in the prep," Giordano says. A pitfall for many dancers is twisting the waist and arms to one side to gain extra momentum. "When you 'wind up' you throw yourself off center," Giordano cautions.
When it comes to pirouettes, there are no shortcuts to turning like a pro. Keep up with your jazz technique classes, but don't be tempted to skip out on ballet. Giordano says applying your ballet corrections to jazz turns is essential. "Too many aspiring jazz dancers think they don't need to take ballet, but good pirouettes come from the technique you build in a classical ballet class," she says. Although they are part of a jazz company, Giordano's dancers prepare for every performance with a full ballet barre. "In ballet," she says, "you learn how to be centered over your leg and gain the strength in the core, back and arms—all essential components of a great pirouette."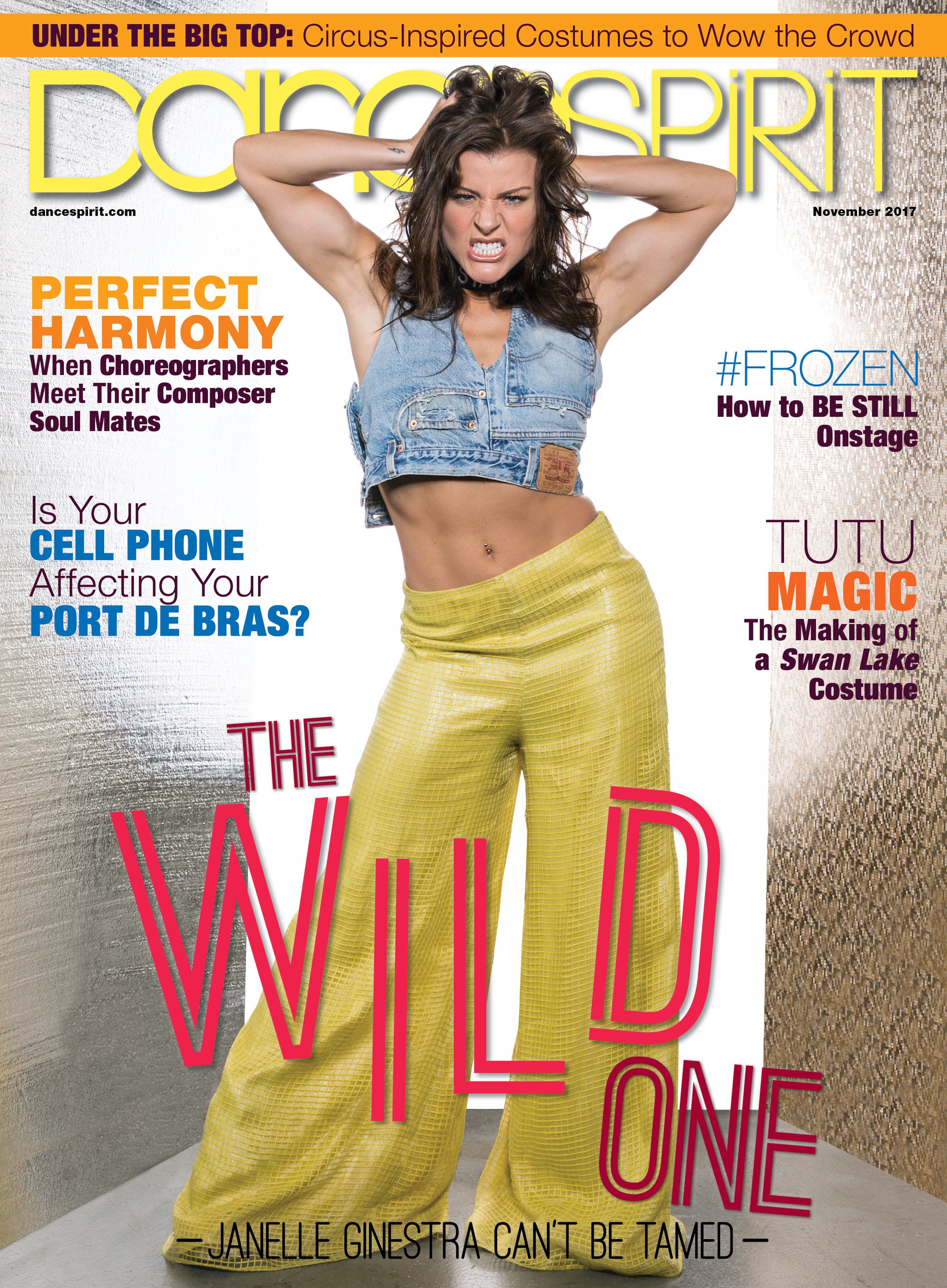 Get Dance Spirit in your inbox