Thanksgiving is only two weeks away! And that means we've all got a certain bird on the brain: the penguin. (Wut?!) That's right, this year Mr. Turkey will have to share the spotlight with his arctic amigo—because Penguins of Madagascar is hitting theaters. You may be thinking: Sure, sure, that's great, but what does it have to do with dance? Everything, my friends, for there's a new dance in town and it's called the #PenguinShake.
In honor of the movie's upcoming release, the folks at Dream Works want to create the longest music video in the world. (Trying to rival Pharrell Williams 24-hour music video to "Happy," are we?) Their song of choice? Pitbull's hit single "Celebrate." And, to keep up with the recent music-video trend of hiring world-class choreographers, they needed to find someone pretty flippin' awesome...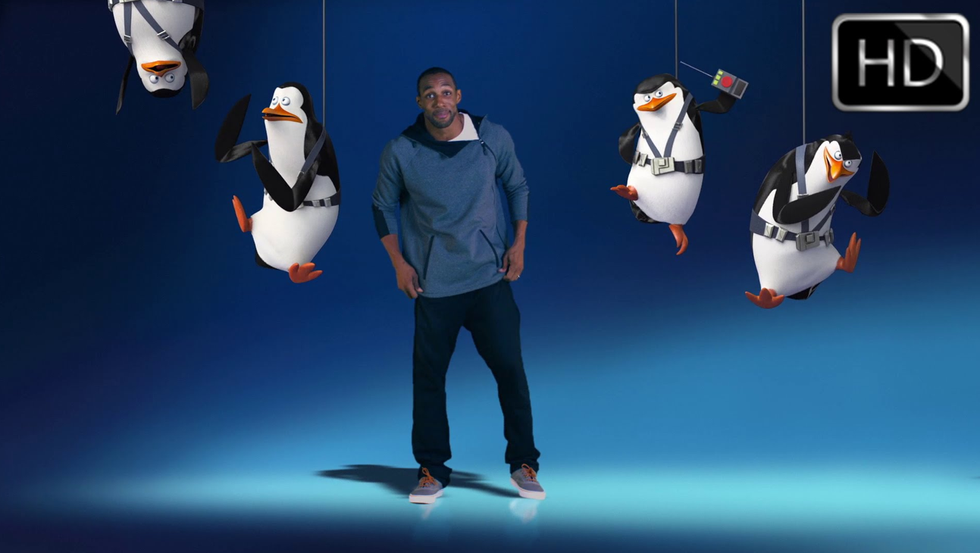 ...tWitch to the rescue!
tWitch—with his uncanny ability to make super silly look super cool—was a natural choice for the job. And his #PenguinShake does not disappoint. Check out the tutorial below!
All you've gotta do to join the longest music video in the world is 1) learn the #penguinshake, 2) film yourself performing it, 3) upload the video to Instagram with #penguinshake and 4) check the #penguinshake website 24–48 hours after uploading to see yourself in the video.
Everyone who's anyone is doing it, including animator-extraordinaire Marquese Scott:
Get (penguin) shakin'!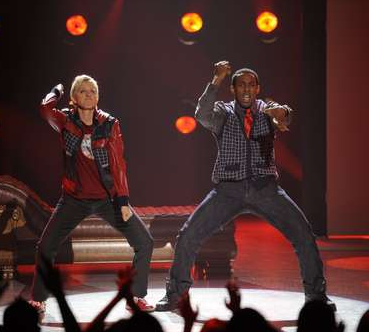 Let's face it: Ellen's got swag.
The friendship between tWitch and Ellen is kind of adorable. We've been in love with the pair ever since Ellen made her surprise "SYTYCD" appearance, filling in for the injured Alex Wong to perform that infamous Nappytabs routine.
They need a cute friend name like tWitchison. tWitchellen? Eh...we'll go with it.
On this season of "The Ellen DeGeneres Show," we've gotten to see lots of tWitchellen, because tWitch was a recurring guest DJ on the show. On Wednesday, Ellen took a moment to thank him for bringing joy and dance to the show week-after-week, and to tell him how much she loves him (awwww!!). And tWitch had a little thank you for Ellen, as well. Naturally, it came in the form of dance:
Recognize some of your favorite "SYT" alums? It was the perfect gift for Ellen, given her love for "So You Think You Can Dance." Plus, it came on the morning of the show's Season 11 premiere! Well timed, tWitch, well timed.
Here at DS, we live for the Step Up movies. Whether Channing Tatum is romancing Jenna Dewan with his slick dance moves, or Alyson Stoner and Adam Sevani are sweetly tap dancing through the NYC streets, every Step Up movie is just the best.
OK, so maybe the plot lines leave a bit to be desired, but who cares? The dancing is so good.
This summer, the mega-hit dance franchise gets back to the big screen with Step Up: All In, and we couldn't be more psyched. This time around, all of our past favorites are back: Alyson Stoner (as Camille), Ryan Guzman (as Sean), Adam Sevani (as Moose), Misha Gabriel (as Eddy), plus the Lombard Twins, tWitch, Christopher Scott (who also choreographed) and so many more.
The official trailer for the film was released last week and we can't. stop. watching.
Here ya go:
Step Up: All In hits theaters this summer. We'll race you to the theater!
Can we talk about how wonderful the tWitch—Ellen DeGeneres bestfriendship is? They've hearted each other for ages. (Remember their epic duet, with Ellen doing a verrry impressive Alex Wong impression, during the "SYT" Season 7 finale? Yeah, that was SEVEN YEARS AGO). tWitch has even served as a featured DJ on "The Ellen DeGeneres Show" for the past few seasons. Their dance-based love for each other knows no bounds.
So it's only fitting that Mr. Boss would get his boss a delightfully dancey birthday present. tWitch surprised Ellen, who turned a totally unconvincing 59 yesterday, with a celebratory performance featuring some of his friends from 24 Seven. (We see you, Hefa, Randi and Kaycee!) They broke it down old school—like, running man, walk-like-an-Egyptian old school—to the equally old school and oh-so-appropriate "It's Your Birthday" by Luke. A a giant breakthrough wall of wrapping paper was also involved, which, many bonus points.
"What more perfect gift for Ellen than the gift of dance, right?" tWitch told the audience. "It is my honor to give such a gift to such a kind, genuine, generous person." 💕💕💕
Enjoy the lovefest, friends:


Get Dance Spirit in your inbox