Mar. 07, 2016 09:37PM EST
Boston Ballet's Lauren Herfindahl is a dance-world rarity: an artist who actually likes understudying, a task most dancers see as a chore. That's a good thing, since it's an important part of her job as a corps member. "I choose to focus on the fact that every time I get to explore a role, even if I'm not first or second cast, it's an opportunity to learn," Herfindahl says. "The more parts, the better!"
Being asked to cover someone else's role (or multiple roles) without any promise of stage time can feel daunting, nerve-racking and straight-up demoralizing. But understudies are a critical part of the dance-world ecosystem—without them, the show (sometimes literally!) can't go on. Here's how to make the best, and the most, out of those times when your name is low on the casting sheet.
Work More than Usual, Not Less
As an understudy, you may feel invisible in the rehearsal studio. But you're not—and taking the job seriously is a great way to get noticed. "What's important is to show that you're always working at your fullest, not just when you're excited about your role," says Louise Lester, ballet mistress at Houston Ballet. "That continuity in your performance is what the staff looks for. Show us that you're consistently motivated, and you might end up getting a big break."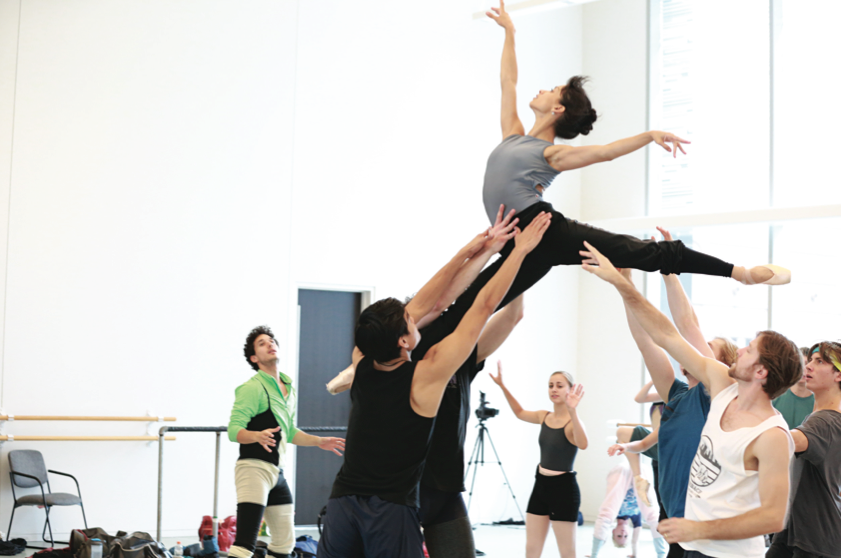 Karina Gonzalez and artists of Houston Ballet rehearse Garret Smith's Reveal. (Photo by Amitava Sarkar, courtesy Houston Ballet)
Rather than messing around in the back of the studio, go above and beyond during rehearsals, which will show that you're hungry for more. If you've already mastered the ensemble spot you were assigned to understudy, learn another. Figure out the work's overall patterns, entrances and exits, not just your own. You never know who's going to go out, and being able to say "I know that spot—I can do it" in a crisis will win you major points.
Be a Fast, and Strategic, Learner
Usually, there isn't enough time or staff available to teach each cast of a work separately—only the first cast gets detailed instruction. So being able to learn quickly and accurately without the help of a teacher or coach will make you an invaluable understudy.
Herfindahl recommends the strategy she's developed for learning by watching. "Especially in the beginning, have a game plan for each rehearsal," she says. "One day, focus on just the feet and legs. The next rehearsal, figure out the arms. If you zoom in on one piece at a time instead of trying to get every component simultaneously, your brain will retain the choreography better." Make good use of videos to study on your own, too. And don't be shy about asking for help from the rehearsal staff or fellow dancers, especially if you can catch them in not-too-busy moments outside of rehearsal. That shows commitment—and it's in everyone's best interest, after all, to have a reliable backup cast.
Writing down what you've learned is another great way to help your brain and body internalize choreography, especially if you're understudying more than one role. Ashlee Dupré covers four ensemble tracks as a swing in Broadway's An American in Paris. "When we first learned the show, the swings just sat in the front of the room and wrote down everything: blocking, steps, props, set moves," she says. "There was no room for us to get up and dance, but I could go home, read what I'd written, and do the steps in my living room for another hour and a half. I could still be sure I knew what I was doing."
ABL: Always Be Learning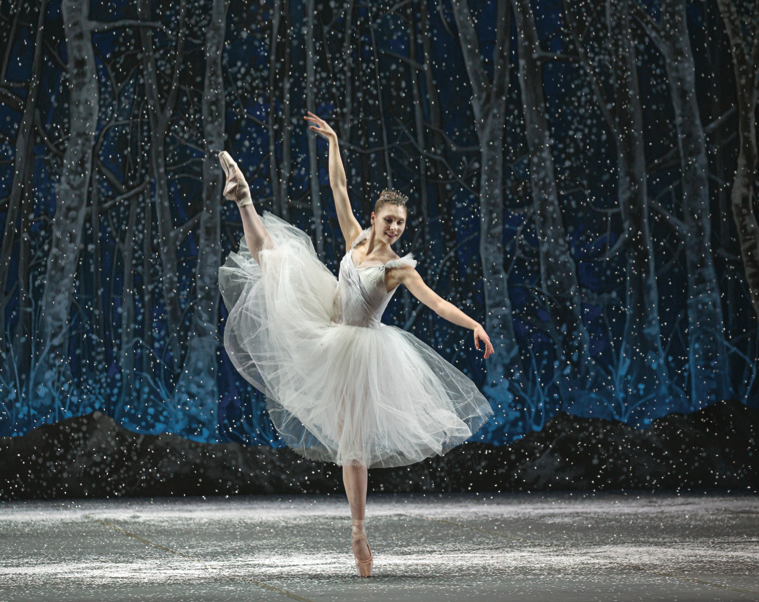 Lauren Herfindahl performing in The Nutcracker (Photo by Rosalie O'Connor, courtesy Boston Ballet)
As an understudy, don't forget how much you can absorb from the sidelines. It's a precious opportunity to get an up-close-and-personal look at the dancers you admire most—to see how they learn, how they work and how they perform. Herfindahl says understudying William Forsythe's The Second Detail while still in Boston Ballet II taught her a lot more than just the ballet's steps. "Even though I never performed, I came to every rehearsal and every show," she says. "I grew so much from observing the dancers' artistry and skills. Sure, I would've liked to be up there with them. But just being an active presence in the room made me a better dancer."
Take the Stage with Confidence
If you get that 11th-hour "You're on!" call, don't panic! While even the world's most dedicated understudy will inevitably feel underprepared if she's thrown onstage, there are ways to push past the nerves. American in Paris swing Sam Rogers, who frequently has to perform one of the six tracks he covers in the show, has trained himself to keep cool under pressure. "Prioritize what you really need to remember," he says. "I have a top-down system of 'problem spots' in each track, so I'll review them in my tracking book right beforehand. And don't worry too much if something goes wrong. Just keep the show running."
Remember: You're the hero saving the day! Even if your performance isn't step-perfect, the director and choreographer are grateful to have you out there.
Nov. 14, 2012 01:20PM EST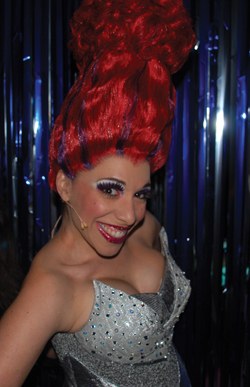 Ellyn Marie Marsh, ready to take the stage in Priscilla, Queen of the Desert
Imagine you're a swing in a Broadway show. You're backstage with nine minutes until the curtain rises. You think you don't have to go on tonight, but suddenly you hear that someone in the cast is sick and needs you to take her place—immediately! Luckily, you know all the ladies' ensemble roles, so you rush into hair and makeup and step in to save the show. Sound exciting? For a swing, it's just a regular day.
Swings are the superheroes of Broadway. Like understudies, they learn multiple parts in a show so they can step up whenever there's a man down. But while understudies usually perform an ensemble position and fill in when needed for one or two leading roles, a swing stands patiently backstage at the ready, having learned up to eight ensemble tracks.
"It's the hardest job on Broadway. Period," says Ellyn Marie Marsh, who swung six very different tracks in Priscilla, Queen of the Desert. At times, she found herself going on for five different parts in a five-show weekend. She's even had to perform two tracks at once, alternating characters from one scene to the next. "When that happens, it's like having multiple personalities," she says.
Ready for Anything
When swings aren't busy saving the day, they spend a lot of time preparing for every possible onstage scenario. Most shows have one to three female swings and one to three male swings, depending on the size of the ensemble. They arrive at the theater half an hour before show time, just like other performers. Then, they wait. In some musicals, swings sing into offstage microphones during the show, adding their voices to the mix, while in others they're free to read, train or work on personal projects. But until a swing feels confident with every nuance of each part she covers, she's likely standing just offstage, analyzing one performer at a time.
Even if the performance is already in progress, swings can be called on at any moment, and they perform more often than you'd think. In addition to filling in on a last-minute sick day, swings also cover for cast mates on vacation, vocal rest or injury leave, or for understudies who move up into a leading role. "When I swung West Side Story, I'd go on for six weeks straight, and then I might be off for two," says Lauralyn McClelland, who's also been a swing for Rock of Ages and Dirty Dancing.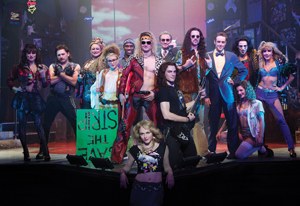 The cast of Rock of Ages (Joan Marcus)
Cues and Props and Quick Changes, Oh My!
As any musical theater pro will tell you, the ability to perform several different versions of the same show is a talent some seem to be born with. "Some performers are just cut out to be swings," says Mark Dancewicz, an ensemble member who understudies the role of Pepper in Mamma Mia! "There's a confidence there."
Andy Blankenbuehler, director and choreographer of Bring It On: The Musical, looks for specific qualities when casting a swing. "Swings have to learn quickly and have a mathematical mind," he says. "Plus, they have to be strong emotionally, because it's grueling."
Even a seasoned swing like Lauralyn admits to having felt overwhelmed. "Dirty Dancing has about 14 dance numbers, and each couple has its own set of choreography for each one. It was like learning 80-something dance numbers," she says. On top of that, she had
to memorize traffic patterns, specific blocking and even backstage choreography, including quick changes and prop pickup locations. "I had to hone in on one person at a time and learn that one track before I could move on to anybody else," she says. Generally, swings attend rehearsals and practice on the side, but they have the freedom (and responsibility) to teach themselves the show.
Swings do have a secret weapon: their show notebooks. "Everyone has a different system," Ellyn says. "I used a binder with a separate divider for each part. My dresser would hold it for me during the show, in case I needed to double-check." Lauralyn creates a large binder as well, and also makes small review sheets for each role to carry backstage. Once it's all written down, Lauralyn and Ellyn must translate that writing to the stage with little notice and less onstage rehearsal time.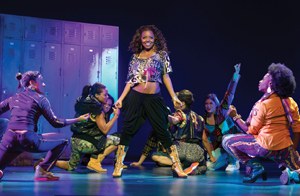 Bring It On: The Musical (Joan Marcus)
The Hard Part
Though learning the show and staying prepared are huge responsibilities, for some swings, those aren't the trickiest parts. "I don't know if everyone would admit this, but it can be really hard to take a backseat on the big things, like taking a bow on opening night," Ellyn says. "I was there and I was a part of the show, but I didn't get to bow." Swings also aren't guaranteed  opportunities like performing at the Tony Awards or singing on the cast album.
For Lauralyn, it was hard to stand back on off-nights and watch others doing what she loves to do. But she also says swinging a few shows a week in Rock of Ages was the perfect way for her to ease back into performing after an injury. "It's a good position to hold, because you know just about everything in the show," she says. "A lot of swings are dance captains, because they know the different parts already." There are also other perks, like a higher pay rate than ensemble members earn.
In the end, swings are some of the most valuable cast members in a show. So valuable, in fact, that it's difficult for a good swing to transition into a regular role. "It's easier for choreographers and directors to teach someone new one track, rather than five," Lauralyn says. But Blankenbuehler says swings are often headed towards bigger things. "Because of their mindset and ability to organize thought, many swings are working their way up to becoming choreographers," he says. "They're offstage watching the cast every night, giving notes and problem-solving. Developing this skill set is like being a choreographer-in-training."
In the meantime, swings are the glue that holds a Broadway cast together. "Swings literally keep the show open," Blankenbuehler says. "There are scenarios every week where we wouldn't go on if there weren't someone there to swing. In show business, real life never stops."


Get Dance Spirit in your inbox