Project Resilience ambassador Alison Stroming (Dave Brewer, courtesy Stroming)
Artist and philanthropist Everett Dyson had always loved theater. But the rise of American Ballet Theatre principal Misty Copeland put ballet on his radar, too. Realizing that many young dancers have, like Copeland, lived through difficult circumstances, he recently founded Project Resilience, a scholarship for students who've received minimal support in their ballet training. Each year, one dancer will receive a scholarship to help pay for his or her summer intensive at American Ballet Theatre, Dance Theatre of Harlem or Houston Ballet.

Dyson's goal is to eventually support one dancer's intensive tuition at each program, or even multiple dancers per school. With big stars behind the project (yep, Misty's an ambassador, as is another iconic black ballerina, Lauren Anderson), Project Resilience will hopefully continue to grow.
Dance Theatre of Harlem dancer Alison Stroming feels honored to be one of Project Resilience's ambassadors. "I want every young dancer to have the chance to follow their dreams," she says. "I knew Project Resilience was something I could relate to." —Nicole Loeffler-Gladstone
Want to support Project Resilience? Buy one of Covet Dance's cute "Ballerinas Do It Better" tops, created exclusively for the project. One hundred percent of the profits will go toward scholarships. Find them at projectresilience.us
Nov. 12, 2015 01:10PM EST
The Starz TV series "Flesh and Bone," a fictional show about the dark side of pro ballet, is gritty, dramatic and—YAY!—full of real dancers. Sarah Hay, a Dresden Semperoper Ballett second soloist, plays Claire, a newbie in the American Ballet Company trying to find her way. Former American Ballet Theatre principal Irina Dvorovenko and former ABT soloist Sascha Radetsky play senior company members. Look closely and you'll even see a few Alex Wong cameos.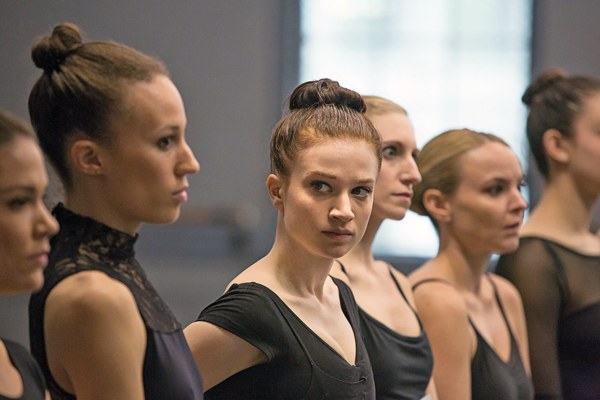 Sarah Hay in "Flesh and Bone" (photo by Patrick Harbon, courtesy Starz Entertainment)
But warning: "Flesh and Bone" is not for the faint of heart. Its very adult themes mean you should probably ask your parents before watching an episode. And for the dancers in the show, many of the scenes were also pretty intense to create. Luckily, though, the filming process wasn't always grim. Dance Spirit spoke with a few "Flesh and Bone" dancers to find out what things were really like on set.
"In order to deal with the show's dark content, I'd write a 'song of the day' each day using insider jokes or elements from the episode we were filming. I have almost an entire album of hits, including 'Cotton Ball Doggy,' 'Dressing Room Friday Nights' and 'Unicorn Pajamas.' They'd get stuck in everyone's heads—for better or worse!" —former Boston Ballet apprentice and Broadway dancer Emily Tyra, who plays Mia
"One afternoon, while we were shooting a company rehearsal,
Bryan Cranston, from 'Breaking Bad,' stopped by the set. He was completely charming and expressed a real interest in ballet and an admiration for dancers. At one point, as if he'd been practicing his entire life, he slid into an impeccable fifth position." —former ABT soloist Sascha Radetsky, who plays Ross
"Physically, it was exhausting. Some days were close to 13 hours long. We all took class in the morning and then filmed our dance scenes, which were followed by the pure acting scenes at the end of the day. It was crazy to have to land an assemblé on a perfect mark and deliver lines. There were no stand-ins!" —freelance dancer Karell Williams, who plays Trey
Oct. 15, 2015 07:35AM EST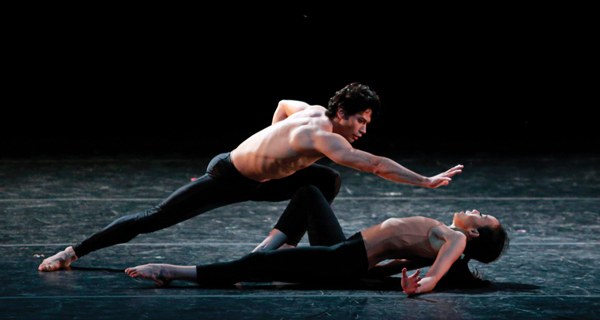 Herman Cornejo and Fang-Yi Sheu (photo by Erin Baiano, courtesy New York City Center)
Limón Lovin'
This year marks the Limón Dance Company's 70th anniversary season, and what better way to celebrate the iconic modern choreographer than with a big party? October 13–25, dance companies from around the globe—including The Royal Danish Ballet and the Bavarian State Ballet—will perform some of Limón's seminal work at The Joyce Theater. Nine student-dance companies will also take the festival stage, including dancers from Southern Methodist University, who'll perform Limón's There Is a Time. "It really speaks to the importance of the work when it's experienced on this level, with so many professional companies," says Patty Harrington Delaney, SMU's chair of dance. Will students get to mingle with company members? Longtime Limón Dance Company dancer Ryoko Kudo is hopeful for those kinds of interactions: "It would be wonderful if this opened more doors to collaboration and if we could continue to work together," she says.
Get more info: joyce.org
Choreography Gone Couture
New York City Ballet's 2015 fall season (September 22–October 18) features world premieres by choreographers Robert Binet, Kim Brandstrup, Justin Peck (his ninth for the company!), Troy Schumacher and Myles Thatcher. And for the fourth year in a row, NYCB's fall season is celebrating the dance–fashion connection. Six internationally acclaimed designers—including Zuhair Murad and, for Oscar de la Renta, Peter Copping—will create couture costumes, to be unveiled at the NYCB gala on September 30 at Lincoln Center.
Get more info: nycballet.com
Six Tappers at Sea...on Broadway
If you've never heard of the musical Dames at Sea, you're not alone. Those who have only know it as the off-Broadway show that put Bernadette Peters on the map in 1968. But this month, Dames at Sea finally gets its Broadway debut, with Randy Skinner at the helm as both director and choreographer.
Dames at Sea follows a day in the life of a girl from Utah who arrives in NYC with big Broadway dreams. Sound familiar? "The show pays homage to three old movie-musicals, including 42nd Street," Skinner explains. (He earned a Tony nomination for choreographing 42nd Street's 2001 Broadway revival.) Like 42nd Street, Dames at Sea is loaded with dance numbers, but it's surprisingly low on cast members. "There are only six performers," Skinner says. "We expanded a lot of the musical arrangements to add more dancing, so I had to find performers who could sing, act and really dance. They go from tap to ballroom to jazz. And there's no chorus to back them up!"
Get more info: damesatseabroadway.com
A NYC Tradition
Now in its 12th year, New York City Center's Fall for Dance Festival kicks off September 30. Twenty companies (and many freelance artists) will be featured in five carefully curated programs—and each ticket costs just $15. Highlights include a brand-new work by Michelle Dorrance and the NYC premiere of former Martha Graham Dance Company principal Fang-Yi Sheu's piece for herself and American Ballet Theatre principal Herman Cornejo.
Get more info: nycitycenter.org
Jan. 01, 2015 08:00PM EST
Since her breakout role in Center Stage, former San Francisco Ballet dancer Amanda Schull has been steadily beefing up her acting resumé—and not only in dancing parts. Yes, she sautéed on screen in Mao's Last Dancer. But her recent credits also include non-dancing characters on "Suits" and "Pretty Little Liars." And this month, Schull stars as Dr. Cassandra Railly in "12 Monkeys," a new show on the Syfy network loosely based on the 1995 film of the same name. Dance Spirit caught up with Schull to talk about her latest role and making the switch from stage to screen. —Jenny Dalzell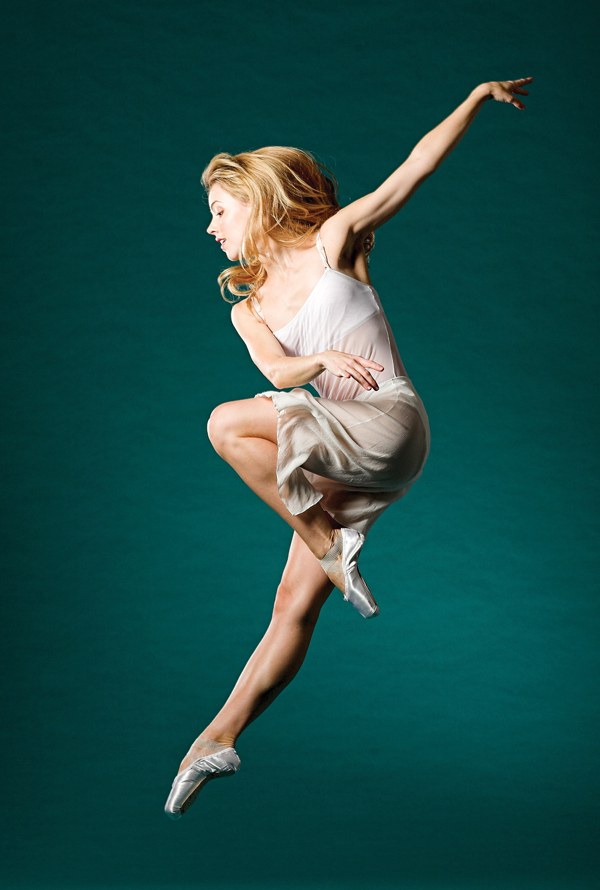 (Photo by Marty Sohl, courtesy Amanda Schull)
Dance Spirit: What's "12 Monkeys" about?
Amanda Schull: My character, Dr. Railly, is a virologist who specializes in the containment of viruses and plagues. I meet James Cole, played by Aaron Stanford, who comes back to the present day from the year 2033. He tries to enlist my help for a mission: saving the world from a plague that's about to be unleashed on the population. Of course,
I don't believe him at first—I mean, time traveling? But I eventually come around and try to help him.
DS: That sounds kind of scary.
AS: I'd say it's more thrilling, though it does have some scary moments. There are a few scenes that are a little graphic, but it's more exciting than gruesome.
DS: Will we get to see you dance on the show?
AS: I do a little bit of ballroom dancing, but it's really basic. There have been talks about the possibility of my character having grown up as a dancer, but that idea hasn't gone anywhere yet. It would be so fun to explore—I'd definitely be interested!
DS: Has your dance training influenced your work as an actress?
AS: I've spoken to directors who've said my dance background was a huge bonus when casting me, and one of the reasons they initially looked at me more seriously. Dancers are dedicated, and our strong work ethic comes in handy when we're learning a script or working on dialogue. When you're creating a character, embodying his or her physicality is something we, as dancers, grasp much better than non-dancers. Dancers also understand timing and landing on their marks—that's extremely helpful in acting, too.
DS: Are you still involved in dance?
AS: I am! I occasionally teach ballet classes when I go home to Hawaii,
and last year I performed as the mother in the party scene of Ballet Hawaii's The Nutcracker. I actually got a colleague from "Suits," Rick Hoffman, to be in the show, too. He played the grandfather. He'd never even seen a ballet before!
DS: What's been your favorite role so far?
AS: Every role is my favorite when I'm in it. I know it sounds cheesy, but I've loved all my opportunities. That being said, playing Jody Sawyer in Center Stage was pretty special.
Dec. 01, 2014 06:30PM EST
Putting a new spin on Annie, a show from the 1970s—which in turn was based on a comic strip from the '20s—is no easy feat. After all, it's hard to think of little orphan Annie without her signature red hair and old-timey catchphrases. When the latest film version of Annie hits theaters this month, though, it'll be a totally fresh (but equally loveable) take on the iconic musical, with the lead role played by Oscar nominee Quvenzhané Wallis. (Jamie Foxx and Cameron Diaz also star in the movie, which was produced in part by Jay-Z and Will Smith.) Choreographer Zach Woodlee, whom you know from "Glee," revamped the classic dance numbers. Dance Spirit caught up with Woodlee and Wallis to get the inside scoop.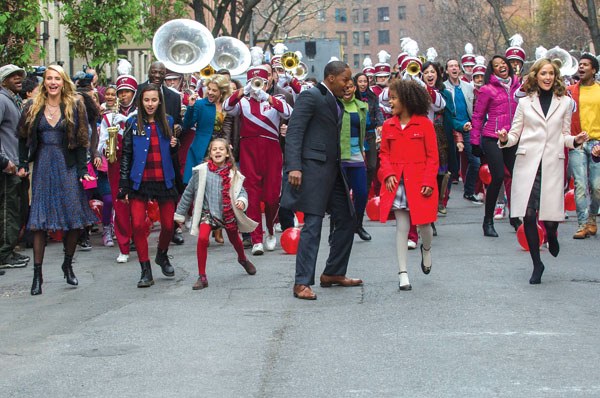 Quvenzhané Wallis (far right) and the cast of Annie (photo by Barry Wechter, courtesy Sony Entertainment
Dance Spirit: What's your favorite scene in the new film?
Zach Woodlee: Definitely "Hard-Knock Life." Director Will Gluck wanted it to be very athletic, so there's a lot of tumbling and throwing mops and brooms around. The hardest part was getting the girls to toss and catch the props while singing—and without flinching. I wish I had worn earplugs for rehearsals. There was so much clattering and banging!
Quvenzhané Wallis: That part was hard—we all kept hitting each other! Luckily, we figured it out. But my favorite part is "I Think I'm Gonna Like It Here," when I go to see where Jamie Foxx's character lives, and I sing and dance while exploring the house.
DS: What were rehearsals like?
ZW: A lot of movement came out of the girls themselves. The rehearsal space looked like someone had put a kitchen and janitor's closet inside a dance studio—it was filled with everything you could imagine, from feather dusters to hula hoops to pogo sticks. When we'd take a 10-minute break, the girls would play with all the props, and then I'd incorporate that into the choreography.
DS: Quvenzhané, what was most challenging about playing Annie?
QW: Remembering all the choreography. But I really like dancing, so it was fun. I'd love to do another role with dancing.
DS: Zach, did Quvenzhané have a lot of dance training coming in?
ZW: She didn't, though her older sister dances, and sometimes they'd practice together. Her mom also helped out: In one of Cameron Diaz's songs, the script dictated that the girls were to play double Dutch—but I didn't know how to do it. The next day on set, Quvenzhané's mom ended up teaching all of us!
DS: What do you love most about this Annie?
QW: It takes place in the present, and it's really upbeat. And I love the music—this version has hip hop and R&B. And there are new songs, too.
Save the Date!
You won't want to miss the other musical making its way to the silver screen. Into the Woods—the Tony-winning classic that weaves all of the best fairy tales into one adventure—hits theaters Christmas day. The film's cast includes the legendary Meryl Streep, Broadway baby (and former Annie!) Lilla Crawford and Pitch Perfect's Anna Kendrick. And it's directed by Rob Marshall, who's no stranger to bringing Broadway to Hollywood: He directed the Oscar-winning film version of Chicago. Visit movies.disney.com for more info.
Musical Theater
May. 01, 2014 04:00PM EST
The Tony Awards celebrate Broadway's best and brightest. This year, they'll be broadcast live from NYC on June 8, hosted by Hugh Jackman. The performances throughout the evening—including the opening number and excerpts from the nominated shows—are always a highlight. But are those of us watching at home missing any of the action? We asked Charlie Williams, who has performed at the Tony Awards for the past four years as a dancer in the opening and as part of the casts of Memphis and How to Succeed in Business Without Really Trying, to let us in on a few behind-the-scenes secrets.
What happens during commercials?
Nothing, actually. Often there are comedians or a director of ceremonies to keep the live audience engaged. Other times they play clips of past Tony Awards on the big screens.
What was most surprising the first year you performed at the Tonys?
The camera hides a lot of the show's craziness. It's really a fly-by-the-seat-of-your-pants, roller coaster kind of night. The cameras (typically 6 to 12 of them) add an extra layer to the performances. We don't get to rehearse with the cameramen, who are sometimes also onstage. But they know how to dodge the battements and still get the shots.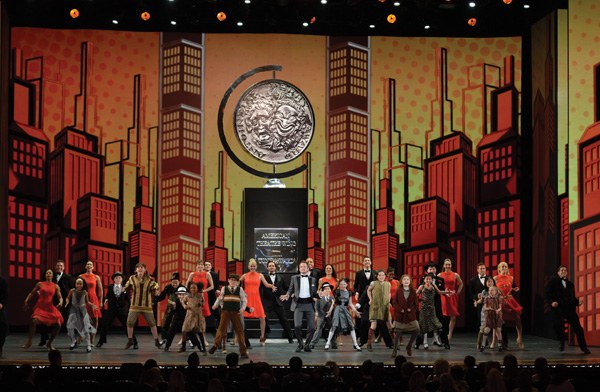 Charlie Williams performs at the 2013 Tony Awards. (Photo by Andrew H. Walker)
The dancers in the opening number audition for the event—are any of them also in nominated shows?
No. It's practically impossible to do both, although last year, some of the performers from nominated shows appeared in the opening. But no matter what, the casts from each show get ready at their own theaters. Then they board buses that take them to Radio City Music Hall right before their scheduled performances during the show. (The routes are even blocked off, so the buses don't get stuck in traffic.) Afterward, they wait backstage until the final award for Best Musical, at which point the winning show performs again.
That seems hectic.
The whole day is crazy. The dress rehearsal that morning is a full run-through with hair and makeup—even the buses. On top of that, in between the two runs, you typically have a regularly scheduled Sunday matinee to perform. But every second of the exhaustion is worth it.
Do you have a favorite part of the evening?
The very end, when the nominated shows line up backstage before the last award. We all know only one group gets an encore. But we're not giving each other the side-eye; we're all in it together. There's crazy energy back there. At my first Tony Awards, I was in Memphis, and when we heard our show won, we ran onstage and did our number to close the evening. It was a total pinch-me moment.
Jan. 10, 2013 02:33PM EST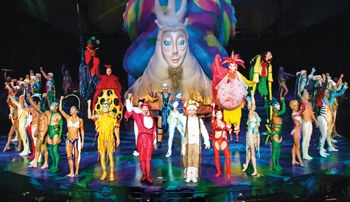 The cast of Mystère (by Matt Beard)
Cirque du Soleil isn't your grandmother's circus. It's sleek, sophisticated and sometimes a little scary. Every scene is a production in itself, complete with radiant costumes, intricate choreography and, our favorite part, technically extraordinary dancers. Since the early 1980s, Cirque du Soleil has grown from a tiny crew of street performers in Canada to a huge organization that now puts on 20 shows across the globe—each with its own plot and zany cast. This year marks milestone anniversaries for several Cirque du Soleil productions, so DS asked four dancers—from four different Cirque du Soleil shows—to share 10 secrets only an insider would know.
1| "The audience response is stronger than in the traditional dance world. The crowd reacts to everything with excitement, amazement and disbelief. It was shocking at first—it took a while to get used to spontaneous outbursts within the theater." —Natalya Bashkatova, La Nouba
* La Nouba at Walt Disney World Resort in Orlando, FL, is celebrating its 15th anniversary this year!
2| "The costumes are legendary and so detailed. The cast is measured from head to toe to the millimeter, and no two artists have the same outfit. They even laser scanned my head to get my wig size!" —Jarrett Kelly, The Beatles LOVE
* The Cirque du Soleil show with the most recognizable soundtrack, The Beatles LOVE, has been performed to Beatles classics at The Mirage in Las Vegas since 2006.
3| "Mystère's stage is almost a full circle, so I have to be aware that I'm always being watched at many angles." —Israel Lazo Gutierrez, Mystère 
*It's a big year for Mystère: 2013 marks the show's 20th year at Treasure Island in Las Vegas.
4| "Unlike the ballet world I'm from, diversity and uniqueness are praised in Cirque du Soleil. Having an unusual body type or uncommon proportions is actually a huge plus. The dancers here never have to try to blend in." —Agnès Roux, Zumanity
*Zumanity: The Sensual Side of Cirque du Soleil, at New York–New York Hotel and Casino in Las Vegas turns 10 years old this year.
5| "Our schedule is unlike any other. We work five days a week, two performances per night, and we often have to come in early for training, rehearsals or meetings." —JK
6| "Doing 478 shows a year is hard on a dancer's body. We have to be prepared physically and mentally, and we challenge ourselves to make every show passionate." —NB
7| "We have great physical therapists, massage therapists and Pilates teachers. And they're all on site!" —AR
8| "I always wondered what gymnasts do after they compete in the Olympics. Now I know—they join Cirque! Our cast has so many world-champion athletes." —JK
9| "Each performer came to work for the company in a different way. I auditioned in Paris, but some friends have been spotted at competitions, on TV programs or during performances with other companies." —AR
10| "The cast members have incredibly diverse backgrounds. You'd be surprised at how many disciplines each performer has studied—beyond what you see onstage." —IG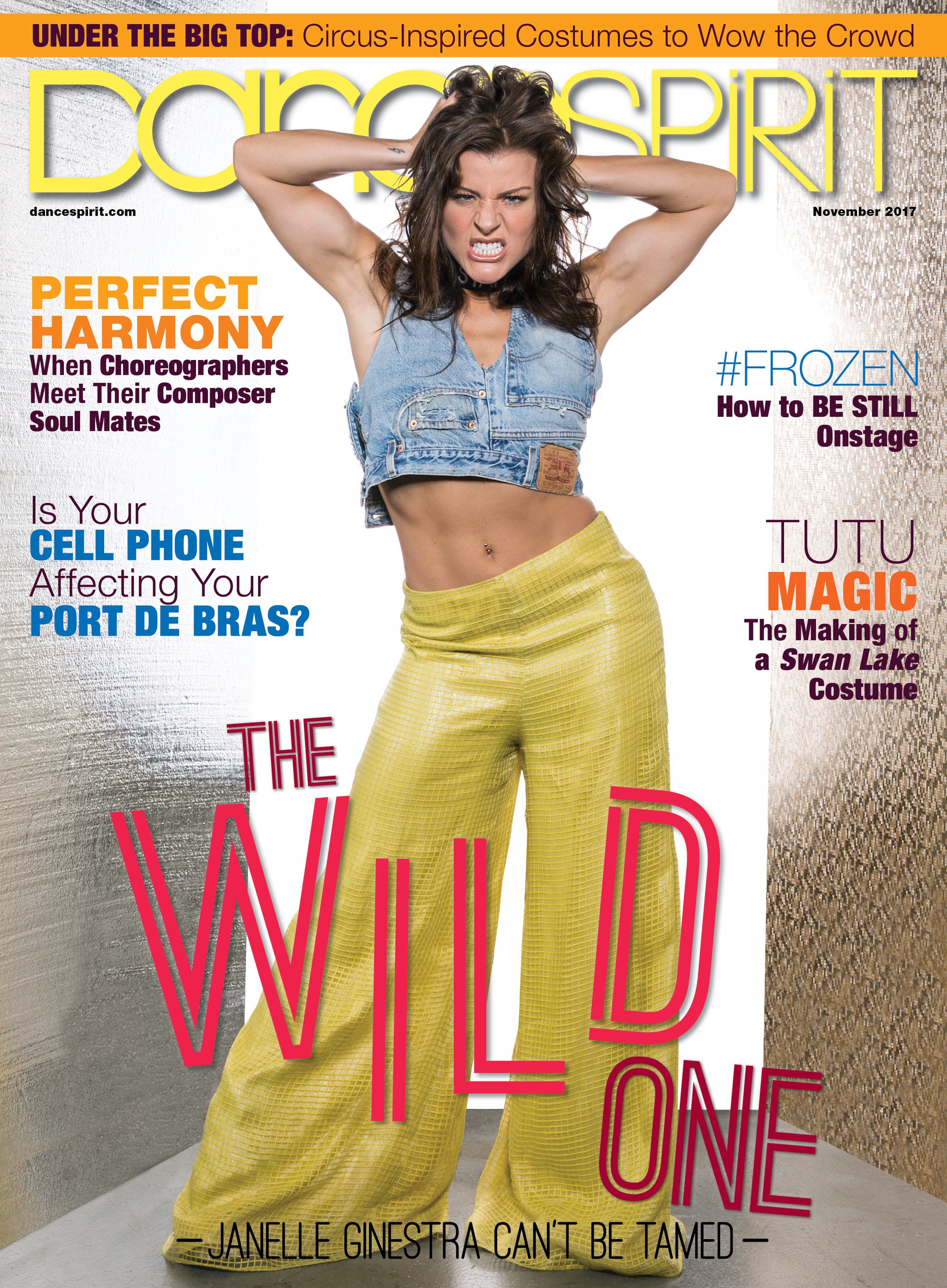 Get Dance Spirit in your inbox