Any time Mandy Moore does anything, anywhere, it's bound to be amazing. (I mean, La La Land? "SYTYCD"? You get the picture.) So as very active members of the Mandy Moore fan club, we were beyond excited that she was a guest judge on "Dancing with the Stars" last night—and on "Movie Night," no less. But we digress. There's a lot of dancing to cover (and two eliminations!), so let's get into it.
Keep reading...
Show less
Today's guest post comes from Francesca Harvey, a student who came to NYC recently with Live! Starring...You!—a pop-culture media organization that trains teen reporters to cover people in the spotlight—for National Entrepreneurship Week.
Tony Dovolani and brothers Maksim and Val Chmerkovskiy have been famous in the ballroom world for a long time. It's only in recent years that the trio—and several other ballroom champions—have become Hollywood celebrities.
That's what appearing on "Dancing with the Stars" will do for you.
For Tony, Maks and Val, their "DWTS" fame has also drawn attention to their business. With three other business partners, they own four Dance With Me studios: one in Manhattan's SoHo neighborhood, and others in Long Island, New Jersey and Connecticut.
Now, they want to expand the studio across the country.
After all, there seems to be a need.
"One of the things we run into as we travel across the country is everybody is asking us for lessons," Tony told me during a recent interview at the SoHo studio.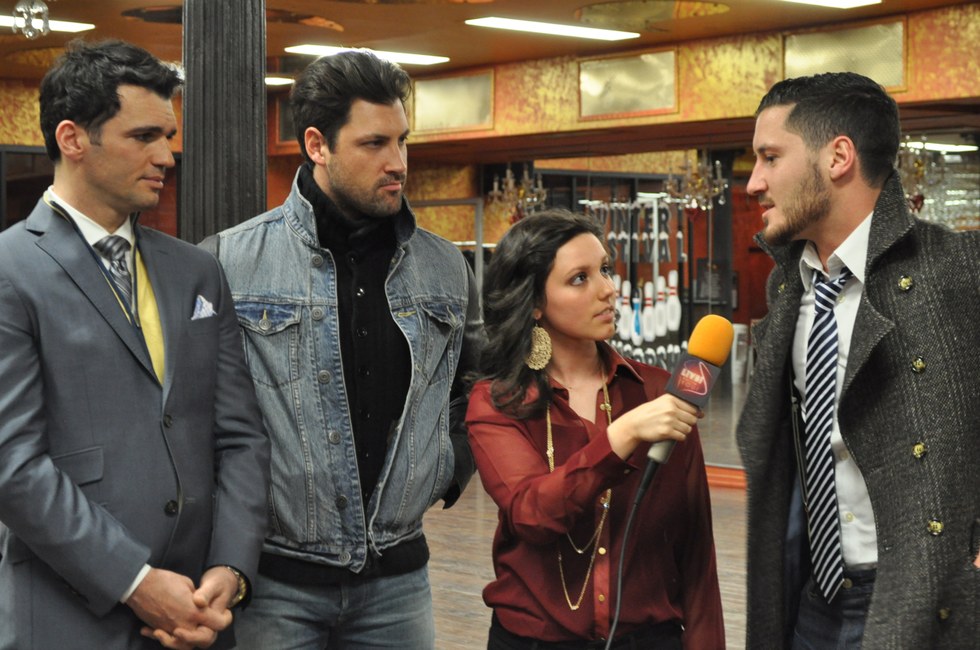 Francesca with Tony, Maks and Val. Not a bad place to be! (Photo by Tim O'Shei)
The guys have developed a teaching system that blends their individual approaches and styles. They instruct their own teachers in that system so all their students are learning the same way.
"Now, all of our teachers believe in the same system," Tony said. "They're taught by us. If you walk into our studio, you're getting a combination of Tony, Maks and Val."
Our interview also included a dance lesson with Val! We thought it was pretty cool that we got to dance with him one week before he was paired with "Shake It Up" star Zendaya Coleman for the next season of "DWTS." (Tony is paired with Wynonna Judd, while Maks isn't participating in the next season.)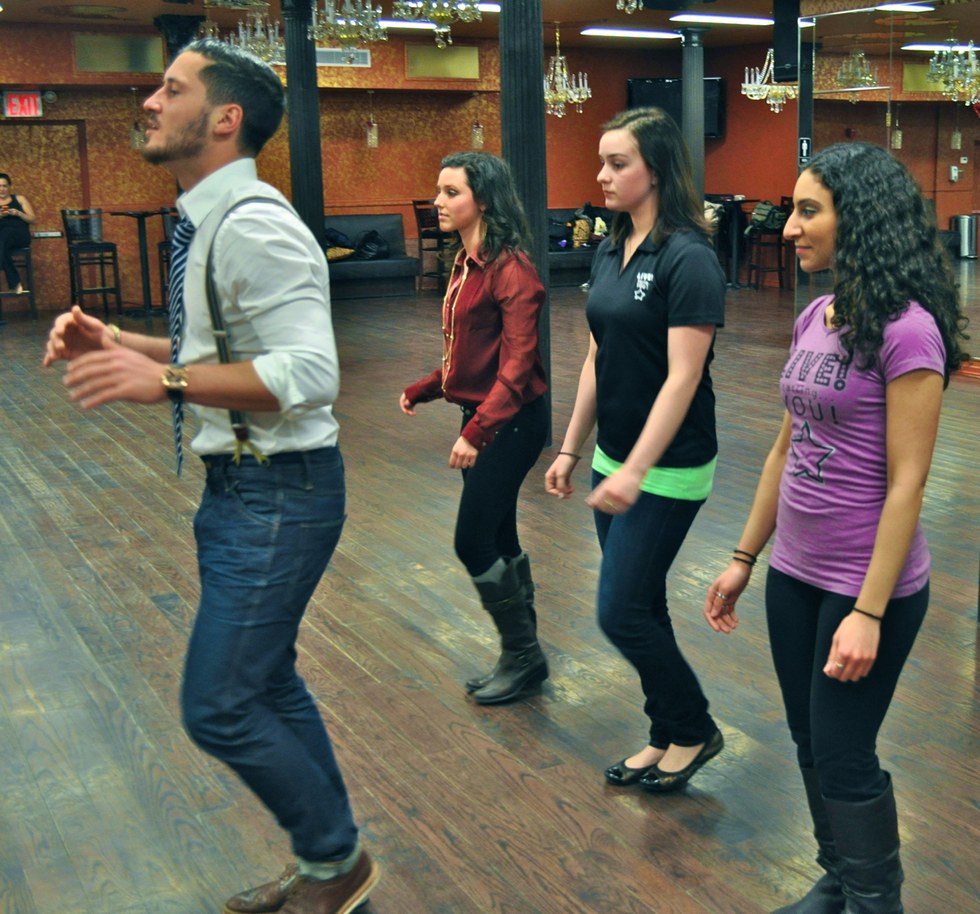 Learning how to groove with Val! (Photo by Tim O'Shei)
If you want to find out how we fared, click here to read our story and watch the video on the Live! Starring … You! site.
But ask Tony, and he'll tell you they can turn anyone into a dancer!
"We've developed a system where there's not one person we can't teach," he said. "If you can walk, we can teach you how to dance."
Francesca Harvey is the student editor of LiveStarringYou.com and a junior at Mount St. Mary Academy in Buffalo, NY.
If it wasn't already clear that a decades theme is never wrong, this week's "Dancing with the Stars" episode officially proved it. Eras Night was just so fun to watch (the costumes! the stories! the group dances!). The couples performed pieces based on various time periods—from the Roaring Twenties alllll the way to the 90s—and it was everything you'd hope a time-traveling "DWTS" ep would be. Let's take a look at the historical highlights:
Our fave of the night was the adorable and bubbly 1940s jitterbug from James Hinchcliffe and Sharna Burgess. Hinchcliffe has had a tendency to be a tad flat acting-wise throughout the season, but last night he wowed the crowd (and the judges) with his believable commitment to the dance's love story. (Those insane somersault lifts he pulled off didn't hurt either.) Also, major props to Burgess for pushing through an injury.
Next on our best-of-the-night list is Calvin Johnson Jr. and Lindsay Arnold's '50s-inspired jive. Long story short: When Len Goodman calls your dance a "polished, high-octane performance," you know you've done something right.
Our eternal faves Laurie Hernandez and Val Chmerkovskiy grooved their way to prom with a '60s-style quickstep, which was adorable, technically on point and super high-energy. Hernandez also sweetly admitted that this was her first prom because she's been home schooled. Aww.
Then there were those insanely awesome group dances. The dancers were split into Team Past and Team Future—and Team Past (Maureen McCormick, Artem Chigvintsev, Hinchcliffe, Burgess, Johnson, Arnold, Ryan Lochte and Cheryl Burke) ultimately stole the night with their haunting, soft and graceful Viennese waltz to the "Outlander" theme song.
Alas, someone had to be sent packing—and last night that was Maureen McCormick and Artem Chigvintsev. What do you think? Did the right pair go home? Let us know!


Get Dance Spirit in your inbox