Dec. 14, 2015 06:51PM EST
89-year-old Doris Lee Davis Pritchett is currently taking the internet by storm—and warming all dance-loving hearts while she's at it. This viral video, posted by her daughter, Beth Pritchett Kendrick, on Facebook, shows Pritchett dancing at a makeshift ballet barre while recovering in a rehabilitation facility. A plié and a tendu show off her elegant technique, still present after all these years.
Pritchett was a dancer for the USO (United Service Organizations) in the 1940s, and proves one thing for sure: Grace never fades.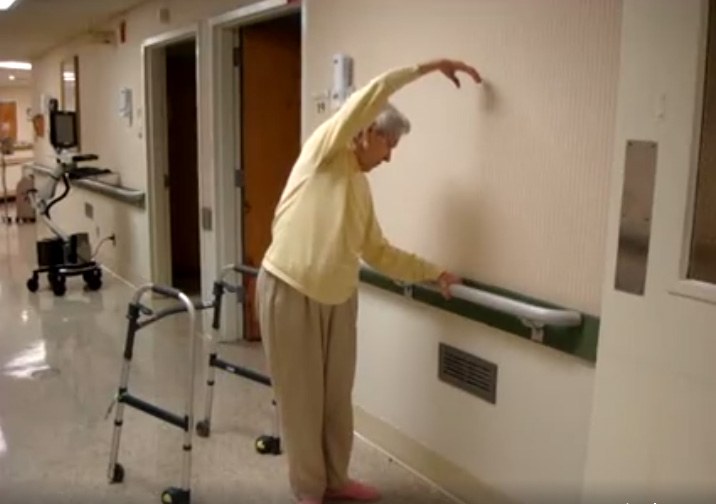 Awwwwww. (Screenshot via Facebook)
Click here to watch the full video.
Jan. 19, 2015 12:00PM EST
Warning: What you are about to read and see my overwhelm you with cuteness.
It feels like it's been too long since there's been a good Frozen spoof flooding the interwebs. What better time to feel the love for Elsa and her crew than winter, amirite? Luckily, the new year brought us our Frozen fix, and it came in the adorably wrapped package of a little boy dressed in dinosaur footie pajamas.
In a video that now boasts over a million views, the boy's older sister coaxes him to dance using her singing Elsa doll. Each time the doll belts out "Let It Go," the little boy throws his arms up in the air and begins to feel the music in a way that would've made Isadora Duncan proud. Long story short: It's amazing.
May. 31, 2014 11:00AM EST
Story time:
VIBE XIX 2014, a hip-hop competition in So. Cal., took place on January 12 of this year. Academy of Villains, a San Francisco-based crew, took home first place with a hard-hitting routine packed with stunts, props, and Michael Jackson.
Fast-forward four months, and the internet explodes...over the runner-up. A YouTube video of second-place-winners The Company, taken from the front row of the audience, now has over a million views. Combine that with the official VIBE video, which has half a million views, and you've got...a lot of views!
What sparked this surge? It could have something to do with the fact that Reddit posted the video about a week ago. Regardless, we're happy it happened—these dancers deserve to go viral!
It's no secret we're suckers for a squeaky clean performance with lots and lots of dancers sharing the stage. And The Company does synchronization sooo right. It's not robotic or stiff—each dancer still expresses his or her personality. All of them just happen to fit together oh. so. perfectly. Plus, we're lovin' the prep school vibe. It's like the Dalton Academy Warblers got a swag-tastic makeover.
We'll stop blabbing about it now and let you see for yourself!
Dec. 27, 2013 12:30PM EST
I admit it: I'm a sucker for dance-tastic marriage proposals. And it turns out, the internet is, too. It's rare that a month goes by before a boyfriend interrupts his significant other's non-dancey day to bring on a flash mob rocking out to Bruno Mars' "Marry You."
But the latest proposal-gone-viral is actually the opposite. Ariana, a dancer on the Chicago Bulls' dance team, the Luvabulls, is mid-routine when her bf interrupts to pop the question. Of course, her fellow dance-teammates are totally in on the plan, and start doing choreography she's never learned.
The look on her face as she desperately tries to figure out what to do is priceless. (Ten points for not stopping when the music changes!) And when her man pops out of an inflatable Benny the Bull costume...I just can't handle the cuteness.
Happy Friday!
Sep. 15, 2013 11:23AM EST
Last year, flash mob marriage proposals were all the rage. Honestly, if you were proposed to last year and didn't get a flash mob, you should feel a little left out—or like you chose the wrong guy. I kid, I kid. But there were some pretty great ones. We even included the get-all-your-friends-to-dance-in-unison-before-popping-the-question trend in our list of the "Top 12 Dance Moments of 2012."
So when I saw another flash mob proposal video going viral this week, I was hesitant to click play. Boy, am I glad I did. This one may just be the cutest yet. Smack in the middle of the Home Depot lumber aisle, there was great choreography, there were grandparents showing their moves, there were cute kids doing cartwheels and, most importantly, there was an adorable couple who looked oh-so-happy together. And, yes, I may have teared up a little. Check it out:
Future husband, I'd like a flash mob proposal, please.


Get Dance Spirit in your inbox