Keep reading...
Show less
Venus and Serena Williams, aka the coolest sisters in tennis, are world champions on the court, but their dance skills are equally amazing. Case in point? The Williams Invitational, which they've now hosted for seven straight years. It's a private tournament consisting of ping-pong, dodgeball, tennis and—you guessed it—a dance-off.
Vogue got the inside scoop with their behind-the-scenes video, where we see a fiercely competitive Serena waiting for the rest of her (already late) team to show up for rehearsal (we feel you). After all, it is a competition. Of the Williams Invitational's origins, Serena says, "It started out as a friends and family thing. And then it got overboard serious, and then it got Broadway." They've got judges, a stage, some pretty intense lighting situations and medals—it's like Nationals, Williams sisters-style. And as we see Serena spinning at lighting speed on a suspended hoop (no, seriously), she says, "I just love dancing. It makes me so happy, and I didn't know how much I loved it until I started this journey." Same, girl, #same. Check out the entire video below!
Want more Dance Spirit?
Sooooo we want to be best friends with Serena Williams.
For many, many reasons. I mean, yes, it would be amazing to have a world-champion tennis player in our posse. We'd obviously love to hear her workout tips, because that body is a work of ART. But mostly she just seems like a lot of fun. And apparently she's also kind of a fantastic dancer?
Let's back up for a second. The reason we and the rest of the world are swooning over Williams right now is because she's featured on Vogue's April 2015 cover. It's a gorgeous image, of course, but it's a also a really big deal—she's the first black female athlete to appear solo on the cover.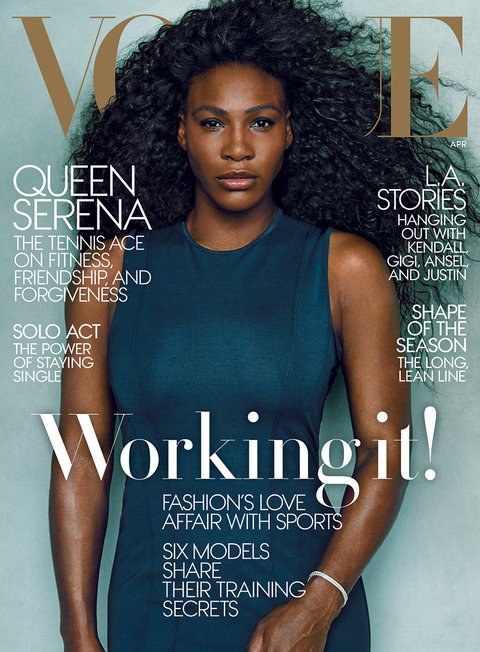 Here's the cover. In case you didn't believe us when we said it was gorge.
And how did Williams celebrate? By making a music video to Beyoncé's "7/11." You know, as one does, when one is the Beyoncé of tennis.
The result is funny and silly and full of pretty legit dancing. (Those pirouettes at :48 though!) And of all the "7/11" choreography we've seen, it makes by far the best use of the lyrics "smack it in the air." TENNIS!
Now excuse us while we daydream about a sunshiney unicorn rainbow world in which Beyoncé, Williams and little Heaven from "Ellen" all dance to this song together.


Get Dance Spirit in your inbox