Tonight at 8 pm, Symphony Space will host Impressions IV—an evening celebrating all-things-dance. Performers include Taeler Cyrus (After Midnight), Jess LeProtto (Newsies), Michael Rosen (West Side Story), Amelia Lowe ("So You Think You Can Dance"), Phoenix Project Dance and ICONic Dance Crew ("America's Best Dance Crew"), to name a few.
Oh, and did we mention that the magnificent Chaz Buzan—assistant to Mia Michaels and DS January 2013 cover star—will perform solos throughout the evening?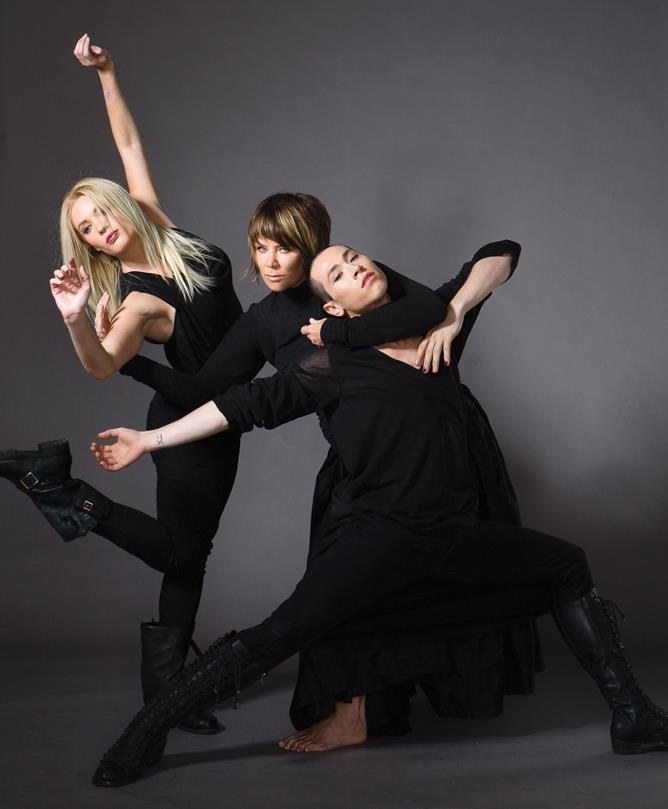 Chaz Buzan (right), with Mia Michaels and fellow assistant Ryan Ramirez on the set of the DS January 2013 cover shoot (Photo by Joe Toreno)
If you've never seen Buzan perform, tonight's your chance to find out why Mia Michaels affectionately calls him a "freak of nature." (If you have seen him perform, then we don't really have to convince you...do we?)
Impressions IV is tonight at 8 pm at the Peter Jay Sharp Theatre at Symphony Space. Click here for more info and to buy your tickets. Portions of ticket proceeds benefit St. Jude's Children's Hospital.
And to tide you over in the meantime, here's a video of Chaz Buzan performing "My Heart," choreographed by TOKYO, at the KARtv Awards in Las Vegas:
What do you do after you win "So You Think You Can Dance" and become super famous?
You go on to star in a dance movie, of course.
Plenty of our favorite "SYTYCD" vets (and former DS cover stars) have taken to the big screen—Kathryn McCormick and tWitch had starring roles in Step Up Revolution, and the dance casts in Step Up 3D, Footloose and Fame were packed with familiar faces.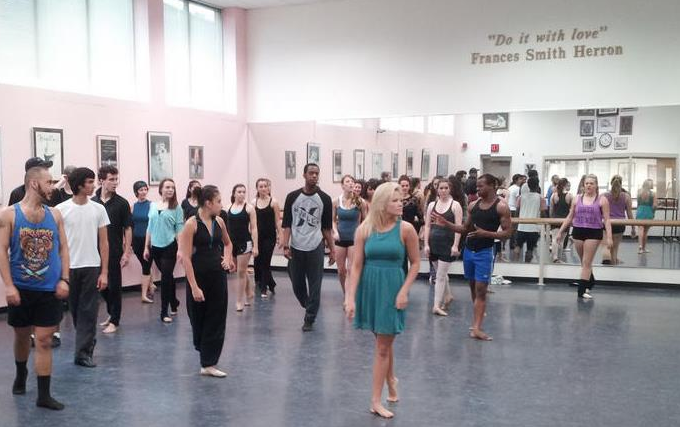 Now, three more "SYTYCD" alums, including two former winners, are graduating from the small screens to the silver ones: Russell Ferguson (Season 6 winner), Chehon Wespi-Tschopp (Season 9 winner) and Witney Carson are all set to star in the upcoming East Side Story film, produced by David Winters. Plus, Brandon Bryant (Season 5) choreographed for the movie.
A bit of background: David Winters knows his stuff. He was in the original West Side Story production on Broadway and now he's making this film to show off an "all-star dance cast." The plot is based off Shakespeare's Romeo & Juliet, and it looks like the movie will be part Dirty Dancing, part High School Musical, part West Side Story and part who-cares-these-dancers-are-awesome.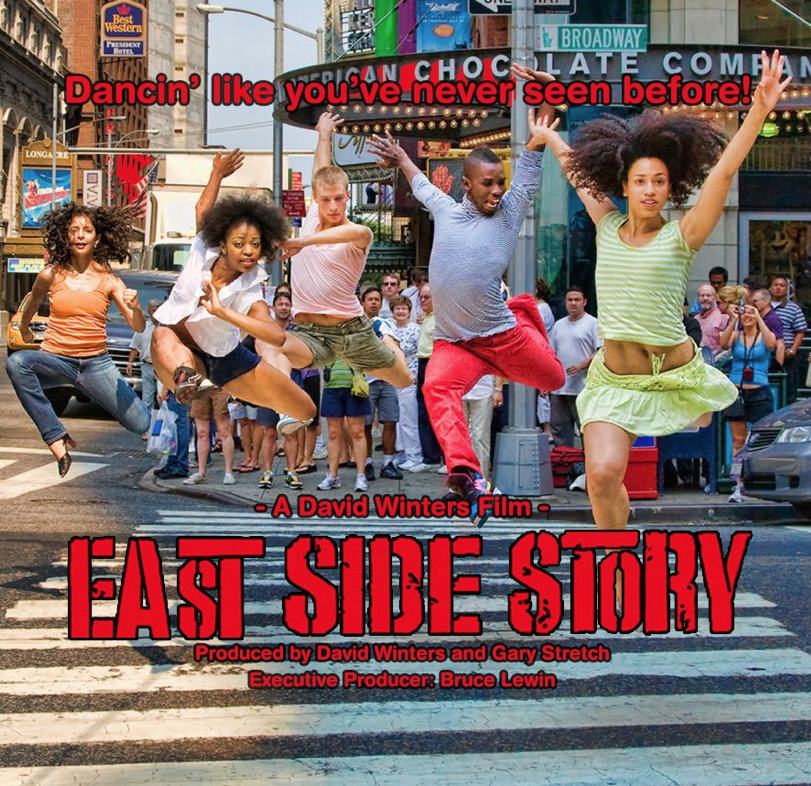 The film is still in its infant stages and some casting is still being done as scenes are filmed. (We suggest following the film's Facebook page—casting announcements are posted regularly—and checking out the East Side Story website.)
Here's a local news clip about the film featuring our December 2012 cover boy, Chehon!
Apr. 01, 2014 01:30PM EST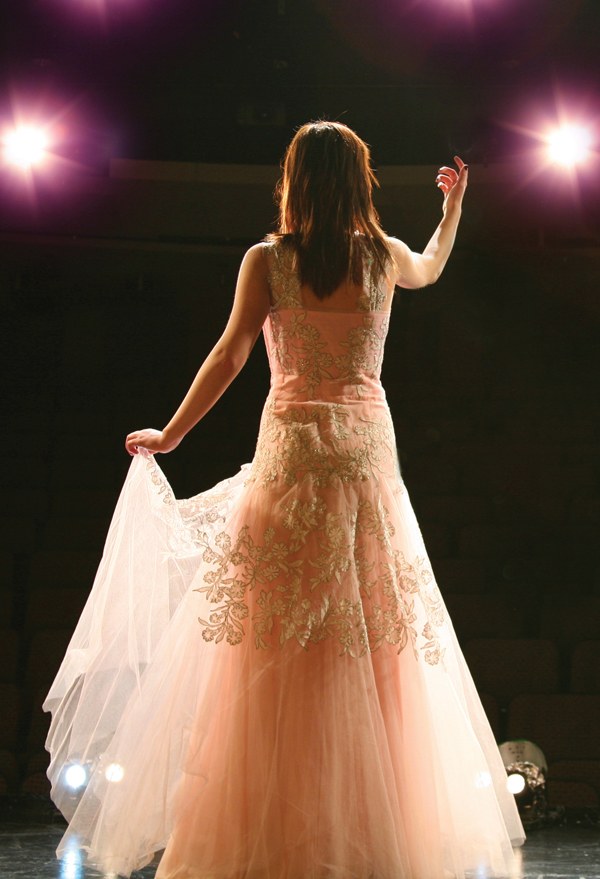 (Photo by Tracy Whiteside/thinkstock.com)
1. Your teacher asks you to freestyle at the end of class. What's your go-to showstopper?
A. A huge shimmy followed by a big body-roll
B. Time steps, pullbacks and wings until your taps nearly fall off
C. The quadruple pirouette your teacher didn't even know you'd mastered
D. Sky-high extensions with perfect turnout and pointed feet
2. At lunch, you're most likely to be surrounded by…
A. …all the boys.
B. …the girls you've been best friends with since kindergarten.
C. …no one. You kind of do your own thing.
D. …dance friends one day, jocks another. You bounce from group to group.
3. Your school's big homecoming dance is this weekend. What are you wearing?
A. Something bright, flirty and spotlight-worthy
B. Whatever's clean—everything goes great with a smile.
C. A black dress. I stick with what works.
D. Something that coordinates with my friends' outfits
4. What's your karaoke song?
A. "Roar," by Katy Perry
B. "Royals," by Lorde
C. "Born This Way," by Lady Gaga
D. "Love Story," by Taylor Swift
5. You're competing this weekend. Which routine are you most looking forward to?
A. My solo. When I'm onstage alone, I don't have to worry about showing up my teammates.
B. The small group jazz routine my friends and I have been working on all season. It's not too complicated, but it's tons of fun.
C. I was gunning for a solo, but it went to another girl at my studio, so I'll be in the audience watching and learning.
D. My duo. My partner and I have tons of chemistry, and we can't wait to show it off.
6. Your birthday's coming up. Any fun plans?
A. I'm throwing a big party—the whole grade is invited!
B. I'm secretly hoping for a trip to NYC with my parents. But if that doesn't happen, maybe a movie with my friends.
C. A quiet night in. I doubt my classmates even know it's my birthday.
D. I'm planning to show off my new look—I'm getting a birthday makeover!
7. If you were a superhero, what would your power be?
A. Mind reading. I'd love to hear all the wonderful things people are thinking about me!
B. The ability to talk to animals. I know they have a lot to say.
C. Flying. Sometimes you just have to get away.
D. Time travel. I wouldn't mind reliving last summer—it was amazing!
8. What's your best subject in school?
A. public speaking
B. home economics
C. science
D. English
9. There's a rumor going around school—about you! How do you handle it?
A. I laugh it off and confront the big talkers. People are just jealous. Plus, all attention is good attention, right?
B. I ignore it. It'll all blow over by tomorrow.
C. I'm embarrassed at first, but then I move on. I don't need validation from others.
D. I cry and go straight to my friends for support.
10. You're in a crowded convention class with your favorite teacher. Where do you stand?
A. Front and center. I want to see her, and I definitely want to make sure she can see me.
B. I lead my studio friends toward the front of the room, but off to the side where there's room for us to stay together.
C. It doesn't matter, as long as I have enough space to dance full-out every time.
D. My friends have usually staked out a spot by the time I get there, so I join them.
Scroll down for your results...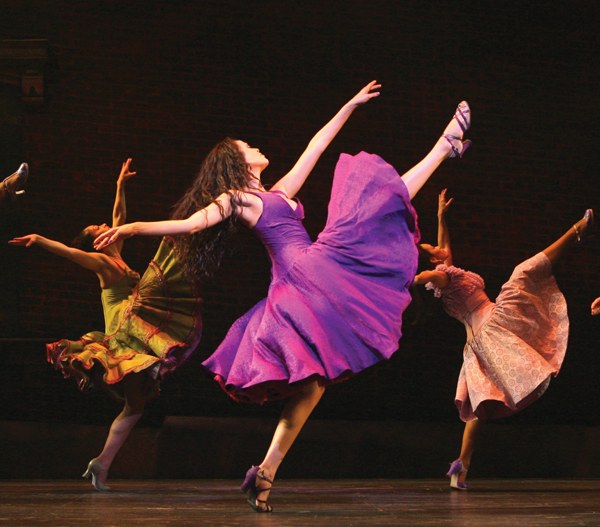 (In purple) Karen Olivo as Anita with the Shark girls in West Side Story (Photo by Joan Marcus)
If you scored mostly A's, you're Anita from West Side Story.
You love being the center of attention, and you're not afraid to show off for a crowd. The more sparkles on your costume, the better!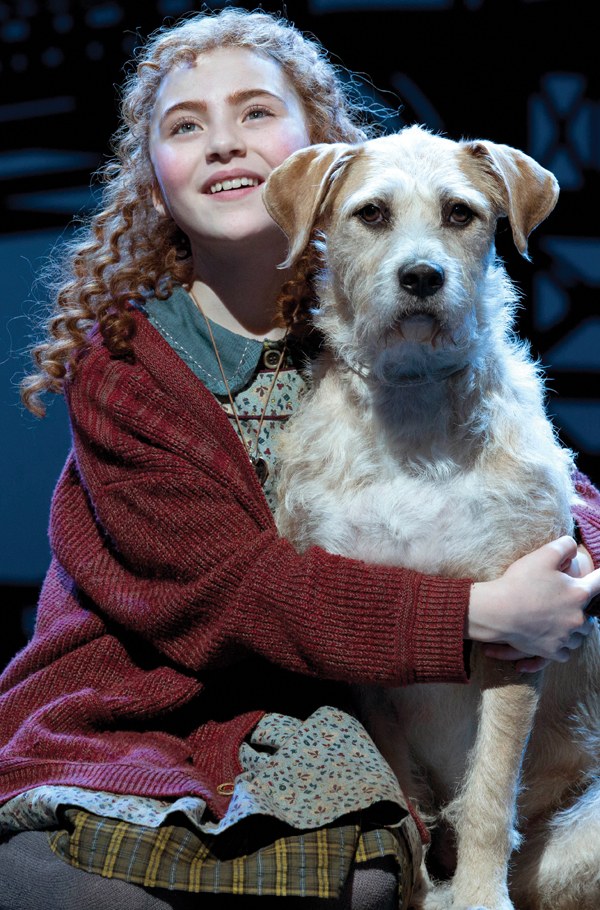 Lila Crawford as Annie with Sunny (photo by Joan Marcus)
If you scored mostly B's, you're Annie from Annie.
You're a loyal friend, and you're always thinking about what's best for your entire team. You're endlessly optimistic—if you don't nail that tough combination today, you'll get it tomorrow.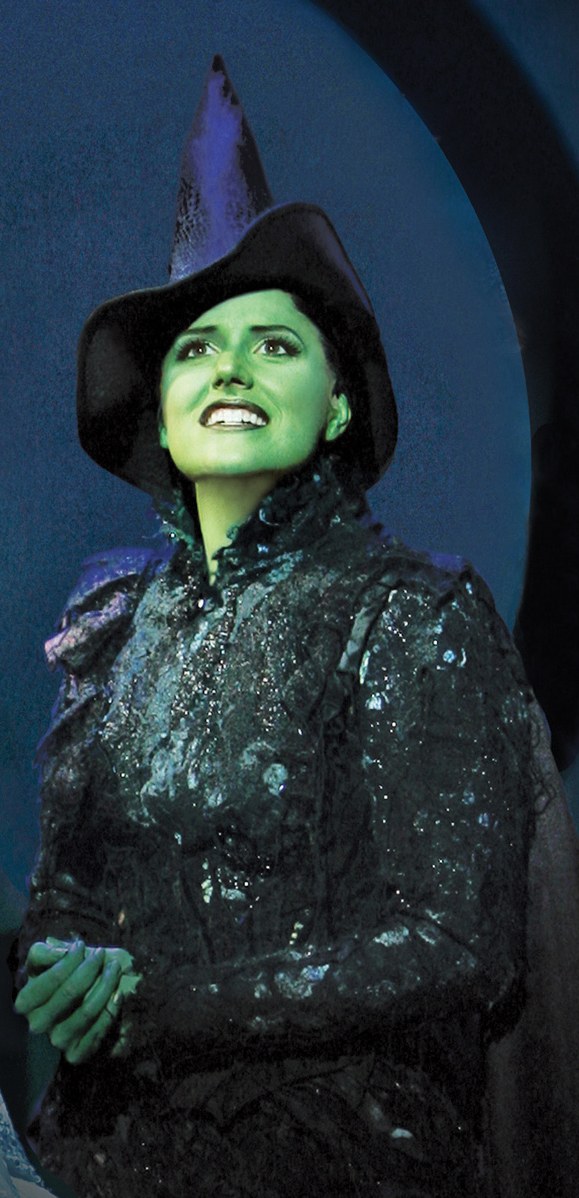 Nicole Parker as Elphaba in Wicked (photo by Joan Marcus)
If you scored mostly C's, you're Elphaba from Wicked.
You're strong-willed, independent and willing to work hard for what you want—even if that means flying solo sometimes. Your determination will pay off in the end.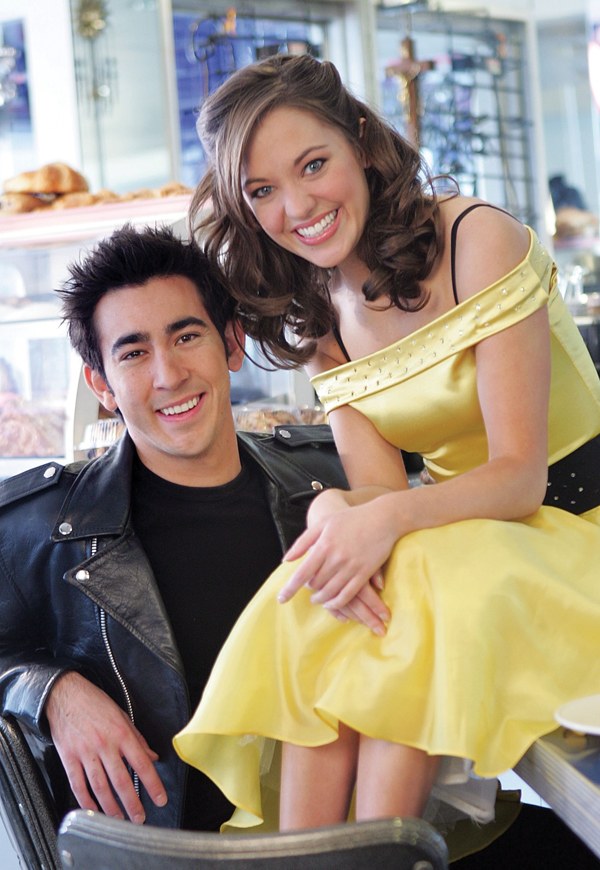 Max Crumm and Laura Osnes as Danny and Sandy in Grease (photo by Scott Gries)
If you scored mostly D's, you're Sandy from Grease.
You're perky, preppy and a hopeless romantic. You're a perfectionist in the studio, and you have big dreams for the future.
Ballet
Jan. 01, 2014 06:50PM EST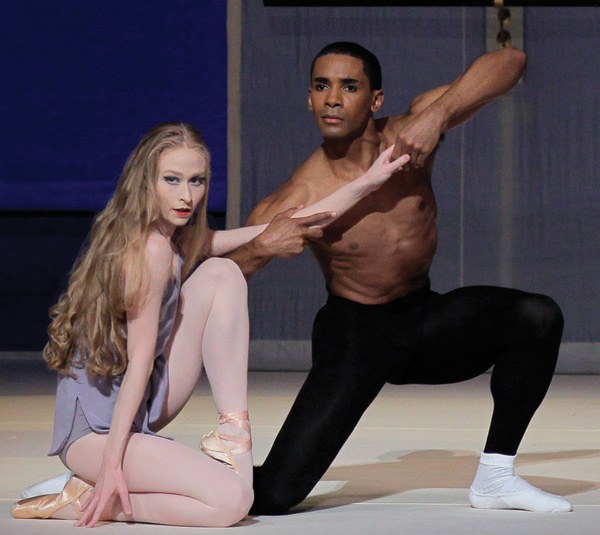 New York City Ballet's Janie Taylor and Craig Hall in Robbins' Afternoon of a Faun (photo by Paul Kolnik)
I've just made my entrance in Jerome Robbins' Afternoon of a Faun, stepping onstage into a set designed to look like a ballet studio—with the audience where the mirror would be. I don't acknowledge my hundreds of viewers. Instead, my partner and I gaze into the darkness and pretend we're studying our own reflections. In true Robbins fashion, we dance as if no one's watching.
Performing Robbins' ballets can be tricky, especially if you're used to engaging actively with an audience. They aren't about how big you can grin—or how high you can get your leg, for that matter. To stay true to his style, you need an honest, thoughtful approach. "If what you're doing doesn't feel like a genuine human reaction," says Pacific Northwest Ballet artistic director and former New York City Ballet principal Peter Boal, "it's wrong." Humor, emotion and atmosphere are already built into the choreography. The challenge for performers is to trust the steps to speak for themselves.
The Man Behind the Moves
Robbins created more than 60 ballets, mostly for NYCB and Ballets USA (his own company, formed in 1958 but disbanded a few years later). He also directed and choreographed for theater, music and television, earning six Tony Awards for Jerome Robbins' Broadway and two Academy Awards for West Side Story. "West Side was one of the first things I saw that made me want to dance," says Georgina Pazcoguin, a NYCB soloist known for her interpretation of Anita in Robbins' West Side Story Suite (a shortened concert version of the dances from West Side Story). "I watched the film when I was in eighth grade and was stuck to the screen."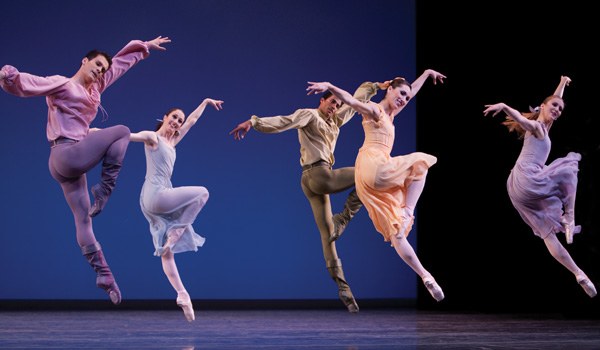 Pacific Northwest Ballet in Robbins' Dances at a Gathering (photo by Angela Sterling)
Throughout his career, Robbins surrounded himself with inspiring artists. He collaborated with famed composer Leonard Bernstein (Fancy Free, West Side Story), and worked side by side with George Balanchine, first as associate artistic director of NYCB and then as ballet master (a title he and Balanchine shared). But Robbins didn't only rub elbows with the elite. He found inspiration in young students at the School of American Ballet (2 & 3 Part Inventions) and was known to pluck dancers from the corps and put them in starring roles. Robbins was most interested in individuality and talent, regardless of age or prestige.
Robbins' Style
From Broadway to ballet, Robbins' style is diverse—and timeless. "There's something about it that seems of its time, current and ahead of its time all at once," says Damian Smith, principal at San Francisco Ballet. The content of his work often reflects real life. In the Night and Dances at a Gathering are about regular people's relationships and interactions; Fancy Free and The Concert have a mix of everyday and eccentric characters. His dancers relate to each other onstage in unmannered, natural ways.
Robbins was very particular and notoriously tough to work for. (He expected his dancers to remember many versions of the same phrase, and to be able to repeat, reverse or rearrange them whenever he asked.) "He pushed us to our maximum and made us better than we thought we were," Boal says. "It wasn't so much about pointing your foot or turning out, but about the character you were playing."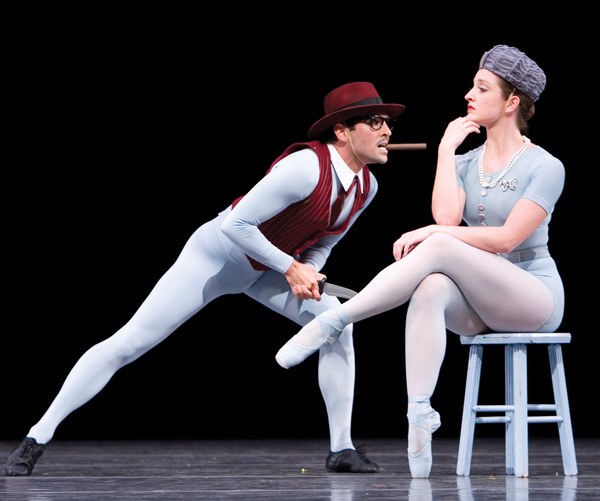 (L to R) PNB's Carrie Imler and Jonathan Porretta in Robbins' The Concert (photo by Angela Sterling)
How to Do It
Robbins' ballets don't need a hard sell. He wanted his dancers to be people onstage, not performers playing for laughs or sighs. "It's as if the people watching are looking through a window at what's going on," says Christine Redpath, a Robbins repetiteur and ballet master at NYCB. "He'd always scream, 'Easy baby!' It's not about playing to the public."
To get the right feel, Pazcoguin has to rein herself in. "I tend to be 125 percent onstage," she says. "Robbins' work is extremely athletic, but you're not supposed to make that apparent to the audience. It's about finding the subtleties." Every time she revisits a role like Anita, she likes to bring something different to it. The choreography, though specific in terms of counts, steps and spacing, allows for that kind of individuality.
When Redpath stages Robbins' ballets, she finds that most dancers worry too much about technique and being in a perfect fifth position. They don't relax and move without inhibition. "When you're a kid, and you hear music that brings a smile to your face, you dance and you're not aware of what other people think," Redpath explains. "I encourage people to take that approach within the framework of the choreography."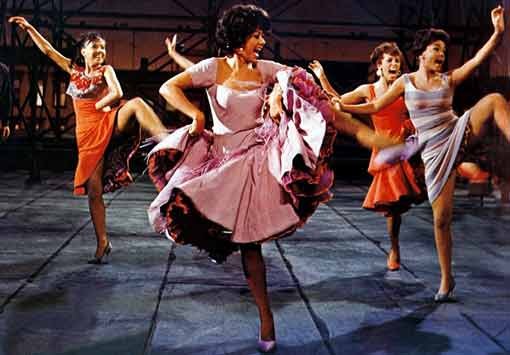 One of the best parts about working for DanceMedia (the parent company of Dance Magazine, Dance Teacher, Pointe, Dance Retailer News and Dance Spirit), is being surrounded by dancers all day, everyday. It's not uncommon to see a co-worker doing pliés at printer, foam rolling in their cubicle or trying the newest plank exercise in the hallway. It's like a dream come true, right?
Last week, Dance Magazine editor Khara Hanlon sent a simple mass email: "Tell me your all-time favorite dance scene in a movie." As you can imagine, the responses came flooding in. Here are a few of the favorites I just had to share:
1. Sarah Jessica Parker and Helen Hunt's audition for Dance TV in Girls Just Wanna Have Fun
2. Jody Sawyer's dance in Center Stage
3. "I Think I'm Going to Like It Here" from the 1982 film version of Annie
4. "Everything Old Is New Again" in All That Jazz
5. "America" in West Side Story
Beauty
Sep. 01, 2009 10:59AM EST
After we saw Broadway diva Karen Olivo play the part of Anita in the revival of West Side Story on Broadway (which she won a Tony Award for!), we wanted to learn how to get her sultry makeup and kinky curls. We called in some of our favorite beauty experts, hairstylist Tonya Noland and makeup artist Chuck Jensen, to remake the look on Patricia Zeccola, a 23-year-old NYC-based Latin dancer (who kind of looks like Olivo, right?). Try this style for your performance or audition!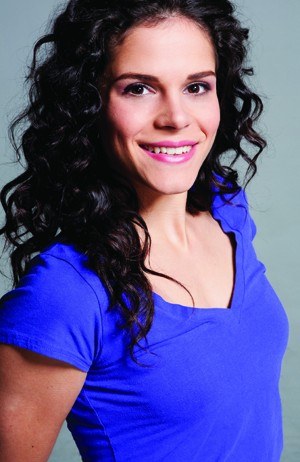 Get tightly coiled, Latina-like curls
If your hair is curly:
Step 1 Coat your wet locks with mousse such as got2b Kinky Curl Defining Mousse, then section your hair off into quarter-sized pieces.
Step 2 Coil sections into little mini-buns and loosely pin them to your head with small metal clips.
Step 3 Use a diffuser (a special blow-dryer attachment for curly hair) to dry your locks—but don't touch your hair with your fingers or it will frizz! Once your tresses are 3/4 of the way dry, take the pins out and let your hair fall loose. Continue to use the diffuser on your tresses until they're completely dry.
Step 4 Finish with hairspray. We swear by Fekkai Sheer Hold for bouncy curls that won't budge!
If your hair is wavy or straight:
Step 1 Mist wet hair with a light spray gel like L'Oréal Studio Line Tightly Wound Curl Boosting Curl Spray Gel.
Step 2 Blow-dry your hair and part your locks into quarter-sized pieces.
Step 3 Curl those sections, alternating a one-inch wide curling iron with a 1/2-inch sized curling iron.
Step 4 Use extra-hold hairspray—Dove makes a fantastic one!—to ensure that your ringlets stay coiled.
Sassy Sharks Girl Makeup How-To
Skin:
Step 1 Even out skin with foundation. Tip: Test foundation on your jawline, since there's generally no discoloration there. If you can see it, then it's not the right shade for your skintone.
Step 2 After foundation, always start with blush. Without it, your face is a blank slate, and you run the risk of overapplying colors to other areas, like your eyes.
Eyes:
Step1 Use a pale pink shadow on your entire eyelid, a rose shadow on the crease and a frosty white shadow under the brow. The order of colors should always go (from lash-line to brow): medium, dark, light.
Step 2 Dip a thin brush in water, then dab it on black cake liner to create a liquid liner. Rim your lash line with a thick line, about 1/8 of an inch.
Step 3 With the help of a lash-curling tool, clamp the outside edge of your lashes to make your eyes look wide-set.
Step 4 Use a black mascara to coat your upper lashes with two even strokes. Avoid mascara on lower lashes if you're going to be taking photos, since it can make your eyelashes look spidery.
Brows:
Step 1 Clean up messy eyebrows by tweezing. Simply hold a makeup brush near your eye and use this brow placement chart. But be wary of over-plucking! Full brows are more flattering.
Step 2 Fill in sparse spots with brown eyeshadow.
Lips:
Step 1 Don't draw a straight line with lip liner. Feather it instead, making lots of little dashes.
Step 2 Mix rose lipgloss and lipstick on a brush for a very sheer look. Use a lip brush to fill lips in with the mixture. Run the brush to the edge of your lip and over the liner.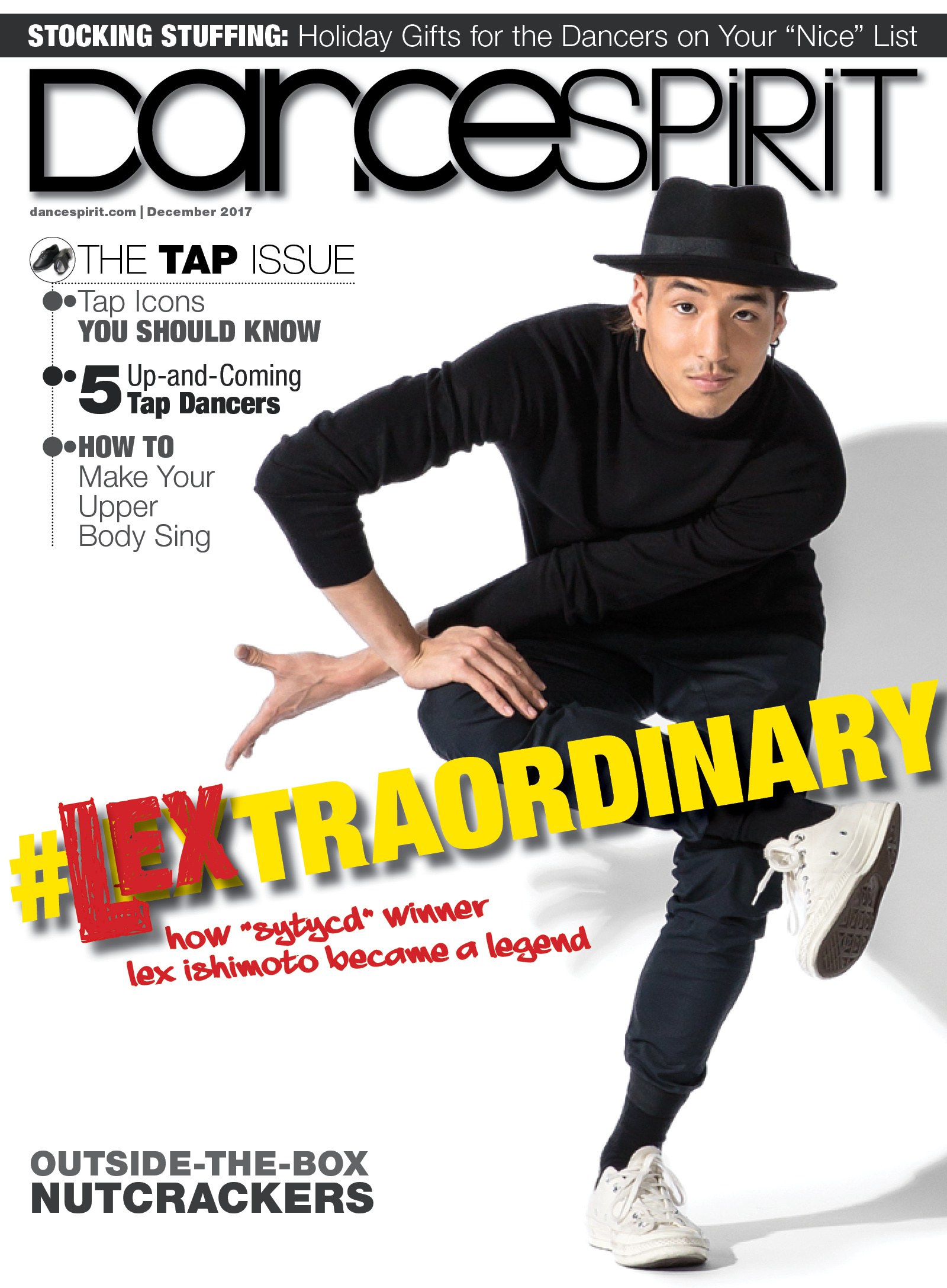 Get Dance Spirit in your inbox