We've all heard it: the chorus of cracking joints that comes with the first plié of class. A lot of dancers treat barre as their daily warm-up, but a ballerina jumping into class cold is kind of like the Tin Man trying to move without his oil can. Conditioning expert and former professional ballet dancer Rachel Hamrick has four pre-barre exercises that will get your body ready for that aggressive dégagé combo.
You'll need: an FLX ball or a medicine ball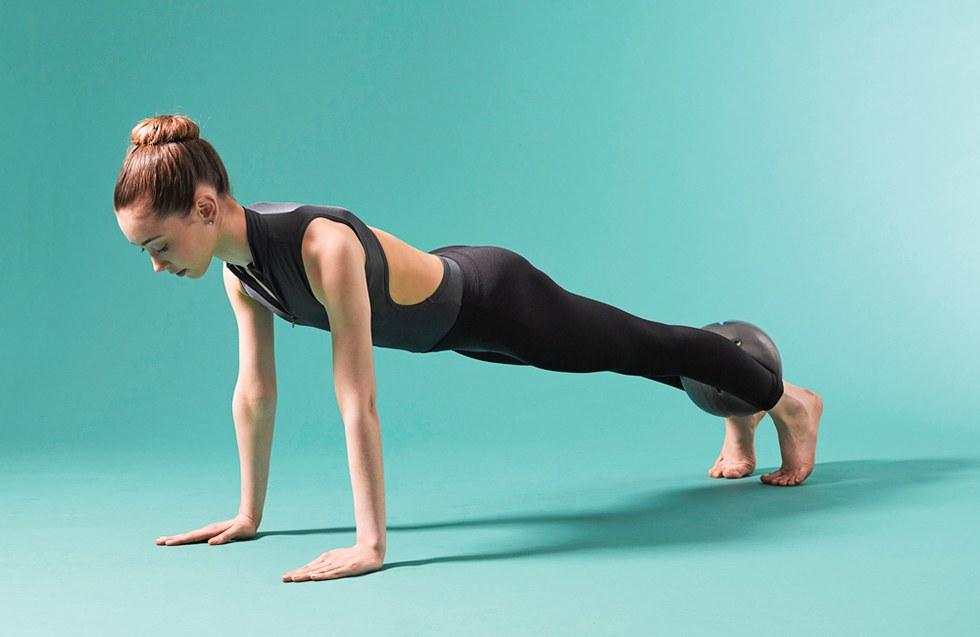 (Photo by Nathan Sayers)
Vinyasa Flow
Purpose: Yoga is a great way to prep your body for ballet class. The repetitive nature of vinyasa flow gets your blood pumping and your body temperature rising, helping to gradually increase your range of motion.
1. Begin in a full plank position with the FLX ball between your ankles. Your body should form a straight line, starting at your heels and continuing through your neck. Think of pulling your belly button towards your spine and rolling your shoulders back and down. Hold this plank position for 10 slow counts.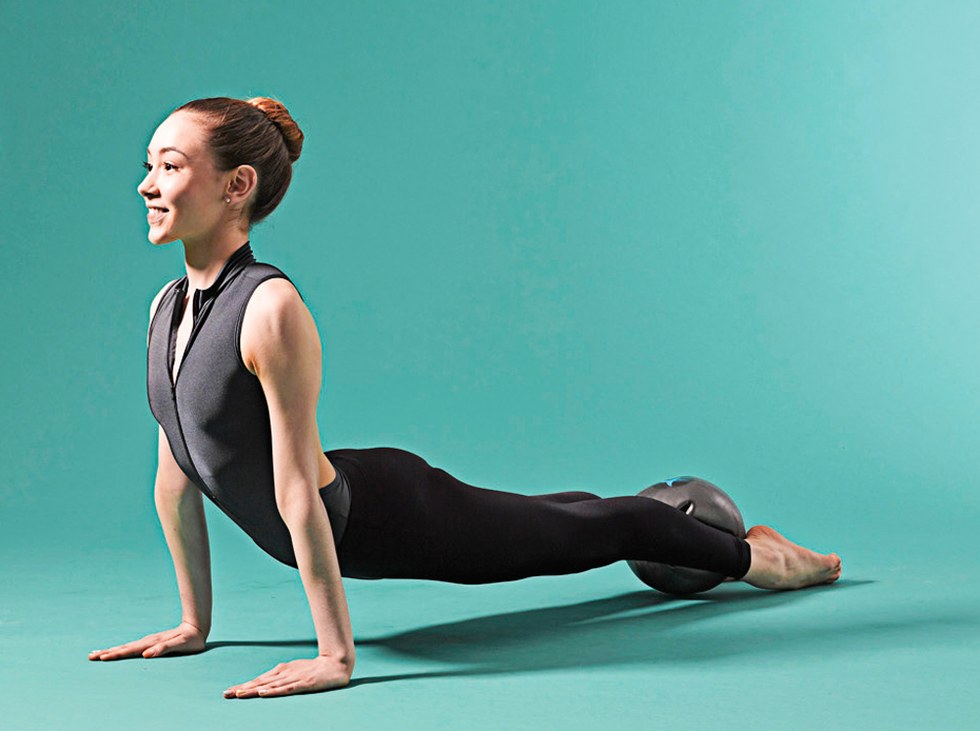 (Photo by Nathan Sayers)
Hamrick says: "Throughout the vinyasa flow, squeeze your inner thigh muscles together to hold the ball in place. This will generate extra heat and keep you from hyper-extending your knees."
2. Untuck your toes and lift your chest so that your back arches. Squeeze your quads so that only the tops of your feet touch the floor, and think of lifting your chest up and forward to avoid crunching into your lower back. Hold this upward dog position for 10 slow counts.
(Photo by Nathan Sayers)
3. Lift your hips toward the ceiling so that your body forms an upside-down "V" shape. Reach your heels toward the floor while keeping your spine lengthened and your shoulders away from your ears. Hold this downward dog position for 10 counts. Repeat the entire sequence 3 times.
Lizard
Purpose: This position stretches your hips' external rotators so you can maximize your turnout throughout class.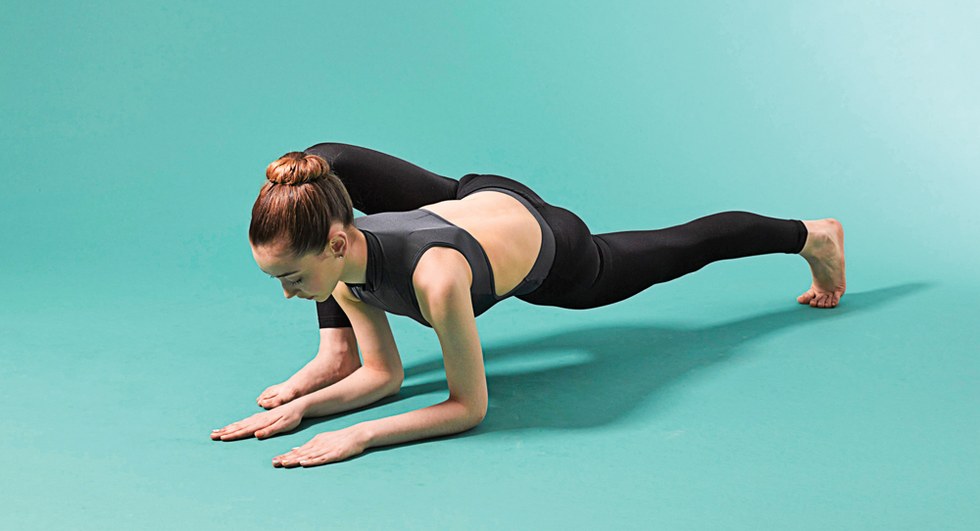 (Photo by Nathan Sayers)
Get into a low lunge, with your right leg forward at a 90-degree angle and your left leg stretched behind you. Place both forearms on the inside of your right thigh so that they're parallel with your right foot. Think of trying to get your chest as flat and long as possible. Hold for 30 counts and repeat on the other side.
Hamrick says: "To increase the stretch, think of hugging your right knee into your midline, rather then letting it open to the side."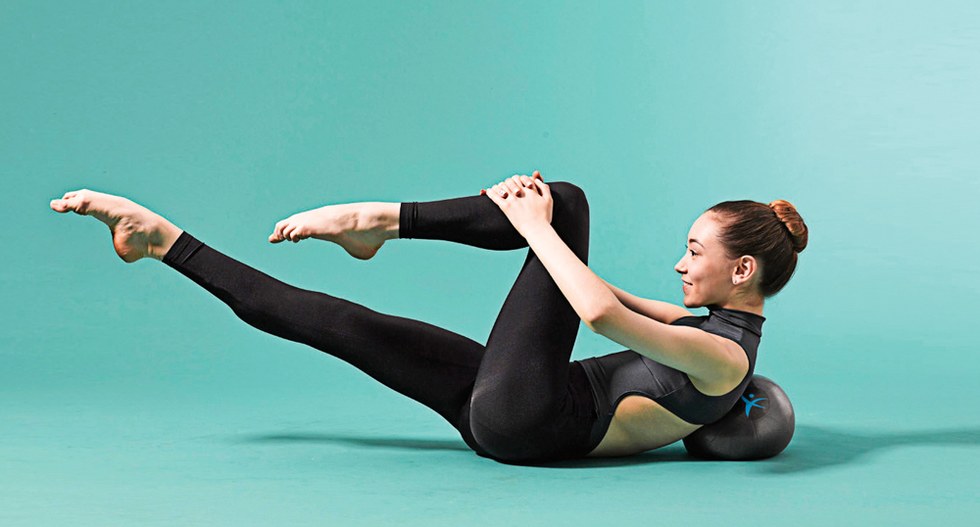 (Photo by Nathan Sayers)
Single-Leg-Switch Abdominals
Purpose: Working your core before class will prepare you to engage those same key muscles during balances and pirouettes.
1. Lie on your back with the FLX ball between your shoulder blades. Bring your right knee in toward your chest and curl your upper body so your knee is in line with your forehead. Place your hands on the top of your right shin, keeping your elbows wide and your shoulders down. Extend your left leg on a high diagonal and pull your belly button in.
2. Switch your legs so that the left knee pulls in toward your chest and your right leg extends on a high diagonal. Do 20 repetitions.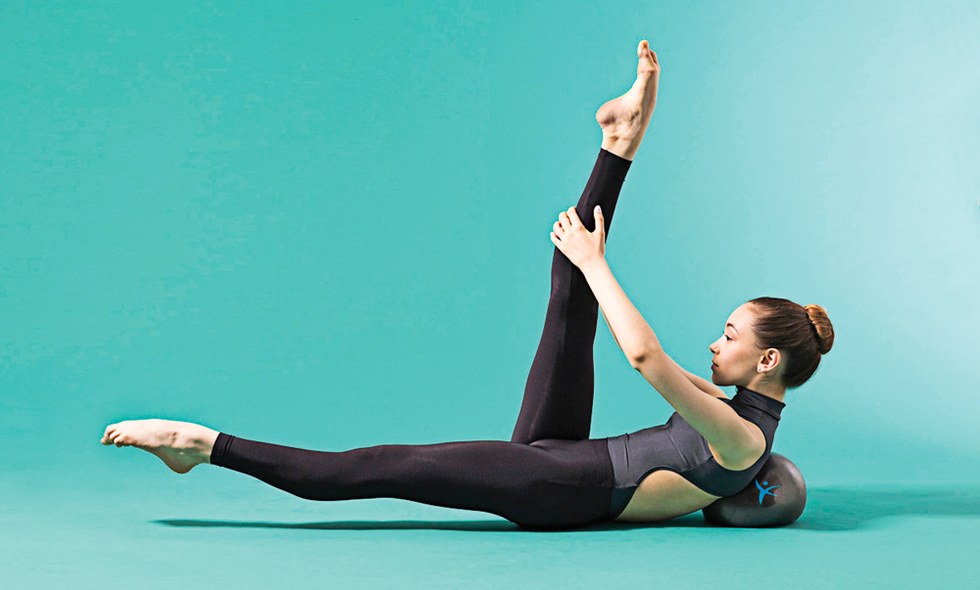 (Photo by Nathan Sayers)
Hamrick says: "Think of pushing your knee into your hands to help you engage your core."
Modification: Scissor Abdominals
For a more advanced abdominal warm-up, straighten both legs and hold your top leg from behind your calf or thigh. Keep both legs straight as you switch legs. Do 20 repetitions.
Toe Roll
Purpose: This exercise strengthens the intrinsic muscles on the bottom of your feet, prepping them for everything from relevés to grands jetés.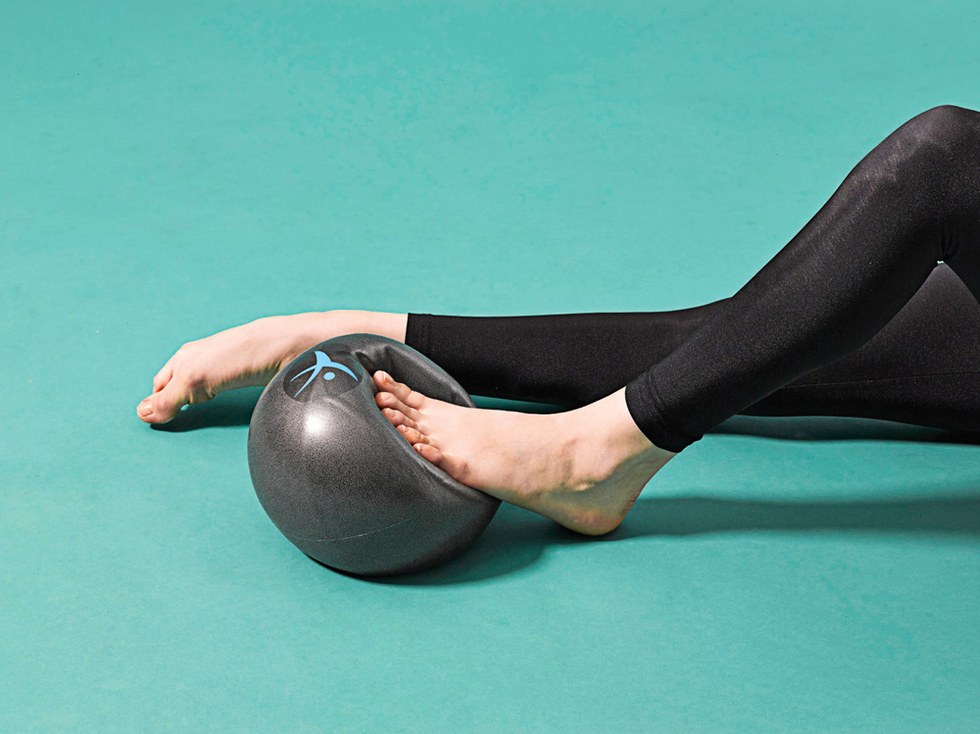 (Photo by Nathan Sayers)
1. Sit on the floor with your legs stretched out in front of you. Bend your left knee slightly so you can place the FLX ball beneath your left toes with your heel resting on the ground.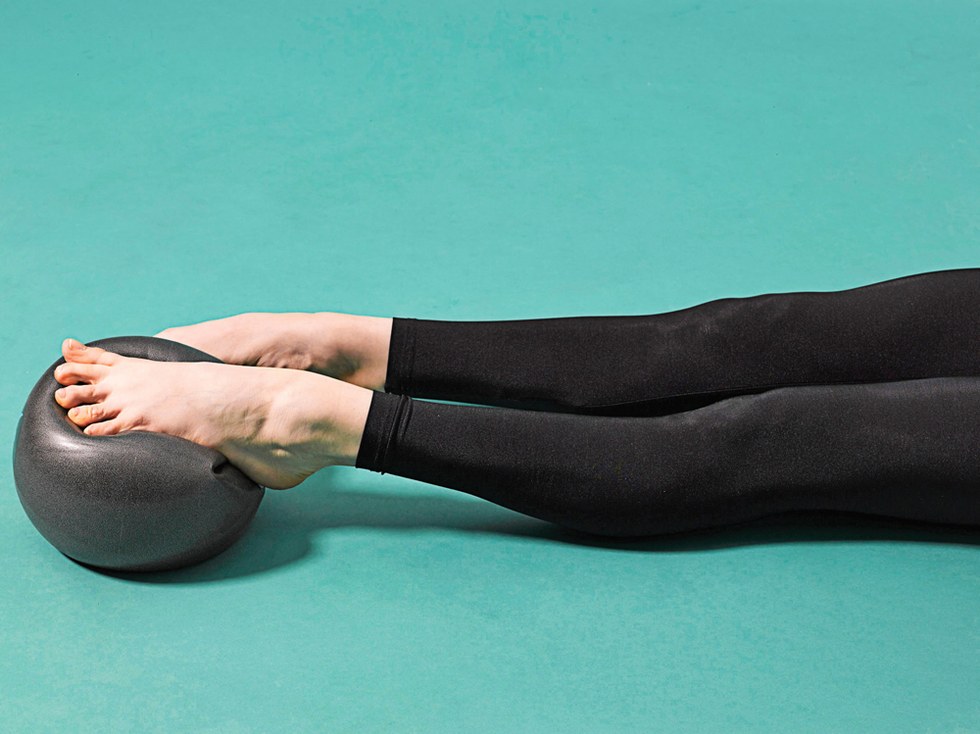 (Photo by Nathan Sayers)
2. Straighten your left knee so that your left arch shapes around the ball as it rolls away from you. Push down on the ball with your toes and arch as you hold the extended position for 10 counts. Repeat 15 times with each foot.
Hamrick says: "Keep your toes straight throughout this exercise to train your foot not to knuckle when it points."
There's been a lot of talk lately about how much athleticism is involved in dance. Clips like Harry Shum Jr.'s "Exploring Parallels with Sport and Dance" and Misty Copeland's kick-butt commercial for Under Armour have got people outside the dance world marveling at dancers' incredible strength and stamina. Of course, all this discussion leaves us wondering: How are people just now realizing that this is a thing?! I mean, dancers being athletic isn't new. Nevertheless, we appreciate the new-found recognition.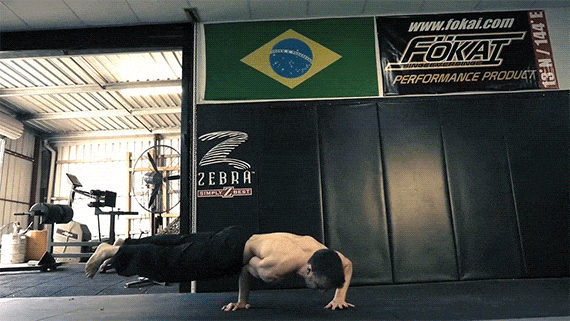 (gif via Huff Post Healthy Living)
So here's another video to throw into the mix: Simon Ata is an Australian break-dancer whose workout is nothing short of insane.
Exhibit A–Z: He does pushups with his feet off the floor...
The video of his entire workout routine is quite beautiful to watch (he's a dancer, after all), and it demonstrates that dancers aren't necessarily as in shape as other athletes—they go way above and beyond that.
Check it out:
Style Lab
May. 01, 2014 04:01PM EST
Surely you've heard of Physique 57 by now. The barre-based classes—held at six studios, including locations in NYC, the Hamptons and Beverly Hills—are frequented by celebrities such as Kelly Ripa, Zooey Deschanel and Emmy Rossum. And the stars are heading to Physique for a reason: The 57-minute classes hit every muscle in your body, and they do so without the use of any crazy-heavy weights, which is a plus for young dancers. "It can be dangerous to lift heavy weights during adolescence," says dancer, personal trainer and NYC-based Physique 57 instructor Jessica Rochwarger. "The pressure can fuse your growth plates, which can ultimately stunt your growth."
These four exercises—all Physique 57 staples—focus on the muscle groups you may be neglecting during your dance classes. "They work your opposing muscles and complement the body parts you're already working," Jessica says. "They'll help your body become more balanced, which will make you a stronger, better dancer."
What You'll Need: A yoga mat, a playground ball and a chair.
The Pretzel
What you're working: your seat, hips and waistline.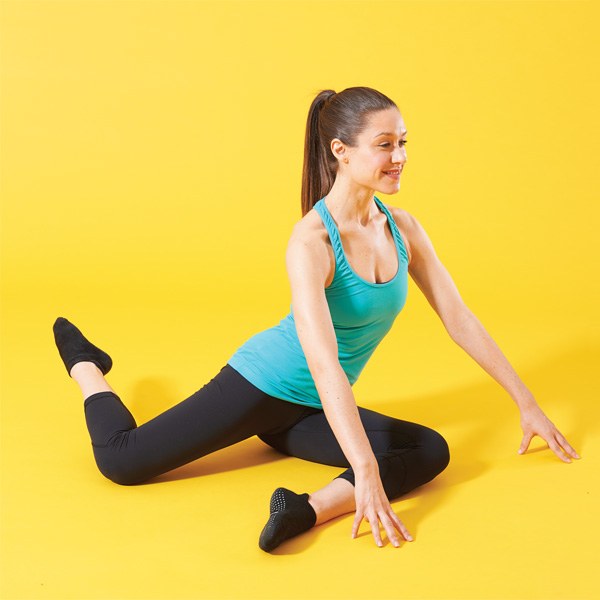 Begin seated with your left leg at a 90-degree angle in front of you and your right leg at a 90-degree angle behind you, keeping your right thigh as far behind you as possible. Your hands can be on the floor in front of you for stability—or, to make the exercise harder, bring them into prayer position in front of your chest.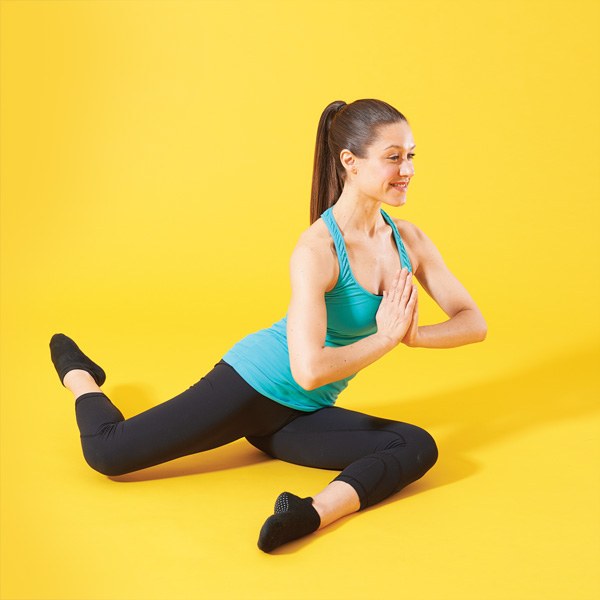 Keeping your abs engaged, raise your right leg slightly off the floor and pulse it up and down 20 to 30 times.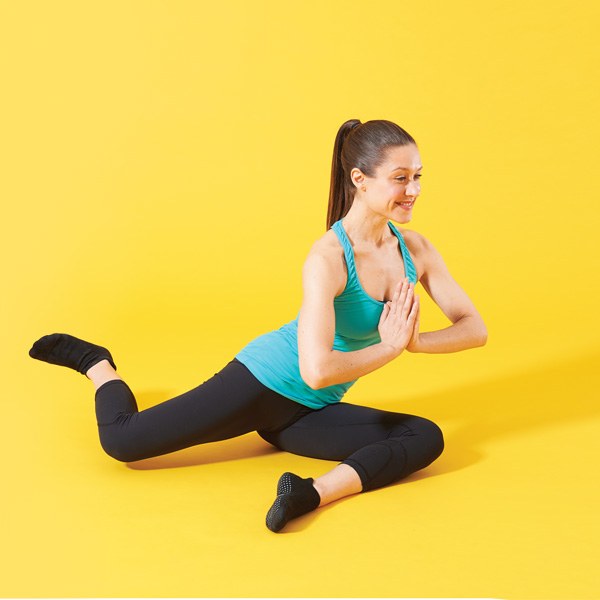 With a flexed foot, press your right leg backward, slightly extending your leg, 20 to 30 times, continuing to sit as upright as possible.
Jessica says: "The key is to keep pressing your front hip down."
The Curtsy
What you're working: your thighs, core, back and balance.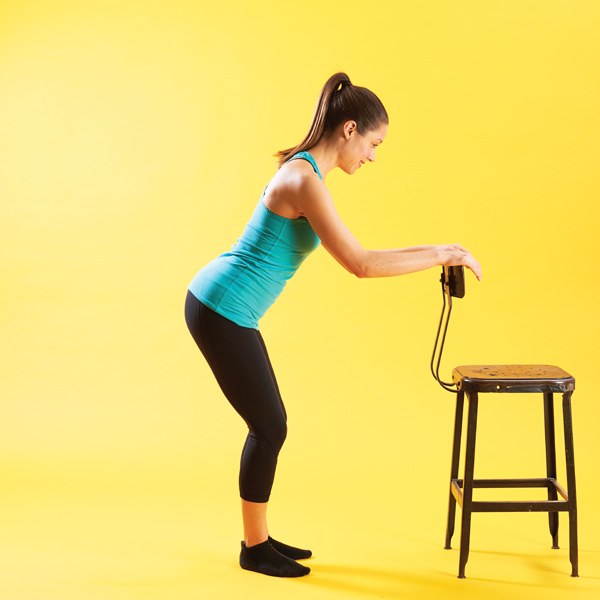 Start in plié with your feet in a comfortable first position and your hands resting lightly on a chair in front of you. Lean your body forward at a 45-degree angle.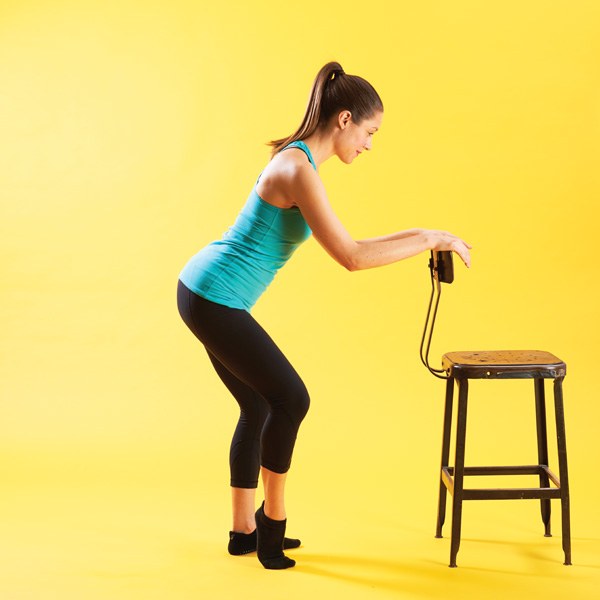 Lift your right heel, then slide your right leg back about two feet along the floor, crossing behind your body so your right foot is in line with your left shoulder.
Jessica says: "You're working your turnout muscles. And the lower you go, the more you're working your thighs."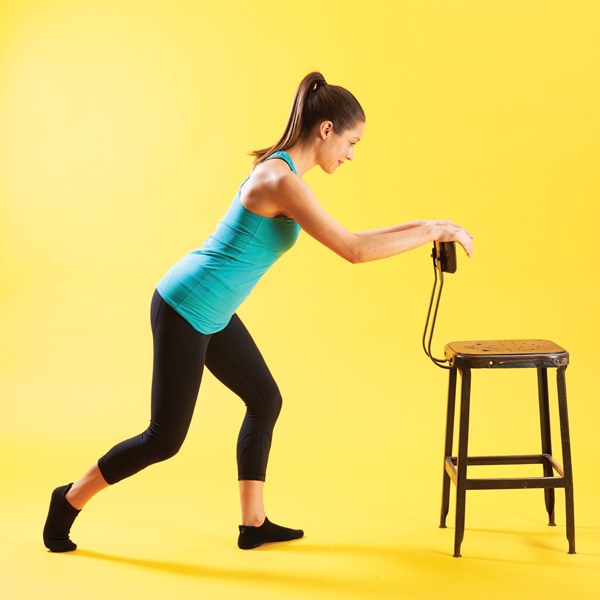 Keep your back heel high and your front foot flat as you plié further toward the floor. Keep your hips and shoulders squared and your front knee in line with your ankle.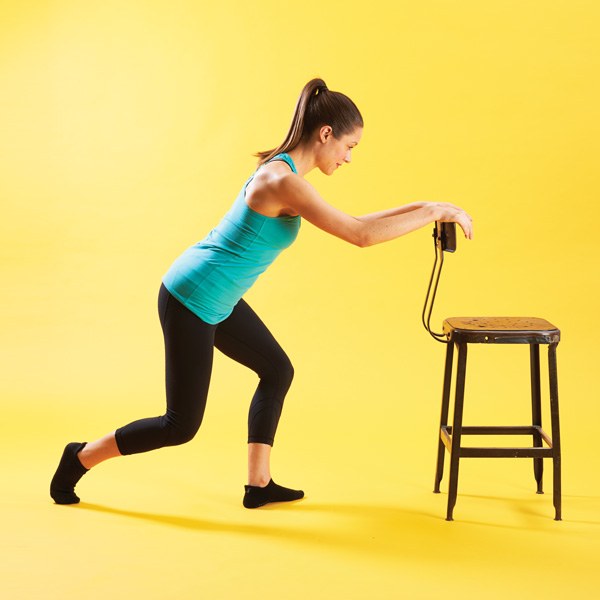 Do 30 to 60 pulses up and down and then repeat on the other side.
The Superwoman
What you're working: your abs.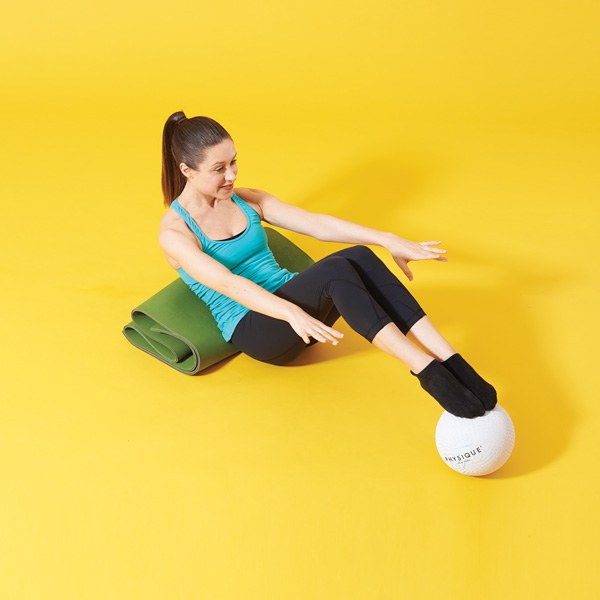 In a seated position, place a cushion (like a rolled-up yoga mat) behind your lower back and lower your torso onto it, keeping your head, neck and shoulders lifted. Point your feet and place them on a ball in front of you with your knees bent and your arms lifted by your sides.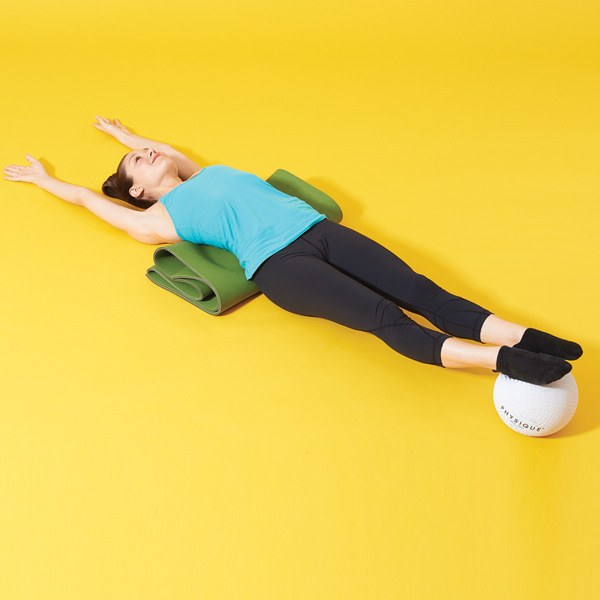 Inhale as you extend your arms and legs and lean backward, pushing
the ball away from your body.
Keeping your navel pulled down, exhale as you return to the starting position. Repeat 30 to 60 times.
Jessica says: "When you return to starting position, don't sit all the way up. If you come all the way up, you're using momentum, not muscle. Keep your abs hugged in tight."
The Deli Slicer
What you're working: your seat, hamstrings, and obliques.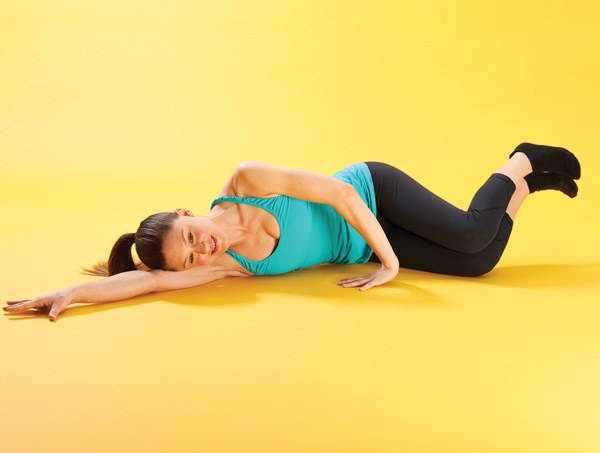 Lie down on your right side with your right arm extended under your head and your left palm on the floor in front of your chest for support. Bend your knees in toward your chest at a 90-degree angle to your upper body. Lift your feet off the floor, keeping your knees on the ground, your feet together and your shoulders and hips in line with each other. Press your left palm into the floor to engage your oblique muscles.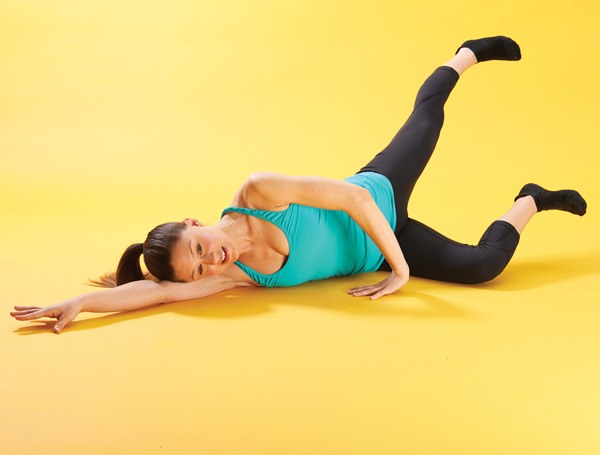 Straighten your left leg, pressing it up and out behind you on a diagonal as far back as possible while keeping your hips stacked and abdominals engaged. Then bring your leg back in. Think of your top knee sliding along the inside of your bottom leg like a deli slicer as you bend and straighten the top leg. Repeat 15 times slowly and 20 times quickly, then switch sides.
Jessica Rochwarger is an instructor at Physique 57 in NYC. She holds a degree in dance from Barnard College and is a NASM-certified personal trainer and AFAA-certified group trainer.
Photography by Nathan Sayers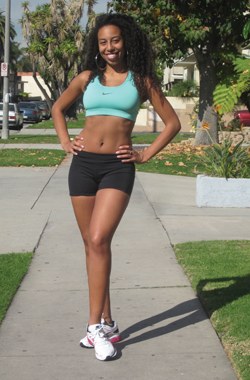 Maud Arnold (by Tadeo Arnold)
At DS we spend our days fawning over Lauren Froderman's fabulous legs, Ashly Costa's impressive abs and Maud Arnold's awesome curves—so naturally we wanted to know how these pros stay in such great shape. Turns out, they work hard to maintain their totally toned bodies. But they've also found ways to keep fitness fun. So what are their go-to exercises for feeling good and looking great? Read on!
Maud Arnold, tap dancer
Workout she swears by: Cuerpaso, a class designed by her brother, Tadeo, a celebrity fitness trainer. "It's a full-body workout that uses a soccer ball and Latin dance moves to tone all of your hot spots. Cuerpaso targets my 'problem areas'—my stomach, thighs and butt. Plus, my brother doesn't let me slack off, so I get results fast. I love being challenged physically, feeling like the workout is nearly impossible, and then realizing I'm actually able to do it."
How it helps her dancing: "It makes me stronger overall. If I can squat 45 pounds, holding my own weight tap dancing feels like a breeze. My core is solid, and I've built major stamina."
Her favorite way to get sweaty: "In tap class with lots of other dancers and no air conditioning. I feel like I'm accomplishing something when I'm dripping with sweat."
Her best fitness tip: "Being healthy is a lifestyle, not something you do when you feel like it. Commit!"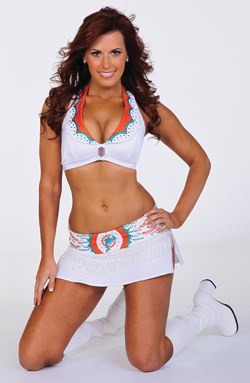 Amy (copyright Miami Dolphins, LTD)
Amy, Miami Dolphins cheerleader
Workout she swears by: Indoor cycling classes. "They give fast results and you feel great at the end of class. It's also up to you to choose how hard to push yourself."
How it helps her dancing: "We perform on the sidelines of every home game—that's up to four hours at a time. Cycling helps build endurance, which we need from the start of the game to the final seconds."
Her favorite way to get sweaty: "Going for a morning jog before the sun gets too brutal. It feels wonderful to exercise outside while enjoying a cool breeze."
Her best fitness tip: "If you want to be healthy inside and out, you need to give your body the natural fuel it needs: food! The foods you eat will ultimately get you the results you want. Treat your body with respect, and it will love you back."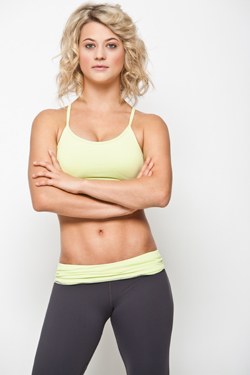 Lauren Froderman (by Vince Trupsin)
Lauren Froderman, winner, "So You Think You Can Dance" Season 7
Workout she swears by: "I love the elliptical machine!"
How it helps her dancing: "Having slim, strong legs improves my extensions and helps me move in a grounded, swift, powerful way. I get that from the elliptical."
Her favorite way to get sweaty: "I love trying different exercise classes, like Zumba, indoor cycling and barre method."
Her best fitness tip: "Stay hydrated and stay motivated. Results don't happen overnight, but you'll feel better every time you get up and do something to stay in shape."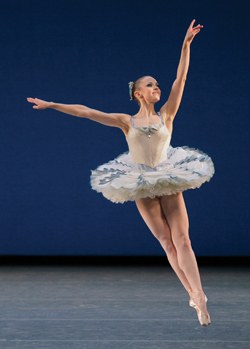 Anderson in George Balanchine's Divertimento No. 15 (by Paul Kolnik)
Marika Anderson, corps de ballet member, New York City Ballet
Workout she swears by: Gyrotonic, a holistic approach to exercise designed to increase strength, flexibility and energy.
How it helps her dancing: "It lengthens and strengthens my body, and it has taught me how to use my muscles differently. My trainer has a good eye and comes to the ballet often, so she can offer tips on how to strengthen certain areas."
Her favorite way to get sweaty: Bikram yoga.
Her best fitness tip: "Find something that inspires you and that you connect with. Otherwise, working out can be a struggle."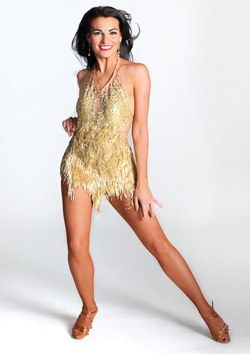 Ashly Costa (by Omi)
Ashly Costa, professional, "Dancing with the Stars"
Workout she swears by: Core work. "I do a mix of Pilates, planks with twists on each side and sit-ups on an exercise ball. I love the burn that comes from core exercises, and if you work consistently, you see real results."
How it helps her dancing: "As a dancer, your abs are some of your most important assets. Core strength helps you maintain good form and posture in all dance styles. Without a strong core, I can't dance my best."
Her favorite way to get sweaty: "Dancing the jive!"
Her best fitness tip: "Do something you love that also challenges you."
These Are A Few of Our Favorite Sweat Songs
Whether you're stretching or strength training, a good workout playlist can make all the difference in your moves—and your motivation! Here's what the stars are working out to right now.
•"Take Him Out" by Mya, featuring Spice; and "Diva" by Beyoncé —Maud Arnold
•"One minute I'll be rocking out to Jennifer Lopez and David Guetta, and then I'll switch to country songs by Luke Bryan. Any song with a great beat is perfect for working out." —Amy
•"Wild Ones" by Flo Rida, featuring Sia —Lauren Froderman
•"DJ Got Us Fallin' in Love" by Usher, featuring Pitbull —Ashly Costa
•"Anything by Billy Idol, Michael Jackson or The Beatles." —Marika Anderson
Dance Team
Mar. 13, 2012 04:05PM EST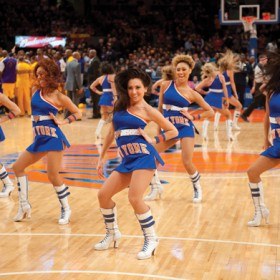 courtesy Madison Square Garden
The Knicks City Dancers are perhaps the most iconic sideline stars in the NBA. From their hard-hitting center court routines to the time they spend mingling with fans in the stands, the 22 members of the KCD work hard to live up to their well-deserved reputation.
The 2011–12 season marks the KCD's 20th anniversary. The current team features a diverse group of gorgeous girls, like Ana, who hails from Brazil; Sierra, who spends her off-court time as a professional DJ; and Alyssa, who went to school for kinesiology and applied physiology.
Being a member of the team, which performs at all New York Knicks home games at Madison Square Garden, requires more than just stellar technique and a totally toned body. These young women all have side jobs or additional careers, and many are in graduate school. "Being a Knicks City Dancer is a part-time job but a full-time commitment," says Sierra, a five-year team veteran and current co-captain.
Think you're cut out for a career with the KCD? Dance Spirit got team members Ally, Sierra and Sarahbeth to dish about what it takes to snag a spot on the squad. Take notes—all three girls made the team on the first try!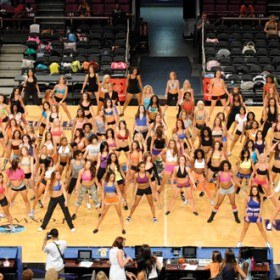 Each dancer on the team (except the caption and co-captains) has to re-audition every season. "It keeps us on our toes," Ally says.
Ally, Sierra and Sarahbeth's Top 10 Knicks City Dancers Tryout Tips
1 Arrive at the audition at least an hour early. "Get a good place in line," Ally says. "You don't want to be left waiting outside."
2 Wear a flattering, eye-catching audition outfit. "I'm an athletic person, so I always wear a sports bra and shorts," Ally says. "Never wear all black or all white. Add a pop of color that's noticeable—you want to stand out—but not overwhelming. Make sure the judges can see your body. They want to see that it's healthy, but remember that healthy doesn't necessarily just mean skinny." Adds Sierra: "You should feel great in your audition outfit. You go to the gym and take dance classes—don't hide your hard work!"
3 Be stage-ready. "Come with full hair and makeup," Sarahbeth says.
4 When you walk into the audition, look like you're already a part of the team. "Check out the KCD website beforehand to figure out the team's look," Sierra says. "Don't lose your personal style, but adopt theirs and work it into your own." It's also crucial to research the team's history. "Learn about past team members and routines," Sarahbeth says.
5 Eat properly on audition day. Tryouts often last an entire day, so fuel up. "Eat a well-balanced breakfast—I'm a big fan of oatmeal, bananas and coconut water—and make sure you're hydrated," Ally says.
6 Show off your dance training. "Remember that great dancing stems from your technique. It's not just about performance quality," Sierra says.
7 Be ready to learn choreography quickly. "We learn a routine in one night, clean it
the next night and then perform it later that week," Sierra says. "Being able to pick up moves fast will help you throughout the year."
8 go front and center—at least at first. "You don't want to be hidden, and if you stand front and center during the audition it shows initiative," Sarahbeth says. "Eventually you'll take turns in front, but try to get there at the beginning."
9 Prepare for an interview. KCD hopefuls who advance to the second round have individual interviews with the judges. "Let them get to know you on a personal level," Sierra says. "Tell them exactly why you were made for their team."
10 Attend a clinic. The KCD hold clinics throughout the tristate area during the year. "They're mock auditions," Sarahbeth says. Going to a clinic will prepare you for everything the judges may throw your way at the actual tryout. You'll learn routines from the previous year's audition and the current dancers will teach the technical tricks often incorporated in the KCD choreography. It's an instant leg up on the competition!
Michelle Harris, director of entertainment marketing for the New York Knicks, is a former Knicks City Dancer and captain. Her top audition tip? "Find out what sets you apart from every other dancer—then highlight that. Tumbling will definitely give you an advantage."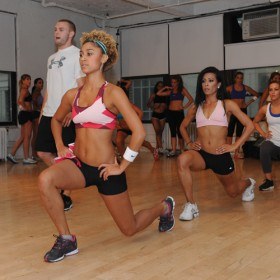 HOW TO LOOK HOT (Knicks City Dancer Hot!)
The Knicks City Dancers work hard for those flat abs and rock-hard thighs! Here are Sarahbeth's favorite KCD-approved exercises and healthy-living tips:
Always warm up. "You don't want to dance with cold muscles. Do jumping jacks or crunches, take a quick jog or hold a plank before it's time to perform."
Work your core. "I do 200 crunches when I wake up and 200 before I go to bed. I include oblique exercises, like twisting crunches, and I do standing side bends with dumbbells in my hands (50 bends on each side). I finish up with three rounds of two-minute planks, with short breaks in between." [DS says: Sarahbeth is hardcore! Start with a 20-second plank and build from there until you can hold it for two minutes.]
Pump up your arms. "I do 20 tricep dips (use a sturdy bench, table or chair for support) between rounds of planks."
Get rest. "I like to get seven to eight hours of sleep a night. It's not always possible with a crazy schedule, but I try."
Hydrate. "Don't drink soda. I carry a big jug of water around with me all day, and I'm constantly refilling it."
THE KNICKS CITY DANCERS BY THE NUMBERS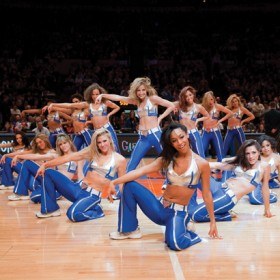 500 women audition for the team each year. They come from all over the country and the world.
30 finalists are selected to attend the KCD training camp. After an open call, the finalists go through a series of rehearsals and fitness tests so the judges can see what their work ethic is like.
22 women made the team for the 2011–12 season, including a captain and two co-captains.
10+ hours are spent rehearsing each week, plus two additional hours on game days.
14–18 dancers are on the floor each night. The entire team doesn't perform during games. The bigger the game, the more dancers are on the floor.
19,463 seats are in Madison Square Garden, where the Knicks City Dancers perform.
33 performance nights are planned for the current season. The dancers perform at every home game, plus playoffs. In a regular season there are 41 home games, but there are only
33 this season due to the NBA lockout at the beginning of the season.
30 routines are performed by the KCD throughout the season.
4+ is the number of times the team performs per game. The girls take the floor for two full routines, during player introductions and during fourth-quarter "hype" timeouts.
5 pairs of shoes are worn by each team member: sneakers, boots (two pairs), character shoes and appearance high heels.
13 costumes are worn by each dancer throughout the season.
MEET THE DANCERS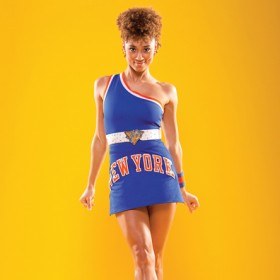 Ally
Ally
Years on the team: 3
Dance training: Ally went to high school at the New World School of the Arts in her hometown of Miami, FL. She graduated with a BFA from the Ailey/Fordham program and then went on to dance with Complexions Contemporary Ballet. She joined the KCD soon after.
Why KCD? "I love concert dance, but
I wanted a wider range of exposure. On a dance team we get to travel, perform all the time and dance on a 360-degree stage."
Favorite thing about being a KCD: "My teammates. They are all driven, amazing dancers."
Best KCD perk: "Performing at MSG!"
Advice for KCD hopefuls: "You're in the public eye. Having a wonderful, positive personality goes a long way."
Non-KCD job: Ally is a model with Wilhelmina Models and has been the face of the Under Armour women's line for three years. She is also a backup dancer for Pitbull.
Hobbies: "I love to cook—especially chicken stew! I also love planners, notebooks and pens. Every year I devote a week to finding a perfect planner."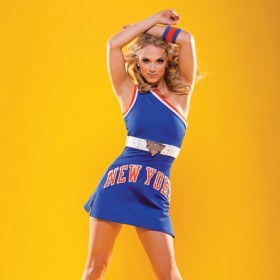 Sierra
Sierra
Years on the team: 5 (currently co-captain)
Dance training: Sierra trained in ballet and pointe for 14 years in Lincoln, NE, and attended summer intensives at Boston Ballet, American Ballet Theatre and the Joffrey Ballet. After high school, she moved to NYC and joined the KCD.
Why KCD? "This team represents NYC. The women are strong, talented and classy."
Best KCD perk: Working with the Garden of Dreams Foundation. "We help make dreams come true for kids facing various obstacles. When you spend time with the kids you get this amazing feeling, knowing you can affect someone else's life."
Advice for KCD hopefuls: "Remember that this is a team, and at the end of the day we walk onto the court as a group. It's not just you out there—we work together."
Non-KCD job: Sierra is a model, teaches ballet and pointe at a dance studio on Long Island, NY, and is a DJ for STADJ, a company for model/DJs. "I didn't have DJ experience before, but the company trained me," she says.
Hobby: "I just started playing the guitar. I can play 'Firework' by Katy Perry."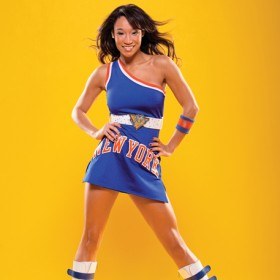 Sarahbeth
Sarahbeth
Years on the team: 5
Dance training: Sarahbeth began dancing when she was 4 in Long Island, NY. She trained in all styles and danced with her high school dance/kickline team. After years of competing with both her studio and high school and attending summer intensives at New York City Dance Alliance and American Ballet Theatre, Sarahbeth went on to Marymount Manhattan College. She graduated last May with a major in dance and minor in business.
Why KCD? "Growing up, I watched Knicks games with my father, and I would always watch the dance team. I used to go on the KCD website to check out the dancers. I wanted to be a part of that."
Best KCD perk: "Traveling. We've been to China, Taiwan, Milan, Paris, India, the Philippines and Abu Dhabi for events."
Advice for KCD hopefuls: "Take classes! You have to be versatile. You can't just be a hip-hop or jazz dancer. We incorporate everything from musical theater to ballet in our routines."
Non-KCD job: Sarahbeth coaches her former dance and kickline team in Smithtown, Long Island.


Get Dance Spirit in your inbox