How To
Jan. 10, 2013 11:56AM EST
Few things wow an audience like an explosive side leap. But before you bust out this move in your next jazz routine, make sure you're doing it correctly! Tracie Stanfield, who teaches the "Leaps & Turns" class at Broadway Dance Center in NYC, suggests these exercises to ensure you have the proper placement and strength to nail this impressive jump every time.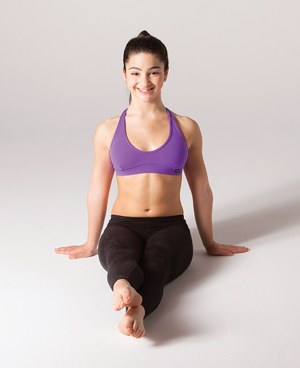 Warm-up:
This exercise lets you practice the coordination of a side leap without the jump. "The coordination is the trickiest part," Stanfield says. "The first leg has to développé while the second leg does a battement at the same time."
Sit on the floor with your hands behind you. Extend your legs to the front in fifth position, with your feet pointed and the right leg on top.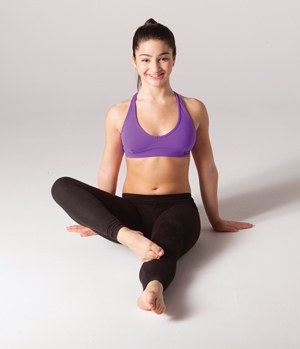 Lift your right leg to passé.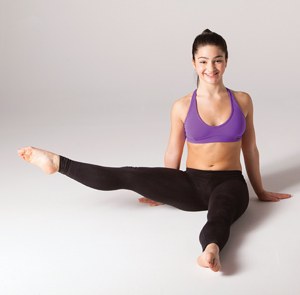 Développé your right leg to second. Don't crunch your back! Pull up out of your hips and brace with your arms so you don't lean back.
Return your right leg to sous-sus.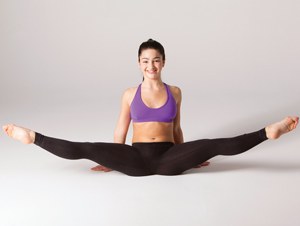 Lift your right leg to passé again, and as you extend it to second, battement your left leg out to second simultaneously. Your legs should hit the final straddle position at the same time.
Return to fifth and repeat on the left side.
Click here to watch Tracie Stanfield teach this exercise.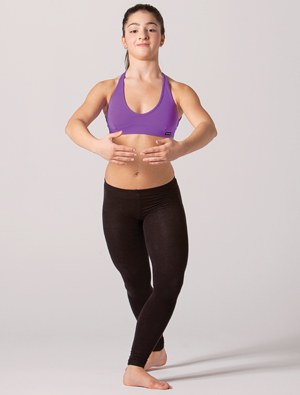 In the center:
This exercise will help you find your true second—the position you should be hitting in the air. "Even though it's a side leap, your legs aren't directly to the side, they're to your turnout," Stanfield says. "Aim for the corners. Then, once you find your turnout, you can try to open it up a little more."
Start standing in a wide fourth position with your right leg back.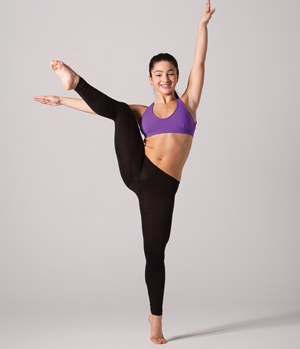 Brush your right foot through first position and relevé as you arrive in attitude à la seconde. Keep your arms slightly forward, so your rib cage doesn't open up. Turn out your right leg as much as possible.
Return to fourth position, coming back through first.
Repeat four times and switch sides.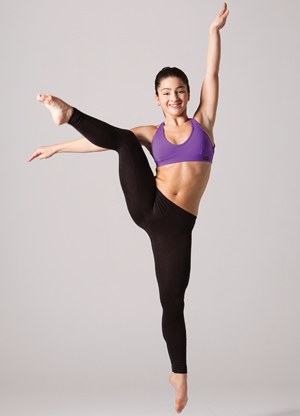 The next step: Repeat the exercise, but this time, when you brush your working leg to attitude, push off your standing leg into a jump. To build strength, focus on pointing and turning out your bottom leg. The working leg should be in the same place it was in relevé.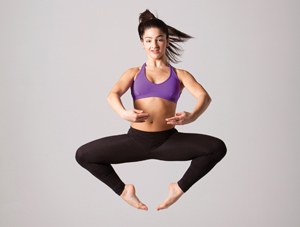 Across the floor:
Now you're ready to leap! "This is a building exercise," Stanfield says. "Start with pas de chats, then open them up, then let them go. You have to really push up off the floor with each jump."
Tombé, pas de bourrée, glissade and pas de chat. Focus on hitting the diamond position of the pas de chat in the air.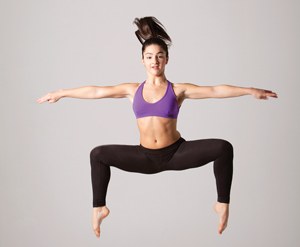 Glissade again, and jump into an open pas de chat, with your legs making right angles and your feet pointing directly down at the floor. Keep your back and neck long, and open your legs from the hips. Your arms should be in second position.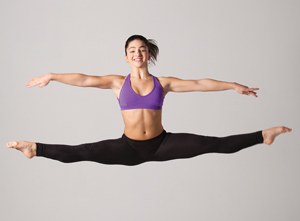 Glissade again, and go for the full side leap. Remember to reach your toes to the corners of the room instead of straight to the side, and to hit second position with both legs at the same time.
No funny faces! Stanfield says: "To avoid sticking out your tongue, try pressing it to the roof of your mouth. Think about having big eyes and exhaling on the leap instead of holding your breath."
Much of Janelle Ginestra's career has been about helping others shine. She's dedicated herself to supporting and cheerleading her partner, WilldaBeast Adams; the emerging talents in their dance company, ImmaBEAST; and the countless dancers she inspires at master classes and conventions. Her YouTube channel has become a launching pad for young talents like "Fraternal Twins" Larsen Thompson and Taylor Hatala, thanks to viral videos featuring Ginestra's creative vision.
But Ginestra's a skyrocketing success in her own right—an in-demand choreographer, a social media influencer, and a dance entrepreneur, building a legacy one eight-count at a time. It's time for her turn in the spotlight. And she's more than ready. "I want to be a legend in whatever I do," she says. We'd argue that she already is.
Keep reading...
Show less
Win It
Oct. 13, 2017 04:31PM EST
Daphne Lee is a queen, and not just in the "OMG Girl Boss Alert" sense of the word. She's an actual queen—a beauty queen. Crowned Miss Black USA in August, she's been doing double duty as she continues to dance with the Memphis based dance company, Collage Dance Collective. Lee's new title has given her the means to encourage other black girls and boys to pursue their dreams, while also pursuing dreams of her own. The scholarship money awarded with the pageant title will assist her as she earns a Masters of Fine Arts degree at Hollins University.
Keep reading...
Show less
When a choreographer finds a composer whose music truly inspires her, it can feel like a match made in dance heaven. Some choreographers work with the same composers so frequently that they become known for their partnerships. New York City Ballet soloist and resident choreographer Justin Peck, for example, has tapped composer Sufjan Stevens numerous times (last spring, the two premiered The Decalogue at NYCB, to rave reviews); L.A. Dance Project's Benjamin Millepied's working relationship with composer Nico Muhly has spanned a decade and two continents; and when tap dancer Michelle Dorrance premiered the first-ever Works & Process Rotunda Project, a site-specific work for New York City's Guggenheim Museum, last year, percussionist Nicholas Van Young was by her side as an equal partner. Successful collaborations require compatibility between artists, direct and honest communication, and flexible, open minds. But when the stars align, working with a composer can be extremely rewarding.
Keep reading...
Show less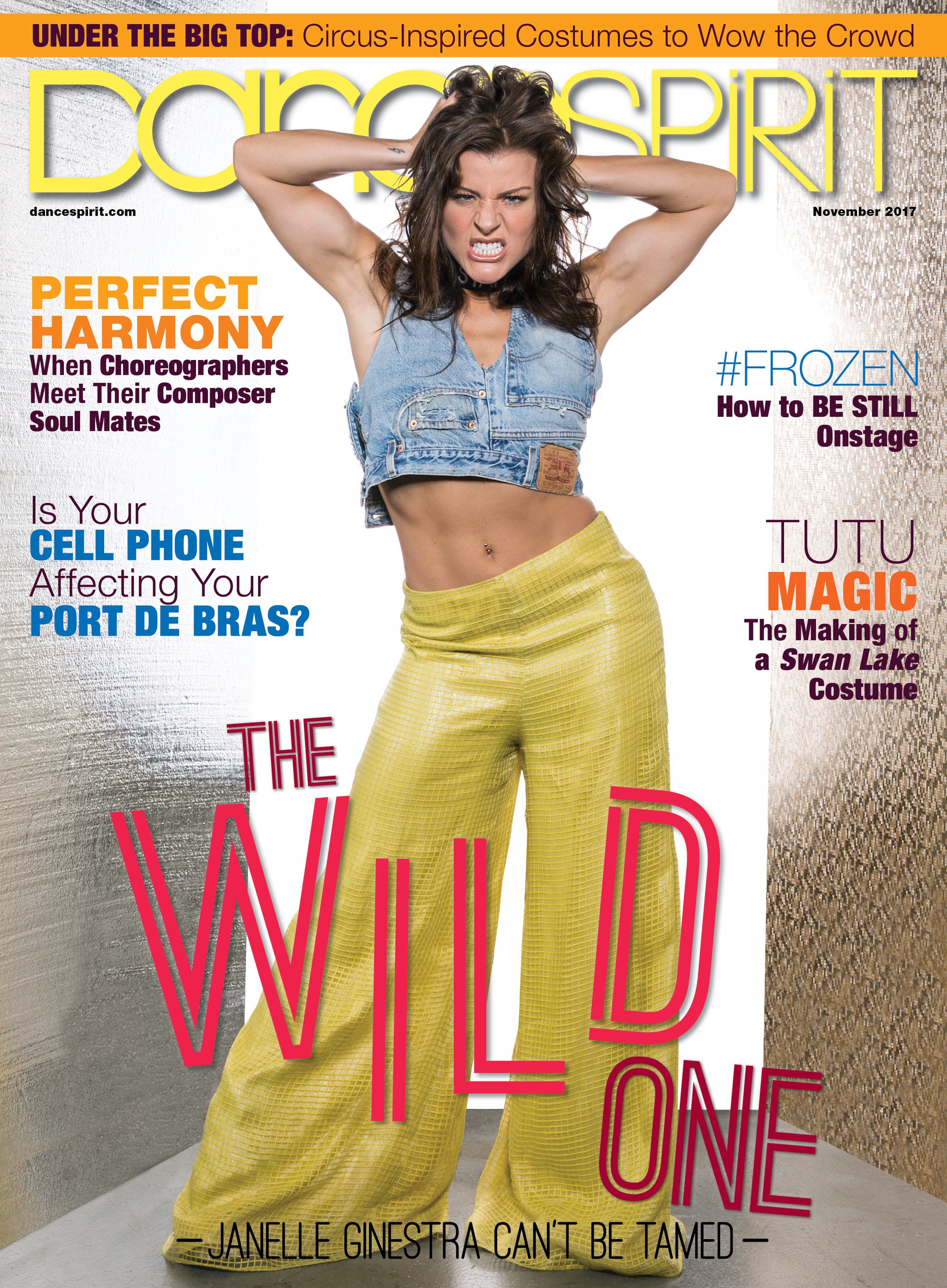 Get Dance Spirit in your inbox