Tap
Mar. 23, 2017 03:11PM EST
Melinda Sullivan's Gone (Steve Gunther Photography, courtesy Sullivan)
Five women in leather-soled boots sweep their feet across a sand-covered stage, accenting the music in maraca-like rhythms. With its chugs, brushes, heel drops and slides, their movement looks a lot like tap dancing, but the sound is different—scratchier and rougher. This is sand dance. The scene described is from tap dancer/choreographer Melinda Sullivan's 2012 video entry to the Capezio A.C.E. Awards, Gone. (She went on to win first place at the competition.) "Experimenting with sand dancing really changed the way I tap," Sullivan says. "It's like playing a whole new instrument." Interested in giving sand dance a try? Before turning your dance studio into a private beach, read on for the need-to-know on this sub-style.
Keep reading...
Show less
Tap
Jun. 16, 2015 07:06AM EST
When we talk about tap, we often use the terms "tapper" and "hoofer" interchangeably—but the two aren't really synonymous. " 'Hoofer' is kind of a loaded term when we use it to describe today's tappers," says tap master teacher Derick K. Grant. It's not unlike the term "ballerina": You don't call just anyone a ballerina, because a ballet dancer needs to have achieved a certain level of artistry to earn the status. "The title 'hoofer' deserves respect and care," agrees tap icon Jason Samuels Smith. "It needs to be used delicately, and only in the appropriate context."
So what does it mean to be a hoofer in the 21st century? Dance Spirit asked Grant, Smith and Michela Marino Lerman—three tappers with varying opinions on the subject—to weigh in on what "hoofing" really means.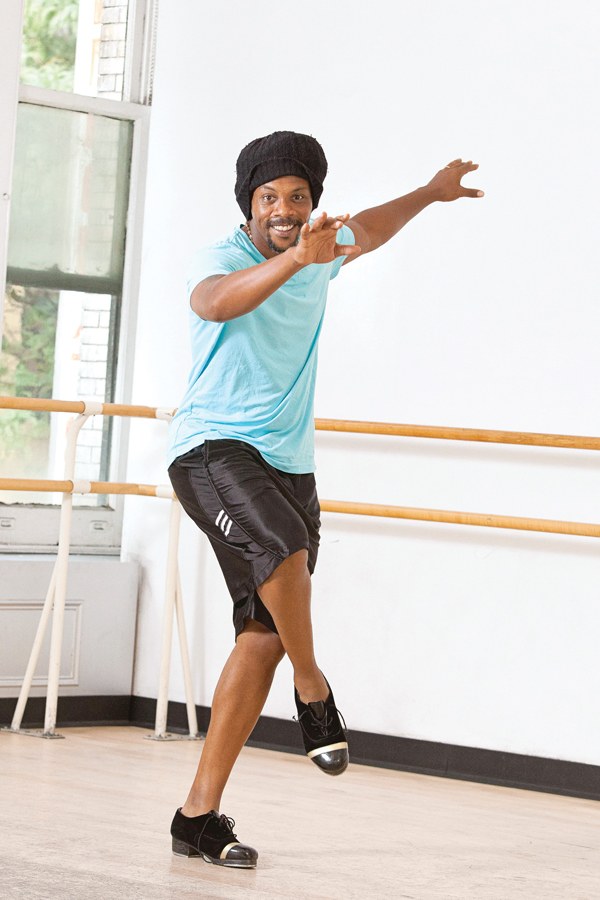 Derick K. Grant (photo by Matthew Murphy)
Derick K. Grant
What's a hoofer? "A hoofer is a hard-core, rugged, inner-city tapper with a 'tap or die' attitude. That idea comes from the original hoofers—Lon Chaney, Chuck Green, Buster Brown, Jimmy Slyde—who dominated the tap scene in Harlem, NYC, in the 1970s and '80s. These cats had swag out the roof. Typically impoverished African Americans, they performed with the knowledge that every nickel and dime counted, and that sense of urgency informed their style."
What does hoofing look like? "It's aggressive, it's sharp, it's clever. It's dancers stealing other dancers' material and finding imaginative ways to switch it up. In terms of the nuts and bolts of the technique, it tends to be a flat-footed style that's low to the ground—but that doesn't mean it's all one note. There are so many details between the toe and the heel of a tap shoe, and hoofers use weight to create all different shades and tones."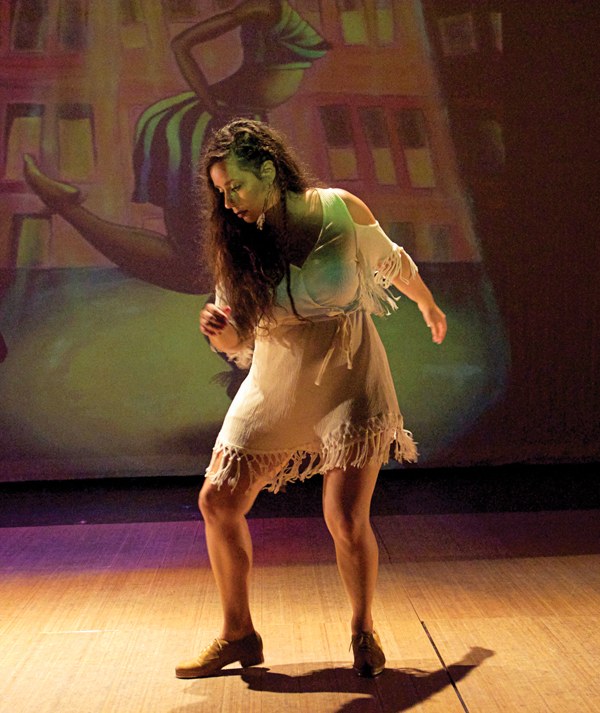 Michela Marino Lerman (photo by Sally Cohn, courtesy Michela Marino Lerman)
Michela Marino Lerman
What's a hoofer? "A hoofer is a person who tap dances—but it's deeper than that. Being a hoofer is a lifestyle. It's about sleeping, eating and breathing tap dance. To be a hoofer, you don't just have a run-of-the-mill dance life. You hang out with your fellow tap dancers until the early hours of the morning, you go to jazz clubs, you jam with all different types of people and you know music as well as you know dance. Improvisation is central: What do you feel in the moment, and how can you convey that feeling through your sound and movement? How can you move the audience to go with you on a journey? That's being a hoofer."
What does hoofing look like? "Hoofing looks and sounds like freedom. It's about getting in touch with that thing inside you just itching to get out. To be a hoofer, you have to be yourself—you can't copy other people. Of course, you draw inspiration from
everything around you, but you must find your own voice. When you're working with other tap dancers or musicians, it's about having an open ear, listening and communicating with all the elements surrounding you and telling a story."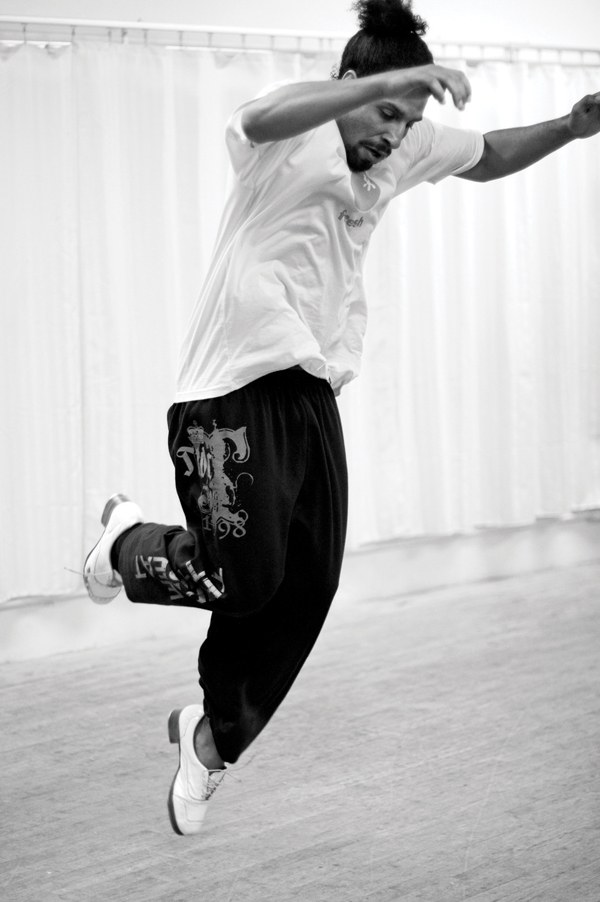 Jason Samuels Smith (photo by AK47 Division, courtesy Divine Rhythm Productions)
Jason Samuels Smith
What's a hoofer? "A hoofer is a tapper who's achieved a certain level of wisdom and sophistication in his or her craft. Hoofers are masters of improvisation, with a heightened sense of musicality. They're so dedicated to tap, they live it completely, to the point where it becomes not just a style of dance but a lifestyle. You can consider yourself a hoofer only after you've lived the life of one."
What does hoofing look like? "It's characterized by musical sensibility and approach. A hoofer doesn't dance over the music, or use it as a metronome. He becomes a part of the music, another musician in the band."
Tap
Dec. 01, 2014 02:00PM EST
Tap dancers often focus on making impressive, intricate sounds. But sometimes, it's nice to throw in a step that looks flashy, too. Next time you want to add a touch of pizzazz to your footwork, try incorporating one of these three tap power moves.
The counts included in parentheses are just suggestions—you can
incorporate these steps at any point in the music.
Don't get carried away! Power moves are most effective when used sparingly within a larger rhythmic context.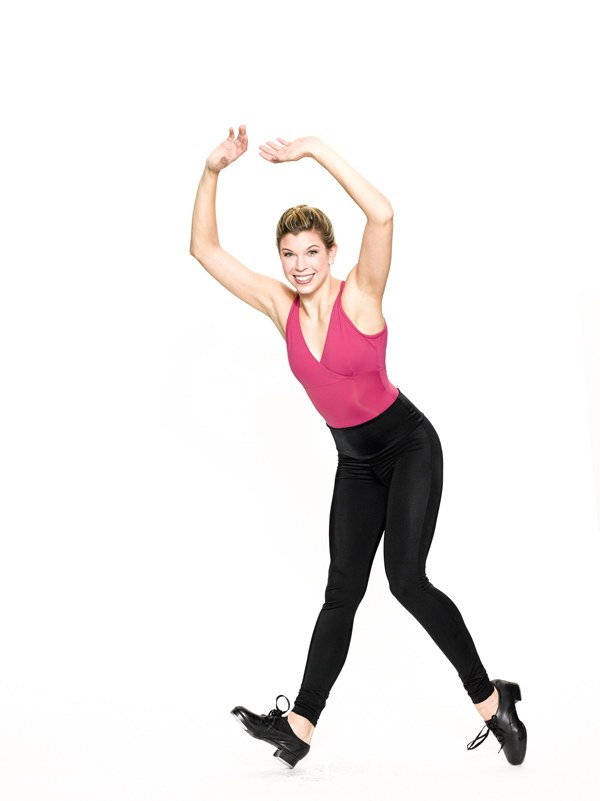 (Photo by Nathan Sayers)
The Shiggy Bop (aka "The Shovel")
How to do it: Begin with your weight in the ball of your right foot, and your left foot slightly lifted. Take off from the floor by scuffing your right heel forward and lifting your left foot higher (and). Land on the back edge of your right heel (a), then plant your left toe into the floor behind you (1).
Pro tips: "Engage your core, lean forward and use an upward motion of your arms to get the leverage to take the scuff off the floor." —Martin Bronson, rehearsal director for Chicago Human Rhythm Project's BAM!
"For successive shiggy bops, land on the ball of your back foot rather than the tip of your toe. Then transfer your weight to that back foot as you push it forward for the scuff of the next shiggy bop." —MB
Fun fact: Tapper Mike Minery coined the term "shiggy bop" for the shovel step.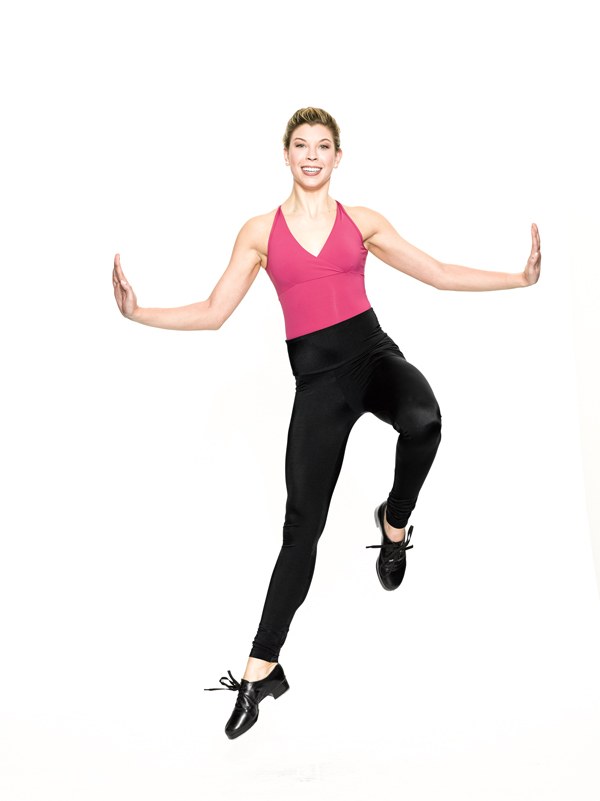 (Photo by Nathan Sayers)
The One-Footed Wing
How to do it: Begin on the ball of your right foot with your left foot slightly lifted. Bend your right leg without letting your heel touch the ground, and take off from the floor by scraping the outside of your toe tap to the right (and). At the same time, pull your left knee high to the side, slightly turned out. On the way back down, brush your right foot in towards your center (a) and then land on the ball of your right foot (1).
Pro tips: "Make sure you leave the ground with the scrape. The wrong way to do a wing is to hop off the floor, do a shuffle to the side and then land." —April Cook, tap instructor at Broadway Dance Center in NYC
"The closer you can get your nonworking leg into your body, the easier it's going to be to get off the floor." —AC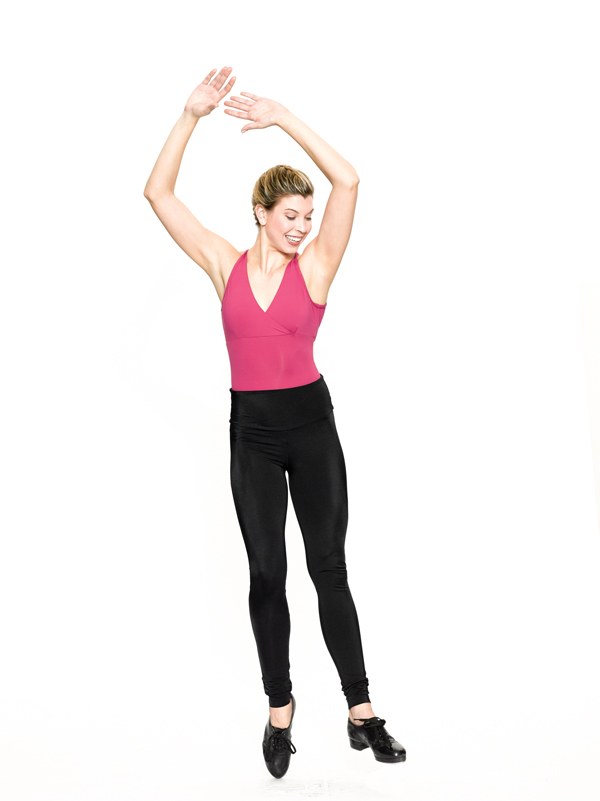 (Photo by Nathan Sayers)
The Toe-Stand Double Shuffle
How to do it: Begin in a parallel position with your left foot in the air. Press the toe tip
of your left shoe into the ground (1). While balancing on the left toe, do two quick, small shuffles underneath yourself with your right foot (2-e-and-a). Jump back down
to the starting position (3).
Pro tips: "Practice double shuffles on the ground before you take them up in the toe stand, keeping your ankle loose to get the timing." —MB
"Keep the double shuffle underneath yourself. This will help you make the sound with
the correct part of your shoe—the middle of the toe tap, as opposed to the side." —MB
Click here to watch Marie perform these three steps.
Tap
May. 01, 2014 11:30AM EST
We've all been captivated by dances that skillfully blend beautiful technique with an engaging storyline: classic ballets, rousing Broadway numbers, touching contemporary pieces, even lyrical hip-hop routines.
But what about tap? Sure, it's got intricate melodies and flashy footwork, but can you use it to develop a character? Absolutely! Many people don't realize it, but tap has unique tools for telling a story. DS asked three tappers known for their story-driven choreography for tips on conveying different personalities through rhythm.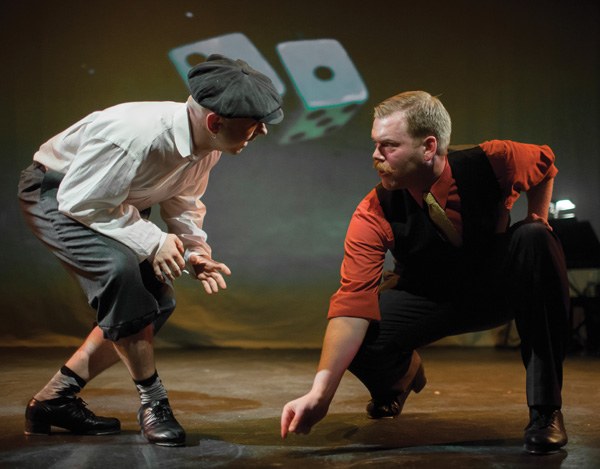 Mark Yonally (left) and Rich Ashworth (Photo by Josh Hawkins)
Build Your Story
Don't show off all your technical prowess right away. "Intricate footwork is detail in your story," says Jeannie Hill, a former dancer with NYC's Manhattan Tap and Jump Rhythm Jazz Project in Chicago. "If you spill too much detail in your story at once, it's as if you're speaking in monotone, and you risk boring your audience."
Hill, who also teaches and choreographs at the University of Wisconsin–Stevens Point, advises tappers to structure their choreography so that the footwork unfolds gradually—like a plot's rising action—to keep the audience intrigued. "It also helps to place certain steps where your listeners won't expect them musically, so they stay invested in your story," she says. "Make your audience wait for your double-time figures, for example, and then surprise them."
Keep It Clean
Trying—and failing—to execute steps that are too fast or difficult can distract from the character you're trying to convey. "Flash steps call for more preparation and physicality," says Melinda Sullivan, a Top 20 contestant on "So You Think You Can Dance" Season 7. "If you do a five-count wing out of nowhere, it will feel out of place unless there's real intention behind it."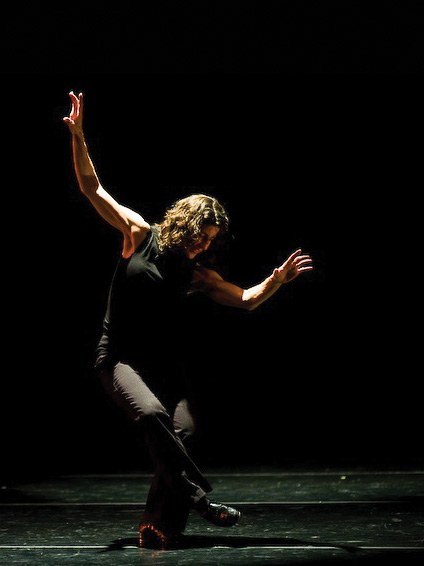 Jeannie Hill (Photo by Anna Marie Panlilio)
Play with Dynamics
The dynamics of your tapping—how sounds vary from loud to soft—can indicate the emotion your character is trying to express. "Imagine you're an actor delivering lines," says Sullivan. "If your dancing is louder or your rhythms are more intricate, you might be angry, excited or tense."
Or maybe your character is so excited that she can't find the right words to express it, so her taps are soft and subtle. This dynamic choice can produce a comedic effect, which will help keep the audience invested in your character.
Listen for Changes
Musical transitions can help guide your character's emotional responses, says Mark Yonally, artistic director of Chicago Tap Theatre. Pay attention to shifts—such as changes in meter or the introduction of a new instrument—and use them as signals to convey different expressions.
"There's an inherent emotional quality to certain rhythms," Yonally says. "It's nearly impossible to swing and be sorrowful, and waltz phrases are light and happy by nature. But a Latin or funk feel could convey frustration."
Take Advantage of Pattern
Patterns can help an audience follow the story you're trying to convey. In the traditional three-and-a-break structure, for instance, you repeat a phrase three times, and then finish with a different rhythm, either related to the original step or entirely new. The repetition allows you to develop your character, emotion or idea for the audience, and then the break adds new information, like a plot twist in a story.
"The rhythm becomes familiar and comforting," Hill says, "and then when you change it, the element of surprise catches your listeners off guard and keeps them interested in who you are and what you're saying. It leads into the next step and the next part of your story."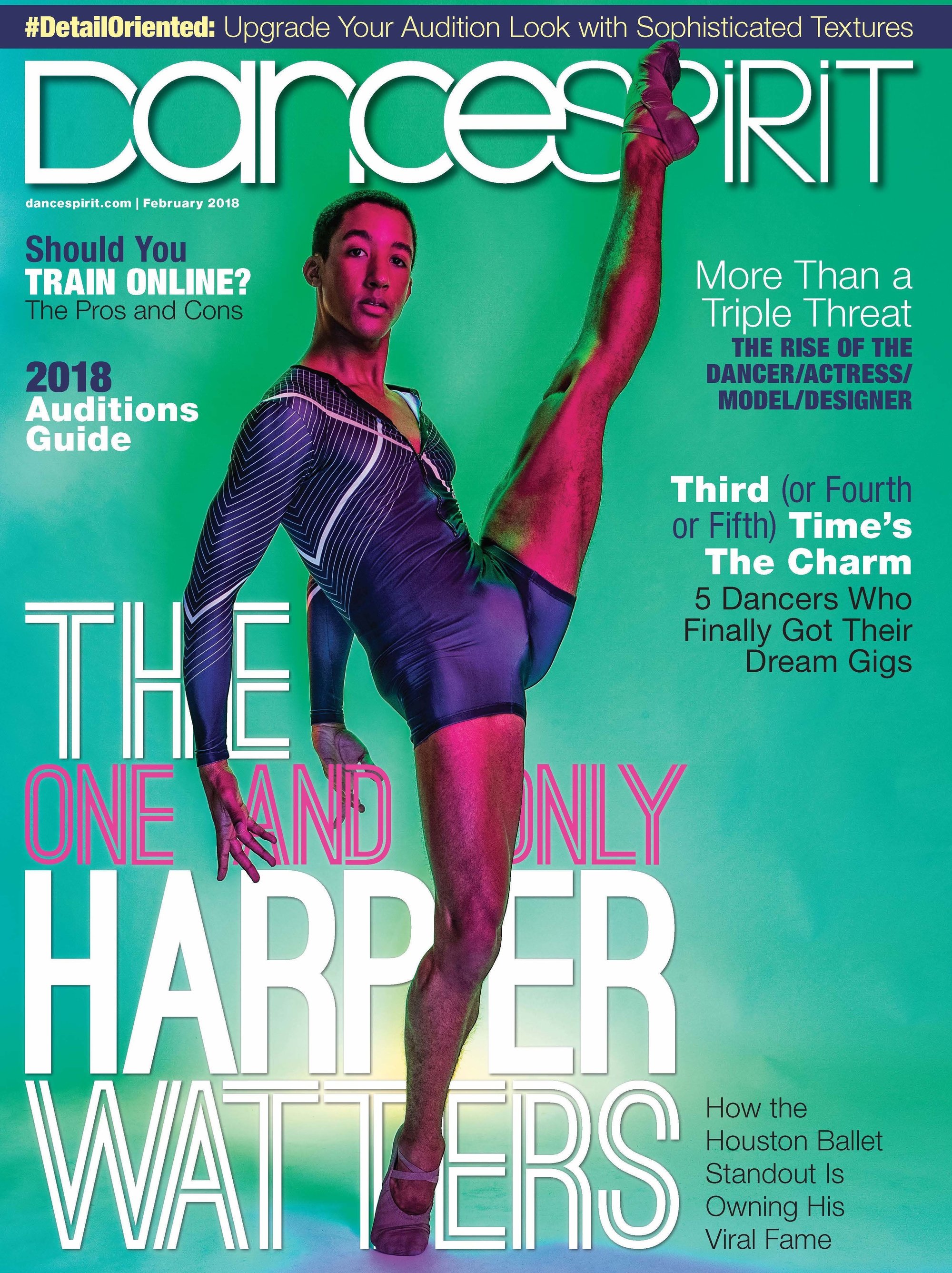 Get Dance Spirit in your inbox