During the 1980s, my tap education amounted to endless flaps and paradiddles, working with ballet-based arms and jazz hands. Although I learned a great deal from my teachers, we didn't have any direct influence from a tap master or any real understanding of the artform. I had never heard of hoofin', never experienced the magic of improvisation. I grew to love tap, but some part of me knew there was more to it than shuffling off to buffalo.
I got the chance to explore the artform further when I began attending festivals. I went to the Southern California Tap Festival in 1997 (where I first improvised and saw Brenda Bufalino teach class) and to the Detroit Tap Festival in 1999 (where Jimmy Slyde watched as Van Porter schooled a room full of us 20-somethings), and eventually began performing with Footnotes Tap Ensemble in North Carolina. I found myself becoming part of a community rich with historical awareness and generosity of spirit, and I began to see how what I'm doing now is the result of certain tappers' hard work more than 25 years ago. In fact, the '80s have emerged as one of the most important eras in tap's history.

In a Nutshell
Tap suffered a serious drought in the middle of the 20th century; funds, support and promotions were almost nonexistent. By the late '50s, work for tap dancers had completely dried up. Then, in the late '70s and early '80s, tap experienced a renaissance. Hoofers could once again find work hoofin', instead of tapping underground while making a living with other skills. This work came thanks to two venues that were never before very welcoming of tap: dance festivals and the concert stage.
The movement to revive tap was driven by a handful of women who realized that the artform they loved could only survive and grow with the leadership and experience of the previous generation's great masters. According to teacher and choreographer Brenda Bufalino, these women worked hard for little to no pay, for the love of their art. Tap historian Jane Goldberg adds that they sought out the masters, organized "tap happenings," raised money, got grants, documented their history, produced new tap shows and started the first tap festivals.
By apprenticing themselves to the masters of tap, many of whom have since passed away, these female tappers ensured that the masters' legacies would live on. The partnerships born in the 1980s led to new onstage possibilities and a lifetime of mutual respect. Among them: Bufalino and Charles "Honi" Coles, Dianne Walker and Leon Collins, Goldberg and Charles "Cookie" Cook, and Sarah Petronio and Jimmy Slyde.

The Rise of Festivals
Goldberg, assisted by Katherine Kramer, organized and produced one of the earliest tap festivals, By Word of Foot, held at the Village Gate in NYC in 1980. This festival was the gathering place of tap legends Clayton "Peg Leg" Bates, Bunny Briggs, Leon Collins, "Honi" Coles, John Bubbles and Gregory Hines (who at the time was filling in for Chuck Green).
The 1986 Colorado Mile High Tap Summit, created by International Tap Association executive director, Marda Kirn, and Sali Ann Kriegsman, evolved the festival format to include classes, performances with old masters, films and panels on various topics relevant to tap. This format is now seen all over the world.
Bufalino recalls that although Gregory Hines was getting work in nightclubs and as a dancer on Broadway during the 1980s, his style truly emerged at festivals. "A lot of dancers changed their style through festivals," she says, perhaps because it was a space devoted to education and exchange. Festivals ensured a focused, intensive time for students to absorb tap's rhythmic and artistic complexity while considering how to preserve and express traditions. These gatherings were vital to starting a multi-generational dialogue about what was, what is and what could be for the art of tap.
Gene Medler, artistic director of the North Carolina Youth Tap Ensemble, attended By Word of Foot and recalls the nightly "cocktail hour" with John Bubbles, where he heard stories from years past and how tap dance was redefined by each generation. Mark Yonally, artistic director of Chicago Tap Theatre, attended festivals as a teen and recalls learning the Walk Around from "Honi" Coles himself and witnessing the reunion between Coles and his longtime dance partner, Charles "Cholly" Atkins. At the St. Louis Tap Festival, Dianne "Lady Di" Walker let Yonally know that he had an obligation to give what he learned to others. "These festivals provided myriad opportunities to interact with artists," Yonally explains. "We learned what the artform is and can be."
Tap Onstage
The tap community was growing by leaps and bounds during the '80s, exploring new frontiers in dance and music. And yet, says Bufalino, "Tap still wasn't considered an artform." Bufalino's American Tap Dance Orchestra, founded in 1986, was one of the first tap companies to present works on the concert stage, previously the realm of modern and ballet companies. With innovative and sophisticated choreography and adventurous artistic direction, tap companies like ATDO, Lynn Dally's Jazz Tap Ensemble and Acia Gray's Tapestry Dance Company (to name just a few!) presented concerts and toured, engaging audiences and spreading awareness of their teachers, mentors and exceptional craft. Thanks to these efforts to get tap recognized, today's tap soloists, companies, youth ensembles and even a few of the living legends perform with master musicians, jazz ensembles and full orchestras, transforming the eyes and ears of audiences everywhere.

Taking It All In
Do you know and appreciate all that you're being given when you sign up for a festival? I didn't realize the immense significance of learning about the Shim Sham Shimmy from Leonard Reed himself until years afterward, but now I recognize the history and tradition I'm a part of. So with the abundance of tap festivals, ensembles, jam sessions and concerts available, be picky—and be grateful!
Via @quinn_starner on Instagram
Nearly 80,000 dance-loving Instagram followers can't be wrong: Quinn Starner is one to watch. And what's just as impressive as the 15-year-old's rabid online following is her ever-growing list of competition accolades. Quinn, who trains at Indiana Ballet Conservatory and Stars Dance Company, been named first runner-up at The Dance Awards for two years in a row (as a junior and a teen); was the 2016 West Coast Dance Explosion Teen National Champion; earned first place in contemporary and third place in the classical division at Youth America Grand Prix Regionals in Pittsburgh last year; has won the Grand Prix Award at ADC|IBC; and was a gold medalist at World Ballet Art Competition Grand Prix. Plus, she made it to the Academy round on last year's "So You Think You Can Dance: The Next Generation," and has performed as Clara in the Radio City Christmas Spectacular. Here's what Quinn has to say about her favorite songs, teachers, and career highlights.
Keep reading...
Show less
NBC
Want a chance to get personally involved in the HOTLY anticipated TV show "World of Dance"? Of course you do. That's why J. Lo. and the rest of the "WOD" team have launched an interactive version of the upcoming NBC series that lets Snapchatters get in on the action.
Keep reading...
Show less
May. 22, 2017 02:07PM EST
On Saturday morning, Russell Horning—aka 15-year-old Instagram king @i_got_barzz—was already kind of famous. His admittedly bad but weirdly mesmerizing dance videos had earned him shoutouts from the likes of Rihanna (and dance tributes from the likes of Josh Killacky).
But by Sunday morning? By Sunday morning, Russell Got Barzz had reached an entirely different level of memedom. Because Katy Perry tapped the teen—signature backpack and all—to perform "Swish Swish" with her on "Saturday Night Live." And the internet lost its darn mind.
Keep reading...
Show less
May. 21, 2017 11:00AM EST
If, like me, you've ever wondered (and wondered) how that stunning opening scene in La La Land came together, do we have a treat for you.
Keep reading...
Show less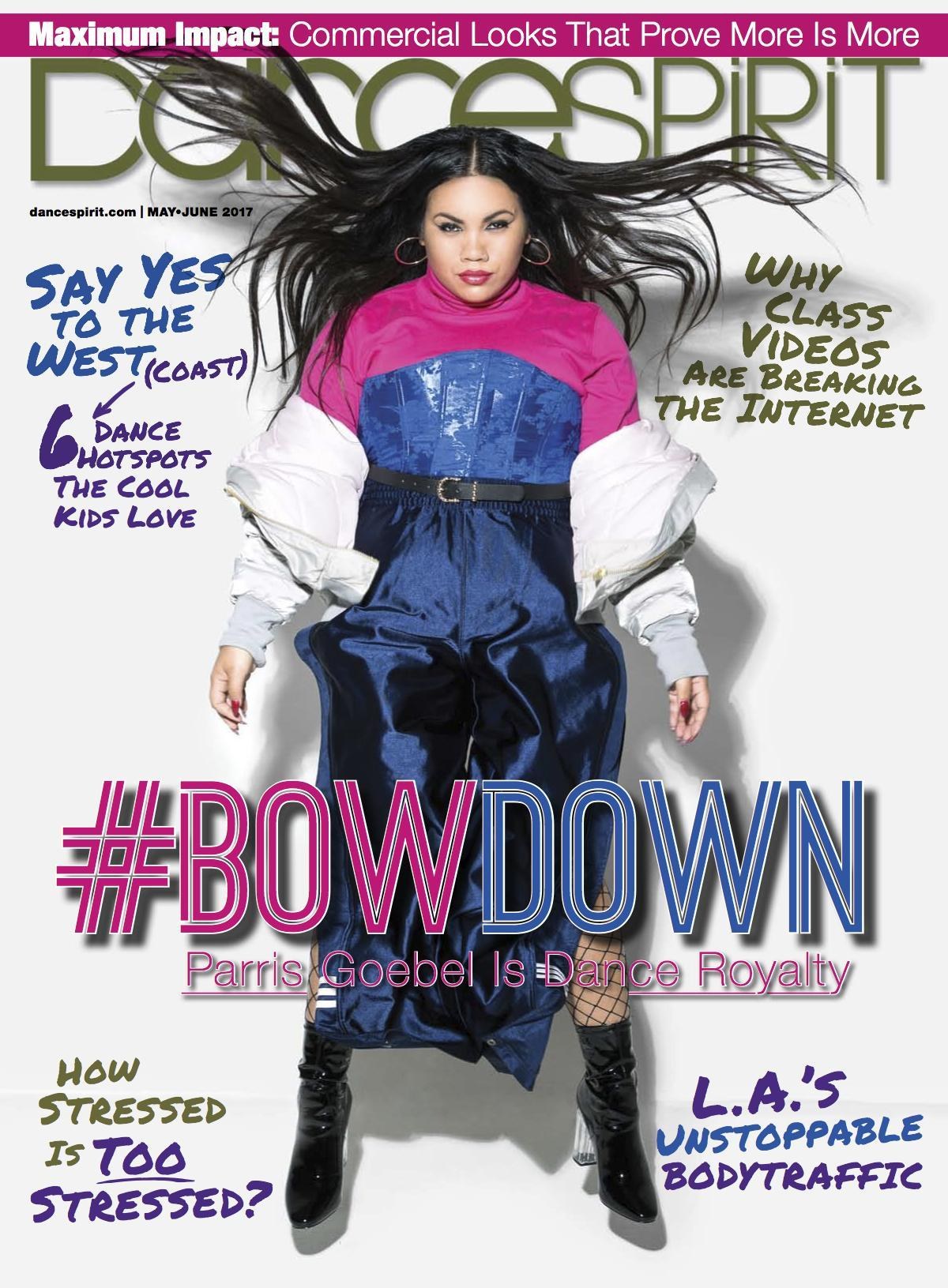 Get Dance Spirit in your inbox