#TBT Dance Crush: Tanaquil Le Clercq
We all have dance crushes. But I'm a bit of a weirdo: The majority of my dance crushes are, uh, historical. Maybe I was born in the wrong era, because it's the artists of the '40s, '50s and '60s who really speak to me.
At the top of my crush list is Tanaquil Le Clercq, one of George Balanchine's first American muses (and his fourth wife). Why do I love her? Because she was effortlessly glamorous...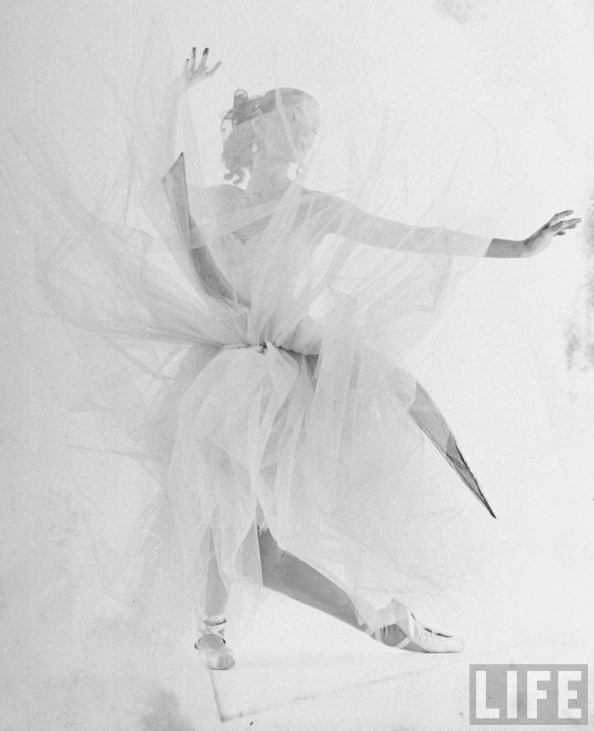 LeClercq in costume for La Valse, 1951 (photo Gjon Mili/Life magazine)
...but also totally down for photos like this: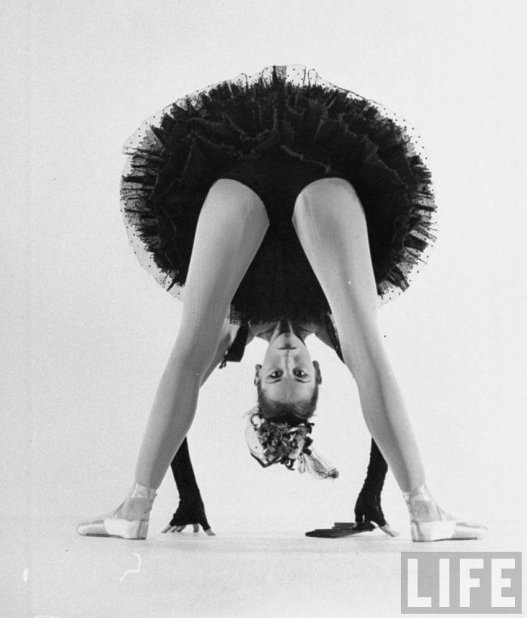 LeClercq in costume for Bourée Fantasque, 1951 (photo Gjon Mili/Life magazine)
Le Clercq—friends called her Tanny—was one of the first dancers trained from the beginning in Balanchine technique, and her long, leggy body became the prototype for the Balanchine ballerina. She was also an incredible chameleon. Onstage, she could transition easily from coolly mysterious to deliciously witty. Balanchine made many ballets for her, and so did Jerome Robbins, one of her closest friends.
Le Clercq's career was cut short by tragedy. In 1956, when she was just 27 years old, she contracted polio, and became paralyzed from the waist down. Though she never danced again, she remained active in the ballet world. Later on, she coached the members of Dance Theatre of Harlem.
Why am I telling you all this right now? Well, there's a new documentary about Le Clercq's remarkable life—and it's coming to a television near you in just a couple of weeks. Tanaquil Le Clercq: Afternoon of a Faun will air on PBS on Friday, June 20 (check local listings for times). The film includes all kinds of fantastic old footage, early performances of ballets that have since become classics.
PBS has put out a couple of teasers, which feature clips of Le Clercq in Robbins' Afternoon of a Faun (alongside fellow legend Jacques d'Amboise) and Balanchine's Concerto Barocco and Western Symphony. Take a look—then set your DVRs for the 20th. (Totally in love with Tanny? The film will also be available on DVD starting June 24.)
Jul. 22, 2017 04:55PM EST
via YouTube
It's no secret that ballet in pop culture has sparked its fair share of controversy. Which is why this video from Refinery29, featuring ABT's Isabella Boylston, is not only a super-fun watch, but a breath of fresh air.
Keep reading...
Show less
Jul. 21, 2017 12:26PM EST
via @phil_wright_ on Instagram
Well, this brings class videos to a whole new level! Choreographer Phil Wright and dancer Ashley Liai have been together eight-plus years, but she was still in total shock when he proposed to her mid-dance at Millennium Dance Complex earlier this week. Why? Well, the whole thing was unbelievably perfect.
Keep reading...
Show less
Jul. 21, 2017 11:03AM EST
(Courtesy ABC)
In the dance industry, dancers don't always have a say in what they wear on their bodies. This can get tricky if you're asked to wear something that compromises your own personal values. So what should you do if you find yourself in this sticky situation? We sat down for a Q&A with "Dancing with the Stars" alumn Ashly Costa to answer that very question. Here's what she had to say about the options dancers have surrounding questionable costumes.
Keep reading...
Show less


Get Dance Spirit in your inbox