Oct. 07, 2012 11:50AM EST
When it comes to dance, the general rule of thumb is that the younger you begin training, the better. Serious ballet dancers, for example, are often expected to be career-ready by 16. But what if you didn't start dancing at age 2? Is there room in the professional dance world for late starters?
The short answer: Yes! Read on to hear from six dancers who started dancing later than their peers—and still became pros.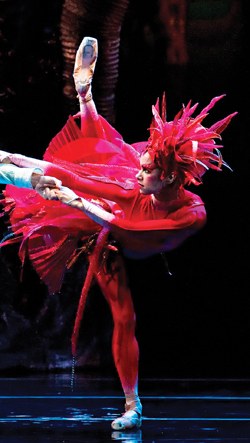 Misty Copeland with Roman Zhubrin in Alexei Ratmansky's Firebird (Gene Schiavone)
Misty Copeland, soloist
at American Ballet Theatre
Age she started dancing: 13
How did you get started? I auditioned for the dance team at my junior high school, and the coach told me my potential as a dancer went beyond that local team.
When did a professional career start to feel possible? When I discovered American Ballet Theatre. I memorized every company member's background and studied videos.
What kept you going through the tough times? The encouragement I got from the people around me. And ABT was the light at the end of the tunnel. Watching videos and seeing live performances kept me motivated.
Were there benefits to starting late? I didn't feel burnt out at the age of, say, 15. Everything was so new that I was always eager for more.
Do you have advice for other late starters? Be mindful of how you treat your body, especially early on. You're in a different place physically than a 7-year-old beginner. Consider cross-training to help develop your technique more quickly.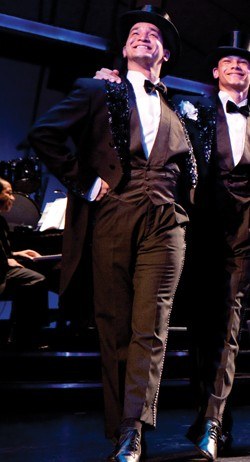 Richard Riaz Yoder in Duke Ellington's Sophisticated Ladies (Scott Suchman)
Richard Riaz Yoder, Broadway performer
Age he started dancing: 17
How did you get started? I saw a couple of my high school show choir friends doing a time step and got them to teach me. When I showed my mom, she took me to a teacher who owned a studio for adults. At 17, I was actually the youngest person in my first class by 20 years!
Did you ever doubt yourself? I was weird in that I wasn't self-conscious at all in those early classes. Even if I didn't know what the heck I was doing, I was going to do it as best I could.
What obstacles did you encounter? Learning dance terminology was hard. I had a teacher early on in college who asked us what dance steps we knew—and I didn't know any. So I went home and memorized the name of every tap step. I wasn't sure what they were, but I knew the names of every one.
Were there benefits to starting late? I was able to make sure I got high-quality training from the beginning. I've seen dancers who, early on, had bad habits thanks to poor training.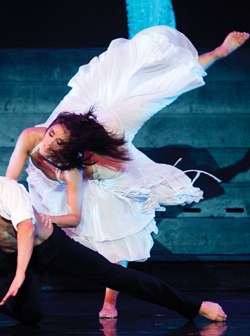 Janette Manrara with Robbie Kmetoni in Burn the Floor (David Wyatt)
Janette Manrara, Burn the Floor
Age she started training seriously: 19
How did you get started? My family is from Cuba, so salsa dancing was always a part of my life. I started studying musical theater at 12. Then the dance teacher at my musical theater school opened his own studio, and I started taking dance classes every day.
What obstacles did you have to conquer? The worst was seeing parents or other students look at me with confused faces. They didn't understand why a girl in her 20s was taking ballet with 12-year-olds.
When did you know you wanted to dance
professionally? As soon as I set foot outside of "So You Think You Can Dance"! Being on the show during Season 5 opened so many doors for me.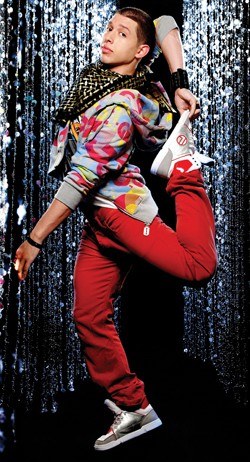 (Mike Ruiz/FOX)
Phillip Chbeeb, hip-hop dancer
Age he started dancing: 16
How did you get started? I was a jack-of-all-trades kid—I did everything from basketball and track to theater. After a (now) comical incident when I took a line drive to my face playing baseball, I had to ease off sports for a while. That's when I took my first dance class.
What obstacles did you encounter? I had to learn when to incorporate my own natural tendencies into someone else's choreography—and when not to. I had to figure out how to break movements down into pieces: the bounce, the pivot. That helped me become more aware of my body and its subtleties.
Were there any benefits to starting late? In a way it's good that dance isn't "my life." I'm inspired by things outside of dance, and I think that helps me better express myself.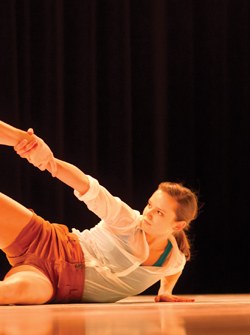 Alice Klock and Jason Hortin in Jonathan Fredrickson's Untitled Landscape (Todd Rosenberg)
Alice Klock, Hubbard Street Dance Chicago
Age she started dancing: 11
How did you get started? I was home-schooled, and my mother wanted me to get out and meet people my age, so she asked, "What about ballet?"
How did you catch up? I worked outside of class. In academic classes like math, the more you study on your own, the better you'll do in class. It was the same for me with dancing.
Were there benefits to starting late? I'm actually glad I started when I did because I developed as a person before I became a dancer. This is a life-consuming art.
Do you have advice for other late starters? Never compare yourself to other people in class. I learned so much from dancers who were three or four years younger than me because I didn't let age get in the way.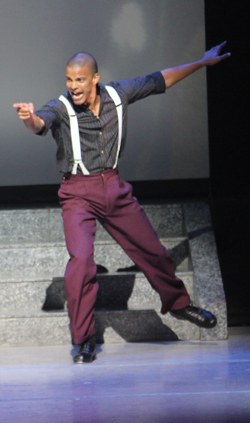 Michael Wood (Jack Hartin/courtesy Abhann Productions)
Michael Wood, tap dancer
Age he started dancing: 18
How did you get started? When I was auditioning for musical theater college programs, a friend told me about Oklahoma City University's dance program. I figured, why not? And I got in!
What kept you going? My parents. I couldn't always feel myself getting better, but whenever they came to see my performances, they'd say, "You've come further than you think."
Did you have any breakthrough moments? During my junior year of college, a teacher said, "Michael, I think ballet has finally clicked for you." And that was exactly what happened. One day I stopped feeling like I was trying to do ballet, and just started doing ballet.
Do you have advice for other late starters? There's so much emphasis in this industry on what you can do at what age. But it's all hot air. If you want to do it, just do it.
(From left) Mean Girls dancers Riza Takahashi, Ben Cook, Kamille Upshaw, Jonalyn Saxer, DeMarius R. Copes, and Stephanie Lynn Bissonnette (photos by Erin Baiano)
Get in, losers. We're going to Broadway.
OK, not losers, actually—more like the bajillion die-hard fans of Tina Fey's 2004 cult hit Mean Girls, who've been wearing pink every Wednesday since a musical adaptation of the film was first teased back in 2013.
Now their world is like a cake filled with rainbows and smiles, because Mean Girls the musical, which had a trial run in Washington, DC, last fall, is set to open at Broadway's August Wilson Theatre April 8. And in a very grool twist, it turns out the show—with direction and choreography by Casey Nicholaw and a book by Fey herself—is delightfully dancey.
Keep reading...
Show less
Lloyd Knight perform ing in Martha Graham's Night Journey (photo by Brigid Pierce, courtesy Knight)
Principal Lloyd Knight has become a true standout in the Martha Graham Dance Company thanks to his compelling presence and dynamic technique. Knight, who performs leading roles in iconic pieces like Appalachian Spring and Embattled Garden, was born in England and raised in Miami, where he trained at the Miami Conservatory and later graduated from New World School of the Arts. He received scholarships to The Ailey School and The Dance Theatre of Harlem School in NYC and joined MGDC in 2005. Catch him onstage with MGDC during its New York City Center season this month. —Courtney Bowers
Keep reading...
Show less
University of Minnesota Dance Team (courtesy University of Minnesota)
They say there's no "I" in "team"—and nowhere is that truer than the world of college dance teams, where precision reigns, uniformity is key, and a single misstep from any given "I" can cost a group a championship trophy. So it's unsurprising that securing a spot on one of the best dance teams in the country is no easy feat.
Members of these highly athletic teams rehearse for hours every week—on top of academic classes and commitments—and perform at football and basketball games, annual concerts, and nationally televised competitions (hi, ESPN). And "no I" rule notwithstanding, each of these top teams is made up of highly trained, highly technical, highly hard-core individuals, who come together to create a ready-for-victory pack.
These six teams aren't one-off success stories—they're consistently strong, and earn the top spots at major competitions like UDA and NDA nearly every year. Up for the challenge? Here's what to know before you go to auditions.
Keep reading...
Show less
Alicia Vikander in Tomb Raider (Warner Brothers)
Keep reading...
Show less
Photo by Travis Kelley, courtesy Kathryn Morgan
In our "Dear Katie" series, former NYCB soloist Kathryn Morgan answers your pressing dance questions. Have something you want to ask Katie? Email dearkatie@dancespirit.com for a chance to be featured!
Dear Katie,
I'm a hip-hop and jazz dancer, and I want to get involved in the commercial-dance world. I've never studied ballet, but people keep telling me I "have to" take ballet classes if I want to make it professionally. Is that really true? My family has limited money for dance classes, and I have to be careful about how I spend it.
Sarah
Keep reading...
Show less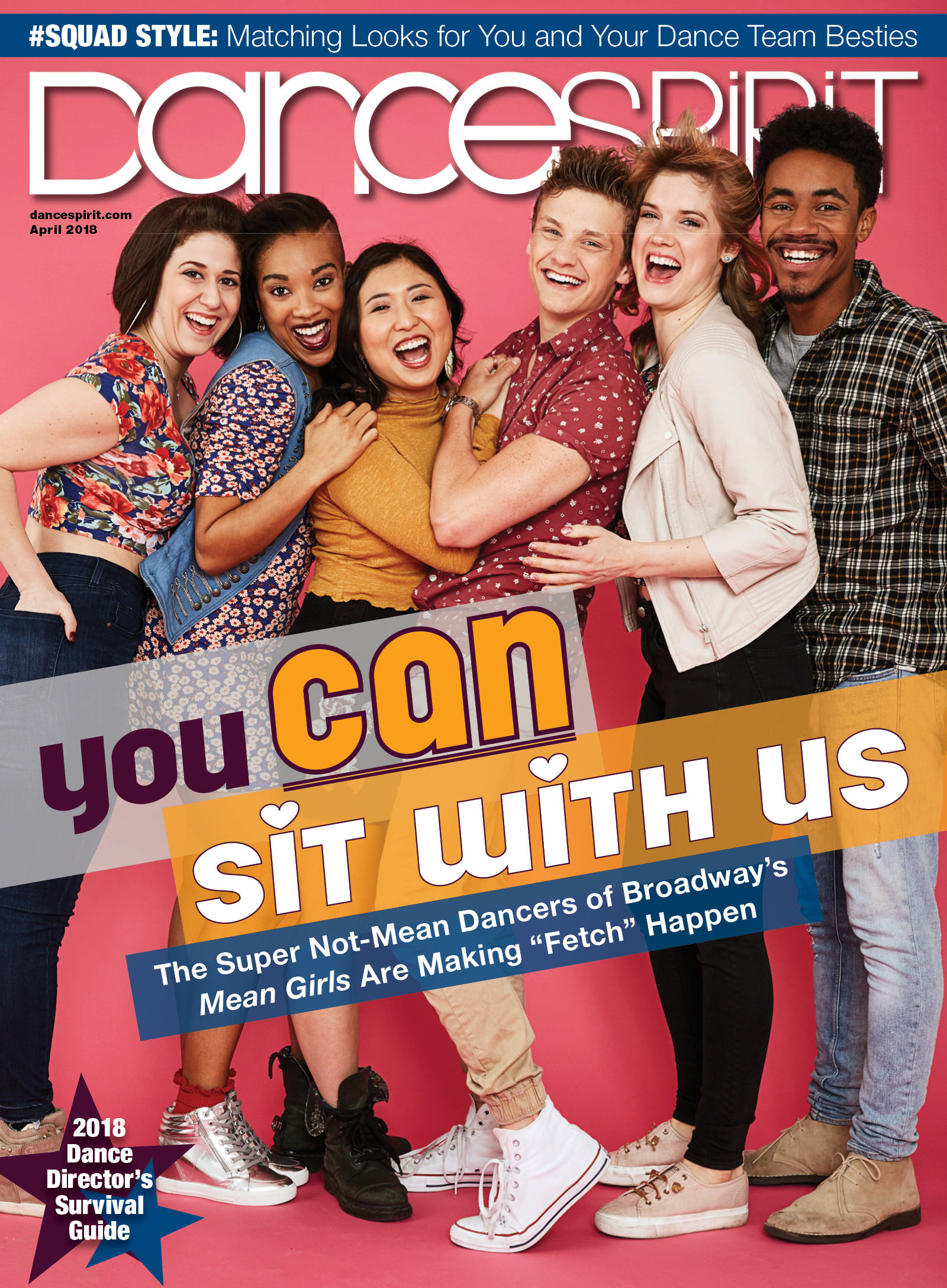 Get Dance Spirit in your inbox