The Best Stretches You're Not Doing
If your idea of stretching is sitting in a split for five minutes while you watch TV, it's time to revamp your routine. "Dancers tend to focus on static stretches," says Brynn Jinnett, a former dancer with New York City Ballet and the founder and creator of Refine Method in NYC. "Many dancers don't do enough to improve the mobility of their joints."
The next time you're stretching, try these dynamic exercises. "They target areas that counteract what you do when you dance," Brynn says. "Think turn in, not turnout."
Move gently through each stretch for one minute, and then reverse and repeat on the opposite side.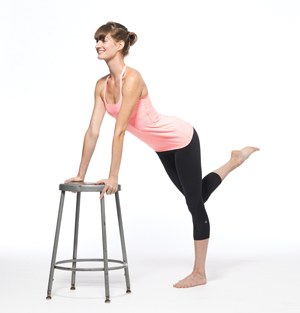 Ankle Joint Stretch
Brynn says: "This move will strengthen and stretch your ankle joints, lowering your risk of ankle sprains or strains. Don't expect to feel a strong stretch. You're creating a range of motion, not tugging on a muscle."
Leaning forward with your hands on a chair or stool, stand on your left leg with your knee straight. Extend your right leg behind you, with your knee bent.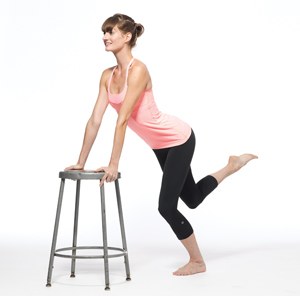 Bend your standing leg, pointing your knee inward. Be sure to keep your heel and pinky
toe on the ground.
Return to the starting position.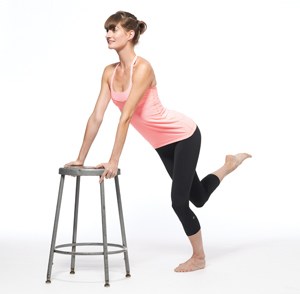 Bend your standing leg again, driving the knee over the middle of the foot. Return to the starting position.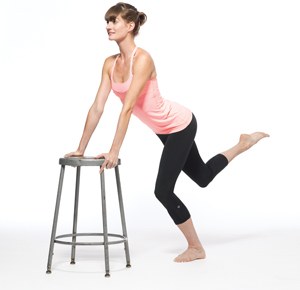 Bend your standing leg again, this time pointing your knee outward, keeping your big toe on the ground.
Return to the starting position.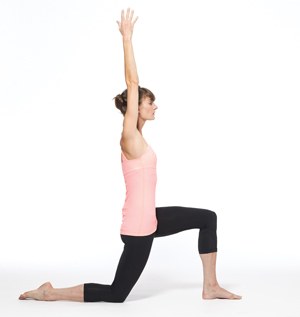 Hip Flexor Stretch
Brynn says: "As you press forward, don't arch your lower back."
Kneel on your right knee and extend your left leg in front of you, with your foot flat on the ground and your left knee bent at 90 degrees.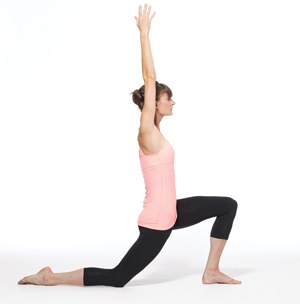 With your right arm raised,   push forward gently into your left leg, keeping your left arm by your side. Squeeze your glute muscles and press forward with your hips. Don't allow any movement in your lower back.
Return to the starting position.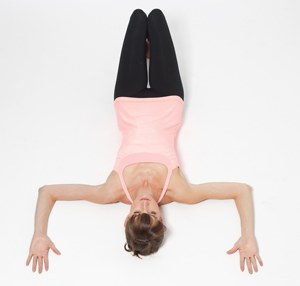 Chest Stretch
Lie on your back with your knees bent and your feet together, flat on the floor. Open your arms to your sides, bending your elbows to 90 degrees, palms facing up.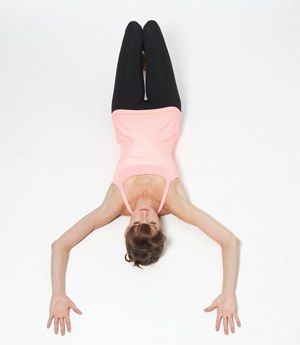 Slowly slide your arms up toward your head. Stop when any part of your upper body loses contact with the floor.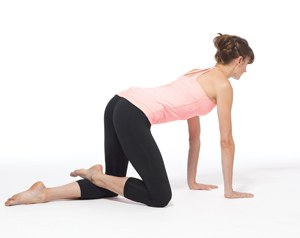 Glute Stretch
Get onto all fours. Cross your right foot behind your left leg, resting it slightly above the calf.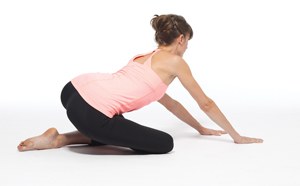 Maintain a neutral spine and keep your hands on the floor as you sit backward into your right hip.
Return to starting position.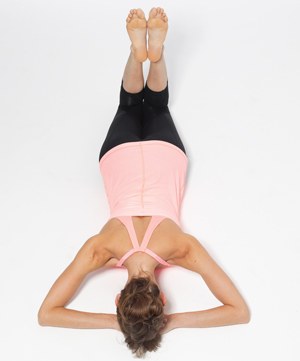 Internal Rotation/Hip Stretch
Brynn says: "Stop as soon as you feel resistance."
Lie facedown on the ground with
your forehead resting on your hands
and your legs extended behind you. Bend your knees to 90 degrees, lifting your
feet toward the ceiling.
Dance is a powerful form of expression, and Ahmad Joudeh is using its influence to promote peace.
The 27-year-old is a Palestinian refugee, whose decision to pursue his passion for ballet has made him the target of death threats from terrorist organizations. Despite the danger, Joudeh has decided to continue on his path as a dancer, using his performances as an opportunity to spread a message of peace and cultural awareness.
Keep reading...
Show less
A dance photo of Averi Hodgson (courtesy of Cortney Hodgson)
For 14-year-old Averi Hodgson, focusing on her ballet training while growing up was never easy: She's suffered from epilepsy since she was in first grade, and later, she was also diagnosed with scoliosis. Here, she tells her story of perseverance—and how her determination earned her a spot at the School of American Ballet's 2017 summer intensive.
Keep reading...
Show less
CBS
"Late Late Show" host James Corden was one of the many, many people shocked by President Trump's sudden decision to ban transgender people from the military yesterday. And he decided to voice his outrage in the way most likely to rile a President who's uncomfortable with anything "un-manly": through a big, beautiful, extra-sparkly song-and-dance routine.
Keep reading...
Show less
Jul. 25, 2017 05:04PM EST


Get Dance Spirit in your inbox