Oh, the MTV Video Music Awards.
So they happened last night—shout-out to Brooklyn!—and they were...you know.
Here's the thing: The VMAs have always been awesome and edgy and it's the awards show where the celebrities can really go crazy. There was that time in the late '90s when Gwen Stefani dyed her hair sky blue and wore a matching fur bikini top, and there's always madness happening onstage (think "Taylor, I'mma let you finish, but..." Kanye-style).
Of course, we here at Dance Spirit rarely tune into these awards shows—no matter how outrageous they plan to be—hoping to catch a great acceptance speech or groundbreaking presentation of some lifetime achievement award. We're in it for the dancing, and at last night's VMAs there was plenty of killer choreography to get us excited.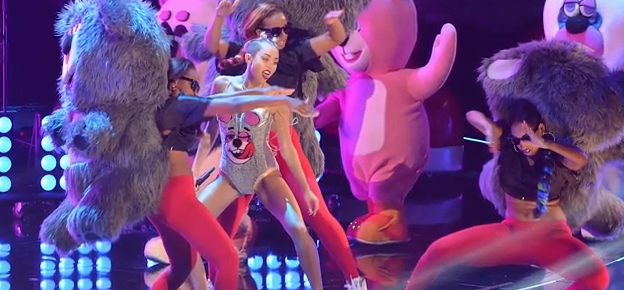 No. No. No. NOOOO!
First, though, let's address the evening's tragedies, because that's fun:
Miley Cyrus, everyone is talking about you today. And it's not because you were so cool and out there and youthful and fun. It's because your nude underwear was hanging out of your weird one-piece with the drugged-out-looking bear on it, and your tongue was hanging out the entire time and everything you did was so wildly inappropriate and crass. Hannah Montana would not approve, and neither did I. And twerking? I'm over it.
OK, so that's it for the tragedies! Way to hold it down, Miley!
And, in my opinion, the highlights:
Pop Quiz: Can you name the member of *NSYNC on the far right? It's OK if you can't. Focus on the gorgeous gentleman in the middle.

Two words: Justin Timberlake. The man can do no wrong. He's talented, he's classy and yeah, he's gorgeous—he was also the real winner of the entire evening, and he also employs some darn good backup dancers! I was psyched to see so many familiar faces grooving onstage at The Barclays Center with J-Timbs, including Ivan Koumaev, Dana Wilson, Nick Bass and David Moore. The Timberlake Show lasted, what was it, 11 minutes? I was actually disappointed when they launched into the *NSYNC reunion portion of the performance because I wanted the dancers to keep going! Plus, it seems like they're having an absolute blast up there, which is a pleasure to watch. 

Lady Gaga. Well, Gaga's dancers at least. They're always awesome. I was sad not to see Mark Kanemura up there with her, but thrilled to see longtime favorite Gaga dancers Montana Efaw and Sloan Rabinor getting their "Applause" on. One of my other favorites, Karen Chuang, was there, too! Well done, dancers, and way to nail those costume changes for your leading lady!

Katy Perry. Honestly, I thought her "Roar" performance was kind of "meh," but I appreciated the hyper-choreographed routine and dug the Legally Blonde: The Musical-esque jump roping portion of it.
Everything else about the night was pretty forgettable, in my opinion. Taylor Swift and Selena Gomez looked pretty, the guys of One Direction looked like they were ready to battle the boys (OK, grown men) of *NSYNC and Will Smith's family looked completely terrified of Miss Miley.
We felt the saaaaaame way, Willow.
All in all a somewhat decent show.
Your thoughts?
Via @quinn_starner on Instagram
Nearly 80,000 dance-loving Instagram followers can't be wrong: Quinn Starner is one to watch. And what's just as impressive as the 15-year-old's rabid online following is her ever-growing list of competition accolades. Quinn, who trains at Indiana Ballet Conservatory and Stars Dance Company, been named first runner-up at The Dance Awards for two years in a row (as a junior and a teen); was the 2016 West Coast Dance Explosion Teen National Champion; earned first place in contemporary and third place in the classical division at Youth America Grand Prix Regionals in Pittsburgh last year; has won the Grand Prix Award at ADC|IBC; and was a gold medalist at World Ballet Art Competition Grand Prix. Plus, she made it to the Academy round on last year's "So You Think You Can Dance: The Next Generation," and has performed as Clara in the Radio City Christmas Spectacular. Here's what Quinn has to say about her favorite songs, teachers, and career highlights.
Keep reading...
Show less
NBC
Want a chance to get personally involved in the HOTLY anticipated TV show "World of Dance"? Of course you do. That's why J. Lo. and the rest of the "WOD" team have launched an interactive version of the upcoming NBC series that lets Snapchatters get in on the action.
Keep reading...
Show less
May. 22, 2017 02:07PM EST
On Saturday morning, Russell Horning—aka 15-year-old Instagram king @i_got_barzz—was already kind of famous. His admittedly bad but weirdly mesmerizing dance videos had earned him shoutouts from the likes of Rihanna (and dance tributes from the likes of Josh Killacky).
But by Sunday morning? By Sunday morning, Russell Got Barzz had reached an entirely different level of memedom. Because Katy Perry tapped the teen—signature backpack and all—to perform "Swish Swish" with her on "Saturday Night Live." And the internet lost its darn mind.
Keep reading...
Show less
May. 21, 2017 11:00AM EST
If, like me, you've ever wondered (and wondered) how that stunning opening scene in La La Land came together, do we have a treat for you.
Keep reading...
Show less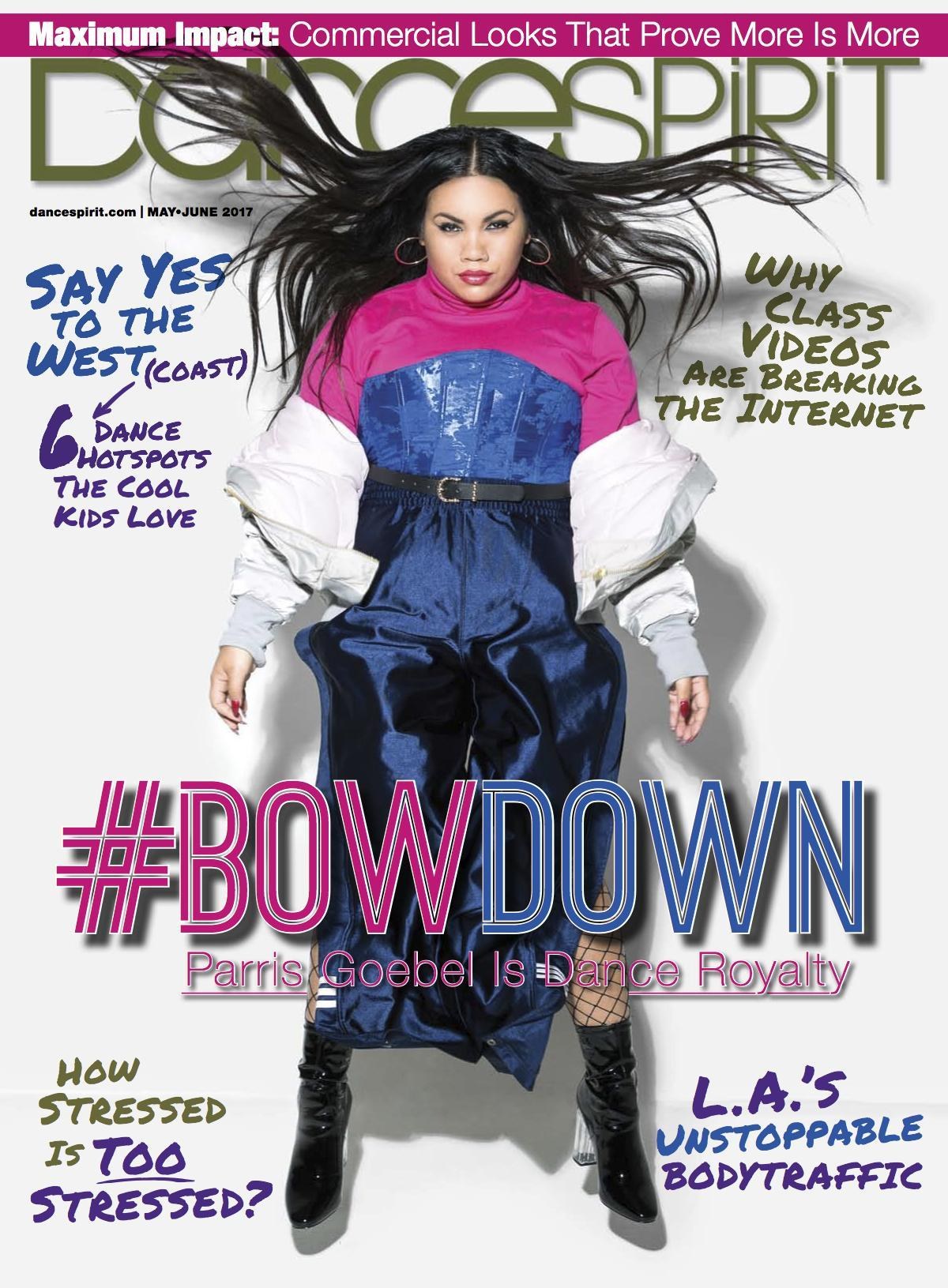 Get Dance Spirit in your inbox