The Dancing Was the Best Part of The VMAs, Right? RIGHT.
Oh, the MTV Video Music Awards.
So they happened last night—shout-out to Brooklyn!—and they were...you know.
Here's the thing: The VMAs have always been awesome and edgy and it's the awards show where the celebrities can really go crazy. There was that time in the late '90s when Gwen Stefani dyed her hair sky blue and wore a matching fur bikini top, and there's always madness happening onstage (think "Taylor, I'mma let you finish, but..." Kanye-style).
Of course, we here at Dance Spirit rarely tune into these awards shows—no matter how outrageous they plan to be—hoping to catch a great acceptance speech or groundbreaking presentation of some lifetime achievement award. We're in it for the dancing, and at last night's VMAs there was plenty of killer choreography to get us excited.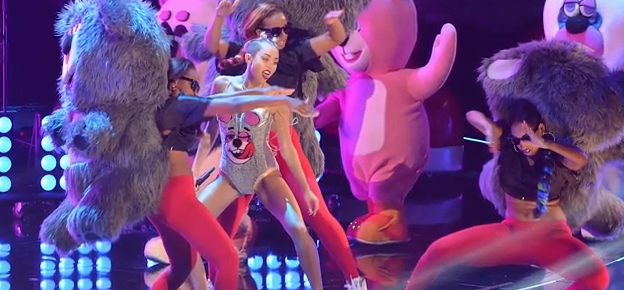 No. No. No. NOOOO!
First, though, let's address the evening's tragedies, because that's fun:
Miley Cyrus, everyone is talking about you today. And it's not because you were so cool and out there and youthful and fun. It's because your nude underwear was hanging out of your weird one-piece with the drugged-out-looking bear on it, and your tongue was hanging out the entire time and everything you did was so wildly inappropriate and crass. Hannah Montana would not approve, and neither did I. And twerking? I'm over it.
OK, so that's it for the tragedies! Way to hold it down, Miley!
And, in my opinion, the highlights:
Pop Quiz: Can you name the member of *NSYNC on the far right? It's OK if you can't. Focus on the gorgeous gentleman in the middle.

Two words: Justin Timberlake. The man can do no wrong. He's talented, he's classy and yeah, he's gorgeous—he was also the real winner of the entire evening, and he also employs some darn good backup dancers! I was psyched to see so many familiar faces grooving onstage at The Barclays Center with J-Timbs, including Ivan Koumaev, Dana Wilson, Nick Bass and David Moore. The Timberlake Show lasted, what was it, 11 minutes? I was actually disappointed when they launched into the *NSYNC reunion portion of the performance because I wanted the dancers to keep going! Plus, it seems like they're having an absolute blast up there, which is a pleasure to watch. 

Lady Gaga. Well, Gaga's dancers at least. They're always awesome. I was sad not to see Mark Kanemura up there with her, but thrilled to see longtime favorite Gaga dancers Montana Efaw and Sloan Rabinor getting their "Applause" on. One of my other favorites, Karen Chuang, was there, too! Well done, dancers, and way to nail those costume changes for your leading lady!

Katy Perry. Honestly, I thought her "Roar" performance was kind of "meh," but I appreciated the hyper-choreographed routine and dug the Legally Blonde: The Musical-esque jump roping portion of it.
Everything else about the night was pretty forgettable, in my opinion. Taylor Swift and Selena Gomez looked pretty, the guys of One Direction looked like they were ready to battle the boys (OK, grown men) of *NSYNC and Will Smith's family looked completely terrified of Miss Miley.
We felt the saaaaaame way, Willow.
All in all a somewhat decent show.
Your thoughts?
Win It
Sep. 05, 2017 12:10PM EST
Photos by Erin Baiano
It's time to get your pirouette on! From September 5th to September 30th, we're hosting a contest to find out who's the best turner of them all.

Put together your most impressive turning combo. Post a video online. Share your turns with us and thousands of other dancers around the world. And if our editors think you're the top turner, you'll win a fabulous prize.
Keep reading...
Show less
All of 18-year-old Kaylin Maggard's dreams—from scoring the title of National Senior Outstanding Dancer at New York City Dance Alliance Nationals to winning the 2017 Dance Spirit Cover Model Search—are coming true. And to anyone who knows the gorgeous contemporary dancer, that's no surprise.
From the moment the Dance Spirit staff met Kaylin, it was obvious her humility and talent would take her far. Not only did she go full-out during the photo shoot and class at Broadway Dance Center, but she was always cheering on, laughing with, and supporting her fellow CMS contestants Haley Hartsfield and Michelle Quiner. During the voting period, the social media world was abuzz with praise for her work ethic, positive attitude, and generosity.
Since her CMS trip to NYC, Kaylin's moved from her hometown of Columbia, MO, to the Big Apple for her freshman year at Juilliard, and is busy getting acquainted with the city. As for the future? She's taking it one opportunity at a time, but something tells us we'll be seeing this contemporary queen reach new heights every year.
Keep reading...
Show less
New York City principal Lauren Lovette has become an icon thanks to her emotional maturity and exceptional musicality. The 26-year-old quickly rose through the ranks after joining the company as an apprentice in 2009, reaching principal status in 2015. A Thousand Oaks, CA, native, Lovette started studying ballet seriously at age 11, at the Cary Ballet Conservatory in Cary, NC. After attending two summer courses at the School of American Ballet, she enrolled as a full-time student in 2006. Last year, she made her choreographic debut with For Clara, her first piece for NYCB. Catch her latest work this month during the company's fall season. —Courtney Bowers
Keep reading...
Show less
In our "Dear Katie" series, former NYCB soloist Kathryn Morgan answers your pressing dance questions. Have something you want to ask Katie? Email dearkatie@dancespirit.com for a chance to be featured!
Dear Katie,
I know I'm not getting good enough dance training from any of my local studios. But I'm not sure I'm ready to move away to study at a big-name school, either. How do you know when you're ready to leave home to pursue your passion?
Marisa
Keep reading...
Show less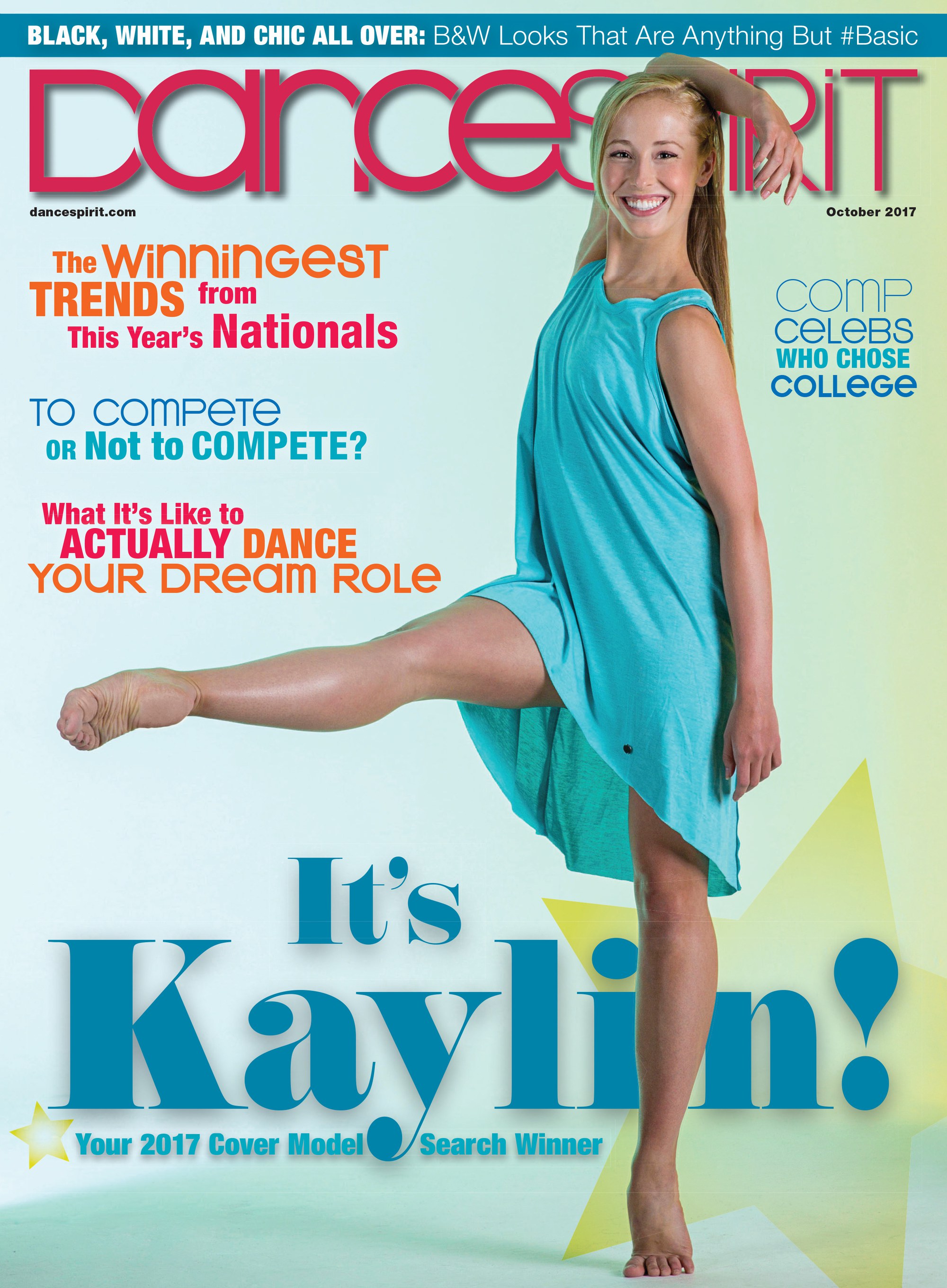 Get Dance Spirit in your inbox