The Dirt with Allynne Noelle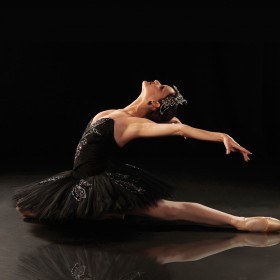 Allynne Noelle in Los Angeles Ballet's Swan Lake
Whether she's performing classical ballet variations or contemporary works, Allynne Noelle's pure joy is contagious. And that vibrant stage presence (along with killer lines and flawless technique) is taking her places.
Born in Southern California, Noelle danced with Ballet Pacifica and Inland Pacific Ballet before traveling across the country to dance with Miami City Ballet for seven years. In 2010, she returned to her West Coast roots, joining the then 4-year-old Los Angeles Ballet. She had only just recovered from an injury that kept her off her toes for months, but her first LAB performance—dancing the Peasant Pas and as Myrtha in Giselle—was a showstopper. Now in her second season, she's already been promoted; in January, she became one of only three principal dancers. Read on for The Dirt!
What did you want to be when you were a teen?
Successful! In both ballet and love.
Company you would drop everything to go see:
Batsheva. They're absolutely phenomenal.
If you could work with any performer, past or present,
who would it be?
Dick Van Dyke! Did you know he had zero dance training when he was offered his first Broadway show?
What's your biggest guilty pleasure?
I'm totally addicted to candy! HARIBO is my favorite.
Who is your dance crush?
Richard Winsor :)
If you weren't a dancer, what would you be?
I would love to start my own chocolate and confections business...I'm quite the pastry chef.
One thing you can't live without:
It's a toss up between my best friend Diana and Diet Coke!
Favorite city in the world:
Buenos Aires! I'm in love with the culture, architecture, and of course the tango!
Favorite dancer of all time:
Julie Kent
Who would play you in a movie?
Penelope Cruz. She's gorgeous, feisty and elegant.
What are your pet peeves?
I can't stand the sound of someone drinking from a water bottle! (Hard to avoid in this career.)
Dance-wise, do you have any bad habits?
Maybe one or two, but I'm certainly not going to point them out!
In May, Allynne will dance with LAB in NextWaveLA, a showcase featuring four world premieres by choreographers Sonya Tayeh, Stacey Tookey, Kitty McNamee and Josie Walsh!
CBS
"Late Late Show" host James Corden was one of the many, many people shocked by President Trump's sudden decision to ban transgender people from the military yesterday. And he decided to voice his outrage in the way most likely to rile a President who's uncomfortable with anything "un-manly": through a big, beautiful, extra-sparkly song-and-dance routine.
Keep reading...
Show less
Jul. 25, 2017 05:04PM EST
(Break the Floor Productions)
In addition to training, competing and winning titles in just about every style you can think of, 13-year-old Kaylee Quinn is a regular on the sci-fi drama "Stitchers," playing the younger version of the show's main character. Her path in dance hasn't been without challenges, though. Last summer, Kaylee won the Hope Award at her regional Youth America Grand Prix, but wasn't sure she'd be able to compete at the NYC finals due to a broken foot. Patience paid off: With her doctor's blessing, Kaylee danced her variations in flat shoes and won the gold medal.
Keep reading...
Show less
Jul. 26, 2017 12:06PM EST
Trae Patton/NBC
Week 2 of Misty Copeland as guest judge, week 2 of merciless cuts...How can the final episodes of "World of Dance" possibly live up to the sheer dramaaaaaaaaa of last night's episode? Well, based on the nail-biting results dished out by Copeland and Co. last night, the competition is only going to get fiercer from here. Without further ado, last night's results, as told by Kween Misty.
Keep reading...
Show less


Get Dance Spirit in your inbox