The Dirt with Melody Lacayanga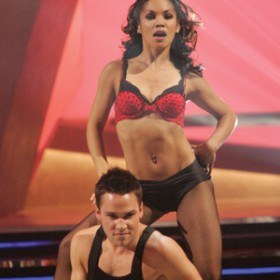 Melody and Nick Lazzarini on "So You Think You Can Dance" Season 1.
Melody Lacayanga is tiny and powerful, and she's taking the commercial dance world by storm. The feisty, California-born dancer grew up dancing with Chris Jacobsen's Dance Company of San Francisco (with this month's cover girl, Chantel Aguirre!), but it was her successful turn on "So You Think You Can Dance" Season 1 that made Melody famous.
During the show's first season, ballet-trained Melody dominated each style that was thrown her way, from the jive to the paso doble. She snagged the runner-up title, coming in second to Nick Lazzarini. Since "SYTYCD," Melody has continued dancing professionally, performing with Sonya Tayeh Dance Company and Mark Meismer's Evolution. She has danced on "The Ellen DeGeneres Show," "Idol Gives Back" and "Glee," and has performed at the MTV European Music Awards. Most recently, Melody was a dancer on Miley Cyrus' Gypsy Heart world tour and was an All-Star on "SYTYCD" Season 8. Read on for The Dirt!
What did you want to be when you were a teen?
A sports medicine doctor or a psychologist. Dance was never in my plan as an "ideal career."
Performer you would drop everything to go see:
Robin Thicke or The Script
If you could work with any performer, past or present, who would it be?
Otis Redding. I love him!
Most-played song on your iPod:
"No One Gonna Love You," by Jennifer  Hudson. It's soooo good—I wanna cry right now as I hear it in my head!
Must-see TV show:
"Top Chef." I am obsessed!
Who would play you in a movie?
Hmm…Brenda Song? Haha. Or Vanessa Hudgens.
Who is your dance crush?
I don't have dance crushes, I have chef crushes!
What is your biggest pet peeve?
When people put their luggage in the overhead bins incorrectly.
Biggest guilty pleasure:
Shoes. I love all types, from sneakers to heels, flats to boots, TOMS, everything. I'm also a sucker for red velvet cake with cream cheese frosting.
One thing most people don't know about you:
I used to sing when I was younger. I sang more than I danced, but one day I just stopped singing. I wish I hadn't…
If you weren't a dancer, what would you be?
Probably a chef. I'm actually considering going to culinary school in the future, when I'm ready to hang up my booty shorts.
Favorite city in the world:
Rio de Janeiro
Favorite dancer of all time:
I have such a long list! Sylvie Guillem , Peter Chu and Lindsay Blaufarb are way up there.
via @phil_wright_ on Instagram
Well, this brings class videos to a whole new level! Choreographer Phil Wright and dancer Ashley Liai have been together eight-plus years, but she was still in total shock when he proposed to her mid-dance at Millennium Dance Complex earlier this week. Why? Well, the whole thing was unbelievably perfect.
Keep reading...
Show less
(Courtesy ABC)
In the dance industry, dancers don't always have a say in what they wear on their bodies. This can get tricky if you're asked to wear something that compromises your own personal values. So what should you do if you find yourself in this sticky situation? We sat down for a Q&A with "Dancing with the Stars" alumn Ashly Costa to answer that very question. Here's what she had to say about the options dancers have surrounding questionable costumes.
Keep reading...
Show less
Jul. 20, 2017 04:39PM EST
Erin Carpenter as a Knicks City Dancer (David Safran, courtesy of Erin Carpenter)
The groundwork for Erin Carpenter's company, Nude Barre, began when she was a teenager. At 16, she earned a spot in the residency program at The Kennedy Center in partnership with Dance Theatre of Harlem. "We were required to wear nude—as in, our actual skin tone—tights and shoes," she remembers. Carpenter brought her "sun tan" tights and a pair of pink ballet shoes with her, because that was all she could find. But she wasn't allowed in class because her dancewear didn't match her skin. "I was so embarrassed," she says. "I looked unprepared. I just didn't have the right nudes." Her teacher explained that the dancers dyed their tights and pancaked their shoes.
Keep reading...
Show less


Get Dance Spirit in your inbox