The Paleo, or "caveman," diet is a growing trend in the dance world and beyond. Many dancers are turning to this low-carb, high-protein way of eating in an effort to feel healthy. Some swear it gives them more energy with less bulk, making it less uncomfortable to dance right after eating.
Despite the hype, Paleo isn't right for everybody—because while it's true a diet of lean meats and tons of fruits and vegetables is good for you, it's what you can't eat on it that has nutrition professionals concerned.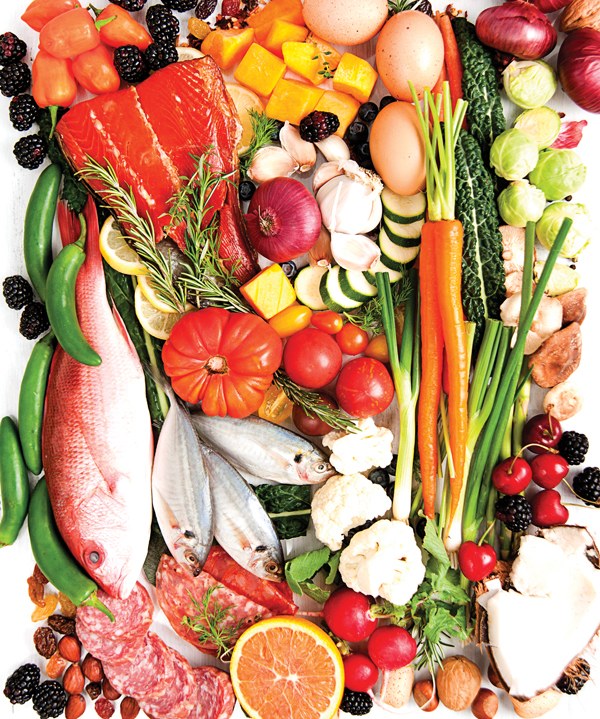 Paleo foods (photo by Anti Gerasim/Thinkstock)
What Is the Paleo Diet?
"Paleo" is short for the Paleolithic era—a period ending about 10,000 years ago, before the rise of agriculture, when cave people hunted for meat and foraged for nuts, berries and seeds. The Paleo diet suggests that we should only eat what our ancestors ate, and that means no processed foods, refined sugar, vegetable oils, salt, grains, potatoes, legumes (beans and peanuts) or dairy.
Paleo-approved foods include the meat of grass-fed animals, seafood, fruits and vegetables, eggs, nuts, seeds and more healthful oils, like olive or coconut. (Surprisingly, some say dark chocolate in moderation is OK, too, because it's primarily cacao with minimal sugar.) And with no calorie counting or portion control, Paleo doesn't place limits on how much you can eat.
What does this look like? Pennsylvania Ballet principal and Paleo devotee Lauren Fadeley fuels her dancing day with a lot of nuts, dried fruits, veggies and lean meat. "I'll have a spoonful of almond butter when I'm running out the door in the morning," she says. Energy bars made from nuts and dried dates and spaghetti squash with meat sauce are also two of Fadeley's standbys.
The premise of the Paleo diet is that our bodies aren't made to digest agriculturally based or processed foods. Advocates claim that it helps people lose weight while boosting energy levels and overall health. Fadeley thinks she has better muscle tone; Broadway dancer Katelyn Prominski, who also subscribes to the Paleo lifestyle, says it keeps her feeling light before a show. "I'm eating a lot of food, but it doesn't drag me down," she says. In addition, the Paleo diet helps her manage her type-1 diabetes, since the regimen is low on carbohydrates.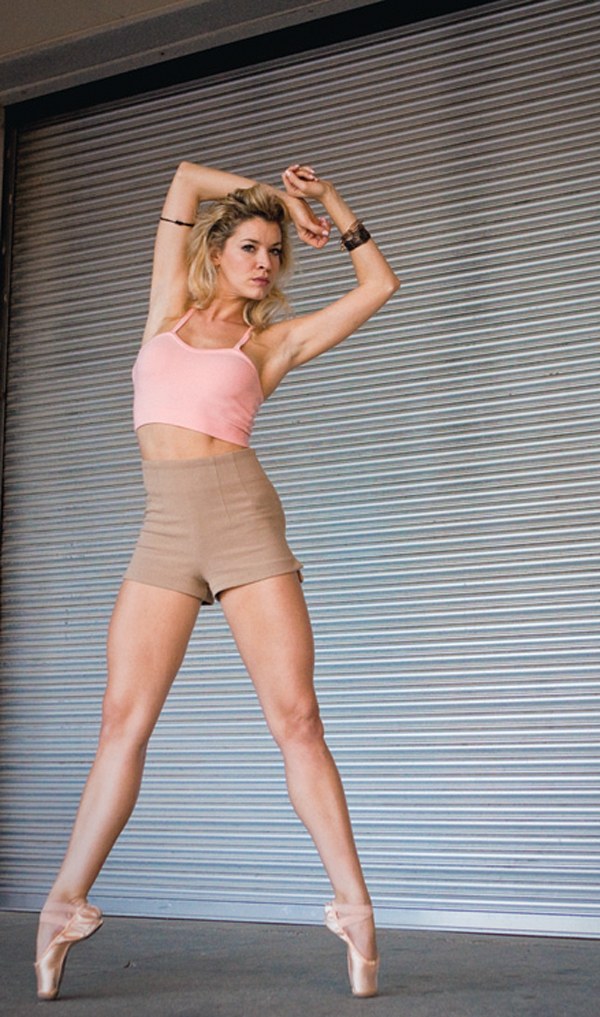 Katelyn Prominski eats Paleo to manage her type-1 diabetes (DRG Photography, courtesy Katelyn Prominski)
What the Experts Say
"As with every diet, there are pros and cons," says Peggy Swistak, a registered dietitian who works with dancers at Pacific Northwest Ballet. "The Paleo diet is high in fiber and eliminates junk food, since you can't eat anything processed. But it's very low in calcium and carbohydrates, which dancers need." Swistak estimates that the Paleo diet only offers about 700 milligrams of calcium per day, and young dancers need at least 1,000 to 1,200 milligrams daily. "You can always take supplements, but that's not as healthy," she says.
Emily Cook Harrison, a registered dietitian at the Centre for Dance Nutrition in Atlanta, agrees. "Carbs are the best source of energy for any athletic activity, especially dancing," she says. "If you're just burning protein, it's like putting the wrong kind of gas in your sports car. It'll go, but it's not the best fuel." Excess protein, Harrison says, can also lead to bone loss and increase a dancer's risk of getting injured. "You're not allowed any dairy or even soy milk on this diet," she says. "It's a recipe for a stress fracture."
Eating Paleo might help you lose weight, but it's mostly fluid—and not fat—that you're dropping. "You need a certain amount of water in your body to metabolize carbohydrates," says Swistak. "If you cut carbs, you're cutting fluid, so it just looks like you lost weight."
A Moderation Mantra
That said, if you allow yourself some flexibility when it comes to carbs and dairy, trying out Paleo for a while could help you form better eating habits. "No one argues that getting rid of junk food is a bad thing, and the Paleo diet was originally meant to be just a three-week plan," Swistak says. "If you can avoid sugar and refined starches for a few weeks, maybe you won't want to eat them as much when you go off the diet."
Fadeley has been eating Paleo for four years—on and off. "If I'm craving something, I let myself have it," she says. She takes vitamin supplements, eats dairy products on occasion and indulges on weekends. And she admits to going off the diet during summer breaks. "Some people are really strict about it, but I just do the things that make me feel the best."
What's more daunting than getting into your dream college dance program? Figuring out how you'll cover the costs of tuition, room and board, incidental expenses and more. Here's the good news: The right scholarship(s) can bring your dream school well within reach.
Look Around, Look Around
Scholarship applications are due between the fall of senior year and graduation time, so familiarize yourself with funding opportunities during the spring of junior year. And there are a lot of opportunities out there, says Kate Walker, chair of dance at Booker T. Washington High School for the Performing and Visual Arts in Dallas, TX. "A lot of school guidance counselors now have software that automatically matches you with scholarships," she says.
Seek out scholarships on your own, too. According to Walker, "a lot of corporations are required to have some community engagement, including offering scholarships, so research corporations in your community." Your parents' employers might offer assistance too, says Doug Long, an academic and college counselor at Interlochen Arts Academy in Interlochen, MI. "They might have scholarships you can apply for just because your parent works there."
Other sources of grant money you won't have to pay back (as you would a loan)? The YoungArts Foundation; competitions/conventions, like New York City Dance Alliance; and the university or dance department you're applying to. Even some scholarships aimed at athletes are open to dancers!
Apply Yourself
A winning scholarship application involves a fair amount of paperwork, especially if the organization requires you to show financial need. In addition, certain scholarships ask for the College Board's CSS/Financial Aid Profile, which gives the awarding organization a more complete picture of your family finances.
Other ingredients of a successful scholarship application include recommendation letters, a dance and/or academic resumé and an essay or statement of purpose. Treat these components just like college applications: Have multiple trusted adults proofread your materials, and ask for recommendation letters or transcripts long before deadlines.
A note for non-dance scholarships: Including objective measures of achievement can only help you. "List national recognitions, like YoungArts or other competitions," says Long. "That shows the scholarship committees that people at high levels have acknowledged you as an artist of quality." And don't forget who your audience is. "Especially in writing samples, make sure you paint a vivid picture for your reader," Walker says. "Don't assume they know about all the things—like barre every day—that we as dancers take for granted."
No award amount is too small to be worth your time and effort. As Walker says, "Don't pooh-pooh a couple hundred dollars in award money, because any scholarship is funding that you didn't have yesterday."
A version of this story appeared in the July/August 2017 issue of Dance Spirit with the title "All Aboard the Scholar-ship."
Every ballet dancer knows the time, sweat, and occasional tears the art form demands. But many non-dancers are clueless about just how much work a ballet dancer puts into perfecting his or her dancing. So when the mainstream crowd recognizes our crazy work ethic, we'll accept the round of applause any way it comes—even if it comes via four men in tutus. Yep, we're talking about "The Try Guys Try Ballet" video.
Keep reading...
Show less
(via YouTube)
Remember that fabulous old-school clip of dancers tapping in pointe shoes that Tabitha and Napoleon D'umo brought to our attention back in March? As we mentioned then, toe-tap dancing was actually super popular back in the 1920s and 30s—which means there are more videos where that one came from. And because #ToeTapTuesday has a nice ring to it, we thought we'd take this opportunity to introduce you to Dick and Edith Barstow, a toe-tapping brother and sister duo from that era who are nothing short of incredible:
Keep reading...
Show less
(Adam Rose/FOX)
Guess who's back? Back again? The Academy's back! Tell a friend.
After one day at The Academy, the All Stars have successfully taken the Top 100 down to 62. But their work is just getting started: Now they need to keep narrowing the field to a Top 10, ultimately deciding who each will partner with during the live shows.
Keep reading...
Show less


Get Dance Spirit in your inbox