The Feet Inside the Shoes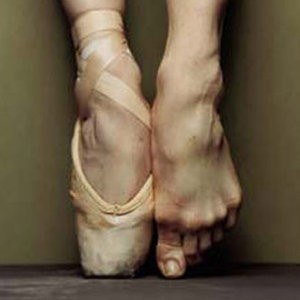 Let's just say it: Objectively speaking, dancer feet, particularly ballet dancer feet, can be really, really gross. Bruised toenails, blisters, callouses, bunions—they're not the most attractive things in the world.
But "ugly" feet are also a dancer's badge of honor. First, they're visual testimony to the hours of grueling work we all put in to make what happens onstage look effortless. And second, many of those "deformities" are actually protective armor. How could any ballet dancer survive a 12-hour day in pointe shoes without her trusty callouses?
New York City Ballet dancer Troy Schumacher talked to Claudia La Rocco about dancer feet over at The Performance Club's website yesterday. Here's the link to the post, which includes some of Schumacher's up-close-and-personal foot photos.
"There's definitely a huge amount of pain that goes into ballet dancing," he says. "I really want to hide people's pain a  little bit less...and try to make these dancers a little bit more human, even though ballet makes you able to hold yourself in ways that are almost super human."
Foot worship—as long as the feet are in pointe shoes—is pretty much universal among ballet dancers. But I like Schumacher's idea of celebrating what's going on beneath that pretty pink satin. Why shouldn't we be proud of the bleeding, blistered, calloused feet that allow us to create magic onstage?
Jun. 15, 2017 02:00PM EST
From left: Haley Hartsfield, Kaylin Maggard, and Michelle Quiner (photos by Erin Baiano)
Congratulations to Dance Spirit's 2017 Cover Model Search finalists: Haley Hartsfield, Kaylin Maggard and Michelle Quiner! One of them will win a spot on Dance Spirit's October 2016 cover. Learn more about the dancers on their profile pages, and then vote for your favorite below.
We also want you to get social! We'll be factoring social media likes and shares into our final tallies. Be sure to show your favorite finalist some love on Facebook, Instagram, and Twitter, sharing their profile pages and using the hashtag #DanceSpiritCMS.
Keep reading...
Show less
via YouTube
...This clip, "'Hamilton' Choreographer Breaks Down His Moves," popped up on my YouTube recommended list. I mean, I could watch Hamilton's dance wizard Andy Blankenbuehler talk about anything. Have you read our interview with him back when he was making the moves for Bandstand? The guy is freaking fascinating.
Keep reading...
Show less
Jun. 23, 2017 03:57PM EST
via YouTube
Great contemporary choreographers and soulful singer-songwriters have always made for a perfect match. That's why we were thrilled when we found out "SYTYCD" and "Dance Moms" choreographer Kristin McQuaid created the music video for "Light the Sky," a hit single from "America's Got Talent" winner Grace VanderWaal.
Keep reading...
Show less


Get Dance Spirit in your inbox