Apr. 11, 2013 12:15PM EST
The Get-a-Clue Guide to Dance Auditions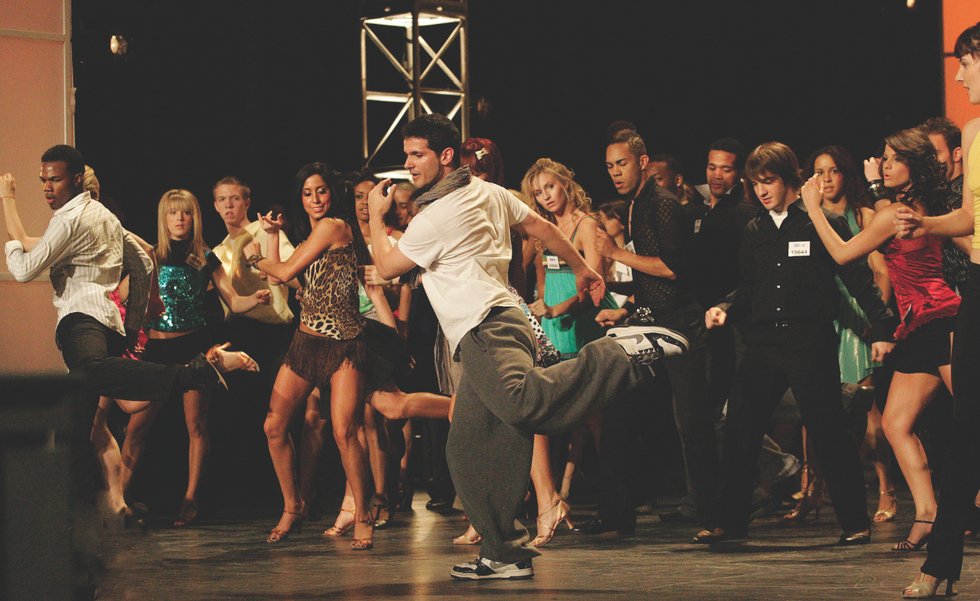 Tyce Diorio leading auditions in Las Vegas during "So You Think You Can Dance" Season 4 (photo by Kelsey McNeal/FOX)
Every audition experience is unique. But whether you're hoping to land a spot in a commercial or on an NBA dance team, certain situations are bound to occur. Read on to learn what top agents and casting insiders swear you'll encounter at almost any audition.
1. There are going to be curveballs. Choreographers and casting directors can change things up on a whim, so be ready for anything. Abrams Artists Agency's Brooklyn Lavin suggests coming armed with copies of your headshot and resumé, an array of shoes—including heels, dance shoes, tennis shoes and tap shoes—a makeup bag and multiple wardrobe options. "If your agent tells you it's a burlesque, sexy look and everyone at the audition looks like a nun, you need to be prepared to wing it," Lavin says.
That "go with the flow" motif applies to dancing, too, says "Glee" associate choreographer Brooke Lipton. "You never know what casting directors or choreographers will throw at you," she says. "Be versatile and be prepared."
2. The day will be long and crowded. Whether there are dozens, hundreds or even thousands of dancers showing up, the audition will surely take at least half a day, according to Lavin. Bring water and healthy snacks to keep your
energy level high, and always allot enough time for traffic, checking in, stretching and warming up. "Expect a huge line," says Lavin, who represents dancers including Neil Haskell and Chelsie Hightower. "I recommend showing up at least 30 minutes before audition time to sign in."
3. All eyes will be on you from moment one. If you thought the only thing that mattered was your short time performing in front of the judges, it's time to retrain your brain. "Your audition starts the moment you walk into the casting room or studio," says Jenn Proctor of McDonald/Selznick Associates. "The decision makers are paying attention to your every move, even if you think they aren't, so be the best version of yourself—the whole time."
4. It's going to be overwhelming. It's a universal truth that auditions are intimidating—regardless of your experience level. "Lots of dancers get into the room with 300 other people and feel overwhelmed, thinking, No one will see me," says Lipton, who casts about 250 dancers every year. "There are awesome dancers who get on the floor and bomb because they're so scared of the process." Close your eyes, take a few deep breaths and regain focus on your audition. No one else matters.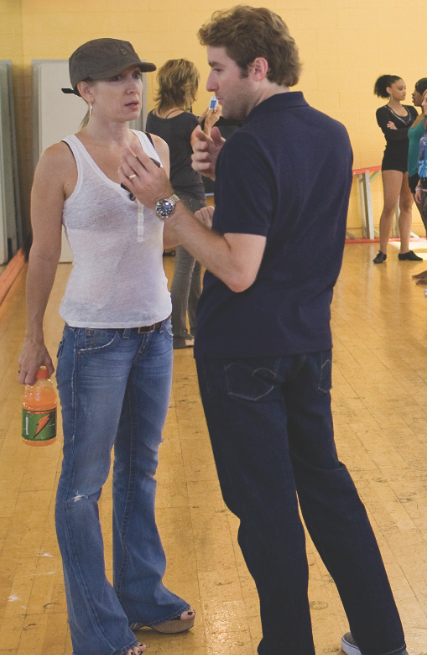 Choreographer Marguerite Derricks judges the talent at the "Fame" auditions (photo by Saeed Adyani)
5. Things will move quickly. Though the wait may be long, things will ramp up at lightning speed once the audition is underway. According to Lavin, most choreographers only spend about 15 minutes teaching the combination, after which dancers usually break into small groups and practice together before their turns. "Most audition combos are taught quickly and can be very difficult, so it's good to take plenty of
advanced classes to prepare," says Proctor. "That way, your body will be used to picking up challenging choreography rapidly. And remember, the more auditions you attend, the better you'll get at auditioning in general."
6. You might mess up. Even if you have the combo committed to memory, it might magically disappear when the pressure's on. How you handle it is what will make or break your audition. "Don't roll your eyes when you make a mistake. I can't tell you how bad that looks," says Lipton. She recalls one "Glee" hopeful who made several mistakes during her audition, but still booked the job "because she looked so strong and beautiful in what she was doing—it almost made everyone else look wrong. Confidence is the biggest booking magnet." Don't panic, keep your expression neutral and believe in yourself and your ability to book the gig.
7. You'll need to show your freestyle finesse. Freestyle has become an increasingly common part of auditions, and most choreographers will want to see your unique style of movement. Both Proctor and Lavin typically tell their clients to prepare a few 8-counts beforehand, especially if they feel uncomfortable going off the cuff. "It's so important for any dancer, whether ballet or hip-hop, to practice freestyling in the mirror," Lavin says. "It helps you see what's going on with your body and face and whether you have quirky mannerisms."
8. It will be hard to read the decision makers. At any given audition, you'll likely be evaluated by a panel including the choreographer, his or her assistant(s), casting directors, producers and/or other behind-the-scenes types. Lipton says it's futile to try to read their minds, as there's often chaos happening on the other side of the table. "We're trying to read five resumés at a time and take notes, so if we don't smile, it doesn't mean anything," she says. "The best thing you can do is make direct eye contact with everyone at the table—those are the dancers who catch my attention."
9. Things might not go your way. You may find out whether you're hired on the same day as the audition, or you might be contacted a few days later for a callback. If neither of those things happen, you're probably not on the short list, Lavin says—and that's OK. "Even if you gave the most amazing performance of your life, even if you have a relationship with the choreographer and think you have the job nailed, you may not get it," she says. "There are so many factors that weigh into hiring decisions."
10. This won't be your only shot. Lipton urges dancers to keep trying even in the face of rejection. "You're more likely to be turned down than you are to get the job," shares Lipton, who spent three years auditioning before her first booking. "Too often, dancers give up early and make judgments about why they didn't get the job. Instead, stay and see who was hired and why. What were they wearing? How did they dance? Copy the things that work, and above all, keep coming back."
(Break the Floor Productions)
In addition to training, competing and winning titles in just about every style you can think of, 13-year-old Kaylee Quinn is a regular on the sci-fi drama "Stitchers," playing the younger version of the show's main character. Her path in dance hasn't been without challenges, though. Last summer, Kaylee won the Hope Award at her regional Youth America Grand Prix, but wasn't sure she'd be able to compete at the NYC finals due to a broken foot. Patience paid off: With her doctor's blessing, Kaylee danced her variations in flat shoes and won the gold medal.
Keep reading...
Show less
Trae Patton/NBC
Week 2 of Misty Copeland as guest judge, week 2 of merciless cuts...How can the final episodes of "World of Dance" possibly live up to the sheer dramaaaaaaaaa of last night's episode? Well, based on the nail-biting results dished out by Copeland and Co. last night, the competition is only going to get fiercer from here. Without further ado, last night's results, as told by Kween Misty.
Keep reading...
Show less
Jul. 25, 2017 05:04PM EST


Get Dance Spirit in your inbox