Musical Theater
15 June 2012
The New Kings of New York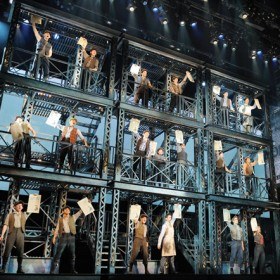 Photo by Deen van Meer
Extra! Extra! Read all about it: Newsies is the hottest new musical on Broadway! That's right: The cult '90s Disney film, a fictionalized retelling of the 1899 newsboy strike, has landed on the Great White Way. And the pedigreed dancers playing its scruffy, paper-peddling, lovable newsboys are the new kings of New York. Remember the high-octane dance sequences Kenny Ortega choreographed for the film? Now multiply their energy by 10, add tap shoes (for the showstopping "King of New York" number) and sub in "So You Think You Can Dance" alums and Broadway dance veterans for the movie's rough-hewn group of kids. (Christian Bale and company were adorable in the film version, but this crop of dancers? Now you're talkin'.)
Here at DS, we were totally blown away by the talented Newsies musical cast. Meet four of the standout dancers—Aaron Albano, Ryan Steele, Ephraim Sykes and Alex Wong—who backflipped and switch-leaped their way into our hearts.
The True Story Behind Newsies
Newsies follows the daring, dashing Jack Kelly as he leads a group of his fellow newsboys to strike against domineering newspaper baron Joseph Pulitzer. While there was no Jack Kelly in real life, there was a newsboy strike in 1899, spearheaded by the Jack Kelly–like Kid Blink and buddy David Simons. They got their peers to unite against Pulitzer and William Randolph Hearst in protest of the higher prices the moguls had begun charging newsboys for papers. And like the fictional newsies, the real newsies did force the publishers to make small concessions.
DID YOU KNOW? There are four "So You Think You Can Dance" alums in Newsies: Thayne Jasperson, Evan Kasprzak, Jess LeProtto and Alex Wong.
DID YOU KNOW? There were lots of now familiar faces dancing behind Christian Bale in the film version of Newsies, including Brian Friedman, Dee Caspary and Wes Veldink!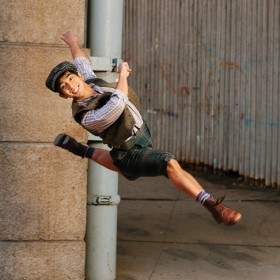 Photo by Jacob Pritchard
MEET THE NEWSIES
Aaron Albano (Finch, Ensemble)
A California native, Aaron caught the theater bug early, performing in local musicals and training in jazz and tap. After studying musical theater at the University of Cincinnati—"I knew that I needed more training after high school, that I wasn't quite ready for prime time"—he landed a spot in Broadway's Bombay Dreams, and has been hopping from show to show on the Great White Way (A Chorus Line, Wicked, Mary Poppins) ever since.
Aaron got into Newsies on the ground floor: He performed in the show's off-Broadway run at the Paper Mill Playhouse in New Jersey. "As soon as I got wind of the production, I knew I had to go for it," he says. "It was a childhood dream come true." While he says he'd be "happy to do Newsies for the rest of my life," Aaron also has offstage aspirations. "I was taking graduate classes in teaching for a while, and I'd like to continue that at some point," he says. "I'm a math person. If I could find a high school that needed a math, drama and dance teacher, I'd be set!"
FUN FACTS
Favorite dancer of all time: "Ryan Steele. Please put a smiley face after that." :)
Favorite food: "Cookies—specifically the chocolate chip cookies from the DoubleTree hotel. It's an inside joke at work, actually. My nickname is 'Cookie.' "
Dance crush: Abby Lee Miller from "Dance Moms." "Is that weird? It's my favorite TV show. She's such a crazy, whacked-out character."
Photo by Jacob Pritchard
Ryan Steele (Specs, Ensemble,  Dance Captain)
Ryan grew up in a dancing family: His mom, dad, brother and sister have all trained. After studying a variety of dance styles as a youngster, he decided to go ballet all the way as a teen. In fact, the Michigan native was about to sign with Ballet Austin when he found out he'd also been offered the part of Baby John in the Broadway revival of West Side Story. He took the role, and was plunged into the foreign world of musicals. "I had no idea what I was getting myself into, especially when it came to singing," he says. "Luckily, it was a great cast to learn from—and good thing, because I had a lot to learn. Take voice lessons, everybody!"
After a stint in Billy Elliot, Ryan joined the Newsies Paper Mill Playhouse cast. "I couldn't have been more thrilled, because I'm such a fan of the movie—it made me realize that dancing was a cool thing for guys to do," he says. "As a 10-year-old I was making up dances to 'Carrying the Banner' in my living room." He's also a dance captain for the show, working alongside choreographer Christopher Gattelli to refine the hard-hitting choreography.
FUN FACTS
Most-played on his iPod: [Ryan says:] "Dearest" by The Black Keys. [The other boys say:] "Call Me Maybe" by Carly Rae Jepsen and "Watch What Happens" from the Newsies soundtrack.
His dance crushes: "My roommates, Jakob Karr and Grace Buckley. They're both
so amazing and talented."
Weirdest thing in his dance bag: "A piece of coal from one of the coal mines in the county where Billy Elliot takes place. All the ensemble members in the show got one. It's like a good luck charm now."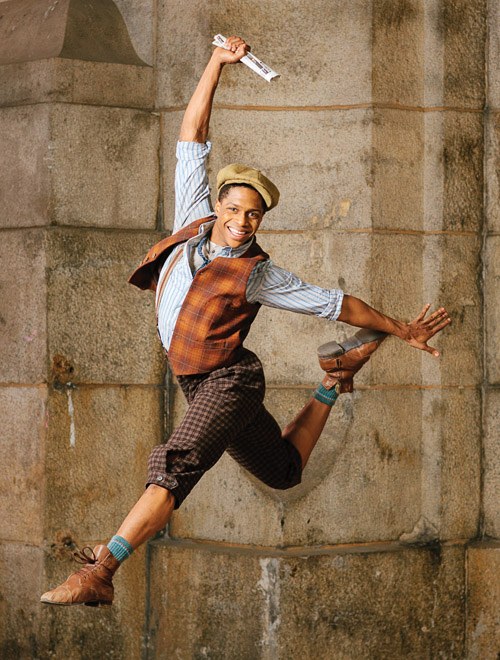 Photo by Jacob Pritchard
Ephraim Sykes (Mush, Ensemble)
Ephraim started out boogieing along to Michael Jackson videos as a kid. Later, he refined his technique at Florida's Pinellas County Center for the Arts at Gibbs High School, and further polished his skills in the Ailey/Fordham BFA program and as a member of Ailey II.
His decision to start down the musical theater road was actually a return to his roots, in a way: "My mom is a singer, and I grew up singing in church," he says. He landed a role in The Little Mermaid on Broadway, and his career took off from there.
Though Ephraim hadn't seen the film version of Newsies before he was cast in the show, he became "an instant fan" after watching the DVD that came with his script. "I was late to the party," he says. "My friends have all been obsessed with the movie for years!"
Eventually, he'd also like to try out more television and film roles. "I'm hoping the industry comes back to the old-school dance movie model," he says. "My dream is to be the next Sammy Davis Jr. or Fred Astaire."
FUN FACTS
Favorite dancer of all time: "Matthew Rushing from Alvin Ailey American Dance Theater. Watching him changed my life."
Hidden talent: "I'm a musician. I play the piano and the saxophone, and played snare drum in the marching band in high school. I also like writing music."
If he were a superhero, his power would be: "The ability to read people's thoughts—and make them say what I want!"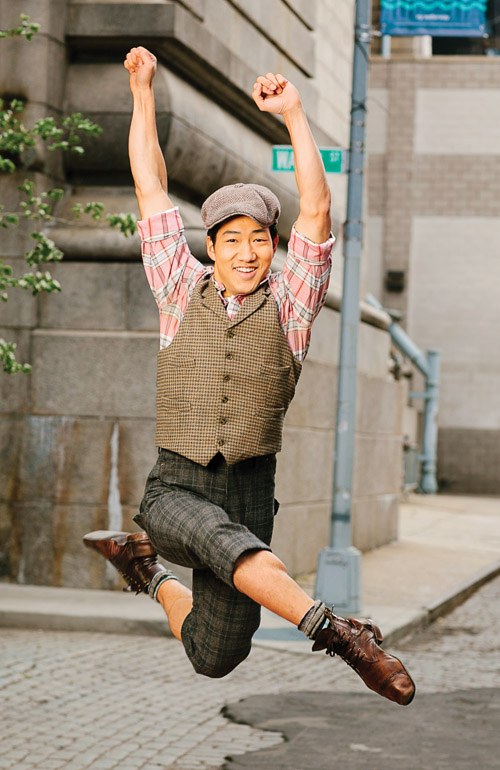 Photo by Jacob Pritchard
Alex Wong (Scab, Ensemble)
We're guessing you're already well acquainted with Alex Wong. The former Miami City Ballet principal soloist and "So You Think You Can Dance" star has been on a roller coaster ride for the past couple of years. After tearing both of his Achilles tendons in succession, Alex put dance on the back burner for a bit and began exploring his other passion: singing. "I was in L.A. competing on 'American Idol' when my agent called about Newsies," he says.
Since his Achilles were finally healing, it seemed like the perfect opportunity to get back onstage—and to make use of his vocal skills. Plus, he'd seen fellow "SYTYCD" alum Evan Kasprzak in the Paper Mill production and knew he loved the show.
Newsies marks Alex's first time on Broadway, and its eight-performances-a-week schedule has been an adjustment. "Initially, I wasn't sure how I'd cope with doing the same show every day," he says. "But it's been so rewarding." And there's probably more Broadway in Alex's future: "I'd love to do a show that's even heavier on the singing."
FUN FACTS
Favorite dancer of all time: "Can I say three? Ethan Stiefel, David Hallberg and Mark Kanemura. They're just rock stars."
If he were a superhero, his power would be: "Flying! I used to have these amazing flying dreams as a kid."
Weirdest thing in his dance bag: Chocolate mochi candy from Japan.
DID YOU KNOW? Alex, Ephraim, Aaron and Ryan have all performed on the TV show "Smash," along with several other Newsies boys.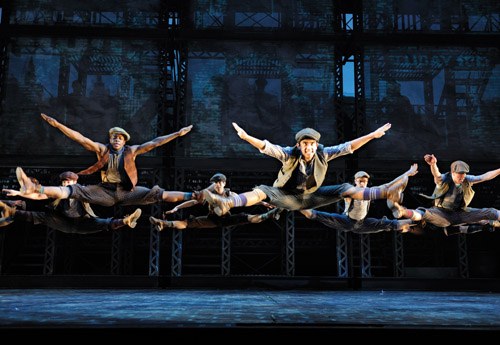 Photo by Deen van Meer
NEWSIES SOUND OFF
DS: How did you all master the Newsies "New Yawk" accent?
Ryan: We have a dialect coach who works with us a lot. But we also get help from Tommy Bracco, who plays Spot—he's from Staten Island and had the accent to begin with! For brushups we go right to Tommy.
Ephraim: I've also found that anytime you're not sure how a word should sound, just talk out of the side of your mouth. That usually does it.
DS: What's it like working with Newsies' choreographer, Christopher Gattelli?
Ryan: He's the best. He makes it great to come to work every day.
Aaron: His choreographic style balances storytelling and power. If it were all power, we'd be going for platinum constantly for no reason. If it were all storytelling, everyone would be like, Why are you wasting these great dancers?
Alex: He's able to show us off individually and yet also have us dance as a real unit.
Ephraim: None of his choreo is arbitrary. We're jumping because we're trying to jump over the hurdles in our lives! It's rare that you get to speak so truthfully with your body.
DS: What real-life roles do each of you play in the cast?
Ryan: Aaron is definitely the big brother. He's been in a bunch of shows already, so he knows what to expect, and looks out for all of us.
Aaron: Alex is the secret teenybopper! Every time you turn around he's singing Legally Blonde.
Alex: Ephraim is the fashion-forward one, for sure. He's super-stylish.
Aaron: And Ryan is the most popular. We have these Newsies trading cards, and his is the most requested. Everyone loves Specs!
DS: Do you guys prank each other a lot?
Ephraim: Oh my gosh, Alex played the worst prank on me our first week in the theater!
Alex: For some reason at that point I had everyone's phone number except Ephraim's. I got his from a friend, and sent him a text: "Is this Ephraim?" He texted back, "Yeah, who is this?" And suddenly I saw my opportunity…
Ephraim: I got this string of texts: "Hi, my name's Christine, I saw you in the show, I'm your hugest fan, I love you soooo much, I'm coming back to see you soon." It was so creepy—I got legitimately scared, like, How did this girl get my number? I locked my door and told the stage manager that I thought I had a stalker!
Alex: He had no idea it was me texting. It was amazing.
DS: But you get real fan mail too, right?
Ryan: Yup, we all do. The sweetest letter I got said a little boy had started taking dance classes after seeing us in the show. I mean, that's why we do this, right? It's awesome to hear that we're inspiring others.
Erin Carpenter as a Knicks City Dancer (David Safran, courtesy of Erin Carpenter)
The groundwork for Erin Carpenter's company, Nude Barre, began when she was a teenager. At 16, she earned a spot in the residency program at The Kennedy Center in partnership with Dance Theatre of Harlem. "We were required to wear nude—as in, our actual skin tone—tights and shoes," she remembers. Carpenter brought her "sun tan" tights and a pair of pink ballet shoes with her, because that was all she could find. But she wasn't allowed in class because her dancewear didn't match her skin. "I was so embarrassed," she says. "I looked unprepared. I just didn't have the right nudes." Her teacher explained that the dancers dyed their tights and pancaked their shoes.
Keep reading...
Show less
Via @whitneybugs on Instagram
There are dancers and then there are DANCERS! Whitney Jensen, soloist at Norwegian National Ballet, is the latter. The former Boston Ballet principal can do it all. From contemporary to the classics this prima has the technical talent most bunheads dream about. Need proof? Look no further.
Keep reading...
Show less
Jul. 19, 2017 04:53PM EST
Via YouTube
Luis Fonsi and Daddy Yankee's dance inducing hit, "Despacito," is so catchy it should probably come with a disclaimer that warns people of an uncontrollable itch to tap your feet or bob your head. Some might even feel inclined to go all out and break it down. Niana Guerrero is a prime example of "Despacito's" uncanny ability to unleash the red dressed emoji dancer within. 💃🏽 💃🏽
Keep reading...
Show less
Jul. 19, 2017 04:25PM EST
(courtesy NBC)
Guys, we all knew this was coming—"World of Dance" was eventually going to eliminate someone. But man, is it brutal to watch these talented dancers give their all, only to be sent home. It's the name of the game, though, and after last night's episode, only two dancers per division remain. (At least Misty Copeland guest-judging was a silver lining!) Here's what went down last night:
Keep reading...
Show less


Get Dance Spirit in your inbox