May. 29, 2013 10:37AM EST
The Rite of Spring Turns 100 Today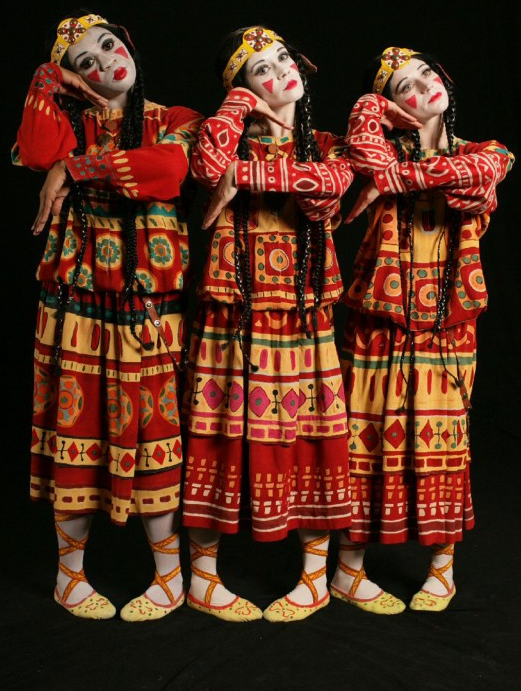 The Joffrey's reconstructed"Rite of Spring" (photo by Herbert Migdoll)
100 years ago today, the Ballets Russes premiered Igor Stravinsky's Rite of Spring, with choreography by Vaslav Nijinsky, in Paris. It caused a riot.
No—literally.
The audience just didn't know what to make of the work, which was dissonant and rough and not at all like the pretty stuff they were used to seeing on the ballet stage. (To give you a sense of what they did expect, one of the most popular ballets at the time was Les Sylphides—all delicate bourrées and long white tutus. In fact, it was on the program with Rite that night.)
Seriously, can you imagine that happening today? Brawls breaking out after a ballet premiere? People slugging each other because they're confused by music and choreography? It must have been a totally wild scene. And it speaks to the revolutionary nature of Rite, which in many ways changed how the world thought about ballet.
Since then, there have been hundreds of versions of Rite performed by dance companies all over the world. But the Nijinsky's choreography was actually lost for more than 70 years. It wasn't until 1987, when the Joffrey Ballet premiered a painstaking reconstruction of the work, that modern audiences were able to see what all the fuss was about.
Happy 100th, Rite! To celebrate, here's a recording (in three parts) of a 1989 performance of the Joffrey's reconstruction. See if it makes as much of an impact on you as it did on that 1913 audience:
Dance is a powerful form of expression, and Ahmad Joudeh is using its influence to promote peace.
The 27-year-old is a Palestinian refugee, whose decision to pursue his passion for ballet has made him the target of death threats from terrorist organizations. Despite the danger, Joudeh has decided to continue on his path as a dancer, using his performances as an opportunity to spread a message of peace and cultural awareness.
Keep reading...
Show less
A dance photo of Averi Hodgson (courtesy of Cortney Hodgson)
For 14-year-old Averi Hodgson, focusing on her ballet training while growing up was never easy: She's suffered from epilepsy since she was in first grade, and later, she was also diagnosed with scoliosis. Here, she tells her story of perseverance—and how her determination earned her a spot at the School of American Ballet's 2017 summer intensive.
Keep reading...
Show less
CBS
"Late Late Show" host James Corden was one of the many, many people shocked by President Trump's sudden decision to ban transgender people from the military yesterday. And he decided to voice his outrage in the way most likely to rile a President who's uncomfortable with anything "un-manly": through a big, beautiful, extra-sparkly song-and-dance routine.
Keep reading...
Show less
Jul. 25, 2017 05:04PM EST


Get Dance Spirit in your inbox