The Sweetest Girls on Broadway
What could possibly be better than dancing in Susan Stroman's new musical, Bullets Over Broadway? How about getting to dance next to your best friend? Beth Johnson Nicely and Amanda Kloots-Larsen have been close to inseparable since meeting on the national tour of 42nd Street in 2002. So it was only a matter of time before these two leggy ladies discovered they shared another obsession—desserts—and decided to turn their sweet teeth into something more. They started the blog Just Desserts NYC (justdessertsnyc.com) in 2007. Despite their hectic careers on Broadway and as fitness instructors in NYC, Kloots-Larsen and Johnson Nicely have continued to grow their sugary side project into a recognizable brand.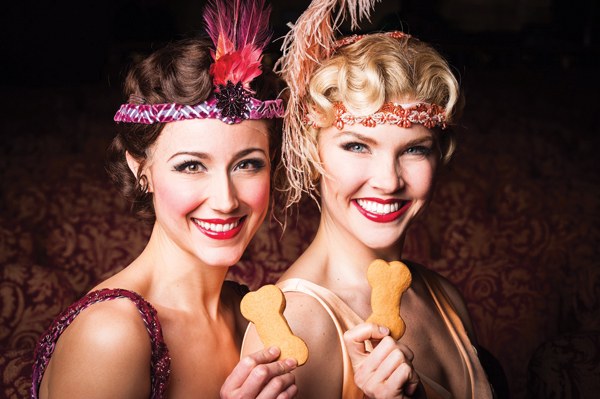 (Photo by Justin Patterson)
SWEET BEGINNINGS
Kloots-Larsen and Johnson Nicely first met during callbacks for the national tour of 42nd Street, and immediately bonded over their Ohio roots. And when they spotted one another on the first day of rehearsal, a little challenge brought them together. "We didn't know how to fill out our contracts," recalls Johnson Nicely. "We were struggling—the lead at the time had to help us."
Their friendship soon blossomed. "In every city, Beth and I would go on a search for something sweet," says Kloots-Larsen. Those delicious adventures continued once the two girls returned to NYC, and a blog seemed like a natural next step. "People kept asking us where to go for the best desserts in the city," Johnson Nicely says. "We figured our blog could be a resource for everyone."
Just Desserts NYC hit its stride around 2011, and today, new bakeries and restaurants reach out to the dancing dessert duo—who also go by "Blondie" (blonde Amanda) and "Brownie" (brunette Beth)—to taste and review their treats. They post almost daily about new desserts, recipes, the latest crazes and sweet spots to check out, not only in NYC but across the U.S. and abroad. And of course, they do it all together. (Kloots-Larsen and Johnson Nicely were even one another's bridesmaids.) "Luckily, dancing is a great workout," says Kloots-Larsen, "because our blog requires us to taste a lot of desserts!"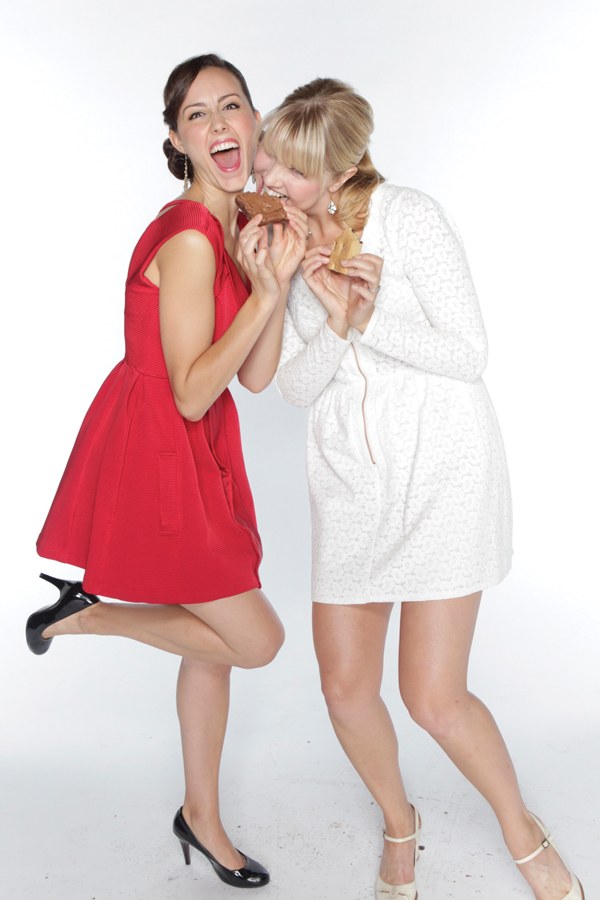 (Photo by Dana Edelson)
TASTY TREATS
In addition to the blogosphere, Kloots-Larsen and Johnson Nicely have also enjoyed great success onstage. Since the national tour of 42nd Street, they've performed as Rockettes in the Radio City Christmas Spectacular. And between the two of them, they've scored roles in Broadway musicals including Young Frankenstein, Good Vibrations, Follies, Irving Berlin's White Christmas and Spamalot. Now, Bullets has finally brought them back together—and dealing with desserts is even part of the gig.
In Bullets, the gluttonous actor Warner has an odd food fetish: dog treats that he steals and eats throughout the show. Enter Blondie and Brownie. Stroman, Bullets' director and choreographer, who was familiar with Just Desserts NYC, asked if they'd bake the "dog treats" during the show's early workshops last fall. "Beth and I consider ourselves more critics than bakers," says Kloots-Larsen. "But when she asked, we automatically agreed. You don't say 'no' to Stro!"
Now, in addition to performing eight shows per week, Kloots-Larsen and Johnson Nicely also bake two dozen edible props—tasty gingerbread-butterscotch cookies. In May, the St. James Theatre even started selling the cookies to theatergoers after each performance. So far, the extra work has been worth it. "The opportunity to marry our two loves—desserts and musical theater—has been a dream come true," Johnson Nicely says.
While Just Desserts NYC hasn't brought in extra income, the girls have high hopes for the blog's future. They've received steady attention, including webisodes on NBC's Today.com and the Cooking Channel's "Log On & Eat with Eden Grinshpan."
One day, Kloots-Larsen and Johnson Nicely dream of hosting their own TV show. But for now, their blog helps keep them grounded. "Being in show business is a lot like being on a roller-coaster ride," Kloots-Larsen says. "There are so many ups and downs in your career." Adds Johnson Nicely: "That's why it's so important to have a creative outlet on the side."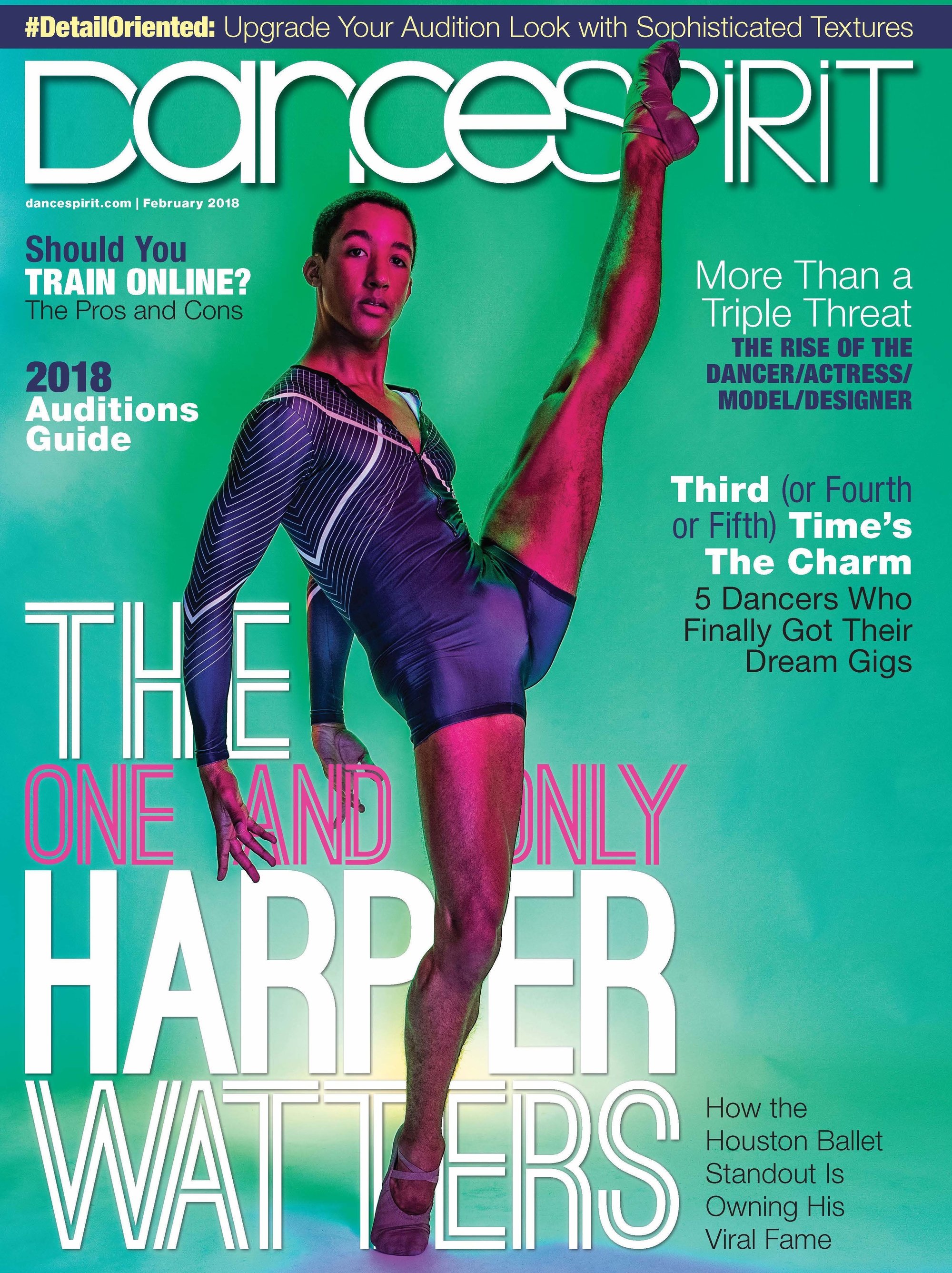 Get Dance Spirit in your inbox