Fashion
Dec. 08, 2017 02:45PM EST
Not Your Average 'Nutcracker': The World's Most Imaginative Productions
Matthew Bourne's "Nutcracker" (photo by Simon Annand, courtesy Raw PR)
When most of us think of The Nutcracker, we imagine a growing Christmas tree, dancing mice, and a little girl named Clara (or Marie) traveling to the Land of Sweets. But companies around the world have been reinventing the holiday classic, changing the storyline or adding their own spectacular sets and characters. To get in the Nutcracker spirit this season, check out these out-of-the-box productions.
---
A "Nutcracker" Trip to the Chicago World's Fair
The Joffrey Ballet's "Nutcracker" (photo by Cheryl Mann, courtesy The Joffrey Ballet)
Joffrey Ballet's The Nutcracker, choreographed by Christopher Wheeldon, is set in Chicago a few months before the 1893 world's fair. "It was an amazing turning point in terms of architecture and electricity," says artistic director Ashley Wheater. "It had the first Ferris wheel, and put Chicago on the map."
Wheeldon's production uses the fair's history to tell a story about immigrants and what it means to belong, making Marie the daughter of a poor single mother. Visitors to the fair dance under a gigantic projection of a Ferris wheel during the "Waltz of the Flowers"; Marie's mother, a sculptress, becomes the Golden Statue and dances what's normally the Sugar Plum pas de deux with the Great Impresario of the Fair. "It's very theatrical and incredibly touching," says Wheater. "The whole creative team took us on a different journey than any other Nutcracker."
A Nautical "Nut"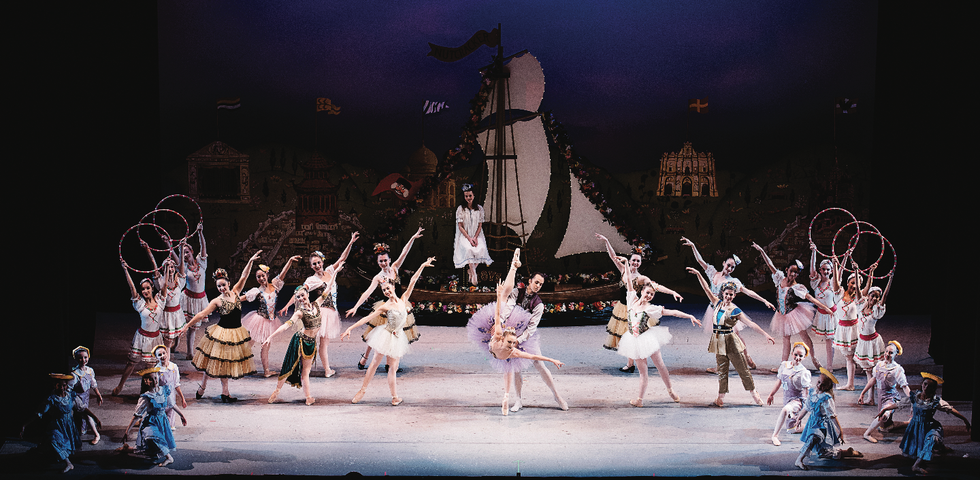 Eastern Connecticut Ballet's "Nutcracker" (courtesy Eastern Connecticut Ballet)
Eastern Connecticut Ballet's production takes place in the 1850s, at the peak of the whaling industry. "We wanted to create a Nutcracker that our school children and the community could relate to," says executive director and founder Lise Reardon. "Look around our area and you'll see seaports, maritime museums, and the Coast Guard Academy. That was our inspiration."
In the ECB Nutcracker, Clara's father is a sea captain who comes home with stories about places and people he's seen around the world. The battle scene begins when the tree turns into a giant boat and takes Clara to a fight on the high seas, complete with pirate rats and sailors. "Then they journey to a magical seaport where there are dancers from countries around the world," Reardon says. The tiny angels in Act II even carry sea horses and shells.
An African-Style "Nutcracker"
South Africa's Joburg Ballet is home to The Nutcracker, Re-Imagined, a version of the holiday classic set in Africa. Drosselmeyer's character becomes a sangoma, a traditional African healer, who leads Clara on a journey to show her the beauty of the continent, and the production incorporates designs that are specific to its locale. (The "Waltz of the Flowers" happens in the Kalahari Desert, for example, and the "Spanish Dance" is set in Zanzibar.)
The show also fuses a diverse range of dance styles, including a local one known as gumboot dancing. "Here, people actually wear 'gumboots,' or Wellington boots, to dance in!" says senior soloist Angela Revie. "Elements like that make the production feel more rooted and relevant for our audiences."
An Especially Nutty "Hard Nut"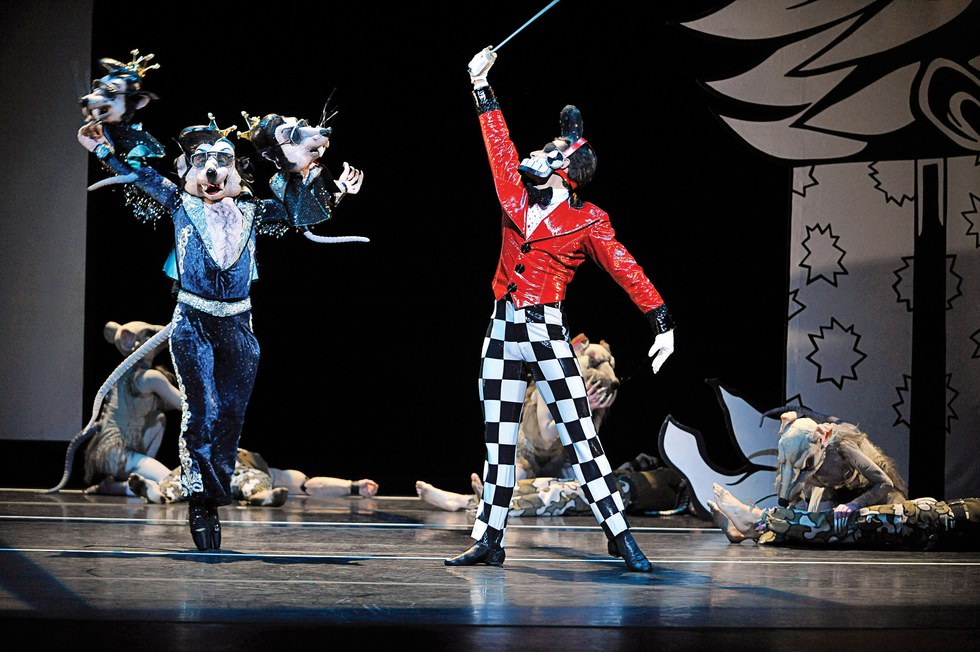 Mark Morris' "The Hard Nut" (photo by Stephanie Berger, courtesy Mark Morris Dance Group)
Mark Morris' playful The Hard Nut was inspired by the original story on which The Nutcracker was based, "The Nutcracker and the Mouse King," by E.T.A. Hoffmann. "It's a wonderful and complicated tale of growing up and finding out about the world and its many fascinating people and customs and ideas," Morris says. But Morris transports the story to the 1970s—
which happens to be when he was a kid.
With its graphic sets and costumes inspired by the work of comic book artist Charles Burns, The Hard Nut is "fun, romantic, modern, scary, and beautiful," Morris says. "It's amazing to me that The Hard Nut has gone from being seen as a send-up or a parody to a classic," he adds. "There are people who, having seen it as children, now bring their own children to see it."
The National Ballet of China's version of The Nutcracker is Chinese New Year–themed. Tuantuan (Fritz) and his friends bully Yuanyuan (Clara) with nunchucks while wearing green dragon masks, and Yuanyuan gets help from sword-bearing tigers.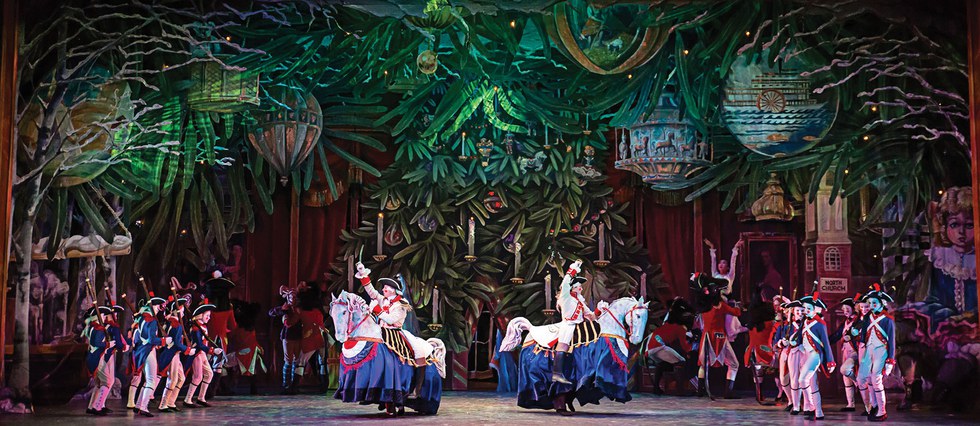 The Washington Ballet's "Nutcracker" (photo by Tony Brown, courtesy The Washington Ballet)
In The Washington Ballet's Revolutionary War–themed Nutcracker, the Nutcracker character is George Washington, who fights not the Mouse King but King George III.
Rudolf Nureyev's Nutcracker at the Paris Opéra Ballet has no Sugar Plum Fairy or Land of Sweets. Instead, party guests perform the Act II divertissements, and Drosselmeyer turns into the Prince to dance with Clara (performed by an adult).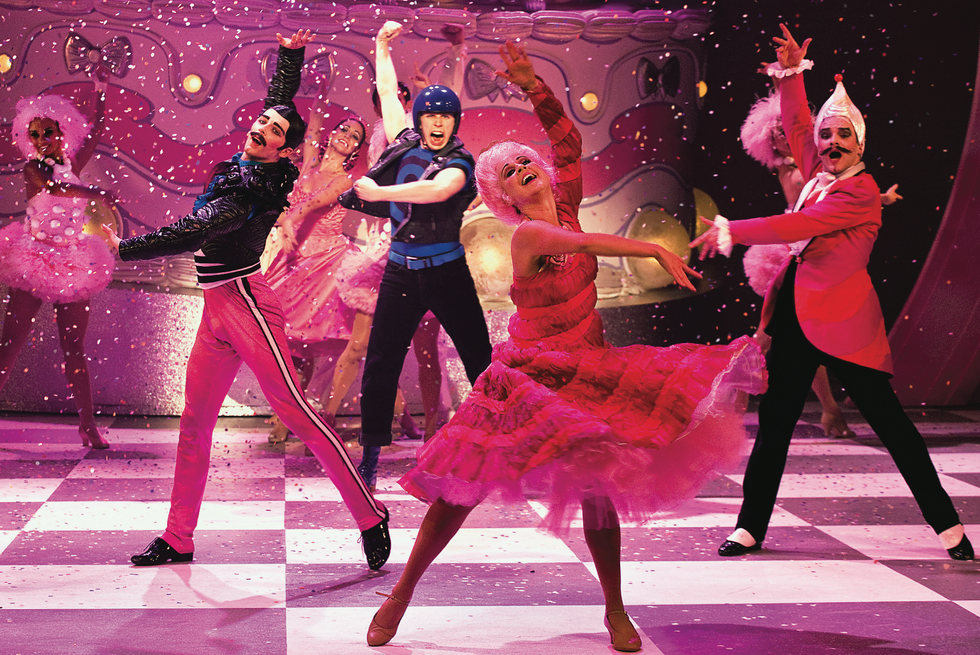 Matthew Bourne's "Nutcracker" (photo by Simon Annand, courtesy Raw PR)
Matthew Bourne's Nutcracker! is set in a grim orphanage, from which Clara escapes to Sweetieland—chasing the Nutcracker, who's dumped her for Sugar, i.e., the Sugar Plum Fairy. (Clara gets her man back in the end.)
A version of this story appeared in the December 2017 issue of Dance Spirit with the title "Not Your Average Nutcracker."
(From left) Mean Girls dancers Riza Takahashi, Ben Cook, Kamille Upshaw, Jonalyn Saxer, DeMarius R. Copes, and Stephanie Lynn Bissonnette (photos by Erin Baiano)
Get in, losers. We're going to Broadway.
OK, not losers, actually—more like the bajillion die-hard fans of Tina Fey's 2004 cult hit Mean Girls, who've been wearing pink every Wednesday since a musical adaptation of the film was first teased back in 2013.
Now their world is like a cake filled with rainbows and smiles, because Mean Girls the musical, which had a trial run in Washington, DC, last fall, is set to open at Broadway's August Wilson Theatre April 8. And in a very grool twist, it turns out the show—with direction and choreography by Casey Nicholaw and a book by Fey herself—is delightfully dancey.
Keep reading...
Show less
(From left) Val Chmerkovskiy, Peta Murgatroyd, and Maksim Chmerkovskiy (Jerry Metellus, courtesy Nicola Phillips)
Keep reading...
Show less
Quiz
Dec. 11, 2017 04:24PM EST
Alicia Vikander in Tomb Raider (Warner Brothers)
Keep reading...
Show less
Screenshot form YouTube
What do you get when a hoard of dancers collaborate to the catchy tune of "Love Somebody," by the band Frenship? The most epic dance party ever, of course! Said dance party was produced by the talented Michael Riccio, who's performed in feature films, including "Confessions of a Teenage Drama Queen" and "Shrek Forever After."
Keep reading...
Show less
University of Minnesota Dance Team (courtesy University of Minnesota)
They say there's no "I" in "team"—and nowhere is that truer than the world of college dance teams, where precision reigns, uniformity is key, and a single misstep from any given "I" can cost a group a championship trophy. So it's unsurprising that securing a spot on one of the best dance teams in the country is no easy feat.
Members of these highly athletic teams rehearse for hours every week—on top of academic classes and commitments—and perform at football and basketball games, annual concerts, and nationally televised competitions (hi, ESPN). And "no I" rule notwithstanding, each of these top teams is made up of highly trained, highly technical, highly hard-core individuals, who come together to create a ready-for-victory pack.
These six teams aren't one-off success stories—they're consistently strong, and earn the top spots at major competitions like UDA and NDA nearly every year. Up for the challenge? Here's what to know before you go to auditions.
Keep reading...
Show less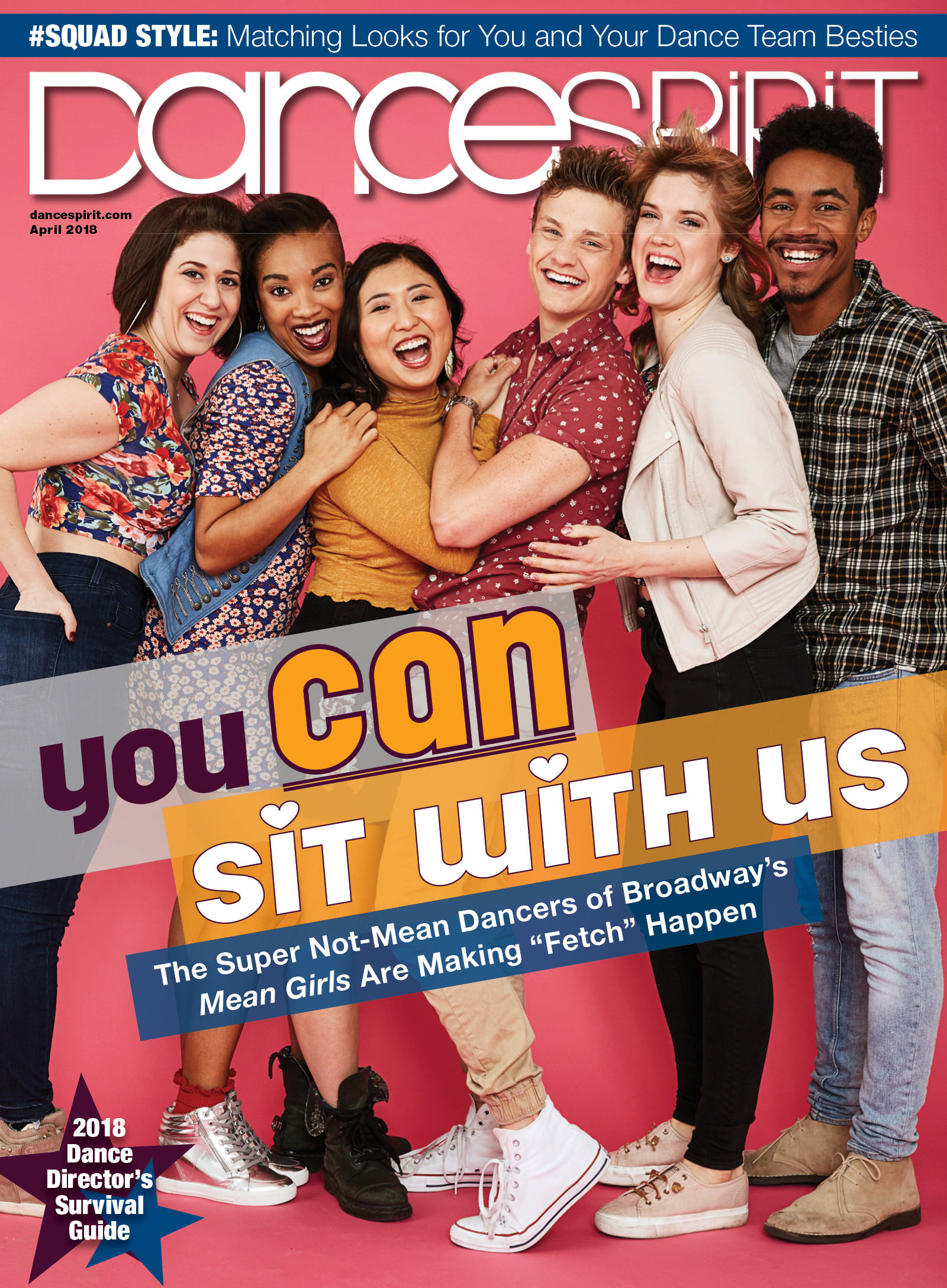 Get Dance Spirit in your inbox