Sep. 01, 2010 11:12AM EST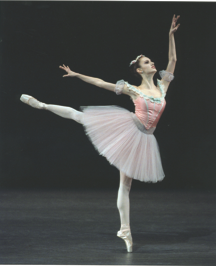 It was a June day, a day then-17-year-old ballerina Faye Arthurs thought she'd remember as her last in the School of American Ballet dormitories. Fresh from her final year in the school's preprofessional program, Arthurs was preparing to head home to Pittsburgh, PA, for the summer. But she was eager for fall to come: She'd been asked to return as an apprentice with New York City Ballet.
Then, as she was packing, Arthurs got a call from the New York City Ballet registrar. The company was short a few corps de ballet girls and needed her to fill in—starting the next day. Before she could catch her breath, Arthurs was onstage at Lincoln Center, dancing in George Balanchine's Western Symphony. It was her unexpected debut as an NYCB apprentice, and a fitting introduction to apprenticeship. "From that moment on it was a crazy schedule, day to day, minute to minute," says Arthurs. She continued to dance with the company through the summer, never making it back to Pittsburgh.
Every year, a handful of 16- to 18-year-old SAB students begin the hectic, exciting, nerve-wracking rite of passage known as an NYCB apprenticeship. Though apprentices, who continue to take SAB classes and are allowed to live in the school's dorms, are still technically considered SAB students, they're also faced with a slew of corps de ballet roles to learn and perform, as well as larger parts to understudy. At the end of the one-year apprenticeship, some dancers are offered company contracts; some are not. It's a chance for aspiring professionals to prove that they deserve to be in NYCB—and to see if they're cut out for life in a major ballet company.
"When you become an apprentice, the stakes change," says Daniel Ulbricht, now a principal with NYCB. "All of a sudden, you're expected to be a pro. I was 17 when I was made an apprentice, still finishing up high school, and I had to figure out how to fit in schoolwork and classes and this amazing, crazy job! You're thrown right into the deep end of the pool."
The deep end, indeed: A lot is expected of NYCB apprentices. "One of the biggest shocks is the intensity of your day, which is very different from what you experienced at SAB," says Kaitlyn Gilliland, now a corps dancer, who became an apprentice on her 17th birthday. "Instead of just a couple of dance classes, you have company class at 10:30 am, rehearsals for five or six hours, and then, often, a performance at night. You have to budget your energy differently." Add to that the fact that being onstage is a relatively unfamiliar experience for most apprentices. "Dancing at Lincoln Center is intense for dancers who've only performed in a few SAB workshops," Arthurs says. "But it's exhilarating, too."
Also exhilarating is the fact that apprentices rehearse and perform alongside the dancers they grew up idolizing. Ulbricht remembers feeling awestruck in his first company class. "It was bizarre and amazing," he says. "The dancers from the magazine covers were standing next to me at the barre!" But figuring out where to stand at that barre can be a source of serious anxiety. "The last thing you want to do is take some principal dancer's spot," says current apprentice Lauren Lovette (see p. 62). During her first company class at the theater, she purposely chose a place between the trash can and the rosin box. "I figured that was safe, because nobody wants to stand in that weird, sticky mess!" she says. "Then [NYCB principal] Janie Taylor came over and said, 'Lauren, what are you doing? Get away from the trash and come stand at my barre.' That felt pretty awesome."
Lovette's experience with Taylor is actually the rule, not the exception. "Regardless of rank, everyone in the company is always supporting each other," Ulbricht says. Gilliland agrees: "The wonderful thing is that once you rehearse with the company, you realize you're surrounded by wonderful people, not just incredible dancers." Watching seasoned dancers at work in the studio offers plenty of learning opportunities, as well. Arthurs remembers admiring principal Wendy Whelan's "absolute professionalism." "I was amazed that she never marked anything in rehearsal," Arthurs says. "Everything was performance quality, every time. Since then I've tried to emulate her dedication."
Occasionally an NYCB apprentice gets a chance not just to rub elbows with the stars in class or rehearsal, but to be the star. That usually happens in emergencies, when an apprentice is called upon to fill in for the suddenly sick or injured principal or soloist she's understudying. (Gilliland remembers subbing for a dancer who had a sprained ankle in Balanchine's Symphony in C after just two rehearsals.) But a lucky few are cast in bigger parts. Erica Pereira, now a soloist with the company, was one of the Juliets in Peter Martins' Romeo + Juliet while still an apprentice. "It was thrilling and incredibly scary," Pereira says. "Sometimes we'd have rehearsals where the whole company, including the older principals, would watch, and that was terrifying. But it helped me to grow up and figure out who I was as a dancer pretty quickly."
And though the typical NYCB apprentice will only perform corps roles, she'll still get a good feel for life as a professional dancer. "No matter what part you're dancing as an apprentice, you're usually onstage after just a few hours of rehearsal, which is what happens when you're in the company, too," Arthurs says. "We do more than 40 ballets a season, which means you'll always be learning things quickly. Even now, after years in the company, I'm constantly trying to convince the audience that something I'm performing for the first time is something I've danced a million times. And it was my apprenticeship that taught me how to stay on my toes that way, literally and figuratively."
Dance is a powerful form of expression, and Ahmad Joudeh is using its influence to promote peace.
The 27-year-old is a Palestinian refugee, whose decision to pursue his passion for ballet has made him the target of death threats from terrorist organizations. Despite the danger, Joudeh has decided to continue on his path as a dancer, using his performances as an opportunity to spread a message of peace and cultural awareness.
Keep reading...
Show less
CBS
"Late Late Show" host James Corden was one of the many, many people shocked by President Trump's sudden decision to ban transgender people from the military yesterday. And he decided to voice his outrage in the way most likely to rile a President who's uncomfortable with anything "un-manly": through a big, beautiful, extra-sparkly song-and-dance routine.
Keep reading...
Show less
Jul. 25, 2017 05:04PM EST
(Break the Floor Productions)
In addition to training, competing and winning titles in just about every style you can think of, 13-year-old Kaylee Quinn is a regular on the sci-fi drama "Stitchers," playing the younger version of the show's main character. Her path in dance hasn't been without challenges, though. Last summer, Kaylee won the Hope Award at her regional Youth America Grand Prix, but wasn't sure she'd be able to compete at the NYC finals due to a broken foot. Patience paid off: With her doctor's blessing, Kaylee danced her variations in flat shoes and won the gold medal.
Keep reading...
Show less


Get Dance Spirit in your inbox