Apr. 25, 2011 08:55AM EST
The Guys, The Girl and The Go-Tos
Daniel "Cloud" Campos
Where you've seen him: In LXD webisodes; as Kid Darkness in Step Up 3D; dancing on Madonna's Re-Invention and Confessions tours; as a featured dancer in Shakira's "Did It Again" music video.
Why he's hot: Cloud brings a whimsical, elegant touch to his b-boying—think a modern-day Fred Astaire or Gene Kelly, both of whom Cloud credits as major influences on his dance style.
What he's doing now: Cloud is branching out by creating and directing his own short dance films. Check out "Welcome Home" online and fall in love with his charismatic character.
Why the nickname? "Growing up, I loved looking at clouds," Cloud says. "I get lost in them—the way they move across the sky, constantly changing forms, shifting and creating pictures. Clouds take me to another place. I think that's a great goal to have as a dancer, to be able to take someone away with your movement."
Scotty Nguyen
Where you've seen him: Working as the associate director and choreographer for A. R. Rahman's Jai Ho world tour; dancing on the Spice Girls' Reunion world tour; as a featured dancer in The Wedding Singer and iPod commercials.
Why you need to know his name: Scotty landed his first dance job at the young age of 13—and it was a big one: dancing with Michael Jackson. He's trained in hip hop, krumping, popping, b-boying and martial arts, and he recently choreographed Ringling Bros. and Barnum & Bailey circus shows!
What he's doing now: Scotty and his girlfriend, Tracy Shibata, directed and performed in "There Goes My Baby," a short dance film that uses visual trickery for a mind-bending dance experience. He's also launching his own line of dance-inspired footwear this summer called New Street Order.
Khasan Brailsford
Where you've seen him: On tour with Beyoncé, Rihanna, Keyshia Cole and Paulina Rubio; dancing at awards shows and in music videos with Lady Gaga, Christina Aguilera, Queen Latifah and Kelly Rowland; as assistant choreographer for Beyoncé's "Video Phone" music video featuring Lady Gaga.
Why you need to know his name: Khasan, a former competition dancer at Dance Precisions in Placentia, CA, trained on scholarship at EDGE Performing Arts Center. His dancing oozes maturity and sophistication with a sexy edge.
What he's doing now: Dancing on Kylie Minogue's Aphrodite tour.
Galen Hooks
Where you've seen her: Pretty much everywhere! Choreographing and dancing with The LXD; dancing in Step Up 3D; as a choreographer and dancer for 17 Again; as associate co-choreographer for the Broadway revival of Dreamgirls; dancing backup for Janet Jackson and Ne-Yo; choreographing for Usher and The Jonas Brothers.
Why you need to know her name: Galen is conquering the industry—which she's been a part of since she was 7, when she performed with a dance group that was named "Star Search" junior champion. She's worked with more than 40 major artists, but she's also a brainy babe: Galen attended Penn State University while simultaneously touring with Snoop Dogg. She graduated with a BA in law and society!
What she's doing now: Choreographing Volkswagen and Skechers commercials, working on a dance-inspired photo and video project with photographer Carlos Serrao and working with AFTRA and Dancers' Alliance (an organization created by dancers to standardize non-union work) to help unionize music videos and tours.
Rich and Tone Talauega
Where you've seen them: There's a chance you haven't seen them—they're behind the scenes, working as two of Hollywood's most in-demand choreographers.
Why you need to know their names: Together, these brothers have choreographed more than 150 commercials, music videos, films, live tours and performances. Their long resumé includes projects for Madonna, Jennifer Lopez, Chris Brown, Usher, the Backstreet Boys, the Black Eyed Peas and Britney Spears. If you book commercial jobs, it's likely you'll be working with these powerhouses.
What they're doing now: Rich and Tone continue to stay busy: Earlier this year they choreographed a dance-centric commercial campaign for Old Navy and worked on the Super Bowl Best Buy commercial featuring Ozzy Osbourne and Justin Bieber. They've choreographed Chris Brown's recent performances and music videos and they're on board to create several numbers for Cirque du Soleil's Michael Jackson tribute tour. This summer, the brothers will be in Europe working on the 3-D feature film Street Dance 2.
Win It
Sep. 05, 2017 12:10PM EST
Photos by Erin Baiano
It's time to get your pirouette on! From September 5th to September 30th, we're hosting a contest to find out who's the best turner of them all.

Put together your most impressive turning combo. Post a video online. Share your turns with us and thousands of other dancers around the world. And if our editors think you're the top turner, you'll win a fabulous prize.
Keep reading...
Show less
All of 18-year-old Kaylin Maggard's dreams—from scoring the title of National Senior Outstanding Dancer at New York City Dance Alliance Nationals to winning the 2017 Dance Spirit Cover Model Search—are coming true. And to anyone who knows the gorgeous contemporary dancer, that's no surprise.
From the moment the Dance Spirit staff met Kaylin, it was obvious her humility and talent would take her far. Not only did she go full-out during the photo shoot and class at Broadway Dance Center, but she was always cheering on, laughing with, and supporting her fellow CMS contestants Haley Hartsfield and Michelle Quiner. During the voting period, the social media world was abuzz with praise for her work ethic, positive attitude, and generosity.
Since her CMS trip to NYC, Kaylin's moved from her hometown of Columbia, MO, to the Big Apple for her freshman year at Juilliard, and is busy getting acquainted with the city. As for the future? She's taking it one opportunity at a time, but something tells us we'll be seeing this contemporary queen reach new heights every year.
Keep reading...
Show less
New York City principal Lauren Lovette has become an icon thanks to her emotional maturity and exceptional musicality. The 26-year-old quickly rose through the ranks after joining the company as an apprentice in 2009, reaching principal status in 2015. A Thousand Oaks, CA, native, Lovette started studying ballet seriously at age 11, at the Cary Ballet Conservatory in Cary, NC. After attending two summer courses at the School of American Ballet, she enrolled as a full-time student in 2006. Last year, she made her choreographic debut with For Clara, her first piece for NYCB. Catch her latest work this month during the company's fall season. —Courtney Bowers
Keep reading...
Show less
In our "Dear Katie" series, former NYCB soloist Kathryn Morgan answers your pressing dance questions. Have something you want to ask Katie? Email dearkatie@dancespirit.com for a chance to be featured!
Dear Katie,
I know I'm not getting good enough dance training from any of my local studios. But I'm not sure I'm ready to move away to study at a big-name school, either. How do you know when you're ready to leave home to pursue your passion?
Marisa
Keep reading...
Show less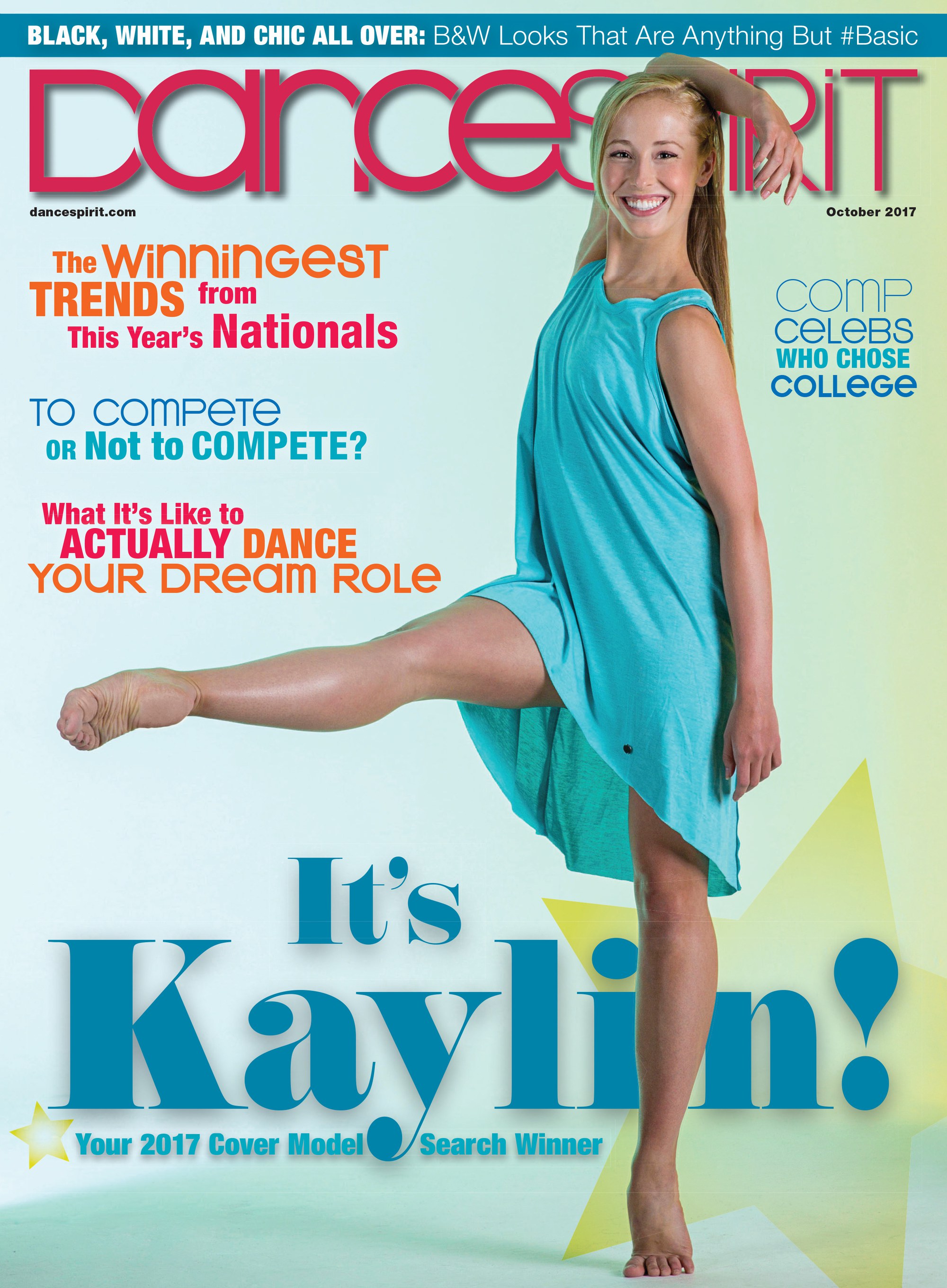 Get Dance Spirit in your inbox