Jun. 01, 2010 02:27PM EST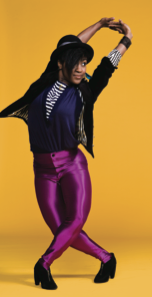 People are talking about Taja Riley. They're talking about her movement, which is strong and aggressive. They're talking about her style—whether she's dressed for dance class or dinner—which is colorful and edgy. And they're talking about her personality, which is loud, outspoken and brash. Oh, and the people doing the talking? They're Janet Jackson, Mia Michaels and other industry bigwigs. It's only been two years since Taja moved to L.A., and she's already making a name for herself as a soon-to-be superstar.
Taja's dance career began at Denise Wall's Dance Energy in her hometown of Virginia Beach, VA. She started dancing when she was 7, and at 10, Taja attended a New York City Dance Alliance workshop where she was awarded a scholarship to return the following year. "When you first meet Taja, you see a fun-loving girl," says Joe Lanteri, executive director of NYCDA. "But if you scratch the surface, you find a focused, driven young professional. And she dances with so much intensity. When Taja Riley's onstage, you watch her."
Before long, Taja was a regular on the competition circuit. Every year, she returned with a new solo—usually choreographed by her close friend and mentor Travis Wall—that pushed her physical limits. "When Taja turned 12, something clicked," Wall says. "She became a monster onstage." Adds Lanteri, "Taja became a celebrity in the competition world. Everyone wanted to know what she was doing. And she did it all with an incredible level of confidence and tremendous amount of humility."
But when she was 14, Taja's future as a dancer suddenly became uncertain. "My mom told me that we were moving to Atlanta as soon as I was done with Nationals," Taja says. "I didn't want to join another studio. It would have been like joining another family. So I quit dance." Just four months later, however, the family of another DWDE dancer agreed to take Taja in so she could finish high school in Virginia and perform with the studio. "I had lost a lot of my technique," Taja says. "I put myself through dance boot camp to catch up. I took six ballet classes a week and enrolled in extra classes at Virginia Ballet Theater." That year, Taja returned to NYCDA and won the Teen Outstanding Dancer title.
The next step for Taja was moving to L.A. in 2008, where she began taking classes. On the weekends, she traveled with NYCDA as a demonstrator and assisted Brian Friedman at The PULSE On Tour.
Soon, she booked her first job in L.A. dancing in The Zodiac Show, a Cirque du Soleil-esque production. She started auditioning regularly ("It was so overwhelming—I had no idea what they wanted from me when they asked me to freestyle.") and joined a hip-hop crew. In April 2009, Taja landed her second job, performing on a special segment of "Dancing with the Stars."
Just a few months later, Taja booked her dream job: dancing with Janet Jackson. She performed in Jackson's "Make Me" music video, danced with her at the American Music Awards, and went to London to dance in the Jingle Ball concert and on the TV show "The X Factor."
Since then, Taja's career has become a whirlwind of nonstop jobs. She assisted Mia Michaels, Brian Friedman and Travis Wall on "So You Think You Can Dance" and performed at the Academy Awards. She danced in Rhapsody James' Siren Assassins show and was invited to join Erica Sobol's company, CollidE Dance. She's even started booking jobs directly, without an audition. "The people from 'Glee' called me out of the blue and asked me to be on the show," Taja says. "I was like, 'Wait, I don't have to prove myself to you in person or anything?'"
To Taja's friends, her success was a long time coming. "Taja is such a special kid," Wall says. "She can do so much. There's not a stage big enough for a star as big as Taja Riley."
Fast Facts
Birthday: November 29, 1991
Favorite movie: The Wizard of Oz
Must-see TV shows: "Heroes" and "Gossip Girl"
Favorite food: Pizza
Favorite dance class: Tovaris Wilson's contemporary funk class at EDGE Performing Arts Center. "Watching him dance is like watching an alien move."
Dance idols: Travis Wall, Desmond Richardson, Mia Michaels, Ohad Naharin, Jason Parsons, Wade Robson, Pina Bausch, William Forsythe, Teddy Forance, Jillian Meyers and Jirí Kylián
Who would play you in a movie? Zoe Saldana
Dance crush: Hefa Leone Tuita, a dancer for Jennifer Lopez
Dream co-star: Tucker Barkley. "He's brilliant. I love his energy."
Advice for DS readers: "Never underestimate your talent. So many dancers get to L.A. and get discouraged. But stay in class—don't ever stop learning."
What's more daunting than getting into your dream college dance program? Figuring out how you'll cover the costs of tuition, room and board, incidental expenses and more. Here's the good news: The right scholarship(s) can bring your dream school well within reach.
Look Around, Look Around
Scholarship applications are due between the fall of senior year and graduation time, so familiarize yourself with funding opportunities during the spring of junior year. And there are a lot of opportunities out there, says Kate Walker, chair of dance at Booker T. Washington High School for the Performing and Visual Arts in Dallas, TX. "A lot of school guidance counselors now have software that automatically matches you with scholarships," she says.
Seek out scholarships on your own, too. According to Walker, "a lot of corporations are required to have some community engagement, including offering scholarships, so research corporations in your community." Your parents' employers might offer assistance too, says Doug Long, an academic and college counselor at Interlochen Arts Academy in Interlochen, MI. "They might have scholarships you can apply for just because your parent works there."
Other sources of grant money you won't have to pay back (as you would a loan)? The YoungArts Foundation; competitions/conventions, like New York City Dance Alliance; and the university or dance department you're applying to. Even some scholarships aimed at athletes are open to dancers!
Apply Yourself
A winning scholarship application involves a fair amount of paperwork, especially if the organization requires you to show financial need. In addition, certain scholarships ask for the College Board's CSS/Financial Aid Profile, which gives the awarding organization a more complete picture of your family finances.
Other ingredients of a successful scholarship application include recommendation letters, a dance and/or academic resumé and an essay or statement of purpose. Treat these components just like college applications: Have multiple trusted adults proofread your materials, and ask for recommendation letters or transcripts long before deadlines.
A note for non-dance scholarships: Including objective measures of achievement can only help you. "List national recognitions, like YoungArts or other competitions," says Long. "That shows the scholarship committees that people at high levels have acknowledged you as an artist of quality." And don't forget who your audience is. "Especially in writing samples, make sure you paint a vivid picture for your reader," Walker says. "Don't assume they know about all the things—like barre every day—that we as dancers take for granted."
No award amount is too small to be worth your time and effort. As Walker says, "Don't pooh-pooh a couple hundred dollars in award money, because any scholarship is funding that you didn't have yesterday."
A version of this story appeared in the July/August 2017 issue of Dance Spirit with the title "All Aboard the Scholar-ship."
Every ballet dancer knows the time, sweat, and occasional tears the art form demands. But many non-dancers are clueless about just how much work a ballet dancer puts into perfecting his or her dancing. So when the mainstream crowd recognizes our crazy work ethic, we'll accept the round of applause any way it comes—even if it comes via four men in tutus. Yep, we're talking about "The Try Guys Try Ballet" video.
Keep reading...
Show less
(via YouTube)
Remember that fabulous old-school clip of dancers tapping in pointe shoes that Tabitha and Napoleon D'umo brought to our attention back in March? As we mentioned then, toe-tap dancing was actually super popular back in the 1920s and 30s—which means there are more videos where that one came from. And because #ToeTapTuesday has a nice ring to it, we thought we'd take this opportunity to introduce you to Dick and Edith Barstow, a toe-tapping brother and sister duo from that era who are nothing short of incredible:
Keep reading...
Show less
(Adam Rose/FOX)
Guess who's back? Back again? The Academy's back! Tell a friend.
After one day at The Academy, the All Stars have successfully taken the Top 100 down to 62. But their work is just getting started: Now they need to keep narrowing the field to a Top 10, ultimately deciding who each will partner with during the live shows.
Keep reading...
Show less


Get Dance Spirit in your inbox