How To
Oct. 01, 2010 04:55PM EST
(Nathan Sayers)
Turnout—a combination of rotational flexibility and the strength to properly hold that rotation—is the foundation of ballet. But it's also a source of frustration for many dancers. After all, not everyone (actually, hardly anyone) is born with 180-degree rotation. "When I first started dancing, my hip flexors were strong, but I was forcing my turnout without using the right muscles," remembers Amanda Cobb, a former dancer with The Washington Ballet.
The good news is that it's possible to both improve your turnout and to dance beautifully with less-than-perfect rotation. But there's a lot of misinformation out there about how turnout works and why it's important. To help separate fact from fiction, DS asked the experts to disprove six turnout myths.
---
Myth #1
If your feet are turned out 180 degrees, that means you're using your turnout.
"Turning out requires rotating your legs from the inside of the hip all the way through to your feet," says Nancy Bielski, who teaches at Steps on Broadway in NYC. That requires flexibility, strength and placement.
To maximize flexibility in the hips, most dancers need to begin training early, while their bones are still growing. Teresa Volkerson, PT, MS, a physical therapist who works with dancers at Orlando Ballet, says the best age range for building turnout-related flexibility is between 8 and 12 years old. Proper stretching can also improve your rotation slightly after puberty. (See the exercise below.)
But all the flexibility in the world will mean nothing if you don't have the strength to control it. Turning out correctly uses the lower abdominal and lower back muscles, the glutes and the thighs. It requires proper placement, as well. "In order to get the most turnout, you have to pull up to create room between the bones," says Damara Bennett, director of the School of Oregon Ballet Theatre. In other words, if you sink into your hips and legs, tuck under and grip your turnout, you won't be able to maintain your rotation as you move from one position to the next.
Myth #2
Walking turned out in your day-to-day life will improve your turnout.
"Some people are naturally inclined to walk with their feet turned out, and some are not," says Volkerson. Forcing yourself to walk with your feet outward all the time will not improve your rotation. In fact, it can actually lead to ankle, knee and hip pain.
Myth #3
If you want to avoid injury, don't push your turnout.
"If you're not pushing it enough, there's a deadness—you feel nothing—and you won't improve," Bielski says. From the first plié to the final jeté of class, challenge yourself to correctly use your maximum rotation. Then be sure to stretch for a few minutes after class when your muscles are warm and pliable. Bennett recommends a second position split, bending forward at the waist and keeping the legs rotated outward.
Just remember that pushing your turnout isn't the same as forcing it. Never turn out to the point that your hips, knees and ankles aren't aligned in plié, your hips are tucked under, your feet are rolled in or your back is swayed. (An easy way to tell if you're faking your turnout at the barre? When you step into the center, you won't be able to maintain faux-rotation.) Not only will you risk injury to your hips, knees and ankles, but sacrificing placement for a "perfect" fifth position won't serve you in the long run, either. Eventually, you'll find that you can't move efficiently or change weight easily from one leg to the other.
Myth #4
Cross-training activities with your feet in parallel can negatively impact turnout.
It's actually important to turn in every now and then. "If you just turn out, turn out, turn out all the time, the rotational muscles can get tight," explains Bennett. "In your free time, do exercises that turn in." Bennett suggests swimming because it's a low-impact activity that won't overdevelop muscles. She also recommends yoga: "Yoga is wonderful cross-training because it stretches those areas ballet doesn't stretch." Cobb finds that Pilates and Gyrotonic classes are also helpful.
Myth #5
You have to turn in to complete certain ballet steps.
Many dancers lose turnout during challenging steps—in the front foot in fourth position just prior to a back attitude turn en dehors, for example, or during a fast petit allegro combination. But that's due to a lack of strength or placement, not because the movements are physically impossible to do turned out.
Myth #6
You can't be a professional dancer unless you have 180-degree turnout.
Most dancers don't have perfect turnout—they just have the muscle control to make the best of their rotation. "The stronger your turnout, the easier all the steps will be," says Bennett. "Turnout gives you a greater range of motion. It allows you to move faster and bigger."
Improve Your Rotation
When done correctly, this exercise from the American Ballet Theatre National Training Curriculum can increase the range of your hip
flexibility by a couple of degrees.
Kneel and place a pillow under your left knee. If needed, hold a barre or chair to maintain balance.
With both legs turned in, lunge forward on your right leg until your right knee forms a 90-degree angle. Rest your hands on your right knee. Keep your hips level and tuck your tailbone under.
Continue to push forward into the right leg until you feel a gentle stretch in the outer front part of your left hip, and/or in your left thigh. Be sure to keep your back upright and your hips square.
Hold this position, keeping your buttocks tight, for 15 seconds. Repeat three to four times.
Repeat the stretch on the right knee.
5th Position Checklist
[ ] tailbone down, not tucked
[ ] pelvis neutral
[ ] lift in the upper body
[ ] hips opening like a book from the center of the body
[ ] weight over the toes, not the heels

(From left) Mean Girls dancers Riza Takahashi, Ben Cook, Kamille Upshaw, Jonalyn Saxer, DeMarius R. Copes, and Stephanie Lynn Bissonnette (photos by Erin Baiano)
Get in, losers. We're going to Broadway.
OK, not losers, actually—more like the bajillion die-hard fans of Tina Fey's 2004 cult hit Mean Girls, who've been wearing pink every Wednesday since a musical adaptation of the film was first teased back in 2013.
Now their world is like a cake filled with rainbows and smiles, because Mean Girls the musical, which had a trial run in Washington, DC, last fall, is set to open at Broadway's August Wilson Theatre April 8. And in a very grool twist, it turns out the show—with direction and choreography by Casey Nicholaw and a book by Fey herself—is delightfully dancey.
Keep reading...
Show less
Screenshot form YouTube
What do you get when a hoard of dancers collaborate to the catchy tune of "Love Somebody," by the band Frenship? The most epic dance party ever, of course! Said dance party was produced by the talented Michael Riccio, who's performed in feature films, including "Confessions of a Teenage Drama Queen" and "Shrek Forever After."
Keep reading...
Show less
Alicia Vikander in Tomb Raider (Warner Brothers)
Keep reading...
Show less
Quiz
Nov. 30, 2017 10:41AM EST
University of Minnesota Dance Team (courtesy University of Minnesota)
They say there's no "I" in "team"—and nowhere is that truer than the world of college dance teams, where precision reigns, uniformity is key, and a single misstep from any given "I" can cost a group a championship trophy. So it's unsurprising that securing a spot on one of the best dance teams in the country is no easy feat.
Members of these highly athletic teams rehearse for hours every week—on top of academic classes and commitments—and perform at football and basketball games, annual concerts, and nationally televised competitions (hi, ESPN). And "no I" rule notwithstanding, each of these top teams is made up of highly trained, highly technical, highly hard-core individuals, who come together to create a ready-for-victory pack.
These six teams aren't one-off success stories—they're consistently strong, and earn the top spots at major competitions like UDA and NDA nearly every year. Up for the challenge? Here's what to know before you go to auditions.
Keep reading...
Show less
courtesy ADCC
Are you a high school senior who's been accepted to a four-year accredited college or university program? Congrats! Within the 2017-2018 season, have you competed in events run by at least two of the organizations in the above graphic? Double congrats, because the Association of Dance Conventions and Competitions, or ADCC for short, wants to give you $1,000 (!!) towards college tuition.
Keep reading...
Show less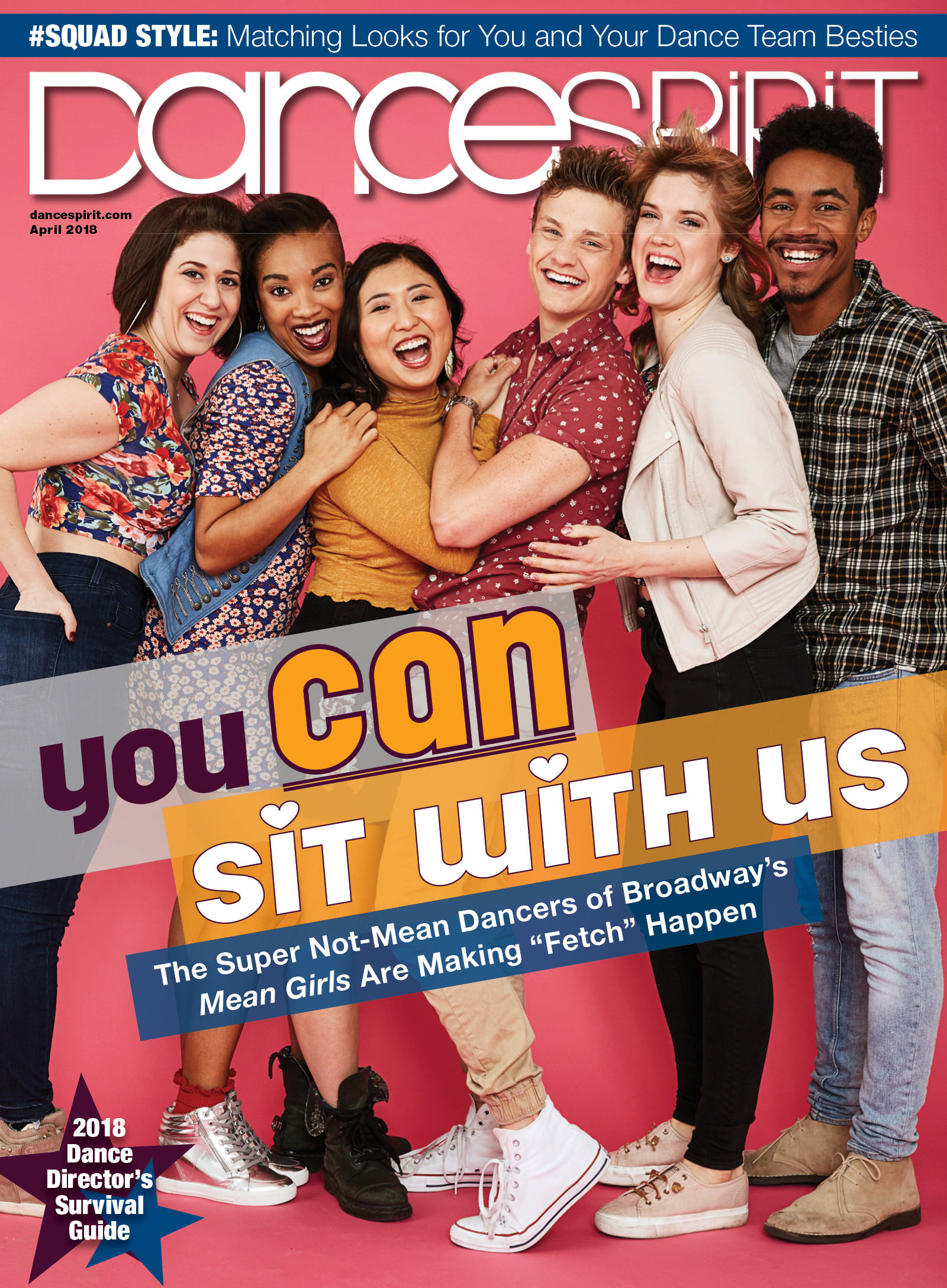 Get Dance Spirit in your inbox