Ballet
Oct. 01, 2010 04:55PM EST
Correct turnout. Photo by Eduardo Patino.
Turnout—a combination of rotational flexibility and the strength to properly hold that rotation—is the foundation of ballet. But it's also a source of frustration for many dancers. After all, not everyone (actually, hardly anyone) is born with 180-degree rotation. "When I first started dancing, my hip flexors were strong, but I was forcing my turnout without using the right muscles," remembers Amanda Cobb, now a dancer with The Washington Ballet.
The good news is that it's possible to both improve your turnout and to dance beautifully with less-than-perfect rotation. But there's a lot of misinformation out there about how turnout works and why it's important. To help separate fact from fiction, DS asked the experts to disprove six turnout myths.
Myth #1
If your feet are turned out 180 degrees, that means you're using your turnout.
"Turning out requires rotating your legs from the inside of the hip all the way through to your feet," says Nancy Bielski, who teaches at Steps on Broadway in NYC. That requires flexibility, strength and placement.
To maximize flexibility in the hips, most dancers need to begin training early, while their bones are still growing. Teresa Volkerson, PT, MS, a physical therapist who works with dancers at Orlando Ballet, says the best age range for building turnout-related flexibility is between 8 and 12 years old. Proper stretching can also improve your rotation slightly after puberty. (See the exercise below.)
But all the flexibility in the world will mean nothing if you don't have the strength to control it. Turning out correctly uses the lower abdominal and lower back muscles, the glutes and the thighs. It requires proper placement, as well. "In order to get the most turnout, you have to pull up to create room between the bones," says Damara Bennett, director of the School of Oregon Ballet Theatre. In other words, if you sink into your hips and legs, tuck under and grip your turnout, you won't be able to maintain your rotation as you move from one position to the next.
Myth #2
Walking turned out in your day-to-day life will improve your turnout.
"Some people are naturally inclined to walk with their feet turned out, and some are not," says Volkerson. Forcing yourself to walk with your feet outward all the time will not improve your rotation. In fact, it can actually lead to ankle, knee and hip pain.
Myth #3
If you want to avoid injury, don't push your turnout.
"If you're not pushing it enough, there's a deadness—you feel nothing—and you won't improve," Bielski says. From the first plié to the final jeté of class, challenge yourself to correctly use your maximum rotation. Then be sure to stretch for a few minutes after class when your muscles are warm and pliable. Bennett recommends a second position split, bending forward at the waist and keeping the legs rotated outward.
Just remember that pushing your turnout isn't the same as forcing it. Never turn out to the point that your hips, knees and ankles aren't aligned in plié, your hips are tucked under, your feet are rolled in or your back is swayed. (An easy way to tell if you're faking your turnout at the barre? When you step into the center, you won't be able to maintain faux-rotation.) Not only will you risk injury to your hips, knees and ankles, but sacrificing placement for a "perfect" fifth position won't serve you in the long run, either. Eventually, you'll find that you can't move efficiently or change weight easily from one leg to the other.
Myth #4
Cross-training activities with your feet in parallel can negatively impact turnout.
It's actually important to turn in every now and then. "If you just turn out, turn out, turn out all the time, the rotational muscles can get tight," explains Bennett. "In your free time, do exercises that turn in." Bennett suggests swimming because it's a low-impact activity that won't overdevelop muscles. She also recommends yoga: "Yoga is wonderful cross-training because it stretches those areas ballet doesn't stretch." Cobb finds that Pilates and Gyrotonic classes are also helpful.
Myth #5
You have to turn in to complete certain ballet steps.
Many dancers lose turnout during challenging steps—in the front foot in fourth position just prior to a back attitude turn en dehors, for example, or during a fast petit allegro combination. But that's due to a lack of strength or placement, not because the movements are physically impossible to do turned out.
Myth #6
You can't be a professional dancer unless you have 180-degree turnout.
Most dancers don't have perfect turnout—they just have the muscle control to make the best of their rotation. "The stronger your turnout, the easier all the steps will be," says Bennett. "Turnout gives you a greater range of motion. It allows you to move faster and bigger."
Improve Your Rotation
When done correctly, this exercise from the American Ballet Theatre National Training Curriculum can increase the range of your hip
flexibility by a couple of degrees.
Kneel and place a pillow under your left knee. If needed, hold a barre or chair to maintain balance.

With both legs turned in, lunge forward on your right leg until your right knee forms a 90-degree angle. Rest your hands on your right knee. Keep your hips level and tuck your tailbone under.

Continue to push forward into the right leg until you feel a gentle stretch in the outer front part of your left hip, and/or in your left thigh. Be sure to keep your back upright and your hips square.

Hold this position, keeping your buttocks tight, for 15 seconds. Repeat three to four times.

Repeat the stretch on the right knee.
5th Position Checklist
[  ]    tailbone down, not tucked
[  ]    pelvis neutral
[  ]    lift in the upper body
[  ]    hips opening like a book from the center of the body
[  ]    weight over the toes, not the heels
Much of Janelle Ginestra's career has been about helping others shine. She's dedicated herself to supporting and cheerleading her partner, WilldaBeast Adams; the emerging talents in their dance company, ImmaBEAST; and the countless dancers she inspires at master classes and conventions. Her YouTube channel has become a launching pad for young talents like "Fraternal Twins" Larsen Thompson and Taylor Hatala, thanks to viral videos featuring Ginestra's creative vision.
But Ginestra's a skyrocketing success in her own right—an in-demand choreographer, a social media influencer, and a dance entrepreneur, building a legacy one eight-count at a time. It's time for her turn in the spotlight. And she's more than ready. "I want to be a legend in whatever I do," she says. We'd argue that she already is.
Keep reading...
Show less
Win It
Oct. 13, 2017 04:31PM EST
When a choreographer finds a composer whose music truly inspires her, it can feel like a match made in dance heaven. Some choreographers work with the same composers so frequently that they become known for their partnerships. New York City Ballet soloist and resident choreographer Justin Peck, for example, has tapped composer Sufjan Stevens numerous times (last spring, the two premiered The Decalogue at NYCB, to rave reviews); L.A. Dance Project's Benjamin Millepied's working relationship with composer Nico Muhly has spanned a decade and two continents; and when tap dancer Michelle Dorrance premiered the first-ever Works & Process Rotunda Project, a site-specific work for New York City's Guggenheim Museum, last year, percussionist Nicholas Van Young was by her side as an equal partner. Successful collaborations require compatibility between artists, direct and honest communication, and flexible, open minds. But when the stars align, working with a composer can be extremely rewarding.
Keep reading...
Show less
(From left) Nia Sioux, Kendall Vertes, Chloe Lukasiak, and Kalani Hilliker (via @chloelukasiak)
Keep reading...
Show less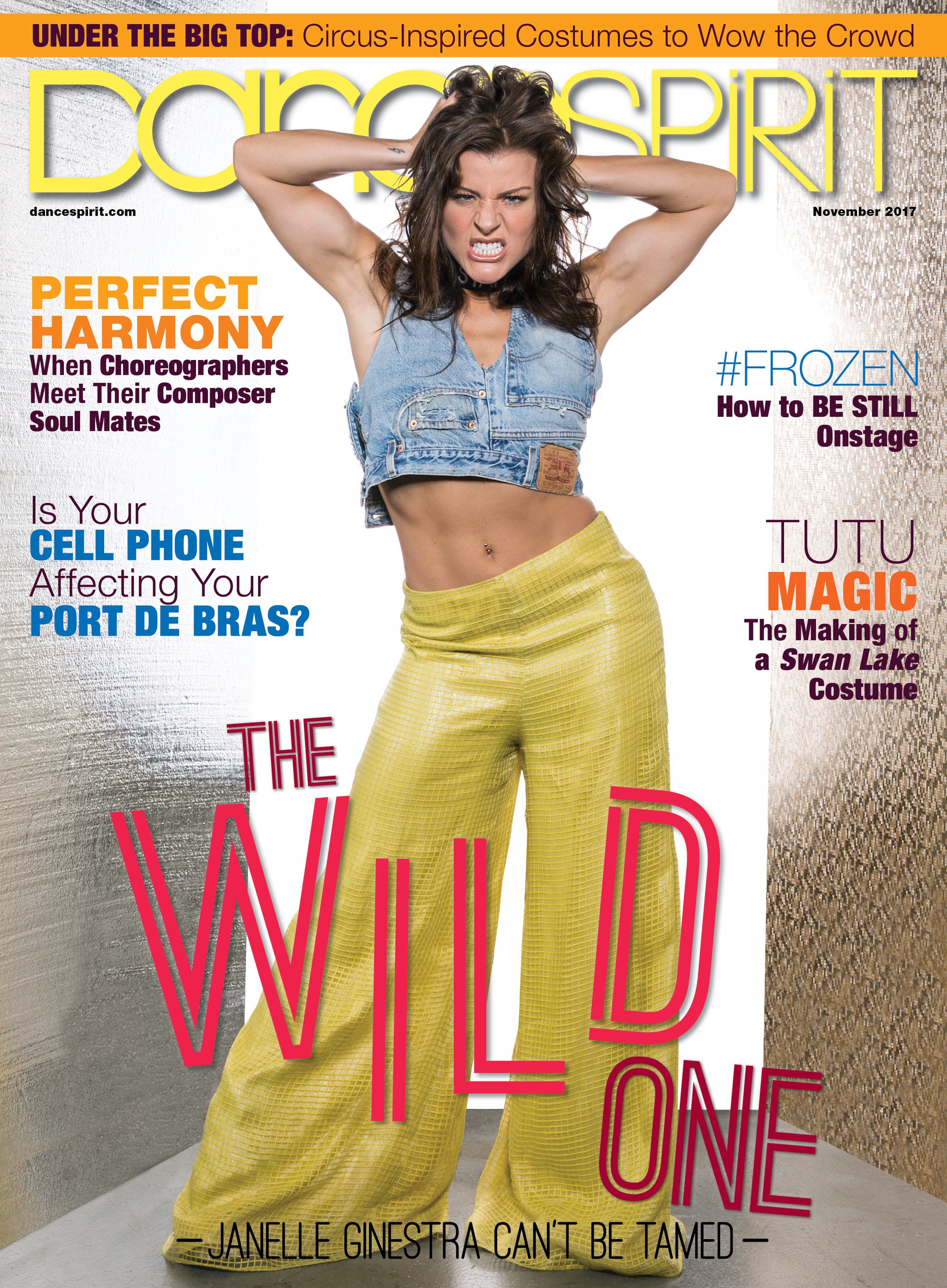 Get Dance Spirit in your inbox