There Will Be Rapping in the Cats Revival, and We're OK with That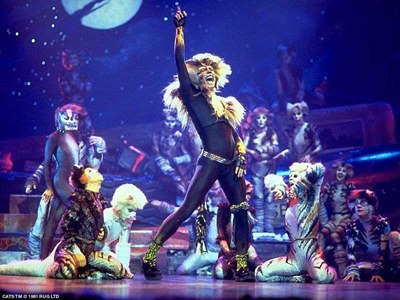 meeeeeow
Cats fanatics, book those plane tickets now. Andrew Lloyd Webber's 1981 dance musical masterpiece is returning to London this December, and news has dropped that at least one cat is getting a makeover: Rum Tug Tugger—the rock 'n' roll bad boy of Jellicle cats—is going to rap.
Why, you ask? Lloyd Webber has apparently decided that American poet T.S. Elliot, who penned the poems on which Cats is based, was perhaps the inventor of rap (ehh, we'll go with it). And, naturally, Rum Tum Tugger would be the kitty to get the upgrade. No word yet if Cats choreographer Gillian Lynne is going to follow suit and put in some hip-hop moves—but here's hoping she asks Tabitha and Napoleon for some input. Can you imagine the puss-ibilities?
To jog your "memmmorieeees…" (pun totally intended) of Tugger's number, here is the original:
And because I can't watch anything Cats-related without wanting more (seriously, it's like cat-nip to me), here's the big "Jellicle Ball" dance scene:
Dance is a powerful form of expression, and Ahmad Joudeh is using its influence to promote peace.
The 27-year-old is a Palestinian refugee, whose decision to pursue his passion for ballet has made him the target of death threats from terrorist organizations. Despite the danger, Joudeh has decided to continue on his path as a dancer, using his performances as an opportunity to spread a message of peace and cultural awareness.
Keep reading...
Show less
A dance photo of Averi Hodgson (courtesy of Cortney Hodgson)
For 14-year-old Averi Hodgson, focusing on her ballet training while growing up was never easy: She's suffered from epilepsy since she was in first grade, and later, she was also diagnosed with scoliosis. Here, she tells her story of perseverance—and how her determination earned her a spot at the School of American Ballet's 2017 summer intensive.
Keep reading...
Show less
CBS
"Late Late Show" host James Corden was one of the many, many people shocked by President Trump's sudden decision to ban transgender people from the military yesterday. And he decided to voice his outrage in the way most likely to rile a President who's uncomfortable with anything "un-manly": through a big, beautiful, extra-sparkly song-and-dance routine.
Keep reading...
Show less
Jul. 25, 2017 05:04PM EST


Get Dance Spirit in your inbox