Sep. 30, 2013 12:38PM EST
There's A Fungus Amungus!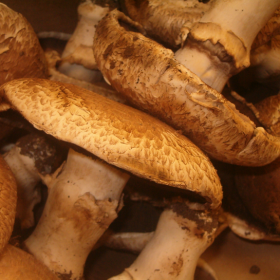 Did you know that portobello mushrooms have more potassium than bananas? Potassium is especially important for dancers, because it helps reduce cramping.  And unlike a lot of veggies that can lose their nutrients when you cook them, the United States Department of Agriculture found that mushrooms retain 80-95% of their nutrients after cooking. So go ahead and throw them in the oven, on the grill or in a sauté pan with some olive oil, and kiss those Charley horses goodbye!
Trae Patton/NBC
Week 2 of Misty Copeland as guest judge, week 2 of merciless cuts...How can the final episodes of "World of Dance" possibly live up to the sheer dramaaaaaaaaa of last night's episode? Well, based on the nail-biting results dished out by Copeland and Co. last night, the competition is only going to get fiercer from here. Without further ado, last night's results, as told by Kween Misty.
Keep reading...
Show less


Get Dance Spirit in your inbox