Sep. 01, 2010 11:57PM EST
There's Something About Lauren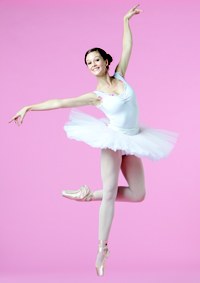 Photo by Erin Baiano
It's hard to describe star quality. Eighteen-year-old Lauren Lovette has luxuriously archy feet, elegant lines and an animated, pretty face—but that doesn't quite explain the New York City Ballet apprentice's unique magnetism. "I don't know what it is, but she's got it," says NYCB ballet master Kathleen Tracey. "She's physically perfect for
the work we do, but she also has something different, something you don't see every day. There's a special life in her eyes."
Even as one of dozens of dancers in The Sleeping Beauty's "Garland Waltz," Lauren seems to have her own spotlight. She etches the dance's simple choreography on the stage, the delicate precision of her technique making its balancés and waltz steps sparkle. Add in her mysterious charisma—the "it" factor—and it becomes difficult to watch anyone else.
The first person to notice Lauren's spark was the director of a local dance studio in her hometown of Thousand Oaks, CA. Though as a youngster Lauren knew little about ballet, she'd often twirl around in her aunt's dance store, which was a few doors down from the studio. "One day, when I was 10, I was dancing in the store—just playing—when the studio director dropped in," Lauren remembers. "She asked me if I'd ever taken ballet, and before I knew it I was in my first ballet class." Almost immediately, Lauren was hooked. "I loved that ballet was very precise and exact, but there was freedom in it, too," she says.
When Lauren was 12, she and her family moved to North Carolina, where she began training at the Cary Ballet Conservatory. She noticed that the conservatory's star pupil was attending summer programs at the School of American Ballet, the feeder school for NYCB. "I didn't know anything about SAB then, but I knew this girl was good and she went there—so I wanted to go too," Lauren says. Though she didn't get in when she first auditioned, Lauren was accepted to SAB's summer course the following year, at age 13, on full scholarship. After two "amazing" summers at the elite school, she moved to NYC to study there full-time.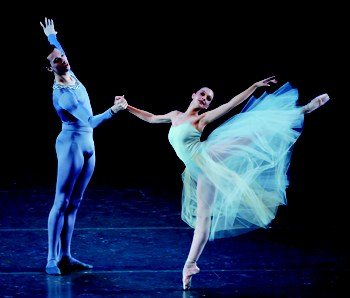 Lauren with Adam Chavis in "Serenade" at a School of American Ballet 2009 workshop performance. Photo by Paul Kolnik.
Lauren adjusted quickly to SAB's heavy class schedule, and found that the school's Balanchine technique suited her. While at SAB, Lauren also started attending NYCB performances regularly. (SAB students receive free tickets to company performances.) "I picked out my favorite dancers and started obsessively checking out the casting—always asking 'Who's dancing tonight?'—and I realized that I wanted to be one of those dancers," she says. Her wish was granted in October 2009, when artistic director Peter Martins made Lauren an apprentice with the company.
Since then, the bubbly, cheerful teenager's life has been a whirlwind: She's performed in NYCB's productions of classics such as The Sleeping Beauty, Swan Lake and The Nutcracker; understudied many roles from the company's large repertoire; and even originated a part in Christopher Wheeldon's May 2010 premiere, Estancia. Tracey enjoyed watching Lauren "bloom and blossom" in Wheeldon's rehearsals. "She was so alive and so spirited, and so much fun, that [Wheeldon] kept adding her into section after section," Tracey says. "And she could give him what he was asking for before he'd even said it."
One reason Lauren might have clicked with Wheeldon? She's a budding choreographer herself. Twice chosen to participate in SAB's annual Student Choreography Workshop, she recently made a 10-minute ballet for the school's summer program students. "It's like a puzzle, figuring out the dancers' strengths, and then figuring out what I love about the music, and seeing how that creates a ballet," she says. "I never thought that I would be very good at it, or even like it, until I tried it—and then it was really fun." Sounds like this prima-to-be might just have the "it" factor as a choreographer, too.
Fun Facts
Birthday: November 10, 1991
Dream role: Juliet in Romeo and Juliet
Most-played song on her iPod: "This is really embarrassing, but right now I'm listening to the soundtrack from Disney's Beauty and the Beast."
NYCB stars she admires: Sara Mearns, Daniel Ulbricht and Sterling Hyltin. (Lauren and Hyltin wear the same size pointe shoes, and sometimes the company's pointe shoe coordinator will give Hyltin's extra pairs to Lauren!)
Favorite NYCB costume: "I like the hound costume from A Midsummer Night's Dream. When else do you get to wear a dog head onstage? It's
awesome."
Hidden talent: "I'm an excellent cleaner. Is that a talent?"
Advice for DS readers: "Don't get down on what other people say. Listen to everything your teachers tell you, but when it comes to other students and peers, learn how to put the wall up."
Kalani Hilliker made "Dance Moms" fans sit up a little straighter when she first appeared on "Abby's Ultimate Dance Competition" back in 2013. The then–12-year-old ballerina had charisma, she had sass—and, wow, did she have technique! Abby Lee Miller, the show's infamous host, saw Kalani's star potential from the start, saving her from elimination and ultimately inviting her to perform alongside Maddie Ziegler on Season 4 of "Dance Moms." "I was never supposed to be on 'Dance Moms' beyond that one performance," says Kalani, now 16, but she ended up staying on the show for the whole season—and the following three. "It was my first time, but not my last time, causing drama. And it was also the first time I got to meet the other dancers, who have become like sisters."
Keep reading...
Show less
courtesy Jane Antonia Cornish
Translation: New York City Ballet principal dancer Ask La Cour's choreography for himself and the luxuriantly leggy Sara Michelle Murawski totally. nails. it.
Keep reading...
Show less
Kirsten Evans @settingthebarre
You may already know Apolla Shocks are able to replace your current footwear and dance shoes because of the durability, aesthetics, and traction, BUT there are many other reasons to ALWAYS keep a pair in your dance bag. BESIDES wearing them in class or onstage:
Keep reading...
Show less
Isaac Hernández in "Despertares" (via Vimeo)
Move over, Sergei Polunin*: There's a new ballet heartthrob in town.
Well, not "new," exactly: The fabulously talented Isaac Hernández has been a lead principal with the English National Ballet since 2015, and previously danced with Dutch National Ballet and San Francisco Ballet. (He's also part of a distinguished dance family: You met his brother, SFB corps member Esteban, in our March issue roundup of up-and-coming danseurs.)
But a dreamy new video by filmmaker Ezra Hurwitz—"Despertares" [Wake Up], featuring Hernández dancing in studios and on rooftops all over NYC—makes a strong case for this beautiful dancer becoming your next ballet crush:
Keep reading...
Show less


Get Dance Spirit in your inbox