Sep. 01, 2010 11:57PM EST
There's Something About Lauren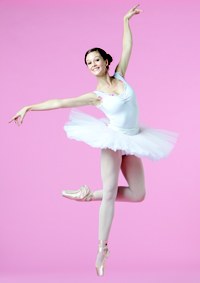 Photo by Erin Baiano
It's hard to describe star quality. Eighteen-year-old Lauren Lovette has luxuriously archy feet, elegant lines and an animated, pretty face—but that doesn't quite explain the New York City Ballet apprentice's unique magnetism. "I don't know what it is, but she's got it," says NYCB ballet master Kathleen Tracey. "She's physically perfect for
the work we do, but she also has something different, something you don't see every day. There's a special life in her eyes."
Even as one of dozens of dancers in The Sleeping Beauty's "Garland Waltz," Lauren seems to have her own spotlight. She etches the dance's simple choreography on the stage, the delicate precision of her technique making its balancés and waltz steps sparkle. Add in her mysterious charisma—the "it" factor—and it becomes difficult to watch anyone else.
The first person to notice Lauren's spark was the director of a local dance studio in her hometown of Thousand Oaks, CA. Though as a youngster Lauren knew little about ballet, she'd often twirl around in her aunt's dance store, which was a few doors down from the studio. "One day, when I was 10, I was dancing in the store—just playing—when the studio director dropped in," Lauren remembers. "She asked me if I'd ever taken ballet, and before I knew it I was in my first ballet class." Almost immediately, Lauren was hooked. "I loved that ballet was very precise and exact, but there was freedom in it, too," she says.
When Lauren was 12, she and her family moved to North Carolina, where she began training at the Cary Ballet Conservatory. She noticed that the conservatory's star pupil was attending summer programs at the School of American Ballet, the feeder school for NYCB. "I didn't know anything about SAB then, but I knew this girl was good and she went there—so I wanted to go too," Lauren says. Though she didn't get in when she first auditioned, Lauren was accepted to SAB's summer course the following year, at age 13, on full scholarship. After two "amazing" summers at the elite school, she moved to NYC to study there full-time.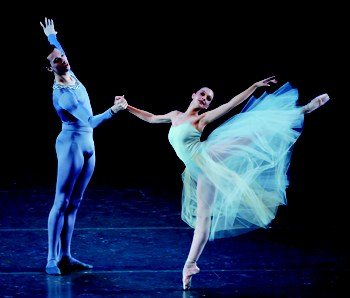 Lauren with Adam Chavis in "Serenade" at a School of American Ballet 2009 workshop performance. Photo by Paul Kolnik.
Lauren adjusted quickly to SAB's heavy class schedule, and found that the school's Balanchine technique suited her. While at SAB, Lauren also started attending NYCB performances regularly. (SAB students receive free tickets to company performances.) "I picked out my favorite dancers and started obsessively checking out the casting—always asking 'Who's dancing tonight?'—and I realized that I wanted to be one of those dancers," she says. Her wish was granted in October 2009, when artistic director Peter Martins made Lauren an apprentice with the company.
Since then, the bubbly, cheerful teenager's life has been a whirlwind: She's performed in NYCB's productions of classics such as The Sleeping Beauty, Swan Lake and The Nutcracker; understudied many roles from the company's large repertoire; and even originated a part in Christopher Wheeldon's May 2010 premiere, Estancia. Tracey enjoyed watching Lauren "bloom and blossom" in Wheeldon's rehearsals. "She was so alive and so spirited, and so much fun, that [Wheeldon] kept adding her into section after section," Tracey says. "And she could give him what he was asking for before he'd even said it."
One reason Lauren might have clicked with Wheeldon? She's a budding choreographer herself. Twice chosen to participate in SAB's annual Student Choreography Workshop, she recently made a 10-minute ballet for the school's summer program students. "It's like a puzzle, figuring out the dancers' strengths, and then figuring out what I love about the music, and seeing how that creates a ballet," she says. "I never thought that I would be very good at it, or even like it, until I tried it—and then it was really fun." Sounds like this prima-to-be might just have the "it" factor as a choreographer, too.
Fun Facts
Birthday: November 10, 1991
Dream role: Juliet in Romeo and Juliet
Most-played song on her iPod: "This is really embarrassing, but right now I'm listening to the soundtrack from Disney's Beauty and the Beast."
NYCB stars she admires: Sara Mearns, Daniel Ulbricht and Sterling Hyltin. (Lauren and Hyltin wear the same size pointe shoes, and sometimes the company's pointe shoe coordinator will give Hyltin's extra pairs to Lauren!)
Favorite NYCB costume: "I like the hound costume from A Midsummer Night's Dream. When else do you get to wear a dog head onstage? It's
awesome."
Hidden talent: "I'm an excellent cleaner. Is that a talent?"
Advice for DS readers: "Don't get down on what other people say. Listen to everything your teachers tell you, but when it comes to other students and peers, learn how to put the wall up."
(From left) ABT's Erica Lall; NYCB's India Bradley; Washington Ballet's Nardia Boodoo; NYCB's Rachel Hutsell (all photos by Rachel Neville)
Misty Copeland. Her name is synonymous with exquisite artistry and outspoken advocacy. And her visibility has made a huge impact on the ballet world. Ballet's relationship with race has always been strained at best, hostile at worst. But Copeland's persistent message and star quality have finally forced the ballet industry to start talking about racial diversity, inclusivity, and representation. "The rarity of seeing ourselves represented is sad," Copeland says. "The more we see every hue and body shape represented on the stage, the more possibilities young dancers feel they have for themselves."
Keep reading...
Show less
Our nominees (clockwise from top left): Roberto Campanella, Aurélie Dupont, Ashley Wallen, and Anthony Van Laast
Last month, we asked why there wasn't a Best Choreography category at the Oscars—and discovered that many of you agreed with us: Choreographers should definitely be acknowledged for their work on the super-dancy movies we can't get enough of.
Now, we're taking matters into our own (jazz) hands.
We've decided to create a Dance Spirit award for the best cinematic choreography of 2017. With your input, we've narrowed the field to four choreographers whose moves lit up some of the best movies of the year. Check out our nominations for best choreography below—and vote for the choreographer you think deserves the honor. We'll announce the winner on Friday, March 2.
Being a dancer comes with the task of having to entertain the same questions over and over again from those outside the dance world. Of course, we love having our friends and family take an interest in our passion—but if someone asks ONE MORE TIME whether or not we've met Travis Wall, we might just go crazy.
Here are 10 questions that dancers hate getting asked.
Keep reading...
Show less
ABT JKO School student Miuka Kadoi shoiwng off her beautiful line (photo by Kenneth Edwards)
Contemporary phenom Christina Ricucci has super-flexible hips, which means she can stretch her legs to unbelievable heights. But when she noticed herself making contorted positions in class, Ricucci realized she was approaching her extensions all wrong. "I went back to the basics in class, squaring my hips and using my turnout," Ricucci says. "I learned to create proper positions, rather than whacked-out versions of them."
Some dancers are so wonky they have a hard time supporting their high legs, while others struggle with limited flexibility. But no matter your facility, you can find a balance of stretch and strength to achieve your fullest range of extension. It's not about how high (or not) your legs can go: It's the quality of the movement, and how you get those legs up, that counts.
Keep reading...
Show less
Bronze medalist Kaetlyn Osmond skating her "Black Swan" long program (screenshot via YouTube)
Once upon a time (until the 2014 Winter Olympics in Sochi concluded, to be exact), figure skaters had to compete to music without words. Before this rule change, a skater faced an automatic point deduction if the music even hinted at vocals. Understandably, there were *a lot* of Olympic programs skated to classical music, and you'd tend to hear the same music selections over and over and over.
Keep reading...
Show less


Get Dance Spirit in your inbox