Oct. 25, 2012 11:21AM EST
This B-Boy Will Blow You Away
One of the reasons I love working on Dance Spirit is because it introduces me to whole dance worlds that I, a total bunhead, never knew existed. Case in point(e): Yesterday I got an email about the Red Bull BC One, an international b-boy competition that has been going on since 2004. This is a major dance thing that has been happening for eight years, and I have never heard of it! That's kind of awesome. Well, and kind of embarrassing. But mostly awesome.
Maybe (probably) you're much cooler than I am. Maybe you've followed BC One and the incredible b-boys competing in it religiously. But if not, prepare to be totally, completely amazed.
This year's BC One finals won't happen until December 8 in Rio De Janeiro, Brazil. But the competition just released this promotional video featuring last year's winner, Roxrite, demonstrating his signature move: the "melting halo." And what is that, Roxrite? "It's like a cartwheel, but you actually go from shoulder to shoulder using your head."
Believe me: Insane as that sounds, it's even more insane to watch. Check out the video below, and click here to find out more about BC One.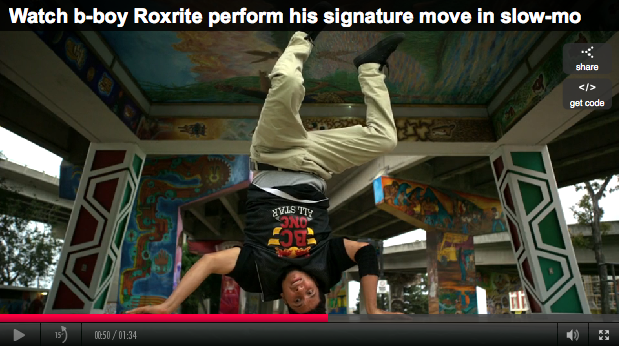 Adam Rose/FOX
Guess who's back? Back again? The Academy's back! Tell a friend.
After one day at The Academy, the All Stars have successfully taken the Top 100 down to 62. But their work is just getting started: Now they need to keep narrowing the field to a Top 10, ultimately deciding who each will partner with during the live shows.
Keep reading...
Show less
Sara Mearns and Chase Finlay in Pontus Lidberg's "The Shimmering Asphalt" (via @saramearns on Instagram)
We've said it before and we'll say it again: New York City Ballet principal Sara Mearns is some SERIOUS #goals. Her strength and power onstage borders on superhuman. But what's extra magical about Mearns is that she really puts in the fitness and cross-training work outside of the rehearsal studio. And she's overcome her fair share of injuries. Which is why she was the perfect source for Vogue's latest ballet fitness story.
Keep reading...
Show less
Jul. 24, 2017 10:43AM EST


Get Dance Spirit in your inbox