This Break-Dancer's Workout Will Blow Your Mind
There's been a lot of talk lately about how much athleticism is involved in dance. Clips like Harry Shum Jr.'s "Exploring Parallels with Sport and Dance" and Misty Copeland's kick-butt commercial for Under Armour have got people outside the dance world marveling at dancers' incredible strength and stamina. Of course, all this discussion leaves us wondering: How are people just now realizing that this is a thing?! I mean, dancers being athletic isn't new. Nevertheless, we appreciate the new-found recognition.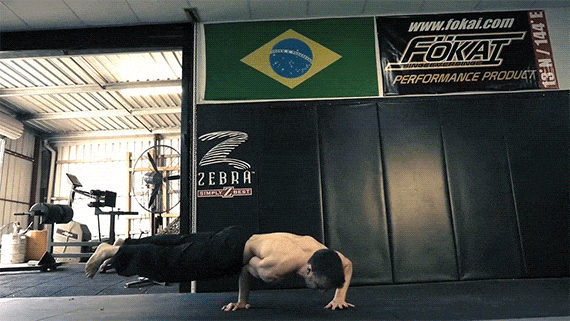 (gif via Huff Post Healthy Living)
So here's another video to throw into the mix: Simon Ata is an Australian break-dancer whose workout is nothing short of insane.
Exhibit A–Z: He does pushups with his feet off the floor...
The video of his entire workout routine is quite beautiful to watch (he's a dancer, after all), and it demonstrates that dancers aren't necessarily as in shape as other athletes—they go way above and beyond that.
Check it out:
(via YouTube)
Remember that fabulous old-school clip of dancers tapping in pointe shoes that Tabitha and Napoleon D'umo brought to our attention back in March? As we mentioned then, toe-tap dancing was actually super popular back in the 1920s and 30s—which means there are more videos where that one came from. And because #ToeTapTuesday has a nice ring to it, we thought we'd take this opportunity to introduce you to Dick and Edith Barstow, a toe-tapping brother and sister duo from that era who are nothing short of incredible:
Keep reading...
Show less
Adam Rose/FOX
Guess who's back? Back again? The Academy's back! Tell a friend.
After one day at The Academy, the All Stars have successfully taken the Top 100 down to 62. But their work is just getting started: Now they need to keep narrowing the field to a Top 10, ultimately deciding who each will partner with during the live shows.
Keep reading...
Show less
Sara Mearns and Chase Finlay in Pontus Lidberg's "The Shimmering Asphalt" (via @saramearns on Instagram)
We've said it before and we'll say it again: New York City Ballet principal Sara Mearns is some SERIOUS #goals. Her strength and power onstage borders on superhuman. But what's extra magical about Mearns is that she really puts in the fitness and cross-training work outside of the rehearsal studio. And she's overcome her fair share of injuries. Which is why she was the perfect source for Vogue's latest ballet fitness story.
Keep reading...
Show less


Get Dance Spirit in your inbox