This Hippopotamus Sure is Light on her Feet!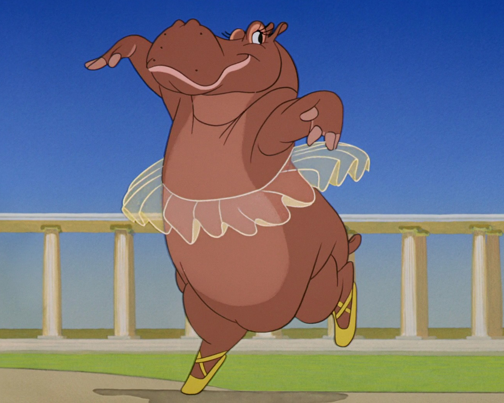 I love it when different mediums of art collide, and Walt Disney's Fantasia is the perfect example of arts collaboration at its best. I had completely forgotten about this 1940 film until Thursday afternoon, when I stumbled across a link promising "Ballerina Hippos!" Naturally, I didn't hesitate to click on the link (and boy am I glad I did...).
The video is an excerpt from Fantasia, specifically a segment of the film that portrays a comic rendition of Dance of the Hours (the Act III Finale of the Opera La Gioconda). True to Disney fashion, this version features hilarious animal characters.
So for your Saturday viewing pleasure, please enjoy prima ballerina Hyacinth Hippo, as she performs a delightful solo with her devoted corps. My personal favorite part is when she dances a menege of tombé coupé jetés around the other hippos, finishing with an impressive pirouette. Enjoy!
Dance is a powerful form of expression, and Ahmad Joudeh is using its influence to promote peace.
The 27-year-old is a Palestinian refugee, whose decision to pursue his passion for ballet has made him the target of death threats from terrorist organizations. Despite the danger, Joudeh has decided to continue on his path as a dancer, using his performances as an opportunity to spread a message of peace and cultural awareness.
Keep reading...
Show less
A dance photo of Averi Hodgson (courtesy of Cortney Hodgson)
For 14-year-old Averi Hodgson, focusing on her ballet training while growing up was never easy: She's suffered from epilepsy since she was in first grade, and later, she was also diagnosed with scoliosis. Here, she tells her story of perseverance—and how her determination earned her a spot at the School of American Ballet's 2017 summer intensive.
Keep reading...
Show less
CBS
"Late Late Show" host James Corden was one of the many, many people shocked by President Trump's sudden decision to ban transgender people from the military yesterday. And he decided to voice his outrage in the way most likely to rile a President who's uncomfortable with anything "un-manly": through a big, beautiful, extra-sparkly song-and-dance routine.
Keep reading...
Show less
Jul. 25, 2017 05:04PM EST


Get Dance Spirit in your inbox