Mar. 23, 2017 05:37AM EST
This Is a Thing: The "Perfect Split" Meme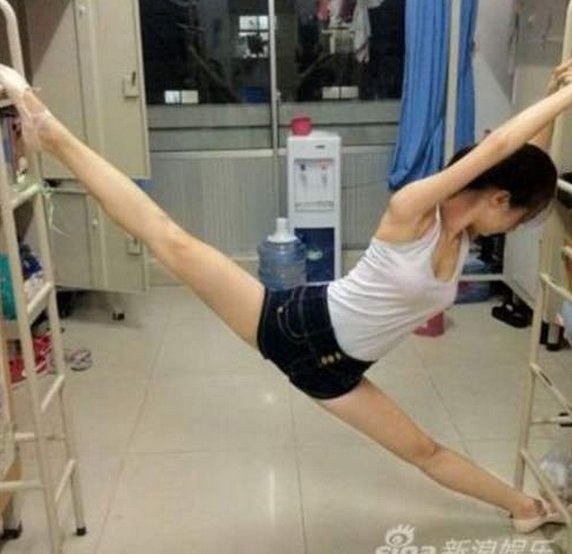 In the beginning, there was planking. Remember planking? It was a brilliant little meme, really—annoying as it eventually was to have your Facebook and Instagram feeds cluttered with shots of people lying face-down wherever they could get away with it.
Well, there's a new, and particularly dancer-friendly, awkward-pose meme in town: the "perfect split." A Chinese college student apparently ignited the trend after posting the photo at right of her splitting it out in her dorm room. And the craze took off from there. Now the internets are awash with pics of people showing off their 180s in unlikely locations.
Here's my question: Haven't dancers been taking these types of photos for years? I mean, had Facebook been a thing when I was 15—many, many moons ago—my profile picture probably would've been a photo of me doing my homework in a split. Or watching TV in a split. Or doing a split at the beach. You get the idea. It's pretty standard stuff in dancer-land, and has been for a while.
But I guess I won't dump on a trend that produces images like this: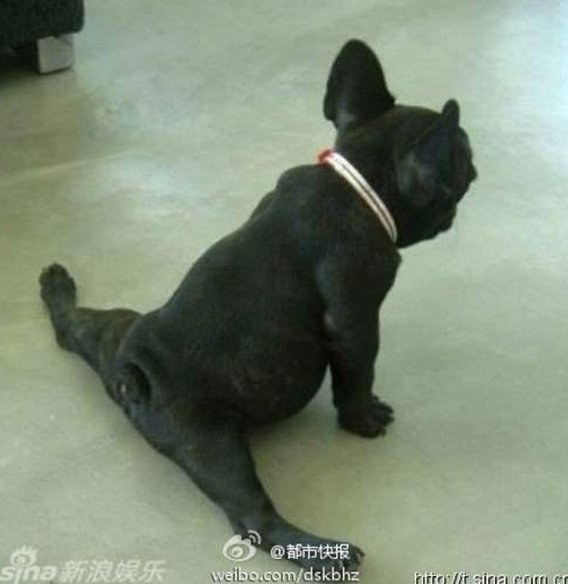 Because this photo, my friends, encapsulates everything that is wonderful about the world.
Hope you all have a split-tacular weekend!
Kalani Hilliker made "Dance Moms" fans sit up a little straighter when she first appeared on "Abby's Ultimate Dance Competition" back in 2013. The then–12-year-old ballerina had charisma, she had sass—and, wow, did she have technique! Abby Lee Miller, the show's infamous host, saw Kalani's star potential from the start, saving her from elimination and ultimately inviting her to perform alongside Maddie Ziegler on Season 4 of "Dance Moms." "I was never supposed to be on 'Dance Moms' beyond that one performance," says Kalani, now 16, but she ended up staying on the show for the whole season—and the following three. "It was my first time, but not my last time, causing drama. And it was also the first time I got to meet the other dancers, who have become like sisters."
Keep reading...
Show less
courtesy Jane Antonia Cornish
Translation: New York City Ballet principal dancer Ask La Cour's choreography for himself and the luxuriantly leggy Sara Michelle Murawski totally. nails. it.
Keep reading...
Show less
Kirsten Evans @settingthebarre
You may already know Apolla Shocks are able to replace your current footwear and dance shoes because of the durability, aesthetics, and traction, BUT there are many other reasons to ALWAYS keep a pair in your dance bag. BESIDES wearing them in class or onstage:
Keep reading...
Show less
Isaac Hernández in "Despertares" (via Vimeo)
Move over, Sergei Polunin*: There's a new ballet heartthrob in town.
Well, not "new," exactly: The fabulously talented Isaac Hernández has been a lead principal with the English National Ballet since 2015, and previously danced with Dutch National Ballet and San Francisco Ballet. (He's also part of a distinguished dance family: You met his brother, SFB corps member Esteban, in our March issue roundup of up-and-coming danseurs.)
But a dreamy new video by filmmaker Ezra Hurwitz—"Despertares" [Wake Up], featuring Hernández dancing in studios and on rooftops all over NYC—makes a strong case for this beautiful dancer becoming your next ballet crush:
Keep reading...
Show less


Get Dance Spirit in your inbox