This Video Will Make You Giggle. We Promise.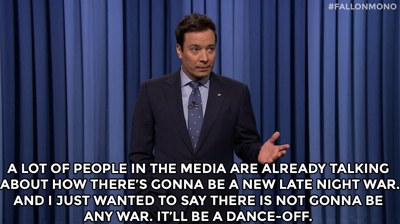 "It's gonna be a dance-off." We <3 you, Jimmy Fallon!
Let's face it. "The Tonight Show Starring Jimmy Fallon" is on TV pretty late, especially on school nights. Luckily, there's the Internet to recirculate all the hilarity that ensues after our bedtimes and to help keep us laughing during the daytime. And you already know just how much Dance Spirit loves our Jimmy Fallon.
This segment aired a few weeks ago (during the week of Equal Pay Day...when Congress failed again to pass the Paycheck Fairness Act). But it also happens to be perfect for a Friday video break when you need a little extra something to make it to the weekend. It's called "Questions and Danswers." You guessed it—a reporter on the street asks a question, and the interviewee must dance his or her answer. It's simply amazing. (And don't forget to keep scrolling down...there's a bonus!)
Now the bonus: This wasn't the first time this segment aired. There's another! About a month ago, Jimmy sent a reporter to ask about the Crimean conflict. Now, this version isn't as great...and the reporter even does one of the same joke moves. But one man in particular—the robot guy in the red shirt—really breaks it down. His moves are the greatest.
Via @whitneybugs on Instagram
There are dancers and then there are DANCERS! Whitney Jensen, soloist at Norwegian National Ballet, is the latter. The former Boston Ballet principal can do it all. From contemporary to the classics this prima has the technical talent most bunheads dream about. Need proof? Look no further.
Keep reading...
Show less
Jul. 19, 2017 04:53PM EST
Via YouTube
Luis Fonsi and Daddy Yankee's dance inducing hit, "Despacito," is so catchy it should probably come with a disclaimer that warns people of an uncontrollable itch to tap your feet or bob your head. Some might even feel inclined to go all out and break it down. Niana Guerrero is a prime example of "Despacito's" uncanny ability to unleash the red dressed emoji dancer within. 💃🏽 💃🏽
Keep reading...
Show less
Jul. 19, 2017 04:25PM EST
(courtesy NBC)
Guys, we all knew this was coming—"World of Dance" was eventually going to eliminate someone. But man, is it brutal to watch these talented dancers give their all, only to be sent home. It's the name of the game, though, and after last night's episode, only two dancers per division remain. (At least Misty Copeland guest-judging was a silver lining!) Here's what went down last night:
Keep reading...
Show less
Jul. 18, 2017 06:03PM EST


Get Dance Spirit in your inbox